Web Design Trend Showcase: Super Gradients
Home » Articles »

November 02, 2018

Line25 is reader supported. At no cost to you an affiliate commission may be earned when a purchase is made through various links on our site. Learn more

After the dominance of flat colors in web design, we've noticed a new web design trend of gradient use beginning to emerge. Gradients are nothing new in web design, but the CSS property of linear-gradient now allows designers to add vibrant spectrums of color directly to their code, rather than the traditional method of creating a gradient image in Photoshop.

One advantage of the CSS approach is the gradient can be scaled to any size, which makes it great for screen filling gradient backgrounds.

Today's showcase features 25 examples of these super gradients used as backgrounds, headers, and overlays.

Gradients don't have to be used just on backgrounds, you can use them overlaid on photographs as well. This is a great example of this technique.
Pin
Ditch the boring white background and try a neon colored gradient instead! If you add some effects and transitions, like in this case, it's even better!
Pin
This is a portfolio website for an interactive designer. It has a beautiful colored gradient as the background.
Pin
Combining geometry with gradients may result in amazing 3D effects, just like in this case!
Pin
Gradients can really make your website design look beautiful and stand out, if used properly, take this as an example!
Pin
Here's another portfolio website that uses gradients as a background. The gradients change with time and so does the animated text.
Pin
This website uses a photo with a gradient as a fullscreen website background. It looks very interesting and has some really subtle effects.
Pin
This is such a beautiful gradient with a cooler and warmer shade. It looks dramatic and creates a nice atmosphere.
Pin
This subtle blue gradient blends perfectly with the geometric shape in the background. The website looks modern and eye-catching.
Pin
This company decided to add a bright red gradient as their background. The illustrations are a nice touch.
Pin
Gradients and polygon backgrounds look great together. Here's a great example of how to apply gradient filters over textures and photos.
Pin
This is another great example of how to apply gradients over images to create large hero images on a website.
Pin
This website has a wonderful design but the neon pink gradient is what makes it truly unique.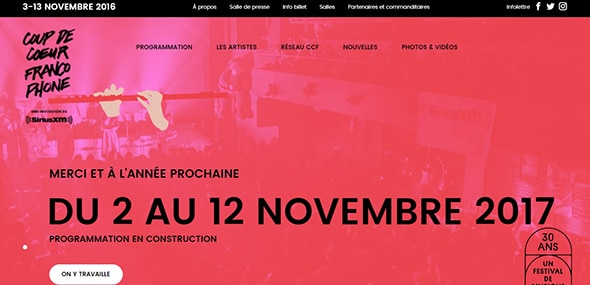 Pin
This is a simple yet beautiful website design with a pastel colored gradient, ranging from blue to pink.
Pin
This is another great example of how to apply a gradient overlay on a photo and create an eye-catching image for a website.
Pin
This portfolio website design is minimalist and simple. The gradient background makes it stand out.
Pin
This outstanding design uses a bright colored gradient to make it stand out. It is overlaid on a black and white portrait image.
Pin
This template contains a beautifully designed pastel colored gradient that looks exceptional for a feminine-styled website!
Pin
Pushh
The gradient color overlay is quite popular among app landing pages and presentation websites. This is the perfect example for that.
Pin
This is a creative website with a video background, parallax effect, and a dark green gradient overlaid all over the content.
Pin
Electric Mainline
This pastel orange background overlay works perfectly with the bold, white text on the homepage of this website.
Pin
This is a creative one-page website which has a unique layout and an angled, gradient photo overlay which adds dynamism to the design.
Pin
This magenta-red gradient makes the mockup on this website really stand out. Check it out and notice the design details of this page.
Pin
As mentioned above, gradients work best with polygonal backgrounds. Here is a great, modern example of how to use them both in a website project.
Pin