Home » Inspiration »
Line25 is reader supported. At no cost to you a commission from sponsors may be earned when a purchase is made via links on the site. Learn more
Take a look at these 25 luxury website designs and learn how to create elegant layouts and graphics yourself. These luxury website designs belong to various types of luxury products, from expensive watches, clothing, hotels, and more.
All of these websites have something in common. They have clean layouts, elegant color palettes, and beautiful typography. The images are also very high quality and look professional. Take notice of the quality of each site and the appearance that big design budgets were allocated to create the luxury look and feel needed.
Analyze them, see what they have in common, and get the inspiration you need for your future luxury website design projects!
Here they are:
The Omega Watches website greets you with a large full-screen slideshow. If you'll keep scrolling through this web page you'll see a modern and minimalist design full of large thumbnail photos and videos.
This website focuses on presenting a luxurious collection of 18 oceanfront residences in Vero Beach. The website looks classy and has a large full-screen photo as the first thing a visitor sees. It has a really nice and professional web design layout which uses large light blue typography and details and some really nice horizontal images.
Carolina Herrera's website has a modern and minimalist design which uses plenty thumbnail images for their products. It also has a simple, full-width product slider on the homepage.
Château d'Yquem is a great location to spend your holidays and this website surely proves it. This website is elegant and it presents content in an eye-catching and professional way.
More and more people are beginning to watch videos and share gifs. People are becoming more fascinated with motion than ever, and it is time for designers to begin to incorporate movement into their works. This website is a great example of this trend! Constance Hotels & Resorts presents really nice locations from all over the world. You can choose the escape to one of the finest hotels in the world or you can get inspired by this amazing website.
Designers are beginning to take cues from the world of fine art to create gorgeous works that look like they came right out of the Louvre. Dramatic brushstrokes and compositions that mimic paintings are the cornerstones of this trend. When skillfully executed, this trend can be a modern masterpiece. On this website, you will see some of the finest jewelry in the world, all presented in an elegant way. The website greets you with a large hand-drawn image of baroque elements and Italian sculptures followed by a minimalist design. The website's way of presenting content is similar to a blog's layout and each collection has its own presentation video.
Have a look at London's finest apartments. The no. 48 Sloane Square is home to many of the world's best fashion houses. The website uses plenty large thumbnail images. Each image is followed by its own text.
On this website, you can shop for the best vintage watches and find out everything there is to know about watches.
This example can be a great source of inspiration if you are working on a website that focuses on presenting a dream location. This website uses full-screen images and videos to grab visitor's attention and has an elegant appearance.
Kings Gate website looks modern and presents 100 apartments ranging from studios to four-bedroom penthouses. It presents content elegantly, through large images and nude typography.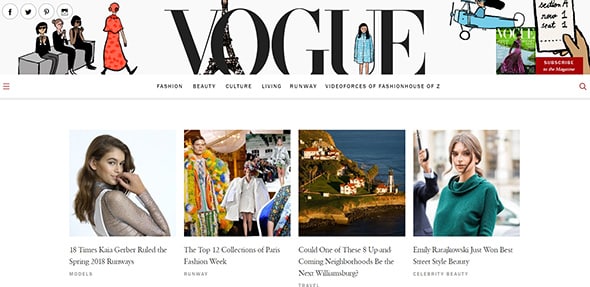 Vogue is yet another great example of a luxury website design. The website uses a simple grid format, which showcases the designer's work. The simplicity of the layout allows for the images to have higher impact. This is one of the finest fashion magazines out there and the Vogue website looks great. Find out everything you need to know about the latest trends and check out this site.
Faber-Castell focuses on presenting writing instruments and accessories and this company's website is definitely an example worth following in future projects. It uses a minimalist design with a light grey background to make colorful images stand out.
A lot can be said for a designer that can create a beautiful design simply using a monochromatic color scheme. It's not an easy task as color is one of the most important aspects of design. But a monochromatic color scheme with a little extra flavor can easily create drama and interest. If you want more elegant examples of luxurious websites then have a look at Georg Jensen's website. This company produces luxurious jewelry, accessories and much more.
Typography can make or break a design. As in, "go big or go home",  large, bold letters and creative placement have taken center stage in 2017. Typography is no longer just about making words pretty. It's about making a statement. Have a look at the Baccarat Residences' website, for example. This company has 60 spectacular residences that you can rent or buy and also a really nice website with a great typography choice.
Check out Rapha's new collection or have a closer look at this company's website. On this website, you can shop for the latest cycling accessories or get inspired by this website's web design layout.
This is another example of how typography was this year in design. DuJour is exactly where luxury lives and you can notice that from the moment you enter this website. This website's design layout focuses on a white background with sensitive images and details. The content is elegantly presented to visitors.
The Honours is yet another luxurious website who greets visitors with a large full-screen photo. This restaurant is owned by the famous chef Martin Wishart and you'll definitely get hungry when scrolling through this site.
In the example above, the designer intentionally uses a large, but rather plain font. It immediately draws attention. On Vertu's website, you can check out some of the finest luxury mobile phones which were handmade by English craftsmen using expensive materials and cut-edge technology.

Check out this amazing website and some of the most luxurious fashion items in the world. Destination Kors is a really nice and elegant website that focuses on presenting its finest products.
And if you are eager to have a really good life, find out how from this website. Find and read the latest articles on art, philanthropy, travel, and much more on this website.
If you're planning your next luxury holiday you might want to check out Carrier. This website's design is definitely luxurious and eye-catching.
Bold color schemes have been popular for some time now, and for good reason – bright, vibrant colors beg for a viewer's attention. An eye-catching color scheme can really make a design pop. This website design uses colors masterfully. On Monocle you can read articles about books, clothing, travel guides and much more. This website presents top stories and articles.
This design is very simple, but what makes it so special is the use of line and negative space to mimic depth. The background lines intertwine beautifully with the other design elements. On this luxurious website, you might find your next holiday location. Château Minuty is definitely a luxurious location and the website surely proves it.
And if you are looking for some more vacation ideas have a look at this website. It uses a large full-screen slideshow and calm background music.
Vanity Fair is yet another great example of a luxurious website. It can be a great source of inspiration if you are working on a magazine's website.
Conclusion
Given that these luxury-designed websites are attempting to portray elegance, quality, stature, and prestige, it's safe to say that you can't go wrong gathering ideas from each one for your own luxury websites. As you can see, these sites have significant web development budgets which means their designers are going to utilize the top state-of-the-art technology with top design teams. After all, luxury sites have an image to keep up. We hope you enjoyed this selection and please comment below.