Home » Website Templates »
Line25 is reader supported. At no cost to you a commission from sponsors may be earned when a purchase is made via links on the site. Learn more
Using professionally made Editor X website templates is the best way to get started on the popular website-building platform. Instead of creating a template from scratch, which can still do, there is an easier way to get started and we will cover the best 30 editor x website template options available!
Ranging from online shops to creative agencies and niche businesses, Editor X offers a website template for all. The good part about these templates is that they are based on a simple developmental foundation and can be customized to meet your needs. In terms of design, they pack a punch!
Top Editor X Website Templates – quick list
If you're short on time, here's a quick list of the best Editor X website templates. You'll find more detailed descriptions for each template further down on the page:
* Note: After clicking, scroll down to the "Template" section to see your preference.
When you're done here, you may also like to see our post on questions to ask when choosing a website builder along with our post about free WiX website templates.
What is Editor X?

The Editor X website-building platform was originally created as a higher-level web development platform for experienced designers and developers. This amazing site builder is owned by WiX which means your web design and development efforts are backed by one of the most trusted companies that serve over 200 million users.
Although the platform is primarily for pro designers, Editor X provides extensive training, webinars, courses, and tutorials for intermediate-level designers and beginners via Academy X.
If you haven't started with EditorX yet, we recommend taking advantage of the current free trial offer.
Top 30+ Editor X Website Templates
The following website templates provided by Editor X are visually stunning and can impress your users quickly. We have picked the top 30 WiX Editor X website templates, and landing pages with themes that cater to various industries, but again, they can be altered to fit the theme of your industry or business.
After clicking on a template, scroll down to the "Template" section to see your choice.
Product Launch – The Best Editor X Website Template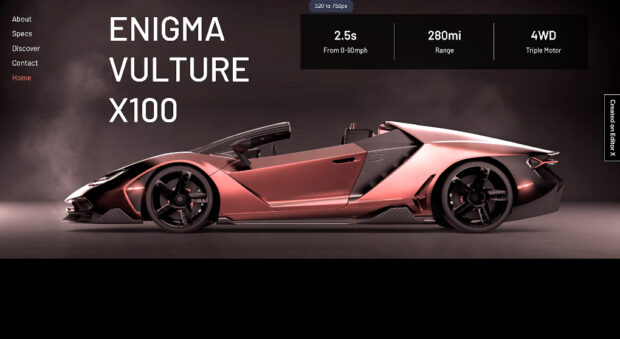 You can't go wrong with this amazing website template. The Product Launch template is very interactive and has an amazing structure, providing a seamless UI (user interface).
To get the full effect of this template (and all the others), you really need to go to the "preview" mode. There are video, animation, and motion effects that are very cool, while still being a fast-loading theme.
Like the Product Launch template, it's interactive, clean, and simple, keeping users focused on your message or call to action. Although this landing-page template is a perfect fit for app developers, it can also be used in many ways like as a sales page for digital products, e-commerce, events, and a lot more.
Gaming startup websites always have a lot of creative bandwidth, and as a designer, you should make the most of it as your audience will be young and tech-savvy. This template deploys the latest trend of fixed scrolling design and uses large images and videos to showcase the startup's details or the featured products.
It only makes sense that a creative agency needs to have a very creative website; otherwise, they can't impress their potential clients. That is why EditorX has created this special template for them. Using a two-column structure, the template offers a large header space and has options for showcasing all agency details.
One of the smartest website templates for SAAS companies, this one serves the dual purpose of providing the right space to convey all important details and deliver a strong visual performance that will leave a lasting impression. The 3-D rendered graphics are very pleasing to the eye and provide a good creative appeal.
This website template includes many media supplements, including amazing graphic animations, videos, and backgrounds. The best way to use this template would be just to flow your company details in the text sections and let the template do the rest of the magic to impress the users.
Project landing pages must be developed carefully, emphasizing user experience to ensure enhanced sales or conversions. This landing page template caters to this requirement as it has dedicated sections for showcasing products, detailed specifications, and a welcoming design style.
Creating an online store website is difficult as it needs the best user interface levels to encourage sales. This template helps in delivering such an experience through its refreshing design. White space is prominently used, mixed with large-scale images showcasing featured products, listings, and other details.
There are thousands of design portfolio templates available online, but this EditorX template has the potential to make you stand out from them. The template is loud enough to draw the user's attention and allows you to use large images to flaunt your creative work in the best way possible and attract more clients.
Construction companies can also have cool websites, and this template proves that. Using a block structure with a good color palette, this template allows the designer to showcase project details using large-size images and big text. This gives the company an exquisite and classy online presence.
The heart of all Interior design firms is their portfolio, and this EditorX template keeps that in mind while delivering this amazing template. The projects can be displayed using large images and relevant text in a simple but effective manner. This template can also be used to create digital brochures for the firm.
Online fashion stores need to be really stylish to impress the viewers. This template by Editor X can help your clothes stand out and increase your chances of sales. In terms of design, the template uses large-size images, impressive typography, and other fancy features like parallax scrolling, chatbot, and more.
This template is perfect for starting your own online beauty store. It contains all the requisite features like sliders, product listings, testimonials, and even social media integrations. In addition, the dominant use of white spaces, large photos, and typography will give your brand a good recall.
At first glance, this may not look like much. You must click on the preview to see the animation and movement of this landing page. Coming soon landing pages are getting more and more innovative, and it is important that you also must deploy a smart landing page for your brand.
The website strikes a good balance between visually stunning and delivering all the needed features for a Studio website. Being a slide-based website, it offers different sections to showcase details about significant works, essential projects, the brand, and its services and offers space for adding more details.
This template is worth checking out if you are looking for a super cool technical website. In terms of design, it is quite simple and works on two column structure, but the graphics are amazing. There are well-positioned sections for services, selling points, and clientele, and it even has a special section for blogs.
Music festival websites must be loud and attractive; this template serves that dual purpose. The design uses a lot of empty white space along with modern fonts. It includes features for booking tickets online, the performance lineup, and other music festival details smartly and engagingly.
Fintech company websites can look boring but not if you use this amazing EditorX template. Using dark blue gradients and bold white typography makes the boring subject look fun. In addition, there are separate sections to showcase the details about the company, its services, and other selling points.
Photography portfolio websites rely heavily on images; any template serving this purpose will have to offer good options for showcasing photos. Created with a simple structure, this template offers creative bandwidth for photographers to showcase their work effectively. In addition, the overuse of white space and small fonts makes the website look more classy.
Branding agencies need to impress their clients through their websites, and this template can be beneficial. Based on a two-column structure, the template has sections for showcasing major projects, key clients, services, and agency history. Overall, the design is clean, simple, and aligned with current trends.
Visual portfolios are best created using templates like this. The template makes use of large-size images and media blocks. You can deploy your work in these sections. Overall the design and visual appearance are classy and elegant, allowing you to impress the viewers and get more work online.
The Artist website template by Editor X is smartly created to allow artists to showcase their work in the best possible manner. In terms of design, the template uses large-scale images and interesting typography. It also offers the space to cover personal information, social media feed, and even a marketplace.
Given the fierce competition, Spa and salons are also revamping their online presence. This simple but holistic template of Editor X is an effective way to achieve that. The template uses well-designed graphics and has specially allocated sections for services, packages, contact details, and even online bookings.
Superbly designed, this online magazine template is perfectly suited for fashion, travel, food or even as an art magazine. It nicely balances boldly showcasing the titles and information while simultaneously making the webpage visually appealing and not boring the users. You can get your magazine online within hours using this template.
This template shows that with the right images and other graphics, even the most boring content can be presented interestingly. Designed for financial companies, the template has an excellent aesthetic appeal and allows the creation of separate pages for services, about us information, and other details.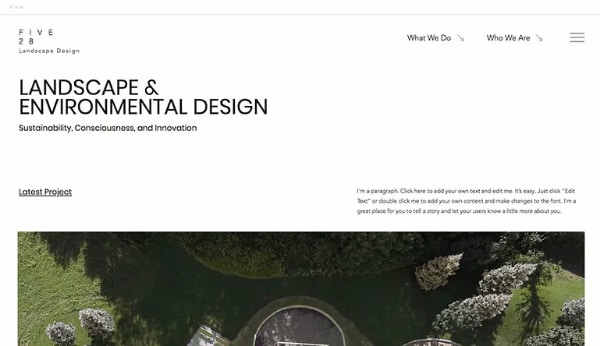 The base requirement of an architecture firm's website is showcasing the projects visually appealingly. This Editor X template starts with a landing page and then takes the users through content about us, our teams, our careers, and more. The good part is that the template can be easily tweaked for interior designing firm websites or other relevant projects.
Want to create a fitness studio website in just a few hours? Get this Editor X template and let it do the work for you. A holistic template covers all the needed features like booking, demos, pricing, trainers, and other information. In addition, it also allows good use of large images and videos.
This modeling agency website template by Editor X is perfect for quickly setting up your agency's online presence. The overall design ensures a striking visual appeal and, at the same time, provides all needed functionalities like showcasing models, news, the input of applications, and a lot more.
Flower shop websites have a good scope of being beautiful, given that their products are flowers. But this website template uses that to better advantage by deploying requisite sections like product categories, best sellers, offers, and subscription services. Of course, you can also use this template for other shop websites.
This Artist showcase template focuses more on selling specific products; hence, you can go for it if that is the website's aim. The product listing page is effective and designed in a cool manner. Moreover, the template comes preloaded with other requisite pages like Terms & Conditions, which is an added advantage.
Real estate agency websites' major focus is listing the properties and showcasing them in the most attractive way possible. This website template has an elegant look and simultaneously allows you to organize and showcase the properties in various ways. In addition, you can always change the color palette to suit your branding style.
Frequently Asked Questions
Are there Editor X wireframe templates?
Yes. As a matter of fact, you can choose several wireframe templates built by professional developers. The Editor X wireframe templates can be used in multiple sectors, but are specifically designed for eCommerce, business sites, landing pages, services, portfolios, and more advanced options.
Is Editor X good for beginners?
Editor X is perfectly suited for people who want to create visually stunning websites without coding knowledge but was truly designed for professional web designers and developers. For beginners there is a significant learning curve, however, the platform has plenty of resources like courses, tutorials, and other training materials.
Can I use the WiX Editor X for free?
Just like Wix, Editor X can be used for free to start with. It offers both types of services – free and paid. The majority of the features remain the same for both versions. But in the premium version, you can remove EditorX branding, connect your domain and get other value-added services.
How do I create a website in Editor X?
Creating a website in Editor X is easy. Right at the start, it gives you the option of either starting from blank or choosing a template. You can choose the template based on your business sector and then start modifying it. You can change the text, graphics, color, and entire design style to match your brand. Within a few hours, you can create your own state-of-the-art website.
Top 30 Editor X Website Templates for Amazing Designs Summary
Gone are the days when website development demanded knowledge of coding. Now with the use of website templates, in a few clicks, you can easily create a website that is not only mobile-friendly and responsive but also visually impressive.
Thank you for visiting and we hope you've found a perfect match from our list of the top Editor X website templates!