Home » Freebies »
Line25 is reader supported. At no cost to you a commission from sponsors may be earned when a purchase is made via links on the site. Learn more
A portfolio is a document or file that presents your work and creativity in a completely systematic way. It is an essential element of the industry that showcases the designer's capabilities to understand his or her potential and lead them toward the most successful career path. Therefore, designers need to create the most compelling portfolios in order to justify their talent and get them ahead of the competition.
There can be a number of ways possible to store and present the design work innovatively and creatively. And if you like, you can always build your portfolio from scratch to experiment with your creativity and knowledge. But what if you can get a solid premade portfolio template? Where you just need to edit the information and use it directly for your purposes, Wouldn't that be a great example of smart work? And if you think it's a yes, then this post is going to be very helpful. We are presenting 15 free graphic design portfolio templates for creative professionals to use for their customized portfolio needs.
This beautiful portfolio template is available for free. You will need vector-based software like Adobe Illustrator to edit this template since it is an EPS file. It has nine pages with all the necessary sections to build a creative portfolio. This template is fully customizable; thus, you can make it completely as per your preferences. You can change the content and add your work in any style and format. So overall a fantastic option if you are looking for a good quality portfolio template with zero investment.
It is a clean and modern portfolio design created for web design. But the design and components are very flexible for any designing field. That's why you just need Adobe Photoshop to edit this template and make your graphic design portfolio. It is free to use design, and it has a fantastic web page-like structure. It is a modern and colorful design that contains all the valuable blocks to create a competitive portfolio. With work samples and personal information, this portfolio template can surely help you to stand out.
This is an excellent deal for any designer. In this free download file, you get three awesome portfolio templates. These are InDesign templates, and they offer variations in colors. Coming back to the template, you get a huge document to display your large range of projects with all the information about the client as well. It has a professional structure and seamless layout. Every component has assigned importance in this template. You can edit and remove any pages if you like because it is easy to customize. This incredible-looking template can help any artist or designer to develop his complete file of esteemed work along with the required information.
It's a smart and sleek InDesign portfolio template for designers, photographers, and various artists. You can customize this template and create your own portfolio as per your requirements. It is easy to download and easy to customize the template. It has a modern and straightforward layout with creative design elements to elevate your work and present your profile in the most sophisticated way. You can do some experiments as well to come up with something extraordinary if you want your portfolio to be something exquisite and contemporary—so overall a great option as a free portfolio template.
Cuda is a lovely single-page portfolio template. It is a PSD file where you get everything in a well-organized layered format. You can easily download and create your portfolio by just placing your content in the layers. If you like, you can customize it as well as give it your personal touch to make it more suitable for your creativity. This template is in a modern webpage style, and it has all the crucial sections which can be rearranged if you want. You can use this for any category and design style, so get this free template and make your profile attractive.
This is a brilliant portfolio template that has every element that you may need in your portfolio. It is a PSD file and is available for free. This ready-to-use template is very easy to use and edit because it has impressive customization features. The design is also attractive, with many useful pages. You can utilize this template in many ways if you are thinking about a website or blogging. The universally used PSD format makes your work very feasible, so trust this template for your portfolio choice and present your work with a stylish and creative design.
This stunning portfolio design has contemporary elements with a minimalistic theme. It is a PSD file template, and you can download this for free. With a perfect layered document, you can edit this template and create your portfolio in a unique style. In addition, you get substantial pages and sections to display your work and overall profile in a professional manner. So if you need a rich, quality portfolio template with a creative design, this can be an ideal choice. Try this fresh, elegant, and fully customizable design for your portfolio design requirement.
This is a fantastic download for any designer. You get a beautiful portfolio template in both PSD and HTML format. What else do you need to develop your most accessible portfolio? Snow template has a modern website layout and every innovative feature to offer easy customization and lovely design.
You can include your personal information, client, projects, blog, and many other essential data in this template. The minimal design and high-quality elements make this template the most desirable one. Be it for graphics, interior, fashion, or any other artistic category; this portfolio can justify any design style. Therefore it is highly recommended to try to create a digital gallery of your designs.
This template is originally designed for photography needs, but it has an adaptive design and layout for any creative category. You can easily download this PSD template and use it for graphic design work. Everything comes in systematic layers, and all blocks are customizable. It is minimal and neat. There are no extra loud colors or elements to overwhelm the actual work. You can find this template very much relaxed and powerful for creative professionals. So if you want your work to shine with a classy portfolio design, then this can be a great choice. It is easy to use and very flexible to customize, so make sure you benefit your career with this.
It is a minimal and simple portfolio template. You get a fully layered PSD file to download and use for your personal need. The layout of this template is in a modern website style without any exaggerated elements. And it can work for any design work, be it website, graphic, interior, or fashion. You get enough space and light to display your work and profile with natural charm. You can simply edit this template and give it your preferred look. So you can have a decent portfolio file without investing any hard work and time.
Balkan is an excellent, professionally designed portfolio template to present your work innovatively. It is a PSD file that comes with both dark and light themes and multiple other features. You can choose any homepage design and start editing however you like to shape this template into your design style.
As a result, your projects can get the perfect spotlight with beautiful sections and colors, and your overall portfolio can look highly attractive and convincing. Whether it's for personal, agency, freelancing, or other requirements, this template can help you to build a solid, professional-looking portfolio with the charm of discipline and expertise.
Diff has a creative design and a very much focused layout. The grid system and layered file can help you to display your talent more sophisticatedly and freely. You can easily customize this template and change the colors, fonts, and other elements as per your requirements. The simplistic style is very eye-pleasing and modern, but if you want to make it more vibrant and peppy, then you can experiment and include some of your ideas as well. This template has freedom for artists, and it ensures your creativity gets noticed whenever it is displayed. So use it for graphics, web, fine arts, or any other creative segment and lead the market in the best possible way.
Namaste is a solid PSD template built with a modern style and the latest features. This template is very much ideal for graphic designing and related creative works. You get the complete flow of information and sections to make a perfect trendy portfolio, and It has an attractive color scheme that comes in two different variants. The classy font style and overall layout have an exciting charm that can be beneficial for your designs. You just need to edit this template and use it for your professional movements. There is no hassle and no confusion associated with this template which makes it more beautiful.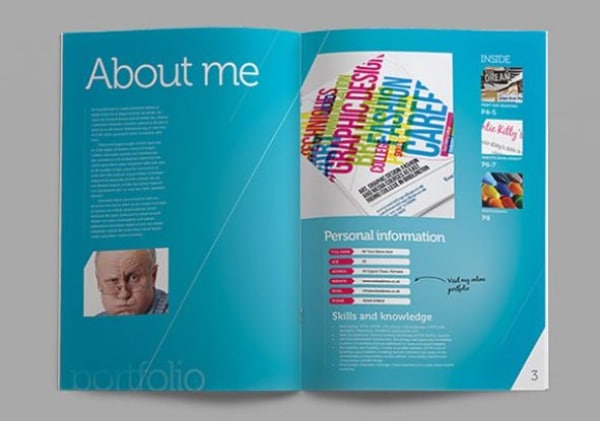 This beautiful InDesign template is free to download and edit. As per the name, it has eight pages, and all pages are very sincerely designed. So you get a complete portfolio file with easy customization. And you don't have to build all the layers by yourself. This template can save a lot of time and effort in concept finalization and execution as well. The color scheme and composition are well executed and are also customizable. So if you want to make a safe choice for your portfolio, it can be an excellent simple, and exciting option.
Unity has incredible features and designing style that goes well with any personal portfolio need. If you are a web designer or graphic designer with this template, you can showcase your talent adequately and creatively. The design is flexible for both agencies and freelancers. Moreover, you get a wholly organized PSD file that offers you an attractive design with minimal editing requirements. Needless to say that you can also change the whole template as per your choice if you like. So overall, Unity is a very solid portfolio template that is free and flexible to use.
Designing a portfolio is also a different subject. You may have to collect your work and start building a suitable layer where you can display the content in an equally attractive design format. Of course, it is interesting, but it is time taking process. Instead, you can invest that energy and effort in your actual creative work because, ultimately, that's what your real asset is.
Therefore opting for a professionally designed template is a new way of solving this concern. Webpages and websites are the new trends of portfolios, but still, digital files are not losing their stage. It is essential and feasible in many areas; that's why design professionals and students tend to keep portfolio files in their system to access any situation.
Above listed templates are free to use, and they all are beautifully designed. So you can choose one and build your modern portfolio with minimum effort to boost your career.
Related Resources: