Home » Video »
Line25 is reader supported. At no cost to you a commission from sponsors may be earned when a purchase is made via links on the site. Learn more
Lyric video templates are the key to making a killer music video. You could spend hours on YouTube, watching the pros make it look simple. Or, you could make your life easier by considering professionally designed premium templates.
Whether you are a songwriter or a graphic designer hired to create a music video, using a pre-made template to start with is a huge time saver. It doesn't matter if you're new to video editing or you're a pro, we have a video template for lyrics listed for everyone.
Keep in mind that you must have the appropriate video editing software to alter these templates. We will discuss more on this in a moment.
Now let's clarify what a lyric video template is:
What is a lyric video template?
A lyric video template is a professionally designed video template that is editable for the purpose of including the music and lyrics of a song. These templates allow for the text, or in this case lyrics, to have animated and motion effects.
Depending on which program the template was originally created with, each template can be edited, or customized, by using a video editing software application such as:
Apple Motion
DaVinci Resolve
Final Cut Pro
---
BEST LYRIC VIDEO TEMPLATES – UNLIMITED DOWNLOADS: Millions of Templates & Other Design Assets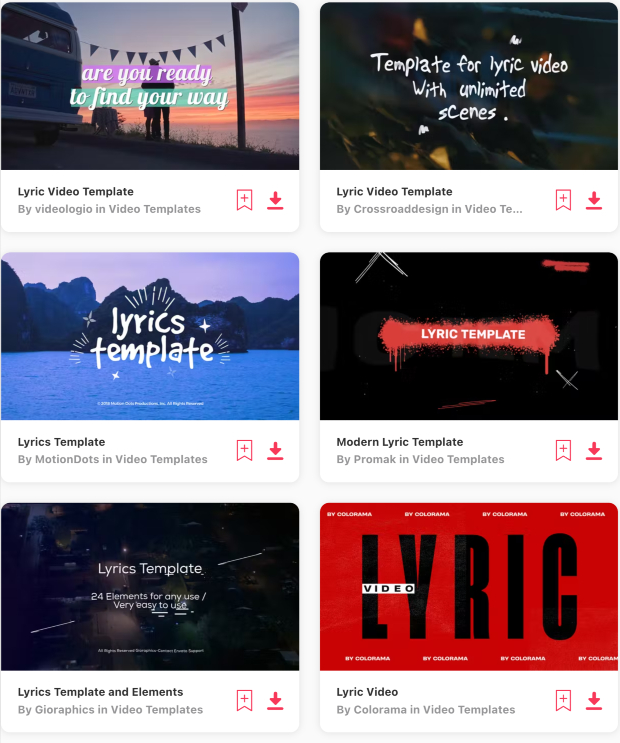 Download as many Lyric Video Templates as you desire from Envato Elements, a top provider of quality design assets that you can instantly download such as images, graphics, icons, illustrations, videos, audio, themes, and millions of other items. No other provider compares to this resource!
Start downloading as many items as you want today. Plus, the other good news is that it costs less than 0.55 cents a day!
---
Supported Applications:
The Neon Lyrics Template and Elements is one of the best lyric video templates because of its amazing features. The template has neon light-inspired text, which looks great with dark backgrounds. Several elements can also be used in your videos, including smoke, flares, and light leaks. And, as with most of our selections, no plugin is required.
Supported Applications:
Apple Motion
Final Cut Pro
With the 2D Lyric Elements template, you can easily create a professional lyric video. This template includes a customizable 2D environment with animated text and effects. It's easy to use and perfect for any type of music project.
Simply drop your lyrics into the timeline, and let the template take care of the rest. You can choose from various fonts and colors and add your logo or watermark. With Lyric Video Template 4, you can create a truly unique video.
Supported Applications:
The "Lyric Elements" template for DaVinci Resolve is a great option if you're looking for a more hands-on approach to creating your lyric video. This software offers a wide range of video editing and color correction tools, so you can fine-tune your footage.
There are a few different Lyric Element packs available for Resolve, including this one from rocketstock.com. This pack includes over 100 elements, including text boxes, backgrounds, and transitions.
Supported Applications:
This template comes with an edgy, grungy design and features plenty of customization possibilities. You can easily change the background and font colors to match your vibe. It also has a few animated elements that can add visually interesting moments to your project if you'd like.
You can also edit the logo image or add your own, so it will look exactly as you'd like. The template also includes the ability to upload an audio file, which is great if you want to sync up the words with music.
Supported Applications:
If you prioritize simplicity, Lyric Video Template 5 is a great choice. This template features a classic and clean design with text animations which allows you to display your song lyrics quickly and easily. 
You can choose motion graphics or no graphics in the background. With either option, the focus stays on your words, allowing your viewers not to miss a single lyric. This template is a great option if you're looking for an elegant minimalistic look for your lyric video.
Supported Applications:
Start your next lyric video with this easy-to-use Premiere Pro template. It features a simple black-and-white design with a modern typeface that'll set your lyrics in style.
This template is easy to use—just drop in your video clips and lyrics, and you're good to go. You can even customize the text and colors to match your style. Download it today and start creating your next big hit.
Supported Applications:
You can easily create a professional lyric video with the Lyric Titles After Effects Template. The template is easy to use and helps you quickly create a lyric video that looks great.
It comes with a wide range of options and features that allow you to customize your video exactly how you want. You can change the colors, fonts, and textures to create a perfect video for your song.
Supported Applications:
This Premiere Pro lyric template is a great way to create professional-looking videos quickly. It features a simple, clean design with liquid typography that looks great on any screen.
The template is easy to use. Just enter your lyrics and insert your song's MP3 file. The template will automatically create a stylish title sequence and animate your text to the song's beat.
Supported Applications:
The Lyric Video for Premiere Pro is one of the best lyric templates you can use to create a music video. With this template, you can create stylish motion graphics with text animations, revealing lyrics and visuals in your movie. This versatile template gives you complete control over the design, with numerous options for customizing the text, colors, and other elements.
Supported Applications:
This great template comes with a modern, minimalistic design and a brutalist typography style. It's perfect for creating videos that combine both animation and typography.
This template comes with customizable colors and font options, so you can easily create an engaging lyric video using this template. You'll have a great time creating lyric videos using this template, which features a cool mix of visual effects and various text styles. The result is an eye-catching lyric video that stands out from the crowd.
Supported Applications:
If you're looking for a template with a hip-hop vibe, then the Lyric Video Hip-Hop Typography is the one for you. It has a bold and energetic animation style, giving it undeniable street cred. 
The font choices also add to the aesthetic, featuring modern serif and sans-serif fonts in high-contrast color combinations. You can customize it according to your needs and easily add footage.
Supported Applications:
Looking for a lyric video template that's both creative and easy to use? Check out this Paper Cut Concepts – Lyrics Template & Elements V.2 for your next project. This versatile template lets you create videos with a paper-cut style perfect for indie artists and bands.
You download includes various built-in features, such as text boxes, motion graphics, and transitions. You can also easily add your images and videos to the mix. The template is best compatible with Adobe After Effects.
Supported Applications:
This template is a great option if you're looking for a more professional look for your lyric video. It comes with a range of customizable options, from color to text. You can easily export it to Premiere Pro making it a great choice for more experienced users.
Supported Applications:
This Premiere Pro template is a sleek and modern way to create your lyric music video. The easy-to-use project is fully customizable, with a simple drag-and-drop system that lets you quickly create the perfect look for your video.
With its stylish design and professional features, this template is perfect for creating high-quality videos that will impress your audience. And you can easily update the template to match the latest trends and styles.
Supported Applications:
This template is great for anyone who wants to add a professional-looking lyric video to their video projects. It's compatible with DaVinci Resolve and has 10 sticker-style design elements that make it easy to customize your lyric video.
So if you're looking for an impressive way to show off your lyrics, the Lyric Titles | DaVinci Resolve video template is worth checking out!
Frequently Asked Questions
What are the best free templates for lyric videos?
That's a great question. We don't have any free templates for lyrical videos listed here and after searching there are not many options and those that do come up look a little sketchy. Remember, anything offered free online may have a catch. Be cautious and always make sure the site is reputable and offers a commercial royalty-free license.
How do you avoid copyright infringement on music videos?
It's always best to use video templates that and royalty-free and come with a commercial license. Using a reputable provider like Envato Elements and TemplateMonster.
Do professional designers use templates?
The answer is yes. Pros use templates to save time and money. Both web and graphic designers use templates to present design concepts and ideas that would otherwise require time-consuming and costly design customization.
Final Thoughts
So, you made it through our list of the best lyric video templates on the market today. As you can see, there is a lot of variety in terms of style and format, so you're sure to find one that suits your needs.
Remember, high quality and a commercial license are what you get with this selection. Oh yea, you also get peace of mind that you're legally using a template that has no copyright restriction.
Please comment below and thanks for visiting!