Home » Fonts »
Line25 is reader supported. At no cost to you a commission from sponsors may be earned when a purchase is made via links on the site. Learn more
Y2K fonts have a charm that came out of the turn of the millennium hype and even today this charm can totally transform creative designs. If you are wondering what are the best options available, then keep reading because we have you covered with our list of premium options along with 5 of the best free Y2K fonts.
Getting your hands on a good Y2K font now takes a bit of work as it is used sparingly and only for generating that nostalgic effect. Just before the "New Millenium" started, these types of fonts were in abundance.
Y2K Font Quick List
As a designer, you probably don't have much time to spare, so that's why we put together this quick list of fonts for Y2K designs consisting of both the best free and premium options!
Premium Options:
Free Options:
Before going through our list below, let's first look at what a Y2K font is and its attributes:
What is a Y2K font?
If you remember, Y2K stands for "The Year 2000". Inspired by the wave of Y2K designs, these fonts are a fine combination of retro, sci-fi, and display font styles with a hint of technology. The letters will be thick and big with round edges or sharp cuts along with shadows or big borders.
Though many technology and sci-fi fonts are available, they would not be classified as the special fonts we have listed here and so we have specifically collated some of the best fonts for Y2K-themed projects.
To see more special fonts, you may want to view our posts about free retro fonts and the best 1920s fonts for art deco and vintage designs.
---
BEST Y2K FONTS – UNLIMITED DOWNLOADS: Millions of Fonts & Design Assets
Download as many Y2k Fonts as you desire from Envato Elements, a provider of the best quality design assets that you can instantly download such as images, graphics, icons, illustrations, videos, audio, themes, plugins, and millions of other items. There is nothing else like it for designers today!
Start downloading as many items as you want, and the other good news is it costs less than $0.55 cents a day!
---
The Best Y2K Fonts – Premium
Our list below is a hand-picked selection of the best fonts for Y2K and the new Millennium design projects. These great-looking fonts include a commercial and personal license with your download. For those provided by Envato Elements, the license is a permanent lifetime and royalty-free license.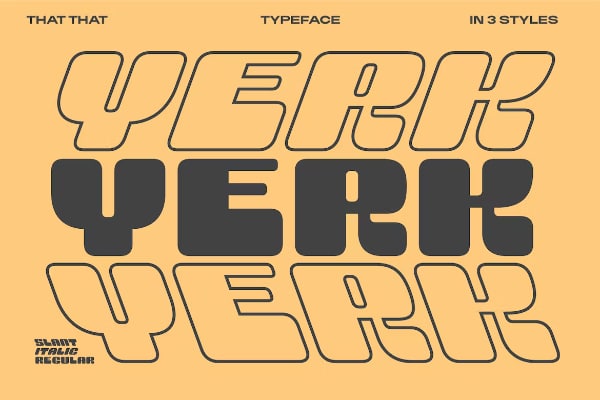 Yerk is a highly versatile modern Y2K font with three different style variations – regular, italic, and slanted. The letters have heavyweight, the corners are rounded, and the letters have a squared-off styling. The font supports both cases; you can use them for header displays of websites, social media posts, and print designs.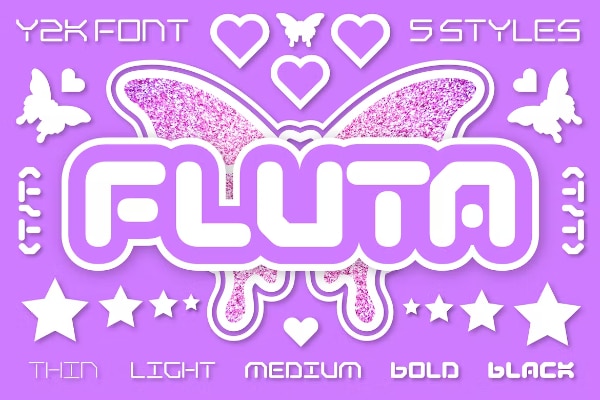 If you are looking for an intense font representing the visual appeal of the turn of the millennium, you should check out this Fluta font. It adds an extra modern and bold appeal with its strong character creation. The Fluta typeface comes in 5 different styles with a good variation in letter weights.
A classic futuristic font, Cenatyc packs a heavy punch when showcasing text boldly and attractively. While the letters are big and bold, the shifting weight makes the typeface look creative. You can use this Cenatyc font for logos, corporate branding for technology, or modern-day startups, websites, and marketing materials.
The Digibop takes the nostalgic effect to another level as the digital era of the late 90s inspires this font. Built through the smart use of pixel blocks, the Digibop typeface has a very good recall value, given its unique design. You can deploy this font for digital marketing projects, posters, magazines, and other print applications.
The cytone typeface heavily influences the Y2K design style, marked by the bold font style and the thick border. However, unlike other fonts in this genre, there is a good amount of creativity in letter design. Therefore, you should use such fonts for digital and retro designs, be it posters, movie titles, magazines, or book covers.
Not all fonts of the Y2K era need a heavy digital imprint. Some of them like this font – Flashbit can be more about bold letters and round edges. The designer of this font has nicely played around the letter width as the top bar is kept thin. The Flashbit typeface is quite versatile, and you can use it as retro or technology display fonts.
If you want to turn back the clock in your design to the start of this millennium, then the Areion font is a good choice. This font is heavily inspired by that time's pop and music culture. The letters are big and curvy and have a strong visual appeal. You can use this font for big-text applications like headers on posters, book covers, or magazines.
A heavy display font, the Bascade typeface will easily qualify as a font of the Y2K period. The designer has gone overboard with the extra width in the letter stem. But this is what gives the font its artistic appeal. You should consider this font when working on projects related to technology, music or science fiction.
A smart Japanese font with the Y2K touch, the Kansei font is an all-caps font that is well-suited for digital applications like websites, social media posts, and more. Each letter is handcrafted to resemble Japanese letters, which makes this typeface special as it adds an oriental feel to the design.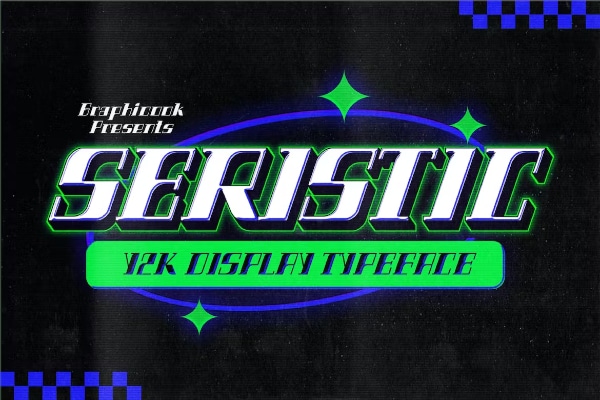 Moving from a highly artistic font to a more classy font, we have the Seristic Display Typeface next on the list. The good part about this font is that it uses a Serif style as the base font and builds around it to include a heavy shadow. This high width and shadow give a 3D feel to the letters and will add more depth to the text.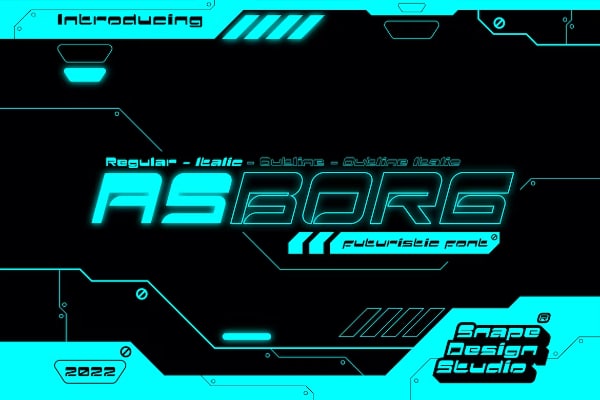 Combining the Cyborg concept with the changing millennium, the Asborg font tries to balance both aspects creatively. The letters are kept strong and bold but have varying width, which changes vertically. You can put this font to work on movie posters, titles, social media posts, and even for print projects like magazine and book covers.
12. Neo-Syber (Y2K Display Font)
A futuristic font inspired by the Y2K era design, Neo-Syber is a good display font to use if you want your text to stand out nicely. The heavy weight of the fonts ensures ease of readability, and the shadow provides a 3D effect. In addition, the fonts are easy to download and install on your computer, irrespective of the operating system or designing tool you are using.
A font with a quirky name, Broken Console is inspired by the geometric pixel design style. The letters are created using small pixel blocks, and their geometric design provides good consistency. The font comes in 3 styles – regular, bold, and bold shadow. You can use this font in games, user interfaces, and projects that want to take the users back in time.
An all-caps typeface, Techno Capsule is a modern and futuristic font style. Inspired by the android design style, the font has been given a design as if we are looking at it from a top angle. Hence the top bars are heavy, and the bottom part is thinner. Techno Capsule font can be used for eye-catching logos, websites, social media posts, and motion graphics.
Digistick is a classic Y2K style font that combines several effects to deliver a visually appealing font. Each letter is handcrafted with a grunge and a shadow effect to make the text stand out irrespective of the background. The good part is that the font supports both cases and can be combined for designs.
Cyber City is not a standard Y2K typeface, given its square letter design and polished finishing. But it can still be used to generate the nostalgic effect. The letters are filled, but some spaces are kept empty, which gives the font a unique artistic feel.
Inspired by the long-gone digital bit design style, the Bit Master Font is worth adding to your collection, given its unique visual appeal. This display typeface has a strong, bold letter, and certain bits are removed, giving it a grunge and digital effect. The font comes in 4 styles – black, bold, regular, and thin.
If you want a variation in Y2K style fonts, then the Youth Mojito font is worth trying. As the name suggests, this typeface gives a sense of youthfulness, which gives it a nostalgic effect. The letters seem to have been created with a bubble effect, and there is an undertone of script styling. The font offers over 45 creative alternates and ligatures.
Coming back to standard Y2K theme fonts, we have Maxerons typeface, a good combination of display and technology font. The letters are bold and strong, with character edges trimmed. The good part about the font is that it is not old hardcore and can also be used in modern applications like websites and digital marketing.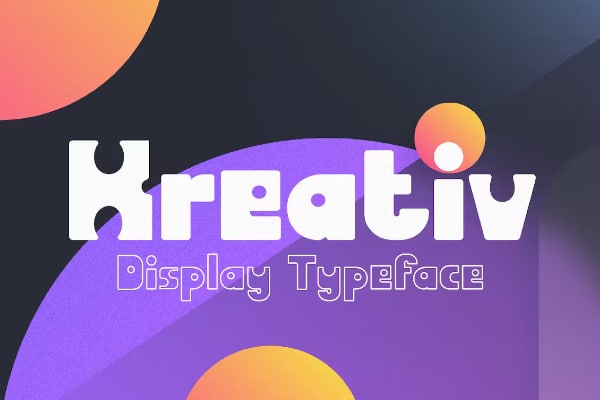 Last, in the list of premium fonts, we have the Kreativ display typeface. The letters are handcrafted with varying widths, but overall they are strong and can effectively showcase the text. In addition, the font comes with a solid outline style, and you can use its combination for social media, apparel design, outdoor branding, packaging, posters, and magazines.
The Best Y2K Style Fonts – Free
Free fonts are not always allowed for commercial use. Check the licensing options before downloading.
Do not be perplexed by the weird name of the font, as design-wise; the font is quite simple. The Para Aminobenzoic font has been inspired by the typewriter style of design, where ink flow decides the letter formation. The font is free, and you can use it for projects related to technology, the digital world or even science fiction.
As the name indicates, the Y2K Bug is heavily inspired by that era. The letters are less strong than in other fonts in this genre. But they make up for this in the creative curves provided by the designers. Overall the font looks classy and can become more effective with neon or bright colors.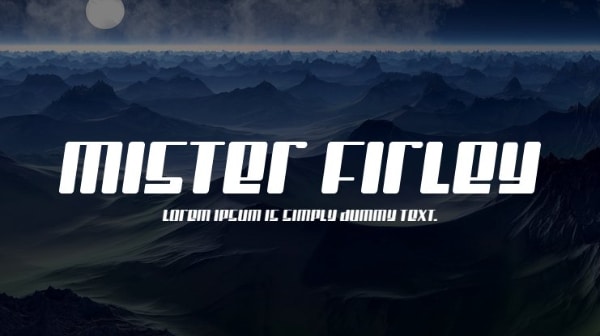 A modern industrial style font, Mister Firley font can also help you instill the change of how the millennium feels in your design. The letters are stretched horizontally, and the bars are made super thin. This gives the font its unique visual appeal.
Continuing with stylish fonts that qualify as Y2K theme fonts, we have the Maxmilo font next on the list. The heavy width of the font allows for a strong and bolder display. The creativity of the font is seen in the curves and irregular weights. You can deploy this font for projects related to technology, science, and even for an old western feel.
Ending the list with a free classic-looking Y2K font, we have the Y2K Subterran Express. While the name may not be very creative, the typeface certainly is. Fundamentally this font is an outline-style font with thick lines. The good news is that it supports both cases, numerals, and even symbols and comes with many creative alternate characters.
Frequently Asked Questions
Why are the year 2000 font styles popular?
The year 2000 saw the world shifting rapidly towards the digital age; with it, the digital design landscape saw a complete transformation. As a part of the transformation, many fonts were created and designated as Y2K style fonts.
You should select the font depending on the design you are working on. Most of them are bold and curvy and have a shadow effect, while some deviations have more of a digital appeal. Some of the best premium Y2K typefaces we have listed are Fluta, Areion, and Seristic Y2K Display Typeface
How do you make a Y2K logo?
Y2K logos generally have strong solid fonts combined with shadow and 3D effects and are easy to create, provided you have the right font. This is because the majority of such logos are typography based or heavily dependent on the font style. We have added a long list of these types of fonts, and you can choose one of them.
Where can I find free fonts for Y2K design projects?
Other than the 5 options we have listed here, you can go to DaFont, MyFonts, and 1001fonts. It's important to keep in mind that most free fonts can only be used for personal use.
Can these fonts be used on websites?
Only those designated as "Web Fonts" can be used for websites such as the Envato Elements fonts in the premium section. Web fonts are only visible in different browsers when they have 4 important files uploaded to the website which are WOFF, EOT, TrueType, and SVG.
Is it legal to download these fonts for commercial use?
You must have a license from the creator, or provider, of the font to legally use it for "commercial purposes". Our premium font options will give you peace of mind concerning this issue because they include a commercial use license.
Probably the best provider license available is Envato's lifetime (royalty-free) license. There is no attribution requirement as well. You are still covered on the assets you download if you cancel your subscription.
25 Best Y2K Fonts for Millennium Projects Summary
Overall these 25 best Y2K fonts were designed to make it easy for you to display your millennium-themed message no matter if your project is digital or print-based. We really hope you enjoyed our list and find it helpful. To make your next search easy for the top Year 2000 fonts, just bookmark this page.
Was this helpful? Please let us know what your favorite font is in the comment field below!