Home » Fonts »
Line25 is reader supported. At no cost to you a commission from sponsors may be earned when a purchase is made via links on the site. Learn more
As a designer, there are many design elements you need to keep yourself updated with.  Different elements include patterns, design techniques, colour schemes, and typography as well. When we talk about typography, one important element is the font. Fonts are essentially a blend of typefaces with other character qualities such as the pitch, spacing and size.
Generally, all designers have a vast collection of serif and sans serif fonts.  However, not all of them keep an excellent repository of comic fonts at their disposal. Comic Fonts are fonts that cater to a different need of the market that you might have to deal with, on certain occasions. They are usually used for fun events or animation related topics. They are designed and created in a manner to appeal to younger audiences as their primary target. There are many free to use comic fonts out there that you can use for your next project.
Here are 25 Best Comic Fonts you need to use for your next project:

Nias Bird is a comic font that was created by a designer named Ryal Docallisme. It looks like a unique and fun comic font.  The top half of each character is heavier than the lower half. This is what makes this font interesting and distinctive.  This font is best used for headlines and titles. This font doesn't have a lowercase set.  It is free to use font for personal projects.
Happy Markers is a font from Joseph Dawson. Unlike many comic fonts, this isn't derived from Comic Sans.  The font uses rounded lettering and has all-caps characters. The font looks like it has been drawn with a round-tipped thick marker. It comes with an Italic variant as well.
The Labothings is a hand-lettered comic font created by Kotak Kuning Studio. It looks like a playful and energetic script font. The font comes in both upper and lower case variants. It is a text-based only character font set and lacks special characters and punctuation.  However, any normal font punctuation would easily complement this comic font.  The font is free to use for personal projects.
Hanoded has hand-drawn this font named Reality Check. It is a big and bold comic display font. The uppercase has an all-caps variant, whereas the lowercase set has subtle variants of the all-caps variant. The overcasting effect gives this comic font an edge.  It is available to use for free for personal use only.  There are many special characters and in addition, there is support for punctuation which has the same design elements as the text-based characters.
Comic Comoc is a font by Dumadi Studios. It is a cute and fun display font that is inspired by comics. The font has fat strokes, which adds an appealing twist to any design project. There are both upper and lowercase sets. It can work best for designing comics, headers or naming a comic character.  It is available for free for personal use.
Tootle Play font is a lettering font comic by Midfont. It is a very basic font with no extra decorations. However, this very fact is the best feature of this font.  The font can be used for various aspects, and it doesn't look overwhelming. It is easy to use and yet attractive comic font. This font has all characters, including alphabets, numbers and special characters.  It is free to use font for personal projects.
Fishfingers Outline is a comic outline font which is a part of a larger set of FishFingers font. The character design uses tall fonts which have a heavier top half as compared to the bottom half.  The font also has a variant on standard and lightweight.  There are both upper and lower case characters.
Go speed is another comic font by Kotak Kuning Studio.  It has tall and upper heavy characters. The characters are slightly italicized to remain true to its name. This font is ideal for creating a sense of urgency. The ideal places to use this font could be for racing games, events, headers and more.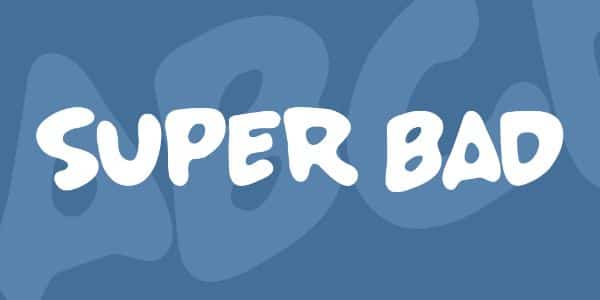 Super bad font is a comic font used created by Eli Shore Production.  It has a handwritten stroke, which has a certain weight attached to it.  It is a font which uses all-caps characters. However, the lowercase and the uppercase fonts are of different heights. As a result, you can create different combinations and a bouncy un-leveled effect.
Comic Marker Deluxe is a comic font created by Darrell Flood.  It looks like hand-drawn letters created by round-tipped marker pen.  It has an inclined design which makes it look like an italicized font.
La Glida is comic font by Woodcutter Manero. The characters are designed to look tall and skinny comic fonts.  It is a true comic font as it has characters with unkept line and rough edges. This also helps the font stand out from the rest of the fonts.
Kids Magazine is a great comic font, specially designed for a younger audience. It works as a great headline font. The font is bold and energetic.  Imagex creates it.  It uses fat strokes that are nicely defined.
Hey Comic is a great comic-style font that has a modern approach. The font comes with multilingual support. This font is best for quirky and fun comic book design.  It comes with uppercase and lowercase characters and also special characters. In addition, it has a bold and fun typeface, and Khurasan created it.
Nikopol is a comic family font that has a retro-modern comic font.  It comes with various typefaces.  The font has a textured design which makes the characters look unique.  It comes with rough, regular and halftones styles. The halftone style looks very authentic to the vintage vibe.  A few characters have alternate versions that can be toggled by using caps lock.
Bang Bang is a great comic splash font.  It can be best used for designing attractive pages and splash panels. There are multiple weight options available for this font as well as multilingual support.  This helps you create many variations and experiment with different styles of typefaces using a single font.
Comic Tantrum is a free comic font that anyone can use for their titles and splash panels.  The font has a lot of rough and unique edges for each character. It is a very versatile font that can also be used for headlines, infographics, posters or web pages as well. In addition, it is resizable to adjust to your requirements.
Woodchuck is a bold yet minimal comic font. It is ideal for designing headers or comic book titles. The font has a 3d effect with the black outline to each character. It comes with four variants; a thin, light, regular and bold.  It comes with uppercase as well as lowercase fonts and has support for more than 1000 special characters. In addition, it also supports many Latin languages.
Super Mario 2 is a comic font that is derived from a popular gaming franchisee- Mario Series by Nintendo.  Since it uses font similar and tested on such a popular game, its effectiveness is validated there and then. The font works great for creating headlines and dramatic titles.  It has a bold design that stands out from the rest. This font comes with all-caps characters with no lowercase characters. Moreover, there are special characters available as well.
Back Issues is a great comic font. It uses a running style design and is best suited for entertaining content. The font comes in variations such as italics and bold for you to experiment with.  This font is great for dialogues and creating stories. It is a font that you could truly use for writing or illustrating a comic strip.  Moreover, it is an all-cap font with no support for lowercase characters.
Caricature has an interesting take on comic fonts. It is unique in its character design as each character has a caricature attached to it, which makes the font very engaging and gives each character a personality. The detailed precision to making each character different yet feel part of the same font family is commendable.  This isn't limited to just alphabets, but even the numbers have a certain caricature attached to them.  Moreover, it comes across as a fun font to use, best suited for situations where the content needs to be light and open.
Jellygurp has a great font style. It helps the content look refreshing and engaging. The font has support to be used in layers which gives you immense flexibility to play around and design your combination of typeface using this font. Moreover, the font comes with sets of upper and lowercase characters and also double letters.
Diamond dust is an elegant comic font. It has a distinctive and appealing style. The typeface is indulging and easy to read.  The most significant advantage of this font is that it can easily captivate the reader's attention thanks to the attention paid in its detailing and design. The texture of each character is very chalked like that looks aesthetically pleasing. Moreover, it comes with lowercase and uppercase characters as well as special characters.
Porky's font family is a tremendous comic font with rounded curves. This font is inspired by the film Porky's.  It is a great font that can be used for greeting cards, magazines or comics. Moreover, Porky's can be used for various creative design aspects as it's an easy to follow font that has its appeal. It comes in two weights: Porky Regular and Porky Heavy.  The characters aren't aligned to be in a straight line that enhances its comical characters. It supports upper and lowercase characters as well as special characters.
The name of this font itself reflects that it is a comic font. Sketchy comic is a great comic font for sketching enthusiasts. Each character in this font has a sense of sketching that gives it a personalized touch. It is an all-caps font that works best for creating headers and designing banners. It comes with no special characters and lowercase support; however, it is an excellent font if you want to use it just for the alphabetical characters.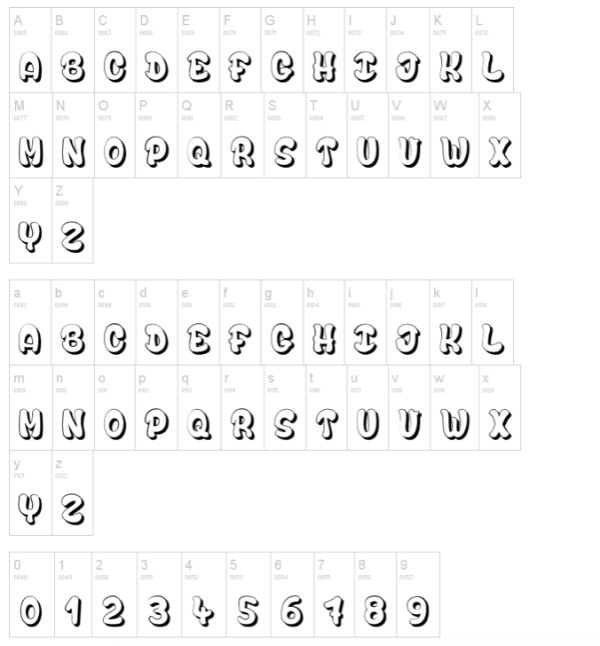 Bubble & Soft is a cute comic typeface. It is a font that has been used by many designers across the globe. The font has various weight options such as; Standard, Regular, Extended, Condensed and Italics.  The font is regular and simple in its design; however, it has excellent potential to create an impact.
These were the 25 of the bests free Comic Fonts that you can use on your next design project. They each have unique characteristics and elements. Every font has something unique to offer. Understand the requirement of your client and try these comic fonts to find the ones that best suit the requirements.