Home » Fonts »
Line25 is reader supported. At no cost to you a commission from sponsors may be earned when a purchase is made via links on the site. Learn more
Following current design trends is something all designers need to do, whether they like it or not. One of the most prominent design trends in the last few years has been Psychedelic designs. Inspired by the 1960s, this design contains many abstract colors, and curvy fonts and visually appears to be highly creative. 
These designs transport you back to the golden period of rock-n-roll and overall hippie culture. Bob Dylan was at his prime, the Rolling Stones were selling like hotcakes, the world was just copping from the Beatle Mania, and the era of Pink Floyd was about to start. Western civilization seemed to be at the cusp of a cultural revolution. This is why most psychedelic designs seem abstract at first glance but have a profound meaning when one observes them closely. This trait is back on the trending list and is used a lot for cultural designs.
While the imagery and the colors play a prominent part, the fonts give the psychedelic design its true identity. The rising trend has provided a platform for a lot of designers to come up with highly creative and useful fonts. Collating here for you a good list of free psychedelic fonts which all designers must have: 
This font style is based on the Spanish artist Victor Moscoso who played a pivotal role in the psychedelic art movement in the 1960s. It is claimed that he started using curvy fonts and creating psychedelic designs for music album covers, movie posters, and other designs. This free font style is very hippy in visual form. The letter spacing is set in such a way that a lot of text can be condensed together. If you are looking to create a classing 1960s psychedelic design, this font is the perfect choice for you.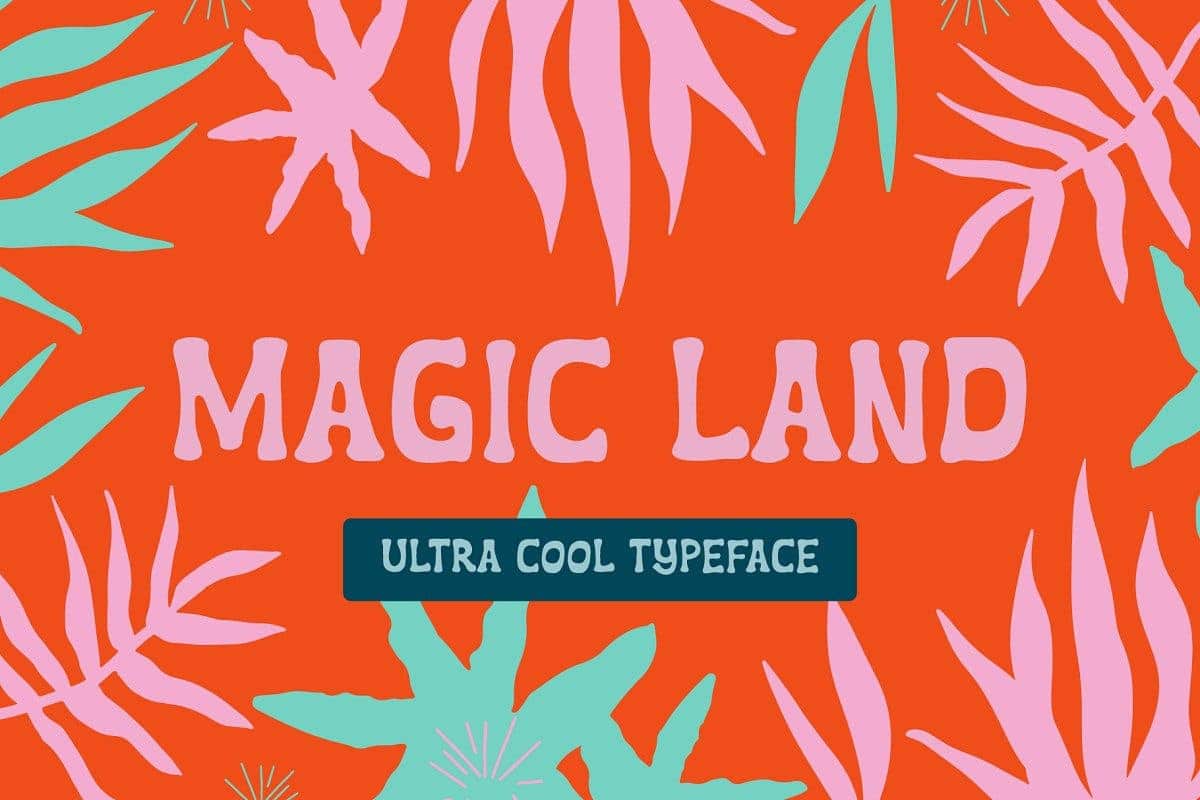 Magic Land is a handmade all-uppercase font with an ultra-relaxed style. It features all English letters A-Z, numerals 0-9, and all common punctuations. Magic Land is a playful font that is suitable for use in games, headers, websites, magazines, invitations, and merchandise.
Quite a classy name for a font style, Spicy Rice is a Google font that you can own for free. Being a Google Font comes with a lot of advantages. You can use this font for all web applications as the font will be available online. The good part about this font style is that it does not go psychedelic all out but rather has a more casual and exciting feel. It has a festive aura to it and can be easily used on designs related to parties, invitations, or anything representing happiness and joy.
Peculiar People is a hand-drawn psychedelic font. It features all uppercase English letters A-Z, numerals 0-9, punctuation, style alternates, and support for multilingual accents. The sans-serif liquidesque Peculiar People typeface is perfect for creative projects like albums and designs with psychedelic and experimental themes.
This font style is named after a Gujarati sweet dish. Developed by an Indian designer, Shrikhand can support both Gujarati and Latin text. So if you are looking for something multilingual, then this font can be of great help. Visually, the font is bold and stands out easily. Moreover, it boasts of a lot of curves and allows the designers to be very expressive. Being a Google font, you can easily use it for any sort of web application. Apart from that, they can be used for headers, titles, or even hero images of websites.
Funkorama will bring back all the nostalgia of the late 1970s. It features all uppercase and lowercase English letters A-Z, numerals 0-9, and punctuation. The influences of funk, disco, and modern technology in Funkorama perfectly enhance retro-themed designs, stationery, posters, quotes, and album covers.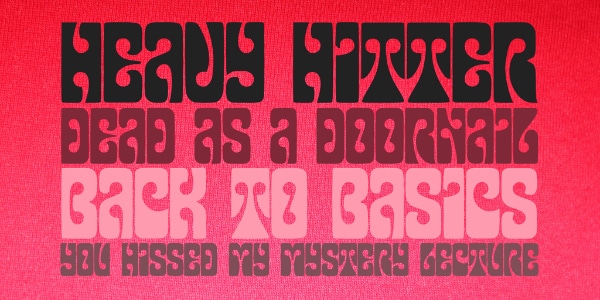 In iconic and very genuine typeface, Psychedelic Caps allow you to be as close to the Art Nouveau movement as possible. It is highly dramatic, like the fonts used in the 1960s, and at the same time, it shows signs of evolution with its stylistic curves. In addition, it makes the most of the negative space very nicely to give a trippy feeling to the readers. If you want to give the '60's vibes to your design, be it posters or social media posts, then this is the right font style for you.
Viva Kaiva is a whimsical display font. It features all uppercase and lowercase English letters A-Z, numerals 0-9, stylistic alternates, and support of multilingual accents. Viva Kaiva is a unique font with a style that makes it an excellent option for titles, illustrations, posters, and projects with fantastical themes.
An unusual name for a font style, but this one is quite special. It is a fine blend of psychedelic font and brush fonts. If you look at the font, you will feel like someone has just painted it with a fine brush. It is bold, cursive, and at the same time easily legible. Hence it can be used for a variety of purposes. One of the most used applications of this font style is for packaging purposes. You can design amazing typography using this font and place it at the right place on your packaging, and you can see the magic of the font unfold.
Giuthen is a modern psychedelic sans-serif font. It features all uppercase and lowercase English letters A-Z, numerals 0-9, punctuation, ligatures, and support for multilingual accents. The expressive and brutalist nature of Giuthen is a perfect addition to logos, posters, editorial design, apparel, websites, and special events.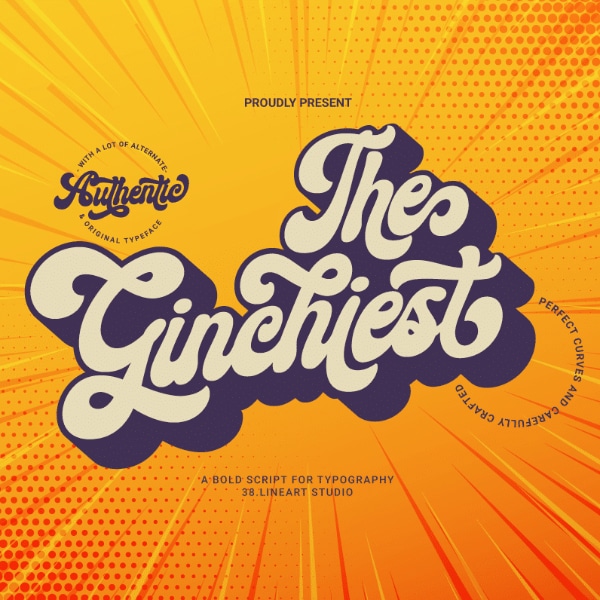 Hard to pronounce, this word is slang for something interesting and cool, and that is exactly what this font style is. This has to be one of the hippest, smartest, and coolest fonts for designers to collect. Technically the font is a bold script font with a hint of retro vintage. This gives a good character to the font. It would be great to use in designing logos and other branding content. The bold nature of the font makes the content stand out nicely.  
Yet another font with a quirky name, Funkydori, is one good free font you should be adding to your collection. The font is well-designed, with certain characters having an extended design. This makes the font stand out whenever it is used. It is bold and has inherent shadows. This makes the font easy to use on any design where you want to draw the readers' attention. You can get creative in mixing up the colors because, given the depth of the fonts, they would look great in contrasting colors. 
As the name suggests, the font style helps you take your design to another dreamland. The designers have spent a good amount of time and energy getting the three parallel line designs for the font. This gives it a very varied look altogether. You can use this font along with gradients to enhance the effects of the fonts. In addition, the fonts come with an alternate style that has stars in them – something that can be used for party invitations and posters. 
This font style is big and has fat letters and hence the name Bigfat. It is free to use, and you can download it from dafont. There is a good amount of versatility present in this font that allows you to use this font in psychedelic designs, and also in other designs there, you need a thick brush font style. Ideally, this font style is good to use on logos and also on branding and packaging. The font style comes with its extrude file, which is a big plus for designers. 
Art Nuvo font style takes inspiration from the classic psychedelic movements of the 1970s. Given its irregular curves and surface, it gives a feeling that it is a handmade font. The rough edges make the fonts stand out, and the designers should exploit this feature of the font. This font would work best on designs with outside applications that will be viewed from far away. 
If you think curves can help your design become more trippy, then French Script is the font to go for. One of the widely used fonts given its versatility, this font style is a must-have for any designer. The extra curves lend a character to the font style making it more interesting and helping the design stand out. It can be used to add a psychedelic feel to the design and, at the same time, be used where a more feminine font is needed. 
A unique name for a font, Fhoota Morgana is a highly unique font given the mixed-use of curves and condensed text. Launched just a year back, this font style is quite new in the graphic design circuit, and you should bag and use it before it becomes common. You can use it in contrast with a dreamy background to get a good old-school effect on the designs with a hint of psychedelic tones.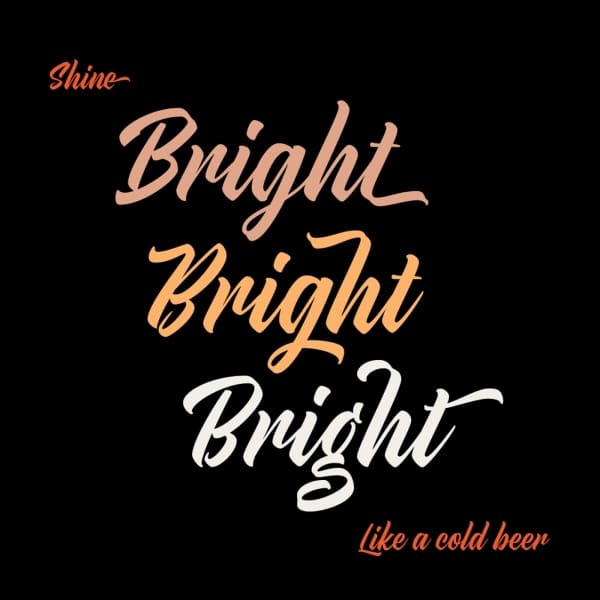 A yummy name, the font truly lives up to its name as all designers are using it like hot cake. Technically it should be counted as a brush script font, but well-experienced designers would know how to use it in psychedelic designs by making the most of its curves and strokes. It has been used widely in the food industry but at the same time can be used as a secondary font in websites, posters, and even logo designs. 
This font style has an old feel to it and can be nicely used for vintage or other designs. When you download the font, you also get the regular and rough versions with all the swashes and alternates. This is very useful when you need to pair the font with another good font. This font style can be used on postcards, flyers, and other print designs to give a vintage or handmade feel.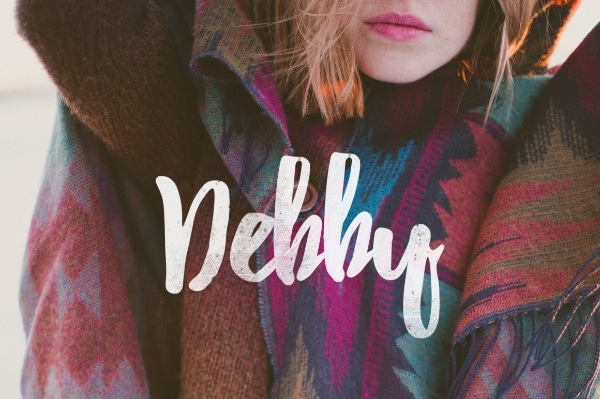 A naturally created brushed style font, Debby can be creatively used for giving your design the desired psychedelic effect. It has a very refreshing feel to it, and hence you can use it for personalized designs like postcards, invitations, or other print designs. You should use it with a set of dreamy or flowy gradients to accentuate the font. Apart from print designs, you can also use them for creating social media posts of website images.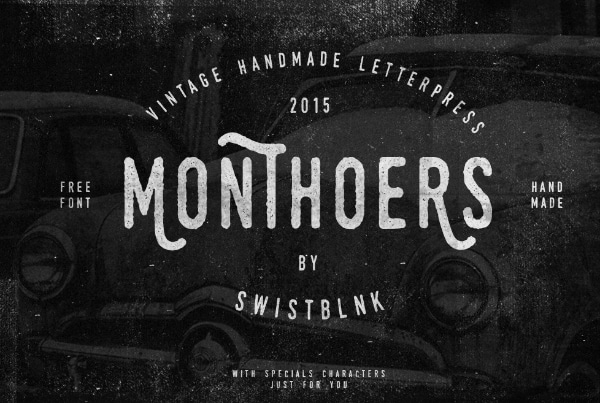 Hand Drawn fonts have their own beauty. Given how extensively they were used in the 1950s, they are not used to provide that nostalgic effect to the designs. Monthoers font style does a really good job at that. You can use this font for recreating hand-drawn titles given its unique inky and printed appearance. It comes with 15 special characters that have decorative swashes. This becomes a good addition for the designers.
A beautiful font with a hand-painted effect, Water lily can help you add the much-needed trippy feeling for the psychedelic design. The final outcome of this font is so flawless that you feel that it is hand-painted using watercolors. You should make the most of its fluidity and use it for designing postcards, posters, invitations, or even digital designs like website hero images or social media posts.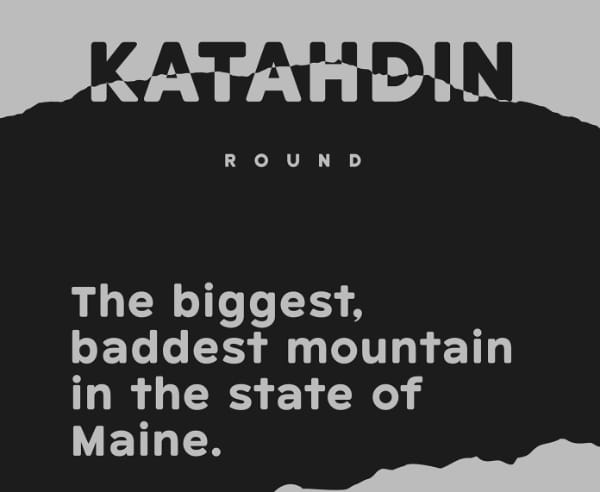 This font is named after the largest mountain in Maine. The idea behind that is that font should project visual imagery of being strong and bold like the mountain. But the most striking feature of the font is the use of dual colors. This duality can help you give your design the much-needed psychedelic touch. It should be used in designs where you want your typography to command attention.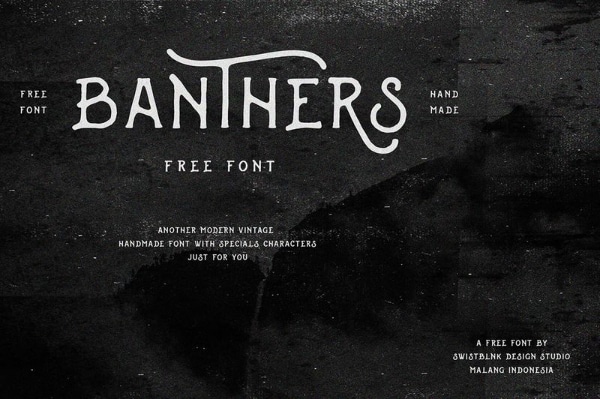 A font visually similar to Monthoers, this font style can also be used for outbound applications. It can be used in multiple manners: a nice brush script, a grunge font, and a psychedelic font. This multiple-use feature makes this font a must-have for designers. It includes uppercase letters and also special characters. This provides a complete creative buffet for designers to work on. 
A highly sophisticated but very attractive font style, London has been created by putting too much brain behind it. Each of the characters is uniquely created, and the effort shows in the final results. You should use this font as the secondary font for poster design or even social media design as a designer. It offers both solid and also outlined versions. However, it is not easily readable, and hence you should use it for typography or headers only. 
Selecting the right font style can make or break the design. When you create a psychedelic design, font styles become all the more important as they are the prominent feature of this design form. These free psychedelic fonts are a wonderful addition to any designer's font collection as they will expand their creative bandwidth and design pixel-perfect psychedelic designs.