Home » Fonts »
Line25 is reader supported. At no cost to you a commission from sponsors may be earned when a purchase is made via links on the site. Learn more
The best racing fonts are those that have a quick-motion appearance and are primarily in italics. The most common typography used is decorative, serif, and sans-serif. We are proud to provide you with a list of the best premium fonts for your racing designs!
When you are done here, you may also like to read our post on the best sports fonts and our feature showcasing the best futuristic fonts.
Now, let's get moving with these cool-looking race fonts presented by Envato Elements. Each selection includes images displaying examples of how you can use them in various designs, and some show glyphs, and alternates too.
---
Racing Font Collection
UNLIMITED DOWNLOADS from Envato Elements!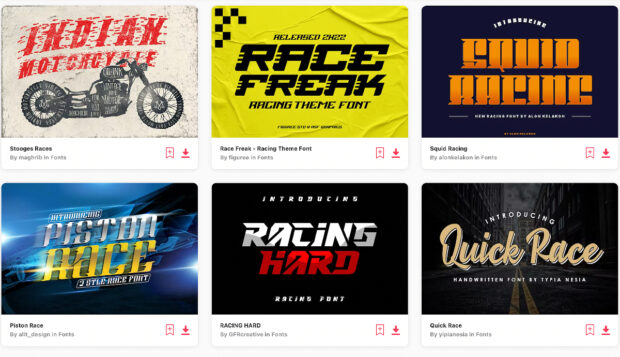 ---
The Best Racing Fonts
These amazing sports and racing-related fonts can literally be used in almost any print and digital graphic design project. They can be used for:
posters
banners
headers
logos
flyers
booklets
tickets
All of the following racing-style fonts are from Envato Elements. We recommend reviewing each to find a perfect match for your design project. Happy designing!
To get things started, here's a fast-looking option that will take your designs to top speed. Blow the completion away with Torque Craver.
The Stooges Races racing font is a vintage style font and it comes with all fonts, an extra image pack, and a video tutorial for Adobe Illustrator.
This decorative font called Race Freak includes TTF, OTF, WOFF files along with numbers, symbols, multilingual support, and more.
Squid Racing is a sans-serif typeface designed by Alon Kelakon and your download includes TTF, OTF, and WOFF file types.
Get started with Piston Race and you'll also get alternates and glyphs along with OpenType files. You will need a program that supports OTF such as Adobe Illustrator, Photoshop, etc.
The Racing Hard font resembles a transformer-style font with its sharp and slanted designed edges. Another top option for race-themed designs.
Here we see a more traditional-looking style font which is a handwritten script that includes all punctuation, characters, and numerals.
Trobus is in line with common or popular race-style fonts featuring an italics sans-serif type and will bring any auto-racing style design to life.
This selection is very unique but is also best for large print or digital applications since it's not easy to read in small print.
Race Speedy takes on the design and characteristics of futuristic, sci-fi, and gaming font styles.
As the name indicates, this selection has a tech font look and feel, making it a perfect match for racing projects involving machines.
Defgo Racing is a modern sport font that is taking on those common race characteristics we've already seen like italics with swooping and sharp cut edges.
In the sample images of this decorative font, we can see it is a very versatile font for racing-themed projects.
When looking through the image samples you can tell that this selection is a speed font and a great choice for many different graphic design applications.
The "Road Race" is a rustic serif font family that provides a nostalgic or vintage racing feel.
Display fonts designed with racing in mind are always a good option to bring life to a race project.
As mentioned, racing display fonts can really capture the essence of a project focused on those sports having to do with racing, competition, and more.
Now here is a font that stays true to simplicity, making it very easy to read in both large and small print.
If you haven't seen it yet, racing-style fonts are often created as display fonts as we see here.
A brave handwritten font describes "Fast Racing" and displays a style that is distressed, grungy, or created with a brush stroke.
The typeface is all about speed and is a good option for esports, video thumbnails, titles, and more.
If you are working on a gaming project that is auto-related, Chasis7 would be a great option to try.
Another option in line with the simple, but distressed look that can add a nice touch to your designs.
A definite winner in the racing design category which is simple, italics, and unique with how it displays the letter "A". This is a signature design element that correlates well with racing and automotive-themed projects.
Quattro is a great example of a futuristic gaming font and will work well with designs related to speed and racing.
The Slugs Racer is specifically created as a racing display font and comes with classic 50s racing flames.
With this typeface, you will surely make an impression when applied to logos, websites, flyers, posters, and more.
The Best Racing Fonts Summary
Okay, now is the time to start downloading these fantastic racing fonts for your project. Remember, you get a royalty-free commercial license included with each font and get to KEEP THEM ALL with a subscription to Envato. Even if you cancel, they are yours. That's it – easy and simple!