Home » Fonts »
Line25 is reader supported. At no cost to you a commission from sponsors may be earned when a purchase is made via links on the site. Learn more
Futuristic fonts are designed specifically to enhance projects focused on techno, space, and sci-fi designs. These types of fonts are usually created with straight edges, that are clean, strong, and with a creative blend of display and modern san serif typefaces.
The good news is that there are exclusive fonts designed specifically for futuristic-themed projects and this blog post has over 20 of the best designs available. Our selections will work great for both website design and graphic design and include premium options as well as some free futuristic fonts.

26 Best Futuristic Fonts – Quick List
Most likely you're a designer with little time to spare so that's why we put together this quick list of fonts for futuristic designs. There are both the best free and premium options!
Premium Options:
Free Options:
---
UNLIMITED DOWNLOADS: Millions of Creative Design Assets by Envato Elements
Envato Elements provides the best quality design assets that you can instantly download such as fonts, images, icons, illustrations, videos, audio, WordPress themes, plugins, and millions of other design assets. There is no other place that offers outstanding high-quality products for designers and developers.
Start downloading as many items as you want for less than $0.55 cents a day! You can cancel anytime and still keep your downloaded items. A lifetime commercial license is included.
---
The Best Futuristic Fonts – Premium
The list below is our hand-picked selection of the best futuristic and sci-fi fonts. These cool-looking fonts have a commercial and personal license included. With Envato Elements, the license is for a lifetime with no limitations.
Techno Space is an ideal space typeface to use when you are working on futuristic projects related to space, techy designs, and science fiction. Each letter is customized with special cuts giving the font a 3D effect. In addition, the font supports both types of cases along with numbers, punctuations, and symbols.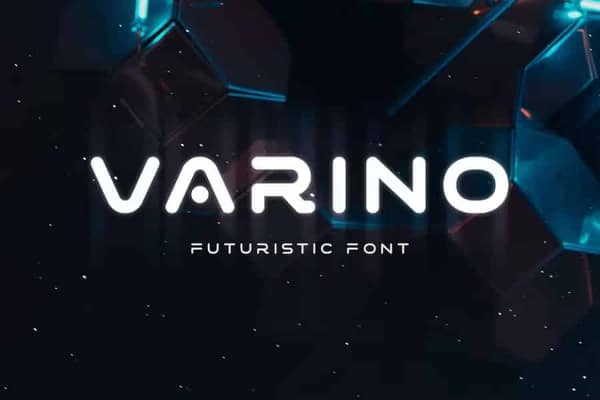 Generally, futuristic typeface styles made up of are bold, and strong fonts, and have certain creative cuts or variations in the standard letters. This Varino typeface meets all these categories. The letters are strong with rounded edges, and there is a unique variation in letters.
The Varino font comes with five style variations, and you can apply them to creating sci-fi content for movies, books, magazines, websites, and even social media.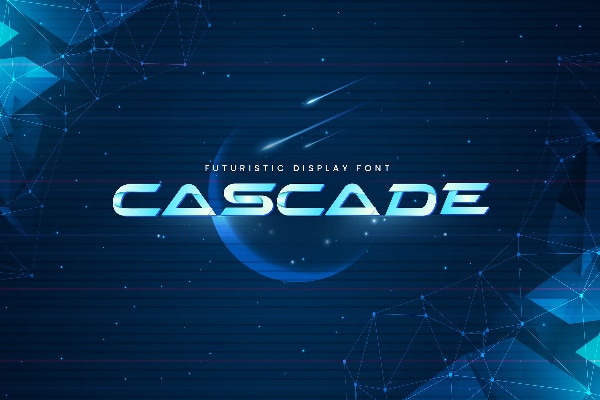 Cascade is a perfect example of a futuristic, sci-fi, and space font design and this amazing example will fit right in with these mentioned design themes. A few specific projects that come to mind are movie trailers, posters, websites, and for both print and online projects. This impressive font is one of our favorites and it's sure to impress the viewers of your futuristic projects.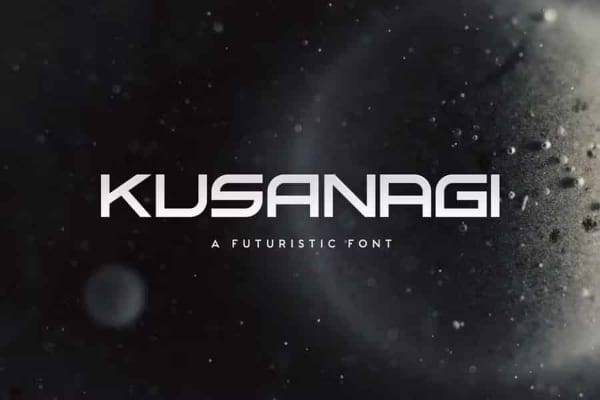 Kusanagi's wide and futuristic font style help add extra creativity to your project, which is an alternate letter design. The font has a good mix of sharp and rounded edges added to its wide characters. The letters are condensed, and that allows for a strong visual appeal. You can apply this one to posters, magazine covers, social media posts, and digital marketing creatives.
Many fonts with a futuristic theme are minimal-based and work with a few letter elements missing. The Averox font is a classic example of such a font. The letters are created from thin lines, and certain elements are skipped, giving the font a creative feel. You can use this font to create modern logos, technology-based posters, and magazines and as the header font for websites.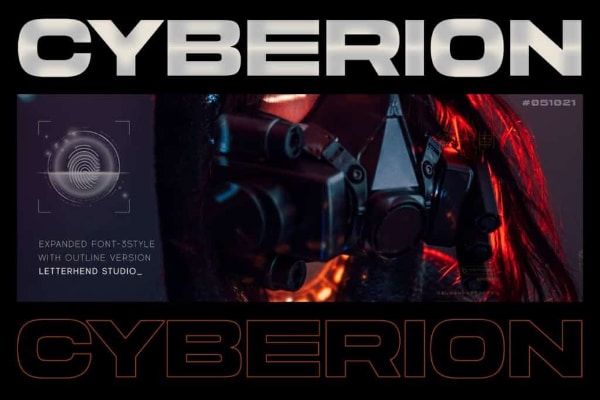 If you are creating designs related to Cyborg or other hi-tech stuff, then check out this Cyberion font. Strong and uncompromising, this font will deliver a loud visual appeal. Letters are block-based, and their bold styling makes them perfect for headers. You can use this font for logo design, magazine covers, signages, or outdoor branding.
Bold and attractive, the Future X is a modern font family comprising 14 variations. The letters are given extra width and boldness, which will help them stand out in any design. In addition, the font supports both cases, numbers, symbols, and punctuation. That way, the font emerges as a highly versatile font that you can use for logos, posters, movie titles, magazines, and many other print design applications.
A clean and neat-looking typeface, Mavis Sans, is one of the best options on our list and you should consider adding to your collection. The letters are created using thin lines which have unique cuts. The font is available in three variations – bold, light, and regular and you can combine these variations to use with movies, science, books, and social media posts.
If you want to mix elegance and class into your futuristic design, you should check out this Milano typeface. A retro-futuristic sans serif font, Milano is visually appealing. Strong letters, sharp edges, and unique letter disruption can help your design stand out. You can use this font for corporate branding, posters, typography, and social media posts.
Adding inline design can give the font a good creative appeal, which is what is done in the Invasible typeface. A modern futuristic style font, it is inspired by science fiction culture. The invasible font comes in inline and normal styles and offers over 300 glyphs. You can use this font for t-shirts, mugs, posters, and other print designs.
Neon-lettered fonts are safe bets to generate a futuristic appeal to your design. The Futuristic Neon 3D lettering typeface is constructed using blocks of neon lights. When you download the font, you will get a variety of lettering styles and 16 hi-res transparent PNG images with graphic elements that you can readily deploy in your design.
The Equinox font is worth adding to your collection as a perfect font for creating modern and bold logos. The typeface comes with alternate glyphs and ligatures and works for all cases and symbols. You can use this font for designing logos, posters, magazines, product packaging, and outdoor branding.
The Evolve font is closer to the above-mentioned Varino font, just that the letters are thin, and there are good alternate characters. This minimal-styled font family comprises 10 fonts, including five sans serif and five futuristic, in lowercase and capital fonts. The unique cuts make the font ideal for branding, movies, posters, and websites.
Inspired by Calligraffiti, a combination of calligraphy, typography, and graffiti, the GRVTY font is a good deviation from the standard futuristic style fonts. However, this specific font style is highly abstract, and some letters need to be recognized. Therefore, it's recommended to use it for larger displays only.
A fancy sans serif font, Fenomeno has been smartly created using the concept of double lines. The midsection of the fonts uses two lines in place of one and gives the typeface a creative flavor. You can plan to use this font for designs related to movies, posters, websites, or digital marketing projects.
In many designs, you would need the right set of condensed fonts that not only fit the small space but also ensure that the text pops out. Unfortunately, finding such good condensed fonts can be challenging so you should consider adding this Ishimura font to your collection.
Want to take your technology-based design projects to another level? Then try this Game color font. Vibrant and fun, they can lend a futuristic appeal to your design. Each letter is handmade, imbibing a technology theme and a cool gradient. The font also has a regular black variation if you want to customize the letter styling.
Based on the dash-dot design style, the Enigmatic typeface is a good visual representation of the future. Each letter has well-arranged dashes for the uppercase and connected lines for the lowercase. This type of font you can easily deploy for science fiction, space, cyber security, and other designs.
Are you looking for a smart display font for your science fiction designs? Then try out this Blackpast font. Originally designed as a logo font, Blackpast can also be used for headlines, typographies, magazines, and outdoor branding. In addition, the unique extensions and even omissions in some letters make this font look artistic.
Not every day will you come across a font so artistic as Ornacle font. Each letter is handcrafted following a set pattern that makes the letters look unique and simultaneously establishes a common design theme. The Ornacle font is a good match for headers, titles, logos, and more.
A fun and exciting future-based font, Exodar, is built using the outline design method. The outline is kept thick enough to render the letters a good shape. Even though the font has a dramatic flair, it's simplistic as well. Exodar supports both cases, numbers, symbols, and punctuation. You can use this dramatic font for logos, apparel design, magazines, and even digital media designs.
The Best Futuristic Style Fonts – Free
Free fonts are not always allowed for commercial use. Check the licensing options before downloading.
The Origin Tech font is a smart and modern typeface that can be easily used in technology-based designs. The letters are bold and strong, and each letter is provided with creative cuts giving the font a futuristic appeal. The font is available only in uppercase, and you should use it for header designs, logos, outdoor branding, and print projects like magazines, posters, and even t-shirt designs.
Not all future-based fonts need to have fancy cuts or extenders. At first glance, the Zero Hour font looks like a simple san serif font, but the smooth robotic letterforms give it a technology-themed feel. The Zero Hour typeface is an outstretched font style designed elegantly.
When you mix display, modern, and grunge font styles, you will end up with a font like this Tourner font. The letters are strong and bold and have been given an overlapping effect which will help give a 3D effect to your designs. The grunge effect is executed in the form of a well-set dotted pattern.
Stacker is a creative line-based font. At the same time, there is an inline addition, which makes the font all the more legible and artistic. The interesting part of the font is how letters are fused to make unique glyphs. Around 200 such glyphs can make the font useful when working on science fiction or technology-based projects.
The last entry on our list of amazing future-based fonts is Tarrget. This font family consists of over 25 variations which see the design change in the form of the angle of the letters, the inherent cuts, the outline, and even outstretched versions.
Frequently Asked Questions
What is a futuristic font?
Fonts that give a visual feel about the future or technology are generally termed futuristic. These fonts are either display fonts or modern san serif style fonts. Minimalism is also a trend followed in such types of fonts. You can use these fonts when creating designs related to the future, space, technology, and science fiction.
What are the top 5 premium technology fonts?
Depending on the design they are working on, designers pick up fonts that are best suited to them. According to the latest trends, the following are some of the most used technology fonts:
Cyberion
Averox
Techno Space
Exodar
Blackpast
What are the best science fiction fonts for designers?
There are several great options available in our list above and those that are considered the best are Cascade, Stacker, Varino, and Exodar.
Download These Futuristic Fonts Today
The above list contains a good variety of futuristic typography, from dramatic displays to minimal modern styles. Keep in mind that the majority of these fonts are designed for large-size text designs like headers, posters, and logos. You can always combine them with modern san serif fonts for larger text paragraphs and give your design a holistic futuristic feel.
Please let us know in the comments section which one is your favorite!