Home » Fonts »
Line25 is reader supported. At no cost to you a commission from sponsors may be earned when a purchase is made via links on the site. Learn more
If you're on the hunt for the best free grunge fonts, then you've landed on just the right article! Like retro and vintage fonts, grungy style fonts will continue to live on as some of the coolest-looking designs. As a designer, you will regularly come across projects where you would need to use a grungy or distressed-looking font to fit the style of your project. However, finding the right font to choose can be a bit challenging sometimes.
To help you in this challenging task of finding the right style of font or typography, with a cool grunge effect, we have gone through a few sources, making a list of 30 fantastic font selections that will enhance your grunge design projects.
These types of fonts, also known as distressed fonts, can be used on a wide variety of design projects. For example, they would work really well if you are designing an album cover for a rock band, working on a modern gym website, or designing urban-style clothing. The possibilities abound and having the right grunge design elements like the fonts listed here will help you be prepared.
These fonts are absolutely free for immediate download. The fonts from Envato Elements and those by Adobe Stock will require a trial subscription first but have no fear, you don't have to continue the subscription and still get your free grunge-looking, distressed fonts.
30 Free Grunge Fonts To Enhance Your Web Design, Logos, Branding & Graphic Designs
Handmade brush-style grunge font, the Texas Grunge Demo Font can offer a refreshing look to your design. It offers lowercase letters alternates to uppercase letters allowing you room for more creativity. This type of font is best suited for the travel, food, and entertainment industry, and you can use them for digital marketing, videos, posters, and other branding applications.
The Kadung Tresno font from Envato fits an urban lifestyle perfectly with a bit of grunge to it. The brush stroke design for each letter flows smoothly with tapered-off ends. A great way to use this font might be with your projects involving music, events, branding, quotes, posters, and photography.
This Dark Deep Grunge Font can be an excellent choice if you are looking for a stencil-based heavy font for your gaming designs. As the name suggests, it is dark and deep, and powerful. The grunge effect is dominant, making it look like an industrial font. A thinner alternative is also available, and you can use them for logos, branding, packaging, and digital marketing.
Applying a strong grunge effect to big and bold fonts is the best combo for grunge font designs like Blocklyn Family Font from Envato Elements. This font family comprises big blocks, but each character has a smooth surface and edges. The font pack includes four types of fonts: grunge, grunge italic, condensed and condensed italic. As a bonus, you also get two well design PSD mockup templates. You can use these fonts for logos, website banners, and even for print applications like brochures, posters, and invitations.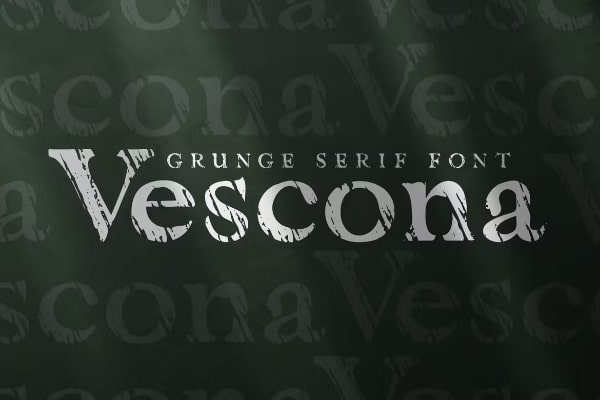 Serif fonts always project more sense of elegance like the Vescona Grunge Serif Font. The designer here has taken such a serif font and applied a grunge effect to it. The good part is that the font includes uppercase, lowercase, numerals, and even punctuation marks. However, the effect is not very strong; hence, the fonts retain the grace of their original serif nature. Besides logos and branding, you can also use this font for hero headers, banners, flyers, and other print applications.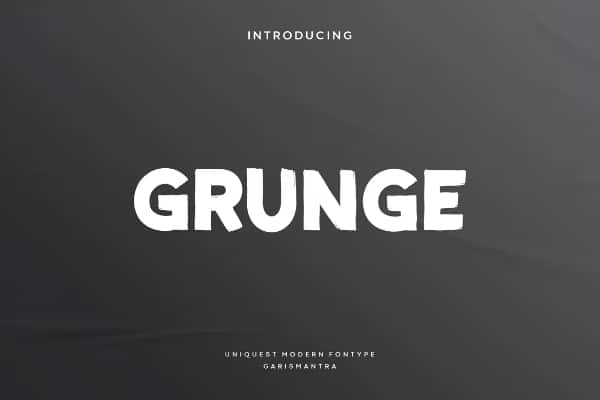 The Grunge Decorative Font is the mixing of a grunge font with children's fonts which is indeed a creative idea. In this font style, the grunge effect is not very dominant, and hence the original, playful style of font is kept intact. The characters are heavily set, making it easy to draw people's attention. Designers can use this font for designs related to children, food, or the amusement sector for designing book covers, websites, and video frames.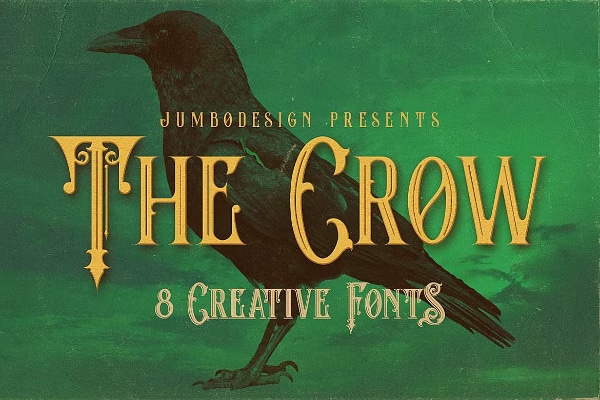 As the name suggests, this font is something unique. The Crow Vintage Style Font combines vintage, retro serif font style with a dash of grunge effect on it. The fonts have a strong visual presence and ensure a good recall no matter where they are used. When you download the font, you will get eight different styles, including grunge, shadow grunge, and more. Some of the best use cases that you can have for this font are logos, branding, posters, banners, book covers, and even T-shirts.
Another vintage-style font with some grunge style to it is the Vultron Font. However, this is not as retro as the others, but it still has a nostalgic feel attached to it. When you download the font family, you get six creative fonts, including grunge, bold and inline grunge, and more. The solid nature of the font ensures that it is visible from a distance; hence, you can use it for large-size applications like hoardings, posters, packaging, and branding.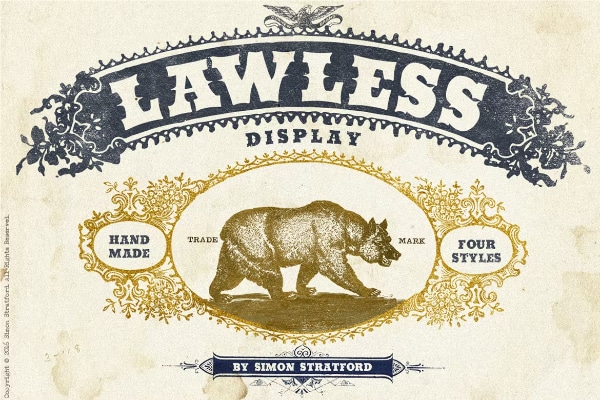 A list of grunge-type fonts would be incomplete without having a standard western cowboy-style font. Lawless Font helps us complete that deficit. A strong and wide font, Lawless is a very useful display font. It offers four different styles, including grunge. Uppercase, lowercase, numbers, punctuations, and symbols are all included in the font, which helps you use the font in different combinations. Standard use of these fonts includes logos, packaging, posters, and billboards.
Graun Font is a handmade grunge font that is best for posters, T-shirts, book covers, and even social media posts. The font design is simple as it takes a handmade display font, and the grunge effect is applied to it in a very minimal way. This ensures that the fonts have a versatile application. You can use this uppercase font in your designs with a modern or even a serif font style.
Victorian-style fonts have their charm, and when a calligraphic style inspires these fonts, and a grunge effect is added, they become all the more priceless. The Salmon Victorian Grunge Font gives a unique creative styling to all its characters. You can use this font for greeting cards, invitations, branding materials, package designing, and many more applications where you need a strong font.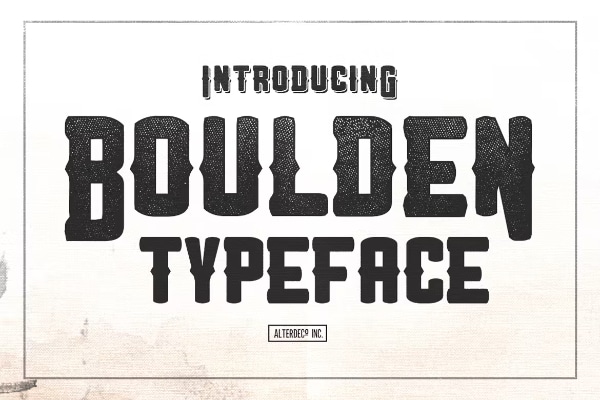 Are you looking for a bold and old-school font style? Then Boulden Typeface could be a very good option. The classic western fonts inspire the fonts with slight extensions in the center. The grunge effect is added on top of the letters subtly. When you download the font, you get three different styles. You can use this font for posters, banners, and other designs where you want to give a vintage look.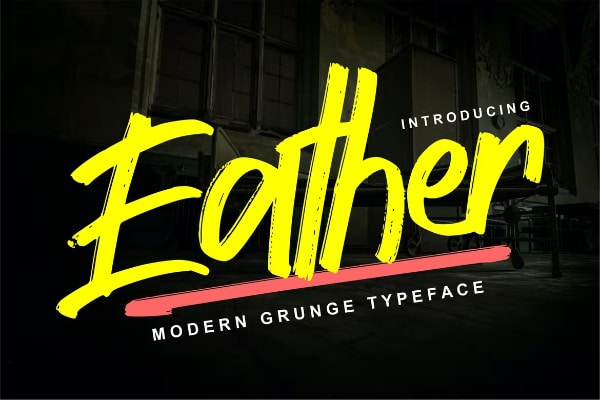 A grunge typeface on invitations and greeting cards can prove to be a good option, provided you have the right font style. This is where the Eather Font can come in handy. A modern grunge font, it is based on calligraphy style with very elegant stoke in the characters. The grunge effect is kept minimal and on the edges. You can use this font for invitations, posters, headers, and even social media posts.
Vintage fonts and fonts with a grunge typeface are a good combination. Mutiara Vintage takes standard vintage font and adds a grunge effect with scratches on the characters. The font family consists of slab, bold, rough, and grunge, and you also get the complete 54 alternate character set. You can use this font for headlines, typography, T-shirt design, and other print applications.
Moving away from standard vintage-looking grunge font, this freestyle Grunge Font – Freestyle Display Font provides a refreshing look. It is stylish and quite modern and has a playful element, given its handmade brush styling. You will access regular and swash OTF fonts and web fonts. You can apply this font on social media posts, posters, branding, and packaging.   
The Marquee Font family comes with 18 varieties ranging from vintage to retro to even modern and creative font styles. This font pack is a must-have for all designers who need to use a stylish grunge font on a regular basis. Based on the project you are working on, you can pick up one of the 18 fonts and apply it to take your design, bringing it to another level.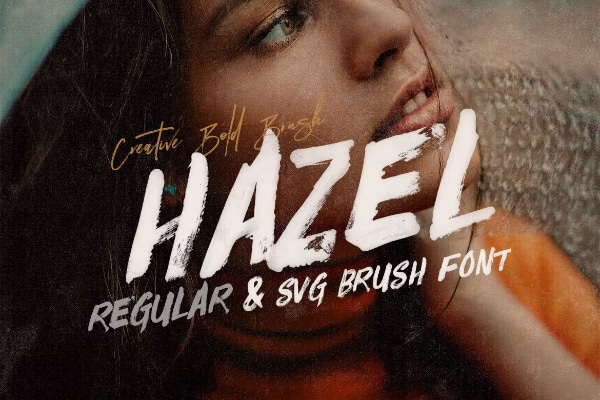 A fine blend of brush and grunge font style, the Hazel Brush Font can be a good addition to your font collection. The characters are easily legible but still have a handmade grunge effect, making them stand out. You can use this font for typography, website headers, social media posts, and other digital marketing applications.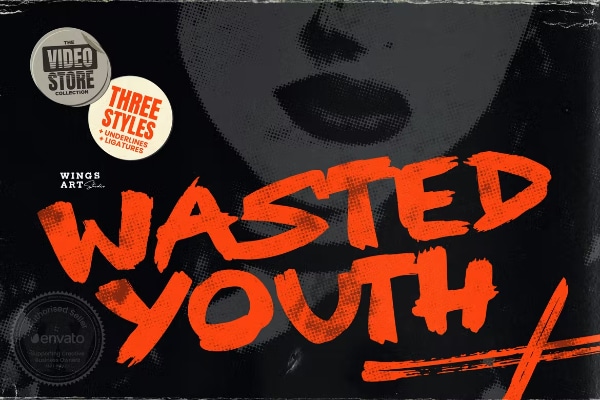 Taking inspiration from the 90s grunge bands, the Wasted Youth Font is a stylish modern font with multiple applications. The font pack has three distinct styles: clean edge, inky brush, and marker pen style. Designers would love to use this font for music videos, films, sports, and other applications when designing graphics, websites, or print materials. 
An all-caps sans serif font style, Cheddar Gothic Rough Font is hand-drawn with texture applied to it to give a grunge effect. Like many of the free grunge fonts on our list, this one is so loud that you can easily attract people's attention. In addition, you will get regular and italic versions of both uppercase and lowercase letters. You can use this font for branding, hoardings, posters, and even digital marketing. 
The description on the website for this font is very well put – 'Ideal for anything'. You rarely come across a font that is versatile, so you should always collect them when you find such a font, as Garth. The characters are solid and round-shaped, with cuts to give the grunge effect. You can use them in any application, whether print or digital.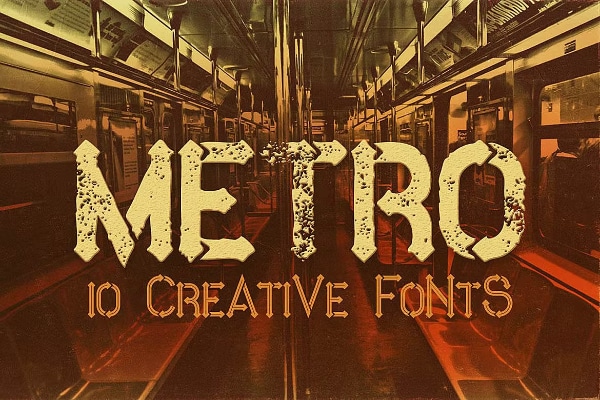 Industrial fonts often rely on grunge effects to make them stand out. The Metro Font is a collection of 10 unique font styles, including bold, grunge, inline, and many more. The characters stand out wherever used. You can use them in branding, outdoor marketing, website headers, and even digital marketing projects.
A new rising trend that we are observing in font design is of mixing two opposite styles. The Talake – Handwriting Font mixes playful handmade font style with grunge font to create something creative. Each character is uniquely designed, making them stand out. You can use this font for modern applications like social media, posters, and even websites.
Grungy-looking fonts tend to be bold or strong fonts. However, the Meravin typeface is a good variation as it utilizes the grunge effect on thin characters. The base font is a stylish vintage serif font upon which the grunge effect is applied heavily. Upon download, you can access regular, grunge, and inline styles. You can apply this font in design projects related to children, fantasy, or vintage print.
Apart from vintage and retro font styles, Stencil fonts also use grunge effects to accentuate their design like Battery Park. The letters here are strong and bold as if drawn with the help of a stencil. The grunge effect is then applied to it in various proportions. You can use "Battery Park" for posters, banners, flyers, T-shirts, and other print applications. 
The Calder font is a very neat-looking font style compared to others. It has a very disciplined round character set giving it a modern look and feel. The grunge effect is applied rationally in the center. Because of its clean look, you can use this font for almost any application like website, social media, or even brochures and invitations.
Some fonts have a minimal application but are good in your collection as display fonts. The Flyswim is one font that looks good but only when used in large applications for a few words. They fall in the outline category of fonts but have a strong shadow with a grunge effect. You can use this font for posters, banners, apparel design, or website headers.
The Dirty Baker's Dozen font is yet another vintage stencil style font using grunge effect to draw attention. The letters are bold and wide and have a western feel to them. The regular style has no grunge effect, but the scorch and spraypaint style has the effect in various proportions. The best way to utilize this font is in projects related to print design or large-size banners.
Burnaby Stencil font offers a good option for lowercase stencil fonts with a grunge effect. They are bold and dark but can be still used for large volumes of text in the design. Even with a slightly compromised legibility, you can use it for website headlines or paragraph headers in print design. 
There's no doubt that grunge-looking fonts are very unique and this Candy Cane Font is no exception. Very rarely do we see the grunge effect applied on a thin cursive font, which makes this one like a unicorn – not very common. However, it works. The base cursive style is very prominent, and the designer has added a grunge effect wherever the wider areas are. You can use this font for invitations, greeting cards, branding, website headers, and other digital marketing applications.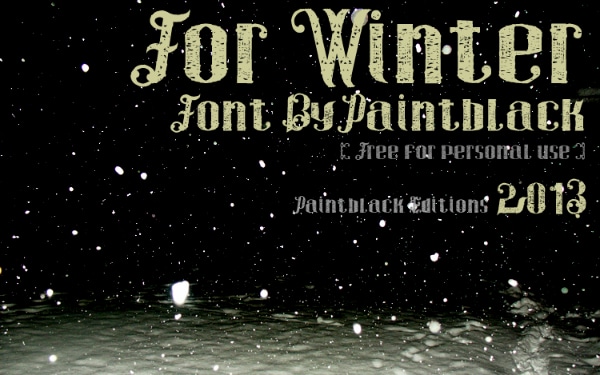 The designer takes good creative freedom to apply a scratchy grunge effect on an elegant-looking vintage style with this For Winter Font. The resultant font style is creative and can have multiple applications, especially for holiday season creatives. You can use this font for greeting cards, invitations, posters, and outdoor branding applications. 
Summary: 30 Free Grunge Fonts To Enhance Your Web Design, Logos, Branding & Graphic Designs
Before closing out this featured post on grunge-type fonts, it's important to realize that a quality font with a grunge-style design can have the advantage of making the design look more real, cool, and natural by adding depth; at the same time, they also have the disadvantage, causing the font to possibly not be legible when used in certain applications. The key here is to use more than one font we have listed in order to find the perfect match for your grunge-style project.
Our grunge font selection above offers you a lot of variety. In this list, we covered fonts ranging from old-school vintage fonts to western calligraphy to modern, clean-looking fonts, all with a grunge effect. We hope you find the list useful. If so, please share it with your designer community.