Home » Fonts »
Line25 is reader supported. At no cost to you a commission from sponsors may be earned when a purchase is made via links on the site. Learn more
Designing a logo for a specific game can be very challenging and exciting at the same time. Due to its nature, every professional related to the gaming industry has to be on their toes in terms of trends and creativity.
So, if you are a designer closely working with a gaming company or on a particular gaming project, you have to gain a strong knowledge of this industry along with some past and future studies.
Out of every design element, a logo is the first identity of the game that explains its nature and purpose. And it has to be in perfect compliance with the whole game design. Therefore, you may need a substantial database of unconventional and unique design elements which can contribute effectively to your logo design.
Best Gaming Fonts for Your Logo Design Projects
So, to narrow down your checklist, we have curated this list of the best fonts for game logo design. With this beautifully crafted list, you can easily find your ideal font style and deliver the best logo design.
Gamer Station is an imaginative, playfully comic font. It features all uppercase and lowercase English letters A-Z, numerals 0-9, punctuations, and supports multilingual accents. Gamer Station has an attractive and playful aesthetic that is perfect for book covers, titles, comics, posters, games, packaging, merchandise, and logos.
Cage world is a beautiful vintage-style typeface. This display serif game font follows a unique dramatic theme. And clearly, it is a bold, creative, and versatile font style that can be perfect for a game logo design. Moreover, you get many other characters, numerals, and glyphs in this font style to utilize as per your creative requirement.
This font style comes in two excellent versions, such as regular and overlay. In addition, Gamerica is a professionally designed italic font style that carries strong and bold italic fonts with an eye-catchy 3D effect. And both versions are equally beautiful for any game related to logo design. So, you can make a solid logo with the help of Gamerica display fonts.
Video Game is a nostalgic, 1980s-inspired, retro font. It features all uppercase English letters A-Z, numerals 0-9, and 17 dingbat pixel Martians. Video Game is a geometric font with a pixelated look that makes your type look retro and cool. Video Game is a fun font to use in video games, signage, logos, and merchandise that you want to have a throwback feel.
This unique and free font style is specially designed for comics, games, and sport-related designs. Delux paint comic has a nostalgic video game theme with uneven edges and systematic fonts. This typeface can be a perfect choice for fun and creative games. Also, It can work very well on classic style logo designs and kids' theme-based games.
Mysteria is a decorative, fantasy display font. It features all uppercase English letters A-Z, numerals 0-9, and common punctuations. Mysteria's flourishing serifs and soft lines feel like the type one would find on a fantastical pirate flag. It is perfect for fantasy projects, games, logos, headlines, titles, and signage.
For stylish and stunning logos, this font style can be a terrific choice. It is a more mature and confident style with an unconventional design. The sharp edges and imbalanced composition make this typeface bold and contemporary. SoulCalibuR font can be an ideal solution for mature, adventurous, and action-based games. You can use this for heavy and powerful brand logo designs as well.
Dragon Fire is a display font. It features all uppercase and lowercase English letters A-Z, 26 stylistic alternates, numerals 0-9, common punctuations, special characters, and supports multilingual accents. The Dragon Fire type looks forged out of metal and is perfect for use in E-sports, logos, posters, games, and events.
Debug is an excellent bold typeface with all caps display fonts. In addition, it has a glitch theme design and sans serif letters. This kind of distressed and unique font style works really well in gaming designs. When you want to make an innovative logo design with suitable fonts, you need something like Debug. It is simple, bold, and feasible for many game categories and other gaming projects as well.
Rock Boulder utilizes the jagged corners of a rock and rough textures found in the desert to create a bold sans-serif font. It features all uppercase English letters A-Z, numerals 0-9, and common punctuation. The ancient desert and western imagery used to develop Rock Boulder is perfectly suited for applications in gaming, billboards, posters, logos, and websites.
With Proxon, you can create a fantastic modern, clean and robust logo design. It has a futuristic font style with a sleek and confident design. You can use it for sci-fi, adventurous, thrilling, and sophisticated games. There is no ordinary gaming feature in this font style because it is made for science, technology, and space-related concepts. So when you need an evolved font style to make a professional impression through your logo design, you can absolutely trust Proxon.
Hermes is an elegant typeface that holds retro as well as futuristic style. Clear and sharp fonts make this font style perfect for cool gaming ideas. It comes with three different variants, and they all follow italic style. With tight curves and fine edges, Hermes can make any logo design attractive and imperative. So trust this font and experiment freely to showcase a potential creative outcome in your logo design.
This beautiful font style is designed by the designer Malte Grajewski. It is tight and sophisticated. In this typeface, you get clean and professional fonts with unexpected arcs and carefully implemented strokes. Robortica font is a stylish font style to help you with awesome game logos. You can use it for science, robotics, adventure, and various entertaining games. And this font style can also help you with solid game branding logo designs.
Quantum is a subtle, sophisticated, and relaxed font style. Without any forced element, this effortless typeface looks perfect for various sincere and professional logo design concepts. You get unique stencil-style fonts fused with a basic sans serif style. Quantum can surely help you with high-end professional games and related projects. Your logo can shine effortlessly with this font.
The puzzle is a superb font style packed with amazing creative features. This font style has a personalized touch, especially for various intellectual and learning-based games. Each font is sharp, bold, keen, and balanced. You get straight puzzled fonts in this typeface to use in a logo design for brainstorming games and gaming series companies. For wonderful creative possibilities, this font style is worth trying.
It is a unique style of font that can work with some specific types of designs. Deadcrt has solid and fuzzy fonts that give a nostalgic feeling of old video games. If you want your logo to present innovation and a classic picture of the game or company, this font style can be very helpful. However, its distorted theme and basic fonts make this typeface very unusual and perky. So use it well to make a potential logo design.
A different and bold font style with a straightforward design is always helpful in gaming logos. Missile Man font has stunning stencil-style fonts without any extra drama. It is basic and classic, which is always required in designing concepts. These kinds of fonts are safe and comfortable when you can't think of anything. As per the game and company's profile, you can add your creativity and utilize this font style to make the best logo.
Nordic light is a fun and charming font style. It has big squares like fonts with sharp corners and arcs. Plus, it comes with basic Latin caps and small fonts, numbers, and punctuation. Thus, it fits perfectly for adventurous and lively game concepts. This font style has vital elements that make it ideal for kids' games, but you can use it for any general game category as well.
Zealot is a classic font style that holds strong versatility and unique features. You get various useful versions in this font style, and they all can help you with unique logo designs. This font style has super bold letters in a rounded theme. Its condensed and dramatic, which can be best for both cheerful and action-based game categories. With its unique variants, you get proper flexibility and the opportunity to create some innovative logo designs. That's why it's one of the beautiful fonts for games and related categories.
Nikopol is a great vintage-style typeface. If your logo design requires an eccentric font style that offers vintage and modern feeling at the same time, then the Nikopol typeface is a perfect choice. The sharp edges and freestyle give these comic fonts unique essence. In addition, comic fonts are fantastic to use for fun and lightweight games; thus, Nikopol Typeface can easily elevate multiple game logo designs.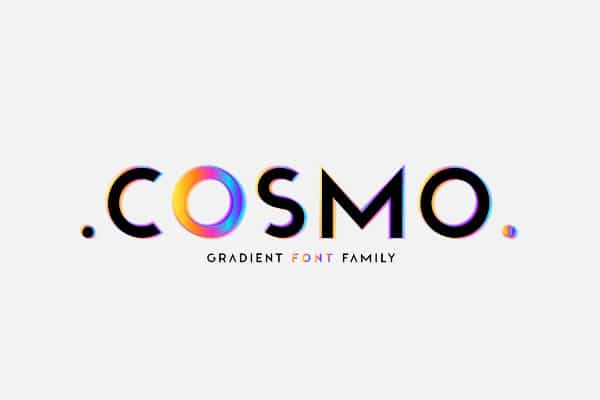 It is a gorgeous font style that offers unique features along with attractive fonts. Cosmo has a beautiful hologram theme and twelve excellent versions. You can have 3D, colorful, gradient, and shadow effects in a single font style, which makes it the most intriguing choice for game logos. Hologram fonts in a minimalistic design can help your logo to have a silent but powerful appeal. That's why it is worth trying font family for gaming logos.
Strong Girls is a professionally designed font style that comes with four different variants. It has beautiful serif fonts in a vintage style. And you get a regular, outline, extrude, and long extrude versions of this font style to make some awesome creative logos. With its retro design and bold characters, any game category can shine and attract an audience. So be creative with the Strong Girls typeface and add a vintage touch to your modern game logo.
This font style has a personalized focus on sports and games related designs. It has some interesting variants as well to widen the creativity dimension. Esports typeface is a dynamic font style with keen and contemporary fonts where every letter has equal weight and balanced curves. You get sharp and subtle fonts in this typeface that is eye catchy and exciting as well to fit for your game logo designs.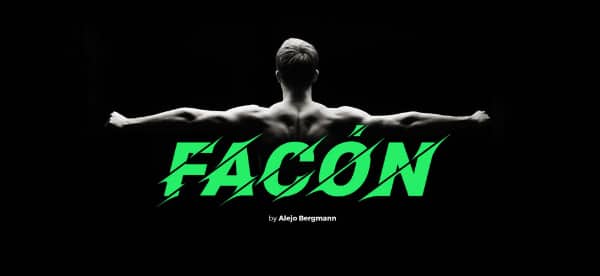 Facon is a fantastic typeface that carries a bold and robust font design. It has unique strokes and clean edges. You can use it for multiple purposes other than gaming and sports. Facon has a vibrant style with unique features, and it offers stylish fonts and other characters. This font style can be very suitable for bold and innovative game concepts, be it for a logo or other branding designs.
It is a classic font style for games. Some vintage games like Pac man seem like a core inspiration in this typeface. Disco Deck has a bold and strong font style in a beautiful geometrical theme which makes it suitable for gaming logos. You get 21 amazing free font styles from this typeface, and they all have a unique quality to support your innovative designs. Disco Deck is a timeless retro font style that can add vibrancy to any modern design.
With creative comic font like Chucklesome, you can give unique direction to your logo design. It has a chunky style with rounded and cute edges. And it gives you a substantial volume to stand out through your logo design. This comic-style typeface can be a perfect fit for various entertaining and healthy games. Your logo design can look animated and dramatic with a simple element of font style.
Haru is a decorative font family that holds 18 different versions. It has bold characters and balanced strokes, which makes it more sincere and dynamic. You can use any of its versions to make a logo because they all are creative and exciting for game designs. Outline, stencils, shadow, and many other variants are available in this font style. So try using this unique and compact typeface for powerful game logos.
Jupiter Mission has the best fusion of retro and futuristic styles. It has regular, italic, and sliced versions as well to add more drama. This font style is an excellent choice for science, action, and fantasy-related game concepts. In addition, it has a straightforward design and cool features that can help you make your logo classic yet modern and with a vivid appeal.
Fonts represent content in a designing language, and they have always been an integral part of logo styles. But logo designs need extra attention. For example, in gaming design, most of the audience is youth, so as per that and the game category, you need to find a suitable font style that works for the audience and client as well.
Modern, trendy, bold, extraordinary, and loud font styles are always present in the game logos. But every game needs a different approach, and that's a designer's job to understand the basics before executing the work.
Logo for brand name needs professional flavor and for a direct audience, more friendly and approachable touch. So we have included font styles for different purposes to help maximum designers with their projects. With this perfect collection, you can save a lot of time and energy in sourcing the ideal fonts and focus on the overall logo design outcome.