30+ Best Mexican Fonts for Your Latino Style Designs
Home » Fonts »
Line25 is reader supported. At no cost to you a commission from sponsors may be earned when a purchase is made via links on the site. Learn more
Using exclusive Mexican fonts can go a long way in giving a classic Latino feel to your design. The good part about Mexican designs is that they are distinctly cheerful, vibrant in colors and easily stand out. Inspired by the rich culture and heritage, many designers have created fonts dedicated to Mexican style.
Fonts can help you add extra flavor to your design, and when you are working on brands or design projects related to the Latin region, it will help to use fonts that visually represent this region.

In this article, we have collated some of the best premium and free Mexican fonts you can add to your collection. These fonts range from standard display fonts to handcrafted ones, saving a lot of design time and adding authenticity to your designs.
---
BEST MEXICAN FONTS – UNLIMITED DOWNLOADS: 11+ Million Fonts & Design Assets
Envato Elements provides the best quality design assets that you can download instantly, including Mexican fonts. Designers can easily access images, fonts, videos, audio, and millions of other design assets. They even have high-quality themes, templates, and plugins too.
Oh, yea, there's more good news!
You can start downloading as many assets as you want – for less than $0.55 cents a day ($16.50/mo). If needed, you can cancel any time for free and still keep your downloaded items. It really is the best thing going for designers!
---
The Best Mexican Fonts for Designers
One of the best representations of Mexican style, the Cucciolo Typeface is perfect for any branding and design, whether for digital or print media. In addition, the font supports both cases, numerals, and symbols, making it highly versatile.
Grab this Viva La Fiesta Font if you want to add festivity to your design. The typeface comes with three different font variations, which can be used individually or in combination. The good part is that this font will save you a lot of design time by instantly making the design cheerful.
One of the most authentic Mexican fonts on the list, Brellos is a fine combination of cowboy-style display font and vintage font. The font supports only uppercase and has swashes attached to almost all letters. Stylistic alternates for letters are also available.
A classy vintage display font, Mexicanos uses strong letters, but the creative appeal is given by the cut in the upper part of the letters and the sharp extenders. You can use this font for logo designing, outdoor branding, tattoos, posters, and t-shirt design.
Santiago is a vibrant Mexican culture font that you can use for logos, advertising, banners, posters, and magazines. Each letter is handcrafted and includes cultural elements, making the font very authentic and appealing.
Wildstyle with its lengthy extenders and swashes is a classic script tattoo font. The font supports both cases and helps create amazing typographies without much effort. Apart from tattoos, you can use the font for branding, marketing, and outdoor signages.
As the name suggests, the Throne typeface gives a very majestic feel to the design. The letters are hand-styled uniquely, combining vintage style design with a modern touch. One of the most basic applications of this font will be in packaging design or branding related to rock music.
A good deviation from typical display fonts, the Acrobats, is a cute handwritten font that can be used for fun branding projects like the circus or kid events. The good part about the font is that the designer has kept the letters very basic and given a nice shadow that allows the text to pop out.
Gothic-style fonts have their own appeal and are very useful in cool designs related to alcohol, music, and more. The Poison Freek font falls in this category, the only deviation being that it also mixes the modern, minimal touch. Along with the font, you also get many bonus vectors.
The Chimpo Typeface is a fun font inspired by vintage poster designs. The letters are simple but have a good festive appeal when combined. It supports both cases and comes with loads of extra vectors and illustrations to help you design.
The Luchador font is a serif display typeface with three variations – Regular, Lines, and Oblique. You can use them separately or combine them to give your design a Mexican feel. The letter designs are simple, making the fonts versatile.
A handwritten script, Jalisco is a thin signature style and provides a good handwritten feel. The font is a variety of fonts with a Latino theme that can be used for delicate designs. You can use this font for logos, apparel design, and magazines.
Bold, powerful, and unique, the Lusto typeface is perfect for headers and print designs where you want to shout out a Mexican feel. The width of the letters is extra large, and extenders are set smartly to make the font look artistic.
A victorian style typeface, Mister Honey is blessed with long extenders and swashes along with various alternate characters. The letters are bold and distinct; you can use them for logo design, branding, and packaging.
Mixing Mexican style with a Pirate theme can produce an amazingly creative result like this font. Capitan Mura is a pirate display font with bold and loud letters. The font supports both cases, numerals, and punctuations, making them a handy typeface.
A fun display font, Tacunos takes its inspiration from Mexican Tacos. The letters have a line flowing in between, and the edges have a special cutout effect making the fonts highly creative. You can use the fonts for branding, signage, and packaging.
Mexican City is a slab serif display font that is very neat and easily legible. The letters have varying widths, but the base is strong. The font supports both cases and symbols and comes with multilingual support.
Quirky and fun fonts, the La Tequila typeface is most suited for apparel design, fashion, magazines and even social media posts. The letters are unevenly sized but, when combined, form an artistic creation that can aid your design.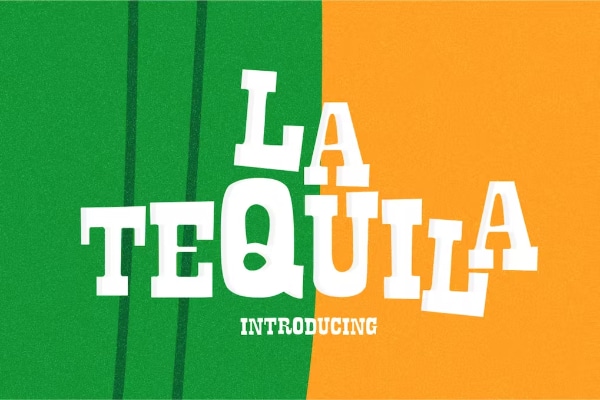 A classic blackletter font best suited for tattoos, Santiago can also be used for T-shirt design, posters, branding, and print design. The letters are strong and long and have been given sharp extenders on both sides, making them look edgy.
The Longhorn font is a modern vintage typeface in which letters are artistically designed that would make your text stand out easily. The font supports both cases, numbers, and symbols and can be used in formal and informal designs.
If you are looking for a classic Mexican-style font that is decorative, loud, and creative, then you should try this font. Mexico decorative font family comes with various variations in packaging, branding, and outdoor signages.
Inspired by Mexico's tattoo script font style, the Durango typeface is bold and resonates with the gangster culture. The extended swashes make the font usable for typographies. You can also deploy this font for logos, packaging, labeling, and other print designs.
Want to give your design a Mexican vibe? Then go for this El Mariachi typeface. It is a simple, bold san serif font with fancy ligatures, and you can use it for movie posters, packaging, labeling, and other print projects. The good part is that the font comes with over 400 glyphs.
The Fairwater Collection font combines cursive handwriting, tattoo lettering, and pictorial themes to deliver a strikingly creative font. The entire font collection contains over 20 fonts, making it easier for designers to use the font in design. Along with that, you also get 250 ornamental vectors and over 2230 glyphs.
Font families are always good to have as they provide good options for font combinations. For example, the Charcuterie font style contains 22 fonts and ten families. When you download the set, you get 60 corner elements, 82 glyphs, and over 300 swash elements. Providing a good Mexican vibe, you can use this font for logos, titling, packaging, signages, and more.
Free Mexican Fonts for Designers
This free Mexican font has various cultural elements embedded within the letters. Supporting only uppercase letters, Las Locuras del Emperador font can be widely useful for large display applications like banners, posters, packaging, and outdoor signages.
The Gilgongo font family comes with eight different styles, which are quite varied to be considered as a family. It is a funky art deco font wherein the designer has added several design elements, including Mexican elements.
A classic stencil font is always a hit when used in designs related to Cowboys or Guns. The Pistol Grip Pump font combines the stencil font with a grunge effect. Do note that the font supports only uppercase letters, but the main application of this font will be for headers or large displays.
If you want to add a Mexican feel to your design quickly, then download this free font and deploy it for the text headers. The Puerto Magnifico typeface has a strong display font with wide letters as its base, and on them, zig-zag patterns are cut, giving the letters a unique feel.
The Mexican name for a deep-fried burrito, Chimichanga, is the inspiration for this font. Each letter has a playful element, especially the swirls on the top. Ji Chimichanga is the font used for branding, signages, packaging, and poster designs.
Continuing with free display fonts, we have Fete Accompli NF Font, a festive font with a simple but creative Mexican appeal. The letters are bold and loud and embedded with ornamental lines. One good application of this font would be for party designs. You can also use them for website headers, branding, packaging, and food menus.
Though this font has Mexican, it is not exclusively designed with Mexican elements like the fonts included above. Instead, the Mexican Fiesta font has more of a stencil setup with the added extender in the middle to give it a creative appeal. There are two versions – simple and bold, and both are good for posters, headers, websites, and social media posts.
Returning to Mexican display fonts with generous creative elements, we have the Unitas Font on the list. The elements include starts, zig-zag patterns, polka dots, and much more. You should use the font as it is for large headers, especially when your text usage is limited to just a few words.
Border fonts are getting extinct, given the challenge of using them for print designs. But there are still good fonts like this Dos Equis font which has a thick letter surrounded by a thick border. The typeface supports both cases, numerals, punctuations, and symbols, making them hand font to add to your collection.
We know we have included a good amount of strong display font and hence want to end the list with a slender but smart typeface – Mexican Pride. The letters are skinny and have sharp edges. But they are still legible, and you can use them to give your designs a refreshing feel.
Frequently Asked Questions
What are Mexican Fonts?
Fonts with a Mexican feel are generally classified as Mexican fonts. This includes adding elements related to Mexican culture, heritage, tourism, etc. Mexico has a rich heritage and history, which helps font designers develop amazing fonts exclusive to this region.
Which are the most used Mexican fonts?
The usage of Mexican fonts depends on the type of design, as some would demand highly authentic Mexican-style fonts while some would use safer fonts. However, some of the most used Mexican fonts we have included in the list above are – BRELLOS Typeface, Mexicanos, Luchador, Mexican City, and Mexico Decorative Font Family. 
Which are good free Mexican Fonts?
Finding good free Mexican fonts takes work, but we have shortlisted some good ones in the above list. These include – Mexican fiesta, Gilgongo Font Family, Pistol Grip Pump Font, and Unitas Font.
Where can I get Mexican Fonts?
There are many good websites that offer free and premium Mexican fonts. These include Envato Elements, DesignCuts, Creative Market, and more. If you are looking for free fonts, you can get them on Dafonts, Font Squirrel, FontSpace, and other websites. Remember, free fonts do not normally include a commercial license. Always check first before downloading.
30+ Best Mexican Fonts for Graphic Design Summary
A good Mexican font will help you add an authentic vibe to your Latino design. Many good exclusive fonts are available to help you in this task. In addition, display fonts with embedded elements make it easy for designers to accentuate their designs. We have included premium and free fonts in the list above with a wide variety, and you can go for the one that best suits your design project.