Home » Fonts »
Line25 is reader supported. At no cost to you a commission from sponsors may be earned when a purchase is made via links on the site. Learn more
Are you searching for the best font that will be a perfect fit for your tattoo design? In this post, we will take you through some fantastic premium options as well as some free tattoo fonts.
Tattoos convey messages with art and with words and having just the right font will make all the difference. If you are a graphic designer or tattoo artist looking for good quality tattoo-style fonts, you'll be pleasantly surprised at our selection.
Before running through our list, let's first look at the definition of a tattoo font.
What is a Tattoo font?
A tattoo font is one that is popular and created from a typeface that works well with various types of body art. Generally, these fonts come from a typeface that is blackletter, script, calligraphy, or a display style. A tattoo font can consist of numbers, letters, and various characters for punctuation.
You may also like to see our post on the best script tattoo fonts, the best cursive tattoo fonts, and our recently published post about the best tattoo number fonts.
50+ Best Tattoo Fonts – Quick List
All though you'll have the option to download some free tattoo fonts, the premium choices will come with a commercial license, whereas the free choices will not.
Tattoo artists and designers are limited on time and need a quick list of fonts for tattoos. Here's a quick list of both the best premium and free options!
Premium Options:
Free Options:
---
BEST TATTOO FONTS – UNLIMITED DOWNLOADS: Millions of Top Quality Fonts & Design Assets Such As These: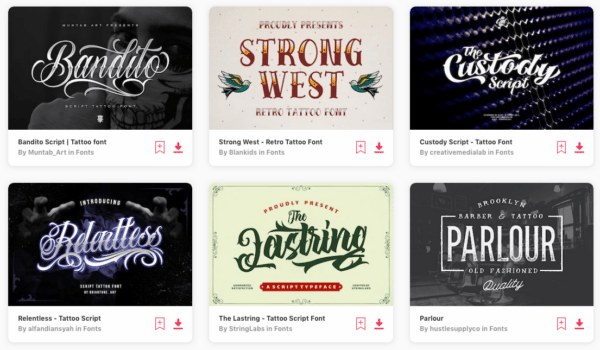 Going through low-quality tattoo fonts can quickly become irritating. Thankfully there is a massive digital library of high-quality assets from Envato Elements that professional designers and artists can quickly access anytime. Start downloading now for less than $0.55 cents a day ($16.50/mo). The other good news is you can keep everything you download during your free trial and a lifetime commercial license is included.
45 Best PREMIUM Tattoo Style Fonts
Let's take a dive into our list of the best font options for tattoos and see which one will suit your needs. These fonts are all hand-picked, and perfect for tattoos.
A classic combination of vintage and display font, the Tattoo Beast typeface can be beneficial for tattoo artists in creating various new designs. Each of the letters is designed keeping in mind their application in the tattoo designs, which is why you will see creative glyphs, extenders, and bars among the characters. The download package includes three different variations of the font. Tattoo Beast also supports multilingual characters, making it all the more versatile.
The Lastring font style is a good combination of retro, vintage, and gothic styles. The designers have empowered the font with unique swashes and ligatures. The Lastring font supports both cases along with numerals, punctuations, and symbols.
Blackletter fonts are best suited for tattoo designs, and this Incognite Tattoo font is an excellent example. You can easily use it for typical motorbike-themed tattoos or designs where you want the font to come out nicely. The top bars of the letters are designed in such a way that they show a continuum, and this helps in denoting speed or energy. It is best to use this font in bigger applications as small-sized designs may create readability issues.
Coming from the Avestrava font family, this font style has a more gothic feel, making it ideal for tattoo designs. In terms of design, the Avestrava Tattoo font is a fine combination of vintage black letter font style combined with a modern layout. Special extenders are provided for specific letters, making the font stand out in the design.
The good part of Astolfo script tattoo font is that the font design is itself self-sustaining to create amazing typographies. The letters have been given extenders and swashes, making the font look artistic. The font can be easily used for making artistic tattoos.
The Wildstyle Chicano tattoo font is an excellent script-based font to add to your collection. The font letters have been provided extenders, making the font look very artistic without much effort. The font style supports both cases, numerals, symbols, and punctuations.
As the name suggests, Gangsta Typeface is designed to give the gangster vibe to any project you are working on. The designer of this font started with a blackletter style, added ornaments, and made an excellent tattoo font. The extended swashes fill the gaps left by the letters making the text look artistic. Interestingly, there are three versions of this font – regular, italic, and swash. This provides more options for you to apply your creativity.
For a long time, tattoos had been associated with rebellion—people who wanted to speak out used tattoos as a medium to express themselves. The Rebel Nation font captures that spirit. A simple san-serif font is a good break away from the typical blackletter and gothic tattoo font. Each letter of the font style bursts with rage and emotes powerfully. Uppercase letters have an inner gloss effect, while lowercase letters are plainer.
The Bad Luck display is an old-school tattoo font that provides an excellent nostalgic effect to the design. Long before digital designs took over the tattoo industry, hand-drawing artists used such fonts to create an artistic impact on the design. The font comes with letters with double stems, extenders, and tiny swashes.
Moving away from nostalgic hand-lettered fonts, we have an imposing blackletter typeface – the Crookus. The font's name seems to be wordplay with crooks as the font design tries to portray that. All the letters have extended widths, and the empty spaces are nicely covered with design elements as needed. The good part about Crookus font is that four versions are available – regular, italic, outline, and shadow. It also supports multilingual characters along with numerals and punctuation.
The Strong West font is a retro font worthy of being noticed as a display font. As you would have noticed, the characters are filled with colors that you can control. The half-full, half-empty style makes this font stand out wherever used. They give an awesome retro vibe to the design. They can also be used on a standalone basis to create good typography. Strong West typeface includes uppercase and lowercase characters, numbers, and punctuation.
A classic tattoo font, Pinders takes you back in time with its vintage-lettered design. It combines outline, shadow, and filled font designs to deliver an impactful half-full and half-empty effect. The letters are extra wide and provided with small swashes, extenders, and other design elements to generate a nostalgic effect. Pinders offers two variations – regular and ornament, and you can use a combination of both in your tattoo design.
The Axentav HSC uses a flat pen to draw the letters in a modern calligraphy font style. The designers have added a creative shadow effect to each of the letters. This shadow gives it a depth effect; hence, you can use this font to give your tattoo design a 3D feel. The Axentav font is best suited for modern-style tattoo designs that are less ornamental and text-based.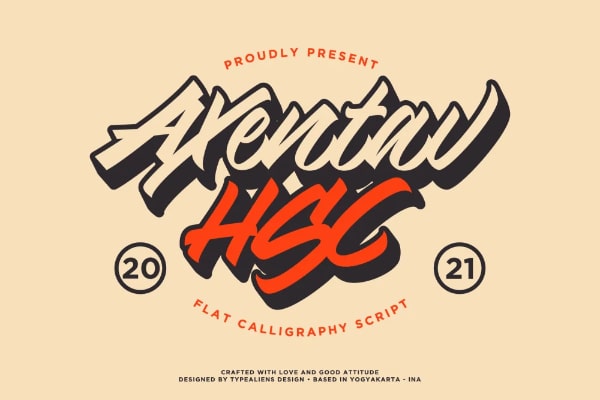 While strong black-lettered fonts are the most used for tattoos, artists also look out for creative and artistic fonts that are simpler and cleaner. Norwalk typeface can fall in the category of being a simple font as it is a thin-line decorative font. Each letter is provided with well-placed ornaments with a northern and native theme. This font can be a valuable addition to your collection as it comes with two variations and symbols in PNG format.
A modern display font, LockDown font retains the blackletter font design but does not come with additional ornaments. This styling helps it stay away from the gothic and vintage category but still carve its own identity as a tattoo font. The letters are well designed with equal width and tiny extenders. The extra width and shadow effect provide a 3D effect to the font, which will help accentuate the logo design. In addition, LockDown font comes with a bonus set of flourish elements that match well with the base design.
If you are looking for a classic victorian style font design that is expansive to fill up your tattoo design, then you will be happy to work with the Hero Bean typeface. Inspired by the long-gone European empire, the font style boasts of highly intricate ornamental design, which will make your tattoo design stand out. Hero Beam typeface comes in two variations, and both are equally creative.
Wildcats Vintage font is one of the safe options for tattoo designers. They have artistic swirls, extenders, and depth due to their borders. You will get 453 glyphs, many alternative characters, and an EPS pack of ornamental designs when you download the font.
Sometimes simple can be beautiful, even for tattoo designs. However, not all clients would want to get their bodies covered with overflowing text and design. Some may prefer clean and elegant designs. Coming in two versions – regular and outline, this font is a fine combination of a script and blackletter font style. It is well supported by alternative options, including swash, extensions, and ligature.
The Huntly font is the classic safe option typeface in the tattoo design industry. A combination of gothic, display, and black-lettered font styles, the Huntly font is ideally suited for applications related to rock or metal music. Any aspiring rockstar looking for a tattoo will fall in love with this font style making the job of tattoo artists easy.
Typography plays a vital role in tattoo designs; hence, a font like Ghosthey can make designing easy for you with its inherent typography. This font retains its blackletter effect while adding a vintage, calligraphy, and even old-style roman impact to the design. It is well supported by alternative options such s swash, ligatures, and many alternative characters. It also supports several languages.
The Morgan Tattoo font is highly versatile, combining blackletter and vintage and display fonts. Each of the letters is gifted with either a swash or a delicate extender making them unique. The fonts are bold, and the extra border makes them prominent.
If you are looking for a non-blackletter tattoo font, then Parlour can be quite handy. The font design is based on a strong display type with an added grunge effect at the bottom of the letters. The Parlour font is suitable for use in tattoo designs that need to have large bold text.
The good part about many fonts for tattoos is that they are self-sufficient in design. Cassandra font is one such example wherein the inherent font design ensures that your text looks more like typography, and you don't need to put in extra design efforts. The font supports numbers, punctuation, and special symbols as well.
A quirky name, the Fire Needle tattoo font is a typeface you can bank on when designing tattoos. The text is easily legible, while the fonts have an extra creative element on each letter's edges. You can use the Fire Needle font for tattoo design whenever you are unsure of which font will look best in the design.
The Libertad font is similar to the Cassandra font we listed earlier. The differentiating factor is the elongated swashes at both ends of the letters. This font only offers uppercase letters, but that should not be an issue if you use this font for tattoos with only one or two words.
You should try out this Wave Nautical font if your design project has anything related to the sea or oceans. Each letter is hand drawn and represents the elements of the water. An amalgamation of vintage and display font, the Wave Nautical font supports both cases and numbers, punctuations, and symbols. This font would be a hit when used to design tattoos with sailor themes.
Sailliery tattoo font is an ideal example of a strong blackletter display font. You should use a font like this when you want your text to stand out even from far away. The Salliery typeface comes in three variations which are Standard, Outline, and Italic. You can mix and match this family and create amazing tattoo designs out of it.
As a tattoo designer, you would still come across the demands of old-school tattoo styles. Then this Radtrad Vintage Tattoo font is worth having in your collection. It has a vintage Latin American feel, making the tattoo design stand out.
If the text of your tattoo is not easy to read, then it is better to use strong display fonts which ensure good readability. This Strates Vintage Tattoo font is a good example of such a font. The design of each letter is kept simple by dividing it into two parts and adding a delicate extender on each side. This makes the font versatile, and you can use it for many other design projects apart from tattoo designs.
Looking for a refreshing font for a tattoo design? Then this La Parita typeface is a good bet. The letters are based on a handwritten font style inspired by the life of pirates. It supports both cases, but the lowercase is just a smaller version of the uppercase.
When the font's name is hard to pronounce, you can be sure it will be extra creative. InuTattoo script lives up to this belief. Inspired by tattoo lettering and swirl designs, the typeface will add extra creativity to your tattoo design with its sharp extenders and edgy letter designs. However, you should use this font wisely as it may have legibility issues in very small applications.
Black Brody is a font that will ensure that your tattoo design will not have a legibility issue. A standard blackletter font, it has been provided extra swirls at the edges, which extends a good creative appeal to the font. It comes with two font styles – regular and italic and you can easily use them for tattoo designs.
A vintage old-school tattoo font, the Dead Marine draws inspiration from the life of a marine. Each letter is handcrafted with extra width on the stem and small geometrical designs, which makes the font unique.
The Poison Freak is an excellent display font, giving the gothic font style a modern touch. Do not be apprehensive about the name of this font, but rather make the most of the strong display it gives to the text. The letters seemed to be made out of dashes in various orientations.
With the rising demand for delicate tattoos, especially among ladies, tattoo designers always look for a simpler font with a good creative appeal. The Sailor Girl font fills this gap as it provides a highly aspirational font that is perfect for travel, adventure, and free spirit designs. There are two variations – regular and filled, available for this font style.
You would not believe it if we said that sheep's horns inspire the Ariesa fonts. It is only when you use this font that you will realize that this is correct. It is impressive how the swirls of the horns are used to design each letter uniquely. Together these letters ensure that you do not need too much design effort.
A Latin blackletter font, the Lotaltos is a good font for tattoo designers as it offers a good variation to the standard display style fonts. Another vertical line gives the stem of each letter support. Small extenders are also placed with a few letters giving the font a good creative appeal.
Continuing the design style of the previous font, the Forges font adds an extra element of modernity to it. The sharp edges and the extenders make it ideal for applications in designs related to luxury products.
Taking a big step forward in modernizing blackletter fonts, the VASH typeface makes the letters compressed but, at the same time, does not forget to add short extenders on each side of the letters. The good part is that it supports both cases.
Another decent attempt at modernizing blackletter fonts is the Yellost typeface. The unique part about this font style is the erratic use of extenders. For some letters, it is small, while for some letters, it is replaced with elongated swashes. Using this font for designing tattoos, you can quickly produce typography.
A nice combination of Victorian and Serif styles, the Bvas Estadas font style can be used for making classic tattoo designs. The designer has given the word's first letter a special design, be it through extending the stem or providing larger curvature.
Searching for a simple yet creative font for a feminine tattoo design? Then you should check out the Deja Vu font style. The design is based on a handwritten font style, but it is well supported by unique ink splashes making the font very decorative. The font supports both cases and offers a clean version and an ink variation.
Returning to blackletter style fonts, next on the list we have Aihet Scriptrsio, which includes an elegant set of uppercase, lowercase, numerals, symbols, and punctuations. In addition, you will get many extra vector ornaments, ligatures, and alternative characters when you download the font.
Not all blackletter fonts need curves and extended swashes. There are fonts like Avenacuastra that retain the strengths of blackletter fonts and provide it with a touch of a modern and gothic feel. The letters are bold enough to be readable and have an extra grunge effect.
An old-style blackletter font with a decorative touch, the Aortascarta typeface presents a good font option for tattoo designers who want to have a depth effect in their text. The font gives a visual feel of being made with overlapping layers. This shadow style makes the font stand out.
7 Best FREE Tattoo Style Fonts
Here are some great selections that are free. However, be sure to check first before downloading since free fonts don't usually include a license for commercial use.
You can try out this font if you are looking for an artistic free tattoo font style. The letters are divided into two parts through a slash. The upper part has a dotted grunge effect, and the lower part has a simple depth effect. Together the letters provide a refreshing creative appeal.
A standard free tattoo font, the Inked Skin typeface is one worth adding to your collection. It is highly versatile, and you can use it for almost any type of tattoo design. It supports both cases but not numbers or symbols and is for personal use only.
Calling Angels font comes with extended swashes propping out from the words' first and last letters. Each of the letters has been designed keeping calligraphy and handwritten font style as a base. Both cases are supported by this font allowing good combinations of the fonts.
Here's a unique free font that displays a grunge style combined with calligraphy, cursive or script type. The blending of grunge with an elegant typeface can make this a unique font for tattoos.
New Rocker is a free blackletter font that fits well for tattoos that need to be loud and harsh. It goes well with tattoos that have a theme of heavy metal rock music, medieval designs, and others.
Living up to its name, the Effortless Tattoo font style can be effortlessly used to create good tattoo designs. This font style has no extra swashes or ornamental vectors, but it is strong and bold enough to make the text stand out. The font only supports lowercase letters and numbers.
Typography plays a vital role in tattoo designs; hence, a font like Ghosthey can make designing easy for you with its inherent typography. This font retains its blackletter effect while adding a vintage, calligraphy, and even old-style roman impact to the design. It is well supported by alternative options such s swash, ligatures, and many alternative characters.
Frequently Asked Questions
What is a classic-style tattoo font?
The classic tattoo font is the old retro and vintage style that many sailors and soldiers had during World War Two, which is still in demand today. They tend to be very simple in design with bold typeface. Those in our list that fit this profile would be Dead Marine, Tattoo Ink, Sailor Girl Font Duo, and Wave Nautical.
What is the best blackletter font for a tattoo design?
The best blackletter tattoo font overall on our list would be Loyaltos, Cassandra, Salliery, and even Black Brody font. Blackletter fonts are most used for tattoos as they give good visual appeal to the design.
What is the latest trend in fonts for tattoos?
The latest trend with fonts for tattoos is the use of strong blackletter or script-style fonts. Designers are increasingly looking for various fonts as their clients want exclusive tattoo designs. The good news is our list includes many of these trendy designs.
Conclusion
Now that you've had a chance to get through all 50+ fonts for tattoos, it's time to choose a perfect match for your design. Remember to look carefully at the design details, licensing, and if the font comes with variations you may need like numerals or special characters.