Home » Fonts »
Line25 is reader supported. At no cost to you a commission from sponsors may be earned when a purchase is made via links on the site. Learn more
Cursive tattoo fonts can be a great addition to a tattoo artist and designer's collection. These fonts provide a nice artistic balance between elegance and ruggedness. You'll see creative examples of delicate cursive fonts, fancy cursive fonts, cursive script styles, masculine styles as well as feminine cursive tattoo fonts.
However, picking the right font for your project can use up valuable time. So to help speed up the selection process, we've compiled a list of the best premium choices as well as 11 of the best free cursive tattoo fonts.
Easily Organize ALL Your Design Assets!
One Simple & Easy Program – Eagle
Sponsored Message
First, let's take a look below at the description of what a cursive tattoo font is:
What is a cursive tattoo font?
A cursive tattoo font is created is often created from the Script typeface and resembles the beautiful style of cursive handwriting. Often it's referred to as a script font or calligraphy font. The style is popular today, providing designers and artists the opportunity to showcase their creative and artistic abilities.
Once you are done with this article you may want to check out our post on the best script tattoo fonts as well as the best tattoo fonts (free and premium options). Another informative post is on design tips for creating tattoos in Photoshop.
20+ Best Cursive Tattoo Fonts – Quick List
Creatives like yourself are most likely short on time. If you don't have much time to look over the detailed descriptions, then this quick list of the best free and premium cursive fonts for tattoos should help out!
Premium Options:
Free Options:
BEST CURSIVE TATTOO FONTS – GET UNLIMITED DOWNLOADS: Millions of Amazing Fonts & Design Assets Such As These: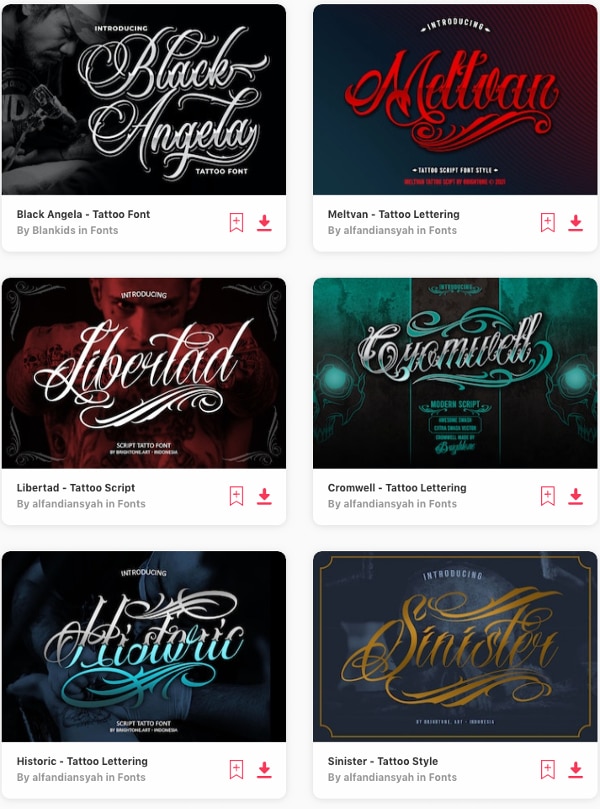 Searching through low-quality cursive tattoo fonts can quickly become a pain. Thankfully there is a massive digital library from Envato Elements that professional designers and artists can quickly access. Start downloading as many assets as you want for less than $0.55 cents a day ($16.50/mo). There's more good news – you get a lifetime royalty-free license included.
The Best PREMIUM Cursive Tattoo Style Fonts
Here are the best-quality cursive font choices for tattoos, and a royalty-free license is included for both commercial and personal use.
Here's a beautiful cursive script if you need a font with a feminine touch. The Rossegenia displays a bold but smooth handwritten design that's easy to read and sure to capture some attention. It comes with alternates and ligatures in the OTF (Open Type Font), TTF (TrueType Font), and WOFF (Web Open Font Format) file formats.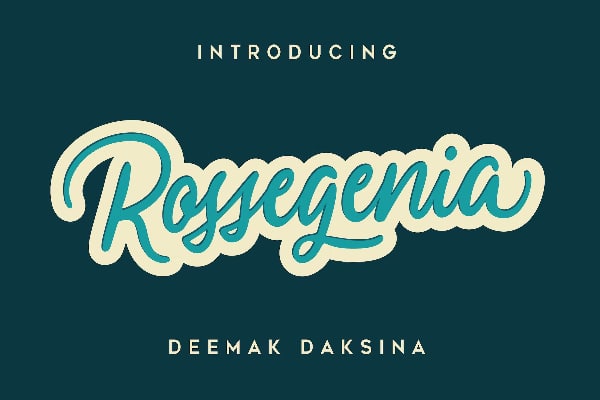 The Familia font is a real head-turner. Designed using long curvy lines, the script has an urban look that was quite common in the street art scene of the 2000s. This makes it a good pick for projects that require a touch of old-school writing. The font comes in OTF and TTF formats and includes uppercase and lowercase letters, numerals, punctuation, and many ligatures. It also supports multiple languages.
This cursive tattoo font is a stylish masterpiece. The letters connect seamlessly and give off old-school vibes. It comprises three versions (regular, alternate 1 & alternate 2), each fancier than the other. So, you get to decide how much each word stands out in your designs. The font is perfect for branding, logo designs, and banners.
Bandito is a font that emanates "chill" vibes. The letters are slender with sharp bulging edges in the middle, which makes them quite unique. The font contains both upper and lower case letters, along with numerals, punctuation, and a range of ligatures. All lowercase letters have ending swashes. It comes in OTF and TTF formats.
The Trainitty Vintage Script portrays a beautiful cursive style font that's smooth, clean, and adaptable for multiple uses. Whether you're working on a vintage feminine theme or a masculine one, either way, this selection will get the job done. It's perfect for packaging, apparel, logos, websites, and tattoos.
Made with beautifully crafted letters, the Custody script is a gothic font. It's got a hardcore feel to it that can help designs stand out. The font itself is a great fit for banners, packaging, label, and tattoo designs. Further, it would also be a fine pick for advertising anything that requires a touch of outlaw energy.
Inspired by vintage labels, signage, and packages, this font captures the aesthetics of the bygone tattoo culture. Thanks to its simplistic yet stylish design, the font is not too hard on the eyes. Thus, it is a fine choice for long sentences and paragraphs that might be included in your projects. The script offers 453 Glyphs and many alternative characters in both OTF and TTF file types.  
Maldito manages to successfully pull off a look befitting the bygone gangster era of the late 1990s. Its swirls and lines interlock with each other to form a beautiful cursive tattoo font. The font is available in OTF and TTF formats and features uppercase/ lowercase letters along with numerals, ligatures, and punctuation.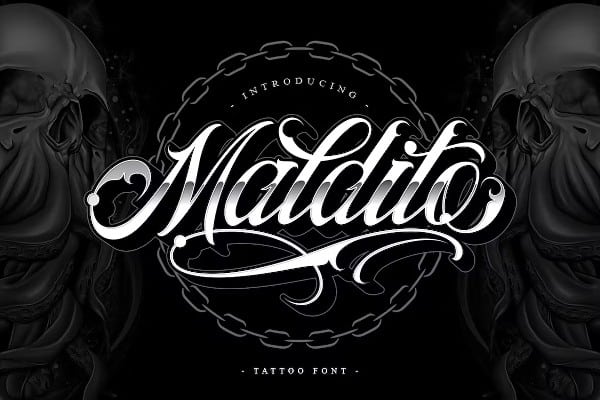 The Axentac HSC is a flat calligraphy script. Its design is unique and it's not as dramatic as some of the other cursive fonts. The font is simply a mellow version of the typical tattoo script with fewer swashes and swooping lines. It's a great choice for more simplistic tattoo designs and comes with OTF, TTF, WOFF & WOFF2 file formats.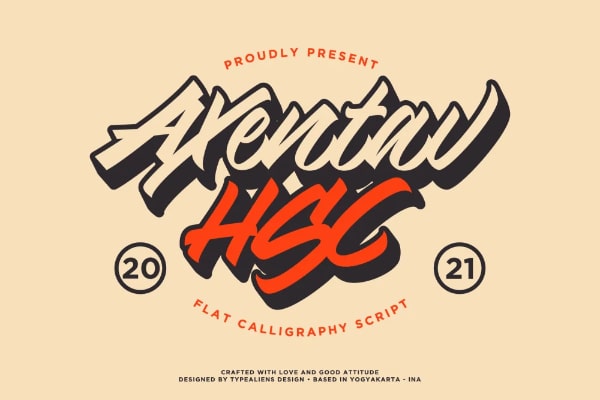 Inspired by vintage calligraphy, the Chicano tattoo font looks as if it's straight out of the artwork of an early 2000s hip-hop album. The way the subtle curves flow elegantly to connect the letters makes this cursive font stand out. Similar to most fonts, it includes both upper and lower case letters along with punctuation and other ligatures. However, to use the beautiful swashes, you would require a program that supports OpenType features.
This cursive tattoo font is probably unlike anything you've seen before. It's designed with sharp edges and long lines with curves kept to a minimum. The font is perfect for making bold statements that are bound to make your viewers read twice. It comes in both OTF and TTF formats and comprises uppercase/lowercase letters, numerals, and symbols. 
Befitting its name, the Kingside font is a high-caliber script designed to portray luxury. The swirls and the exaggerated curves of the letters are a work of art. All this makes this font the perfect pick for branding projects that needs a touch of class. The package features uppercase and lowercase letters, numerals, punctuation marks, and ligatures. It also supports multiple languages and includes alternative fonts. 
The Lastring is a retro-themed script typeface that has a hint of gothic in it. It's a busy design with many swashes and swooping lines. It can be used for not only tattoos, but for masculine vintage designs with themes on motorcycles, the old-west, barbershops, beer designs, and sailor tattoos.
If you are looking for vintage cursive scripts that are perfect for tattoos, check out this font bundle. Although not all fonts included are cursive, the package comprises some of the best retro-themed tattoo font styles we've ever seen. The pack boasts over 90 fonts packed into 18 vintage font families.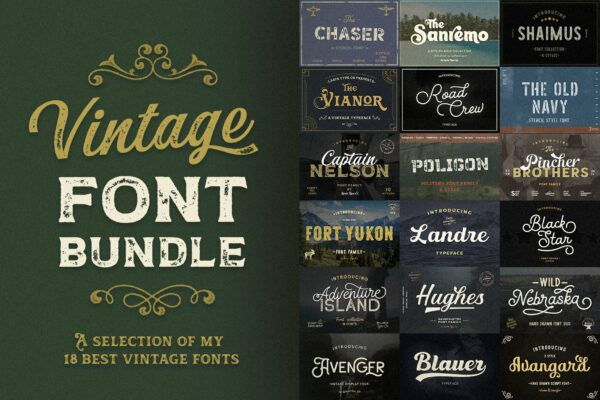 Tribal tattoos have always been a hit among tattoo fans. If you too enjoy tribal ink work, you might want to consider this font for your designs. The font beautifully combines the blackletter and script styles of calligraphy. The long strokes and sharp protruding edges give each letter a distinct look. Available in OTF and TTF formats, the font is an excellent choice for designing posters, album covers, and t-shirts.
Here is a selection being offered over at Etsy.com and includes over 1000 characters and 800+ alternate letters. Similar in design to the Chicano and gangster tattoo scripts already showcased here, but it comes with over 1000 characters and 800+ alternates.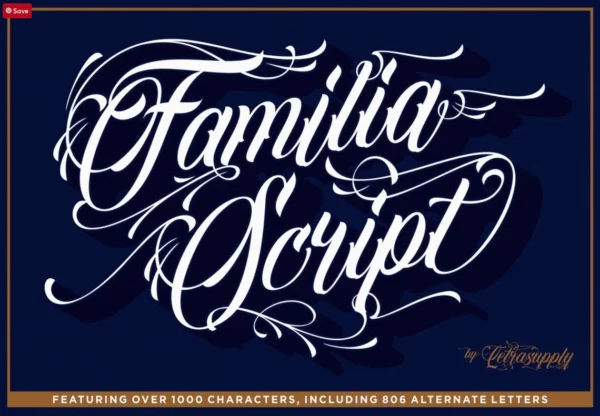 Best FREE Cursive Tattoo Style Fonts
Here you can choose various free tattoo cursive fonts for your project, however, it's important to note that some may require creator attribution and do not include a commercial license. This means they are for personal use only.
Myteri is a beautifully designed tattoo font that is elegant and charming. The lowercase letters stay true to traditional cursive writing, while the uppercase letters have a unique twist to them. The font has a welcoming nature to it and thus is ideal for designing invitations, greeting cards, and banners. 
The Billions Stars Font is one of the most creative scripts out there. While the font might look plain at a glance, a closer look would show the level of detail each character has. Especially the uppercase letters, which are created by looping curves in a stunning fashion. This font is a must-have in every designer's toolkit.
Complete with splatters and drops, this script represents writing made using blood. The font is quite eccentric and might not be suitable for most projects. However, it is ideal for Halloween and ghost-themed designs. Further, it can also improve the quality of certain grim tattoo ideas. 
Here's another free tattoo cursive-style font located at DaFont and it's very unique. Not the simplest to read, but no doubt is interesting with its large stroke line at the top of each letter and then tapers down into a thin line near the bottom. For personal use only, but a commercial license can be purchased.
Despite its name, the Drunk Tattoo font is a stunning script designed using subtle curves and long lines. The font looks as if it was distressed and takes on the features of grunge-style fonts. The font can go unnoticed in complex designs, so we recommend using dark colors to help the font stand out.
Scriptina is a font with thin strokes and less volume compared to other options on this list. However, the script is sharp enough to catch the eye with its elegant look. The script comes in TTF format and is suitable for designs that are not overrun with details.
Sweet hipster is a versatile font that can be used in most designs. Although it keeps part of the rough personality other tattoo fonts have, it's got a charming side as well. This makes the font perfect for projects that require a "cool" outlook along with a "welcoming" ambiance.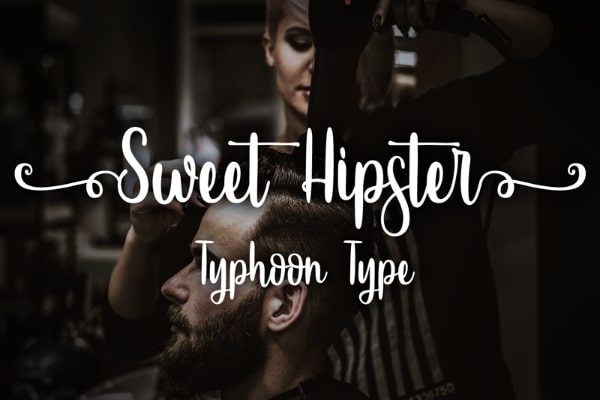 Precious is a cursive tattoo font with no fancy gimmicks. It is simple in design and pretty straightforward. However, the script has a graceful personality that gives it a royal appearance suitable for invitations, greeting cards, and other decorative artwork. The font consists of over 100 characters in TrueType Font format.
With over 600 characters, the Akayla Script font family is another great addition to a designer's toolset. The font itself is elegant, but not too extravagant. This gives the font flexibility to be used in both high-end and mediocre projects without sacrificing quality. The font is available in TTF format.
Inspired by the widespread tribal tattoo culture, this font will help give your designs a rugged tribal touch. The letters are designed using exaggerated strokes along with subtle swirls, which makes the font look like fanning flames.
The free Angilla Tattoo font is a good example of a script type designed as a cursive handwritten font with a hint of western style. It leans more on the smooth-flowing cursive look as opposed to a rugged western look. There are many uses for this selection, and for a tattoo, it's a clean and legible option.
Frequently Asked Questions
What is the best cursive font for tattoos?
All the listed script typefaces can be used as cursive fonts for tattoos. However, it is best to use fonts that are bold and clean if it's important for your message to be clearly read. The best overall cursive fonts for tattoos would be Familia Tattoo, Bandito, Chicano, and inuTattoo.
What's the difference between cursive and script?
"Cursive" is a form of handwriting that primarily connects the letters of a word in one motion when written and at an angle. With relation to fonts, Cursive would be a subset of the Script Typeface.
"Script" refers to a typeface that has various font forms that look like they are handwritten whether they are connected or not. However, designers tend to use the terms interchangeably since they are closely related visually.
Is it legal to use these fonts for commercial use?
Only those that include a commercial license. The premium options will come with a commercial license, whereas, the free options are for personal use only, but you can pay for the commercial license. The Envato Elements royalty-free license is included with each download.
Conclusion
Employing cursive tattoo fonts can help highlight your message. However, it is crucial to pick the right script for the job. A font too elegant can outshine your design, while a font too dull might be overlooked. Therefore, it is best to try out a few styles before settling on one. We are confident that you'll find exactly what your looking for here – Enjoy!