Home » Fonts »
Line25 is reader supported. At no cost to you a commission from sponsors may be earned when a purchase is made via links on the site. Learn more
Are you trying to track down the best tattoo number fonts for your project? If so, you've landed on the right page.
Tattoo artists, designers, and individuals can find it challenging to decide on just the right style of font due to the fact that there are endless possibilities. For this reason, we've specifically compiled the best tattoo number fonts to make searching easy.
Also take a look at our post on the best number fonts, the best cursive tattoo fonts, and our post on the best script tattoo fonts.
20 Best Tattoo Number Fonts – Quick List
If you're in a hurry and want to skim through our list fast, here's a quick list. For more details on each font just scroll down a little further. There are both premium and free options!
BEST TATTOO NUMBER FONTS – UNLIMITED DOWNLOADS: Millions of Amazing Fonts & Design Assets Such As These: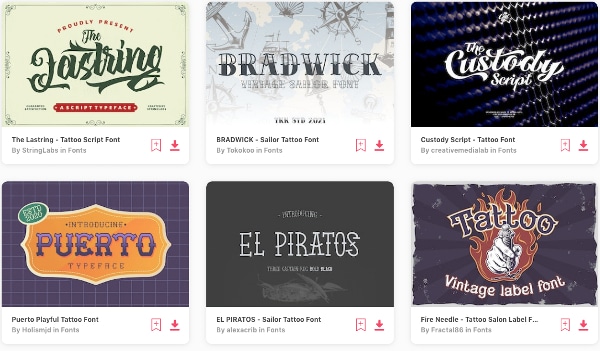 Scrolling through low-quality Tattoo Number Fonts can quickly become frustrating. Thankfully there is a massive digital library from Envato Elements that designers and artists can quickly access. Download as many assets as you want for less than $0.55 cents a day ($16.50/mo). A FREE trial is available and a lifetime royalty-free license is included.
---
20 Best Number Fonts for Fancy Tattoo Designs
The free number fonts for tattoos are from Envato Elements and are included with a 7-day free trial subscription. You can keep everything you download, for free, during the trial period.
Let's get started. You are going to see some fancy number tattoo fonts as well as some elegant and rough designs. So you should have no problem finding just the right match for your project.
Blessed is truly a classic traditional tattoo-style number font and includes all the characters, symbols, letters, and numbers you'll need to get started. This free option with an Envato Elements subscription will enhance any tattoo design in need of a traditional tattoo-numbered style.
Rademos is a thick font that will give your number tattoo an edgy style. You'll likely need to be in the chair for a while to get your numbers filled in and perfected the way you want them.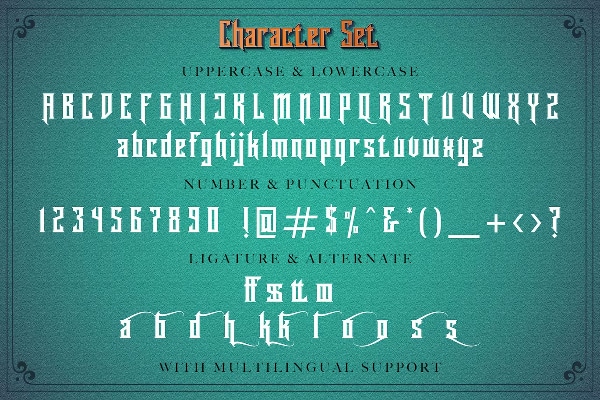 The MORGAN TATTOO is another great-looking blackletter tattoo font designed with classic swashes, swoops, and curves at the end of each number. The numbers included with this serif typeface are much easier to read than some of the others that use fancy design styles.
You can't go wrong with this free option from Envato's special trial offer. Download the Morgan font today and start showcasing your creative tats.
Mayhem is one of the most common number tattoo fonts and can be a fantastic choice for a memorial, anniversary, or birthdate tattoo. However, the design of this font may make the numbers challenging to read at a distance.
Runic is a unique option for displaying a date on your tattoo with old roman numerals in a rustic style. The creator of Runic provides a handy roman numeral cheat sheet. For example, the "XL" roman numeral is equal to the number 40 and "VII" is the same as the number 7, and so forth.
Mordova is a great choice for a number tattoo because it can give your tattoo a dark vibe and feel. These numbers have sharp corners and don't have any rounded edges, which can make your tattoo have a rough and tough edge.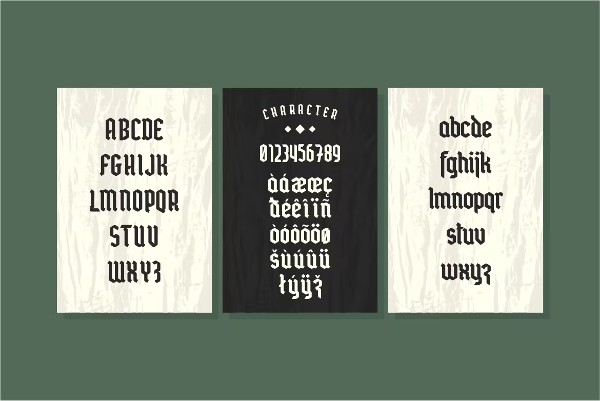 Classico is the epitome of elegance and will make your number tattoo look simple but desirable. The numbers in this font are slim and slender.
These numbers are also sleek, which will make your tattoo look manicured. However, the slimness of these numbers may mean you have to get your tattoo touched up or bolded to make it legible.
Sage is a beautiful mixture of bold and slim lines that create a stunning display. As a tattoo font, this set of lettering can make your artwork bold and easy to see. There is a curvy nature to these letters that eases into straight lines and sharp corners.
Sage is one of the best number fonts for tattoos, but it can be hard to see from a distance. Keep in mind that this font uses thin and thick lines in tandem, which can create an illusory effect.
Abigail is a unique font because it makes some letters connect, making it look elegant and regal. You can use Abigail to make your letter tattoo appear thin and minimalist. This font is perfect for those who prefer an easy and slim look for their tattoos.
Abigail uses large circular or ovular lettering to make the numbers bulge, making them eye-catching.
Bayones is a bubbly font that may make you think of an old-school disco in the 70s or 80s. This font is perfect for those who want their number font to look rounded, welcoming, and friendly.
Lockdown is a perfect font for those who like the graffiti aesthetic. This fancy look can make your number tattoo seem like a piece of work in a bigger collection of work. This font will need some filling in, but it looks like a light gradient.
The Whiskey Font Collection has plenty of designs and options to make your number tattoo look bold and unforgettable. You won't have to worry about getting this tattoo touched up or concern yourself with blurring because these numbers are thick.
These numbers are also tall, making them ideal for locations on the body with plenty of space, like the back, stomach, chest, or legs.
JUST Sans is a simple and clean font that can make your number tattoo look fancy and elegant without much effort or added design. Consider using this font for small-number tattoos or those that don't need much filling in.
Pearl is an elegant font that can be used for number tattoos. This font looks a little like smoke, allowing the letters to twist and turn as if they weren't entirely attached to anything.
Pearl can be perfect for a date, team numbers, or other tattoos that need a gentle touch. Additionally, these numbers are slim and slender, making them easier to tattoo.
Bahisy is a perfect option for number tattoos because of its elegant, straight-lined design that can make your tattoo look edgy and fierce. This tattoo font can have a gothic feel to it.
Nomad is a festive and peppy font that has designs that come along with uppercase letters. The numbers with Nomad's font design are tall and use thin lines to create a homemade look. Everything about Nomad fits perfectly with number tattoos that focus on long-form and short-form tattoos.
Although the numbers with Nomad's design don't share the same designs that the uppercase letters have, they are still chic and combine well with other layouts.
Strong West is an ideal choice for a tattoo font because it can make your body art look retro and fierce. Your number tattoo will have the bottom half of your numbers filled in while the top remains silhouetted, making it easier for your artist.
Mattire is a lively font that can remind you of sunshine. This font is a perfect candidate for a tattoo and can make your numbers look bold and cheerful. Mattire will give your numbers a vertical look, making them stand tall and keep them easy to read.
Consider using Mattire for dates, page numbers, or other number tattoos with few numbers since these designs match Mattire perfectly.
Parlour will give your number tattoo a gradient-type of look that will make your tattoo bold and lively. The numbers on this font will need to be filled in, meaning you may spend more time in the tattoo chair, but this font is worth the time, effort, and wait.
As the title states, this option is only to be used with ProCreate. We wanted to provide this option to those designers who are using this app. The designs in this bundle include a mix of elegance and fancy styles as well as calligraphy, script, cursive, and some with grunge and shadow effects.
Frequently Asked Questions
These answers can help you figure out which font is the best to handle the numbers in your new tattoo.
What is the best tattoo number font?
Bold or minimal fonts are usually best for number tattoos and will allow you to read the tattoo without confusion. You may also want to choose an option with thin, straight lines to help keep the tattoo legible.
Do number tattoos fade?
All tattoos will fade or blur as time passes. However, these dulled artworks can be touched up and modified to look bright and new again. Opt for a large bold design if you're aiming for longevity.
Should you use script fonts for number tattoos?
You can use script fonts for number tattoos if you want an elegant look and don't mind the work being slightly hard to read.
What tattoo color fades the slowest?
Black and gray are the slowest fading tattoos, making them perfect for number tattoos. These tattoos will likely fade over time and need touch-ups, but these will fade much slower than color tattoos, especially if you keep them out of the sun where possible.
What size font should a number tattoo be?
To be legible, your tattoo should be at least half an inch tall. However, you can choose to go smaller or larger, depending on how you want your tattoo to look and feel.
Best Number Fonts for Fancy Tattoo Designs Summary
Are you ready to try these free and premium fancy number fonts for your tattoos? Don't forget that you can download as many as you want, absolutely FREE with Envato Elements within 7 days of your subscription. And, you get a lifetime commercial license included. It's a no-brainer!
No matter which font you choose, your tattoo is bound to look stunning with the choices listed here. Please let us know in the comments below which ones are your favorites.