Home » Fonts »
Line25 is reader supported. At no cost to you a commission from sponsors may be earned when a purchase is made via links on the site. Learn more
If you are a designer or artist searching for the best script fonts for tattoos, then this featured post is for you! You'll be pleasantly surprised at our selection which includes premium options as well as 10 of the best free script tattoo fonts.
The increased desire to express our interests through tattoos has never been greater and the creative appeal of a tattoo depends not only on the images created by the artist but the quality of the fonts used.

Before starting on our list below, let's first go through a summary of what a script tattoo font actually is.
What is a script tattoo font?
A script tattoo font is a typeface resembling a beautiful, fluid, and smooth handwriting stroke. The design or style is like cursive handwriting and can be either formal or casual in appearance depending on the application. Sometimes they are referred to as cursive or handwritten fonts.
Also, see our featured posts on the best tattoo fonts, the best script fonts, and our post on design tips for creating tattoos in photoshop.
20+ Best Script Tattoo Fonts – Quick List
Today's creatives don't have a lot of time and having a quick resource of really cool-looking script fonts for tattoos will help save time. Here's a quick list of the best free and premium options available today!
Premium Options:
Free Options:
BEST SCRIPT TATTOO FONTS – GET UNLIMITED DOWNLOADS: 10 Million+ Amazing Fonts & Design Assets Such As These: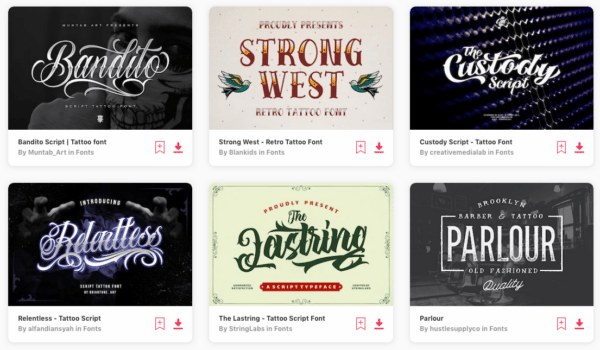 Weeding through low-quality script tattoo fonts can quickly become annoying. Thankfully there is a massive digital library from Envato Elements that professional designers and artists can quickly access anytime. You can start downloading as many assets as you want – for less than $0.55 cents a day ($16.50/mo). Oh yea, you get a lifetime royalty-free license included.
13 Best PREMIUM Script Tattoo Style Fonts
The first selection includes some of the best-quality script font options for tattoos that come with royalty-free licensing for commercial use.
This creative script font has a variety of options for the designer looking for alternative creative gangster/ gothic style script. The sharp edges are uniquely found in the center of each letter, rather than the top or bottom of the curve. This file includes lower cases letters with ending swashes. One drawback to this file is that it uses Open Type and so a program that supports it must be used.
inuTattoo is a unique, eye-catching font with a pointed-edged script that's captivating. Not only does it provide the basic uppercase, lowercase, numerals, and symbols in TTF and OTF formats.
Are you looking for a modern hand lettering font for your tattoo? Then Maldito Font may be for you. It has a cool urban feel that is unique. Not only does it provide the standard lowercase, upper case letters, and numerals, but it also includes a variety of ligatures and punctuation.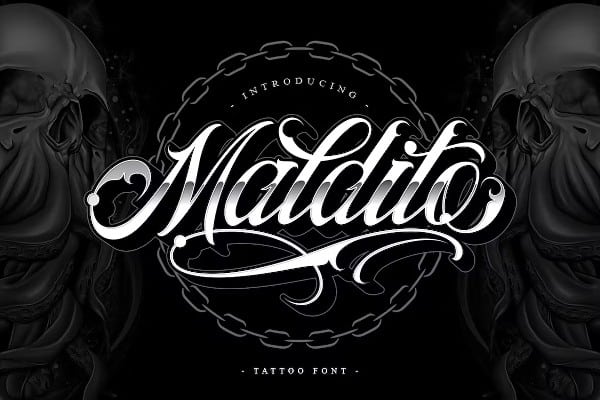 If you are looking for a tattoo font that has extended swashes, then Wildlife – Chicano tattoo font is a good option. One look at the font, and you know that it can be easily used for tattoo designs and as a display font to create an artistic effect. The beautiful swashes are perfectly set with the letters. They are hard to develop, so fonts like these are precious. Wildstyle supports all cases, symbols, and numbers and comes in two variations – one with swashes and one without them, giving you more design options. 
Tribal font is a new black letter with script style combination, which works well with rapper, hip hop, and street ware style designs and logos. With its beautiful swashes, this script font can be used for tattoos, clothing, branding, and more. It's very unique and stands out with its opposing thick and thin lines.
If you are looking for urban, gangster script lettering that is clean, complex, and supports more details, then Familia Tattoo Lettering font is a good option. It includes the usual uppercase/lowercase lettering and is multilingual. A program that supports OpenType features such as Adobe Photoshop CC, Adobe Indesign, Corel Draw, and Adobe CS  is necessary to adjust the font. In addition to tattoos, this is a great option for multiple projects.
When you mix up many font styles, you can create a messy or creative font like The Lastring font. This font is a mixture of gothic, vintage, and even retro but still emerges as a good tattoo font. It has unique swashes and ligatures and also offers stylistic alternates to the existing letters. Lastring font supports uppercase and lowercase letters, numbers, punctuations, and multilingual text. This creative font can also be used for logo designs, branding, and many print applications.
A script-style font, the Astolfo font is specially designed for tattoos. While the cursive nature of the font is maintained, it also provides curvy swashes to complement the letter design. It comes with letters of both cases, numerals, and punctuations. Apart from tattoos, you can use this font style for lettering, branding, t-shirt design, and packaging.
Being a modern, gothic theme this design style is unique and useful for a variety of branding types such as for music, cars, label, logo, packaging, clothing, tattoo and so much more. It also offers multilingual options such as Western Europe, Central/Eastern Europe, Baltic, Turkish, and Romanian.
With beautiful flowing curves, this premium font brings elegance and style to your tattoo, branding, or other marketing fonts. Chicano offers uppercase and lowercase letters a range of ligatures, punctuation, and numerals, and the lowercase letter has the option of ending swashes and alternative font.
As previously seen, Chicano offers yet another new classy calligraphy font with added features such as multilingual. Here is a stunning design that will grab attention fast. This font includes OTF and TTF file formats.
Vintage calligraphy fonts have their charm and make the design lively, no matter wherever they are used. The Wildcat's vintage script font is no exception to this. Wildcats font comes with 453 glyphs, loads of alternative characters, and an EPS pack of ornamental designs. The typeface is simple to use and displays a captivating presence, making it perfect for tattoo designs, branding, signage, and more
When you deploy a flat pen with a calligraphy technique, you get a creative font style like displayed with Axentav HSC. This font has the elements of handwritten and display styles and the shadow effect provides a 3D element to the font. This is one of the main reasons it can be used for a tattoo design, as the font style will give the illusion that the letters are coming out of the body.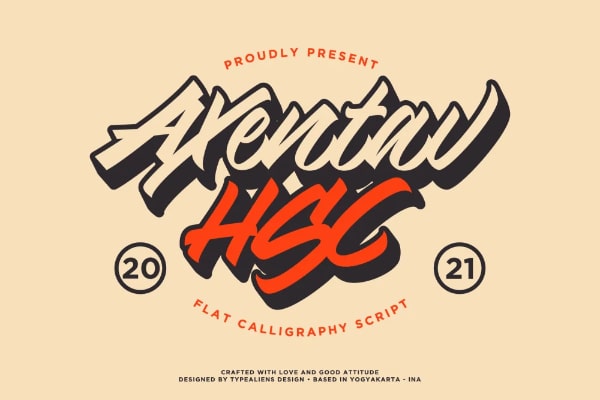 10 Best FREE Script Tattoo Style Fonts
In this next section, you can choose from 10 free options. Remember to always confirm licensing and attribution requirements before downloading.
Adding a tribal flavor to the tattoo design has been in trend, and to do this, you will need a good tattoo font that takes inspiration from tribal elements. The Tribal Script font is a good choice as it ticks this box well. Each letter is given an artistic curve, but the broken strokes make the font stand out, which gives the feel that the letters are drawn using a stick and not a brush.
Are you planning to get a tattoo for your loved ones? Then you should definitely try out the Lucy Said Ok font style. This font designer has thoughtfully added hearts wherever possible, making the entire script very romantic. Whether writing the name or a short message, this font can be used for both as it supports both cases and is easily readable even when used in small applications.
Billion Stars Font has made the best possible use of its extenders, giving them the right curves and angles to make the overall font look creative. This is the type of font that can help you create artistic typography in no time. Apart from tattoo design, you can also use this font for branding, packaging, labeling, and print designs like posters, outdoor branding, and more.
Not all script fonts used for tattoo design need to be cursive with fancy extenders. VTC Tattoo Script Three is a good example of that, as this font shuns away from being extra creative but focuses on being bold and, therefore, easily stands out. Each character has a variable width, giving a 3D depth to the tattoo design. The font supports both cases, along with punctuation and numerals.
If your new tattoo design has a blood style to it, then this Blood Script Italic font is a good option as it comes with plenty of splatter and blood drops. Each letter is designed to make you feel like it is written with blood. In addition, the fluid design makes the font stand out. There will not be many applications for this font, but you can use it for gothic or horror designs.
Please do not go by the name of this Drunk Tattoo font, as it only gives the feeling but is very well designed. The creative artist has nicely replicated how a drunk person would write, including long extended letters, random jerks, breaks, and twisted extenders. The font supports all cases, and apart from tattoo design, you can also use it for children-related designs.
Getting back to the list of well-designed script fonts, next, we have the Scriptina Font Family. Using a font family is always advisable as it presents many options to choose and match fonts. The Scriptina font is an elegant-looking script font style with elongated extenders in letters like p, g, l, and more. You should use this font when you are designing delicate tattoos.
A highly versatile font, Great Vibes is very handy whenever you want to generate good positive vibes from your design. The font's base is a cursive script style, but the designer has added extra curves in the starting letters to make the font more creative. The simplicity of the font will allow you to use it for any type of tattoo design. You can also use this font for social media creatives, logos, and other branding work.
Swashes in fonts help in giving them a unique and creative look. In tattoo designs, such fonts can be very handy as they can save your design time and effort. Sweet Hipster font is an excellent example of such type of font. The first and the last letter are given an extended swash. You can quickly match the letter design with other elements to create unique tattoo designs.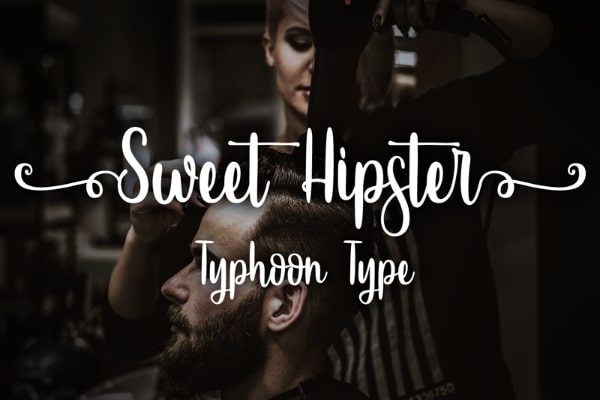 Akayla Script Font is a fancy script-style font that can be used for designing intricate tattoos. It comes in two variations – deco and regular. The deco version has extenders and swashes all over the place, which can help you create good typographies. The regular font style is more straightforward and looks more elegant. Apart from tattoo designs, you can also use this font for logo design, packaging, labeling, outdoor branding, and print design projects.
How to choose just the right script tattoo font
Should be legible: There is no point in using the fanciest fonts if the readers cannot read the text, so always keep in mind that the fonts are easily readable. 
Curve it right: Script fonts are always blessed with extenders and swashes. These curves can help you accentuate your design.
Match it with design: If you are making a dark theme tattoo, use a font that relates to it. At the same time, if you are looking for a feminine or floral design, then go for delicate fonts.   
Keep scalability in mind: Intricate fonts do not come out well when used in small designs. Hence, always remember the size of the tattoo when choosing the font.
Fonts made for typography: Many good script fonts are available to help you create ready-made typography. Research well and go for such fonts to make designing quick and easy.
License to use: Make sure you have the legal right to use the font for commercial purposes. The free script font options are where you should be concerned and need to double-check with the source before downloading.
Frequently Asked Questions
Are script fonts the most common for tattoo designs?
Although they are popular, based on the design style of the tattoo image or design, the font needs to change accordingly. For example, a trendy masculine tattoo with words or letters may lean towards using Gothic and display-style fonts. In contrast, delicate and small tattoos use calligraphy or serif-style fonts.
The best premium script tattoo font on our list would be between Familia, Chicano, and Wildstyle.
What's the best free script font for tattoos?
The best free script tattoo font on our list would be Scriptina, Tribal and Lucy Said Ok.
Can I legally download these fonts for commercial use?
With the first set of premium fonts, you can be confident that you have the legal right to use the font for commercial use, royalty-free. For the best license on the market, take a look at Envato's lifetime (royalty-free) licensing included with each subscription. Even if your subscription ends, you're still covered.
On the other hand, as with any free digital asset like fonts, you must verify if it's for personal use only. Most free fonts usually are and payment for commercial use is required with limited use.
Conclusion
Designing an impressive tattoo needs good visualization skills, intricate detailing, and, most importantly, the support of a good font. We hope you enjoyed our list of the best paid and free script fonts for tattoos for both designers and artists. Let us know your favorite in the comments below.