Home » Articles »
Line25 is reader supported. At no cost to you a commission from sponsors may be earned when a purchase is made via links on the site. Learn more
Having quality graphic design assets compiled in one place can prove to be a lifesaver for designers and our selection of beautiful cloud background graphics is no exception.
No need to start from scratch on a project that requires cloud designs because you can use our completed selection of images, illustrations, vectors, and graphics that display beautiful clouds.

Whether you are a designer needing vector-based illustrations of clouds, or a photo editor needing sky and cloud backgrounds for photographs, our list of 322 (22 sets) cloud background images and graphics can help!
320+ Best Cloud Background Images – Quick List
Here's a quick list of the best cloud image backgrounds. You'll find a more detailed description further down on the page:
Where to find amazing images of clouds for backgrounds (free and premium resources)
Many online websites provide reliable and good-quality design assets. Most offer free and paid options, so you can choose what suits you best. To start, here's a list of providers. Below this section is a list of 20 of the best cloud background images to be used as backgrounds for graphic design and web design.
Envato Elements has a massive pool of creative resources. It has over 10 million royalty-free stock photos, vectors, illustrations, templates, fonts, etc. Envato Elements offers a simple low-cost subscription plan that gives you unlimited downloads for less than $0.55 a day. Includes a lifetime royalty-free commercial license.
Adobe Stock is a leading website for stock photos, vectors, and illustrations. It's part of the Adobe Creative Cloud ecosystem, so it's seamlessly integrated with all the other Adobe apps. You will have access to over 160 million high-quality assets. Adobe Stock offers both monthly and annual subscriptions along with a pay-as-you-go option for those who need more flexibility. Get 10 Free with a free trial.
3. Canva – Free & Premium
Canva is a user-friendly graphic design platform perfect for creating professional visuals without any design experience. It has a library of over 1 million elements, including photos, illustrations, templates, and fonts. In addition, Canva offers both free and paid plans. The free plan gives you access to most of the features, while the paid plan gives you access to all the features, plus some extras like unlimited storage and priority support.
4. Vecteezy – Free & Premium
Vecteezy is a website specializing in vector graphics and has over 2 million royalty-free vectors, icons, and illustrations. It offers both free and paid plans. The free plan gives you access to most of the vectors, while the paid plan gives you access to all the vectors, plus some extras like unlimited downloads and premium support.
Depositphotos is a website you can rely on for high-resolution stock photos because it has over 80 million royalty-free stock photos, vectors, and illustrations. In addition, Depositphotos offers several subscription plans and a pay-as-you-go option.
6. Alamy – Premium
Alamy is another website that can be used for finding good stock photos given that it has over 100 million royalty-free stock photos, vectors, and illustrations. This variety makes it a versatile option. Alamy offers both monthly and annual subscriptions.
7. Picsart – Free & Premium
Picsart is a website specializing in photo editing and has over 1 million royalty-free stock photos, vectors, and illustrations. It offers both free and paid plans. The free plan gives you access to some essential features, including image editing, while the paid plan gives access to all features.
Known as a free photo provider, Pexels offers tons of great-looking cloud photos. There are little to no vector illustrations available. Before downloading make sure you can use it for commercial use without attribution.
This provider of premium stock images and backgrounds has been around for some time with a massive library. Before downloading be sure you have the right to use the image for commercial use.
320+ Best Cloud Images for Backgrounds – Detailed List
All of the above design asset sites are excellent and reputable providers of cloud designs. But you will still have to search correctly to get the cloud design assets you specifically need. To help you in this task, we have shortlisted some of the best cloud images and graphics that are great for backgrounds and ready for download:
This first option is great for projects requiring an abstract background with clouds. There are many ways of using this beautiful selection, such as for presentations, websites, banners, and more. It comes as a high-resolution JPG (3000×1875px) and with an Envato Elements subscription, it also includes a lifetime, royalty-free license for commercial use.
If you need clouds with a grunge look, then this asset is a great option. There are so many ways to use these backgrounds such as for banners, websites, flyers, presentations, logo design, video backgrounds, and more. The high-resolution images are 4500 x 2700px and ready to print at 300 dpi RGB.
Rendering clouds is not an easy task as it needs much detail; however, the end result is always beautiful. This design resource contains stunning clouds in various color backgrounds. You will get four 3D-rendered cloud high-resolution images when you download them. You can use it to make your photographs look out of the world or even use it as stand-alone background for websites or social media.
Cloud illustrations will always be in demand, especially the creative ones given in this resource. The design is very simple and based on yellow background. The clouds are in abundance, and a white sun hides behind them. Along with that, there is an illustration of a house with a windmill and tree. Farms are spread wide across the landscape. This design can easily be used as a background or as a monotone image on digital media.
While the above design assets were ready-to-use templates, this design resource offers isolated clouds with transparent a background. You will get 12 unique clouds set in PNG format that you can use in any design easily because of their transparency. All images are high resolution (5000 x 4000 Pixels) and 300 DPI, which means that you can also use these images for print design.
Using vintage design elements is a trend used often by designers. This vector collection of vintage clouds is very nicely hand-sketched, giving it a vintage or retro look. When you download the resource, you will get the image in AI, EPS, and JPEG versions, and you can use whichever you want. This allows you to even change their shape or colors as per your project needs.
While good quality cloud photographs are still easy to get, what is hard to get is suitable quality cloud vectors that you can use in your design. This resource provides 28 amazing and unique vector clouds. You will get all kinds of cloud types in various shapes and colors, and the best part is that they are editable. So you can easily import them to your project and places them as per need.
If you are looking for good-quality sky photographs, then look no further. This design bundle comes with 150 sky images that showcase different profiles of clouds at different times like sunrise, sunset, daytime, clouds, and even aerial images. All the images are provided in TIFF format. This resource is a must-have for photographers, digital artists, 3D creators, composers, and designers.
Paper clouds are a standard design asset that will be needed time and again for many online designs. This image from Adobe Stock is a vast landscape design consisting of white paper clouds over a blue sky. The color tones used are very subtle and pleasing. There is ample space on the top for you to add your text or other design elements.
One of the best ways to represent startups is through a rocket coming out from the clouds. This visual imagery denotes growth and is widely used. This design uses a series of clouds of various sizes and shapes across an indigo sky. A rocket is seen bursting from the clouds going above. You can use this image for website hero images or social media posts.
Not all cloud backgrounds need to be visually scenic, but this resource provides you with a fun comic-style background where the clouds are poofy. There are pink clouds set at the bottom. The background is retro-style, and the fonts complement them. You will get a downloadable file using which you can remove the unwanted layers and add your design element of comic characters.
Looking for a corporate image showcasing a person on top of the world, you have the perfect image here. A delicate blend of stock image and editing, this image captures a person dressed in business attire working on his laptop while sitting on a cloud. Apart from that, the blue background offers good contrast and, more importantly, gives you much space to add your text or branding elements.
To showcase products in the best possible way, designers apply all sorts of creativity. This design asset can be convenient to them for small products such as mobile phones or other gadgets. There is a podium set over a series of clouds. In the background, there is a sky with linear clouds. The overall color composition of the image is very subtle and this results in all products coming out well.
Many times, simple can be beautiful. There will be designs where you don't need to overuse design elements. That is when using this fantastic resource, which provides a minimal form of clouds and the sun. Set against a light blue background, there are clouds in various shapes, and they cover a yellow sun. You can use the image as it is or use its elements individually.
Cumulus clouds are always a joy to watch. But capturing them through photographs requires a good amount of skill and understanding of light and exposure. You can download 35 high-resolution (300DPI) cloud images through this resource. As a result, you can crop and use it for website hero images or ad banners or even for print media as they will come out well.
Sometimes when designing, you need just a couple of cloud elements to accentuate your design. At that time, you don't want to go for a complex set of cloud vectors. Instead, you should use this resource, which provides 45 different clouds, starting from simple ones to rounded and odd-shaped ones. Then, you can quickly import the file and start using the clouds.
Looking for a ready-to-use social media template set that has good cloud imagery? Then this is the best resource for you. There are five compositions: vertical banners, square posts, and horizontal banners, which can also be resized for social media cover images. The design is relatively straightforward, using clouds across a beautiful blue and pink sky.
Sunsets can be a solid visual reference if used in the right way. This vector image uses intense shades of yellow and brown to depict artistic clouds. The sun is shown in the form of a circle partially hidden by the clouds. You can download the editable file of this image and therefore change the color competitions if you need. Apart from that, there is also much space for your to add your own elements.
The cloud word is not increasingly being used in the technology domain for cloud storage. However, no such tangible cloud stores data; instead, it's all in big servers. That is what this stunning image has captured smartly. It showcases a big cloud in the center, and in the background and sides, we can see big servers. You can use this image when talking about cloud storage.
Using paper art is a design trend that makes the creative look unique and quirky. Using that trend, the design has created this beautiful image where we can see mountains, white clouds, and the sunset against a blue background. A red plane is dropping down hearts—a very symbolic image created with finesse and good use of creativity.
Using clouds in their natural form may work well for photographs, but sometimes you have to get artistic with the clouds for creatives. This design provides three different versions of clouds, be it in the form of waves or just strokes. They look abstract, but when used with the correct design elements, they can represent clouds and make the overall design look more creative.
Designers often need to create backgrounds for printing or other digital needs. This seamless cloud pattern can be a valuable asset in such projects. White clouds are set against a slightly turquoise sky. The clouds are very creative and smartly done to form a seamless pattern. This means you can keep repeating this image to generate a more extensive design per the project's need.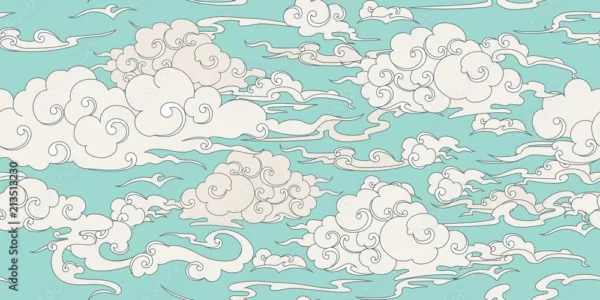 Summary
Using the right cloud graphic design asset can make your project look creative. This is always the case irrespective of the project being photo editing, vector-based, or illustrations. However, finding the right set of cloud graphics is not that easy as each project would demand a different type of cloud element. We hope that the list of the above 20 beautiful images of clouds will make your design journey more fruitful.
Related Resources: