Home » Freebies »
Line25 is reader supported. At no cost to you a commission from sponsors may be earned when a purchase is made via links on the site. Learn more
The New Year brings a fresh sense of hope and excitement. But for designers, the months leading up to the New Year can also mean a heavy workload. Finding the best free New Year design images for 2022 is like a race made for designers. Starting with New Year wishes through routine social media posts, they have to work on several projects like landing pages, posters, packages, brochures, and much more.
In the last couple of months of each year, such as November and December, finding free quality assets can become increasingly desired. Hence, it becomes more challenging for designers to develop unique and effective creatives while being under pressure to meet project deadlines. The quality of their design will depend on the type of design resources they can lay their hands on, and fast. 
To help designers in this quest, we have collated 22 of the best free New Year design images for 2022. Note that some of these may require you to start a free trial first to download 10 free images such as Adobe Stock. However, they are absolutely free to use. From all of us here at Line25, we would like to wish you a Happy & Healthy New Year! Without any further delay, let's start to view all options.
This vector image has to be one of the most incredibly eye-catching designs displaying the New Year of 2022. The top of our 22 best free New Year designs is this 2022 white sign on brush strokes background. We are proud to recognize this talented designer known as Vjom who is listed on the Adobe Stock platform. Vjom has come up with such an amazing-looking design that is sure to capture any viewer's attention immediately. It can be downloaded as a Vector and JPEG file for free over at Adobe Stock as part of their trial subscription which includes 10 free images. Hurry and be the first to display this powerful image before any other web or graphic designer does.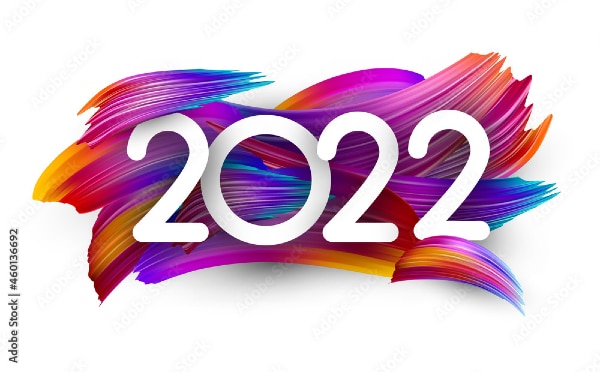 Here's another example of brilliant design by a very talented designer named Neelrong over at Adobe Stock. He has chosen a colorful, abstract design to showcase the new year of 2022 against a black background. The font is bold with a Happy New Year in small white text.
One theme that remains constant no matter the year is visually showing the year's change. But even for this conventional design concept, you can make the final output creative using a vector like this. The vector is free to download and comes with an open file that is easily editable. This vector design has used the latest design trends, as we can see a flowy gradient across the background for 2022. 
Often, designers like to pick and choose design elements and create a new design by themselves. Therefore, they would need creative fonts that can match the overall festive theme. The happy New Year 2022 vector image from Adobe Stock is free-to-use with a trial subscription. This image looks really good for all holiday season-related designs. The image has winter-related elements, as the snowflake replaces the zero in the 2022 number of the year. This vector has a very modern appeal to it with beautiful purple, white, black and blue colors.
As a designer, there will be projects where you will need to make your project image stand out and capture the attention of your viewer. This amazing colorful abstract image is perfect for that. Another absolutely stunning design from Neelrong over at Adobe Stock, this vector image is perfect for brochure design, cards, banners, and more. A well-designed vector with a color palette of blues, orange,s and sprinkled with green, red, and white. This vector is completely free with a trial subscription to Adobe Stock and can be one of your 10 free downloads.
This is a very useful stock image that has Happy New Year written with the help of Scrabble Pieces. There are many more scrabble pieces just sprinkled across the image. The photo is taken from the top view. Because there is a white background, you can easily add other design elements that you want. If you are an expert designer, you will be able to do a lot more with this image, like changing the board's color or adding other overlay layers.
While specific design assets always help, there are times when you will need just a standard Happy New Year banner. This image provides exactly that. You can download the open file to this for free. The design has a good dark red background with decorative confetti on it. The year 2022 is written in strong numbers making the numbers stand out. There is ample dead space at the bottom, and you can add your design or branding over there.
If you are looking for a good stock image to use for your new year party invitation, then look no further. This stock image is available for high-resolution download for free. The image consists of two exquisite flute glasses along with standard festive decoration. There is a bokeh of lights in the backdrop. The good part about the image is that there is a lot of space in the left corner. You can place all the requisite text over there.
If you are looking for a design asset that can help make your creative look flashy and festive, then this vector of 2022 written with balloons will be a good choice. The 0 from 2022 is replaced with a gift to make the design more creative. This further adds to the overall festive feel of the creative. Overall the design is very neat and clean, and there is plenty of open space on the top and bottom that you can use to set up your branding.
If you are planning to host a New Year party and looking for a classy and trendy invite template, this design asset will help. The template has been created with a nice blue gradient. It is ornamented with standard Christmas decorations. The text is also well set up. As the open file of the template is available for free download, you just need to flow your content, and the invite will be ready to send in no time.
There is an ongoing trend of using more photographs in place of vectors. This method provides a more realistic and human touch to the design. This stock image of happy new year strung on a ribbon and placed on a wooden table can be useful if you look for stock images related to the new year. There is a Eucalyptus brand on top of the letters, which gives a holiday feel and adds a good perspective to the image. 
There will be times when clients will ask you to design a combined graphic for Merry Christmas and Happy New Year. Using this free banner would be a good idea. You can download its open file for free. The banner has festive lights nicely set up on a dark blue gradient background. The festive greetings are set up in nice typography. Because you have access to the open file of this design, you can always add or remove elements from the design to suit your design needs. 
Fireworks are synonymous with New Year Celebrations. All the major cities come up with massive celebrations in terms of vibrant and dazzling fireworks. This high-resolution image captures the firework display of one such city in a wide-angle view. The image is good enough to be used as it is. Or you can add a colored tint and use it for digital marketing posts, websites, or prints.
Designed by Powerstock, here's an outstanding example of a glittering space image, completely ready to use in any design and all you need to do is add your own text. There is room to the right of the image to add a special New Year text among the floating gold glitter and specks. One might say this resembles the color grading effect director Michael Bay is known for. Check out this excellent image that is free with a trial subscription over at Adobe Stock. 
This superbly designed landing page template is the perfect choice if you are looking for an easy-to-use landing page template. Creating special websites for New Year or redesigning your existing website to add festive flavor is a new trend. This template is free to download and edit, and hence you can use it to create a visually appealing landing page wishing all your users a happy new year.
While in the above image, the fireworks covered up the entire screen, this image of fireworks is more subtle but vibrant at the same time. We can see fireworks being set off from boats. The water and sky background make the colors stand out. You can either make changes to the image in Photoshop or simply add your branding at the corners and use the image as it is.
According to the Chinese calendar, the year 2022 is considered the Year of Tiger. This vector banner conveys that in a very creative way. There are two tigers along with various other Chinese and New Year elements. The symmetry of the image is very well maintained. You can use this banner for social media or create new designs using its elements.
Here's another image that will create the Wow factor, especially for those who need purple teme colors. This one is completely free to download with a trial subscription to Adobe Stock where they offer 10 free downloads. It's definitely one of the higher quality free images available today and displays a clock, gold spirals along with the year 2022, and the words Happy New Year. Both Vector and JPEG files are included for download.
The New Year would be incomplete without putting up fancy Instagram stories. Brands now want to encash on the Instagram stories trend and generally upload a story along with the regular post. These story templates are vibrant, quirky, and follow the latest design trends. Because you can download the editable file for free, you can either make changes or add your personalized message before posting.
Social media will get flooded with Christmas and New Year-related creatives. As a designer, you will have to develop fresh designs for almost all your clients. This can be a challenging task, and hence you have to rely on ready-to-use assets. Freepick provides this amazing Facebook cover template for wishing everyone a Happy New Year. The festive greeting is set in the middle, and other festive elements are spread nicely in the design. 
The holiday season is also a good time for gifting. This is why most brands come up with special festive gift vouchers. Designers will get several such projects of designing festive-themed gift vouchers. This free template can be very useful. It has two gift card options and contains festive elements and nice typography. You just need to add your content to it.  
Using illustrations in designs is a new rising trend. For New Year creatives, you may want to ride on this trend and use this hand-drawn illustration which shows a man manually changing the year. Overall the image is quite smart, has a festive feel, and is fit to use. In addition, because you can access the editable file, you can always tweak it to change color or add text.
Conclusion
For the year 2022, we're proud to present to you these fine 22 examples of the best free New Year design images that you can use while working on projects related to the new year. The best part is that all these assets are free to use. Many of them are also good enough to be used without the festive theme, making them worth adding to your design collection. Also, one good piece of advice will be to store this year's creatives in a  folder because you can always use those elements even for the next years ahead. The following is a list of all the sites that provide these design assets:
Adobe Stock
Freepik
Vecteezy
Unsplash
Pexels