Best Fall Clip Art: Top 40+ Autumn Images (Free & Premium)
Home » Graphic Design »

November 10, 2022

Line25 is reader supported. At no cost to you an affiliate commission may be earned when a purchase is made through various links on our site. Learn more

Looking for the best fall clip art to use in your Autumn-themed projects?

Well, look no further, as we've compiled over 40 enchanting autumn clip art images. These graphics will help bring forth the cooling orange-lit vibes of fall with pumpkins, leaves, floral arrangements, turkeys, hot drinks, and more.

The list of fall clip art we've compiled includes both premium and free options that evoke autumn feelings. Thus, you are guaranteed to find artwork that best portrays your project for this beautiful season. You'll even find Thanksgiving graphics to help celebrate the holiday!
---
BEST FALL CLIP ART – UNLIMITED DOWNLOADS: 11+ Million Graphics & Design Assets
Envato Elements provides the best quality design assets that you can download instantly, including fall clipart, autumn images, and more. Designers can easily access images, fonts, videos, audio, and millions of other design assets.
Oh, yea, there's more good news!
You can start downloading as many clip art assets as you want – for less than $0.55 cents a day ($16.50/mo). It really is the best thing going for designers!
---
Best Fall Clip Art: Top Autumn Images for Designers
Let's jump right into our hand-picked selections. For your convenience, we've included both premium options along with free fall clip art too.
Evoke Autumn vibes in your project by adding a beautiful thanksgiving pumpkin to it. Hand-painted on paper and then scanned at high resolution, this collection of watercolored pumpkins has 12 elements to pick from.
The "Fall Autumn Clipart" collection includes over 60 fall-themed elements, such as fall leaves, autumn flowers, toadstools, and pumpkin-spiced lattes. All elements come in high-resolution transparent PNG format that can be dragged and dropped onto your projects.
This is a collection of clipart that comprises elements related to thanksgiving. The pack includes over 20 high-resolution designs to spice up your projects.
An enchanting collection of rustic Fall-themed vector artwork. Available in Photoshop PSD and Illustrator Ai formats, the illustrations are perfect for flyer, poster, and digital prop designs.
With over 20 illustrations, this artwork collection includes cute/kawaii depictions of pumpkins, gnomes, funny faces, and other fall-related items. Each element has a resolution of 2500 x 2500 pixels.
What better way to emanate autumn vibes than to include falling leaves in your designs? Available in PNG, JPEG, and PDF file formats, this collection includes autumn leaves in burnt orange, rust, yellowy green, and brown along with two wreaths.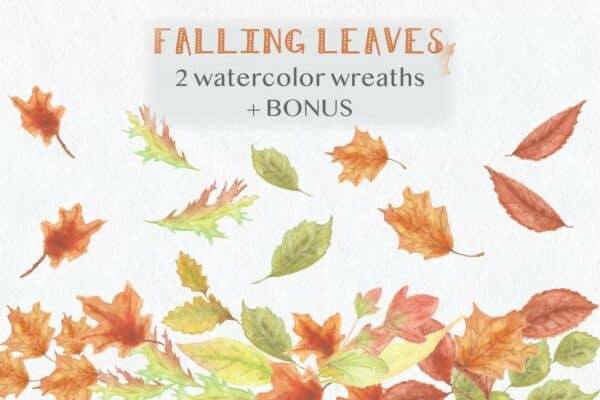 Packed with 38 elements, the "Pumpkin Watercolor Clipart" is a beautiful collection of pumpkins of various sizes and colors. They are perfect for creating unique compositions to captivate your viewers.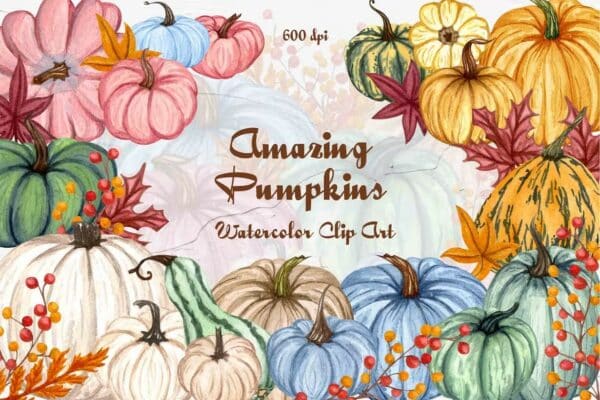 Add a cartoonish touch to your project with the Festive Fall Clipart collection. Each element is available in AI and EPS formats.
Inspired by fall, this collection includes pumpkins, pumpkin pie, leaves, coffee, and cinnamons. The 11 elements in the pack are watercolored and scanned at high resolution for clear-end products.
"Autumn elements" is a massive collection of over 70 cute vector elements. From forest animals to cozy drinks, each clipart can be reworked by editing software such as Adobe illustrator.
This is a collection of 300 dpi clip art that comes with pumpkins, leaves, wooden logs, and give thanks phrase. The collection includes a transparent background.
The "Chai Watercolor Collection" is a beautiful bundle of over 90 fall-themed elements. Available in both PNG and JPG, this is a must-have collection of illustrations in every designer's toolkit.
Animate your designs better with the "Acorn and Leaves Clipart" bundle. Available in transparent backgrounds, the collection has 24 images of cute acorn characters and leaves.
This is a great bundle to use when designing logos, invitations, and digital scrapbooks. It includes 52 unique hand-painted floral and leaf images that are guaranteed to add flair to your projects.
Created in vector format, this package comprises autumn leaves of various designs. Each element is available in AI, EPS, PNG, and SVG formats.
Introduce different autumn-themed wreaths to your projects to promote variety. With 9 uniquely designed elements, the "Autumn Fall Wreath frames" come in EPS and PNG formats.
If kawaii is what you are looking for, the "Cute Pumpkin Fall Clipart" bundle will not disappoint. The collection includes 25 cute fall-themed illustrations to bring your designs to life.
This pack includes 20 stunning autumn-themed leaf designs from trees such as ash, aspen, beech, birch, branch, chestnut, and elm. If you are in search of a specific leaf for your design, the chances are you'll find it here.
The "Autumn Forest Clipart" bundle offers over 50 warm and rustic hand-drawn style elements. It includes illustrations of various fall-themed leaves, flowers, food, clothing, and creatures along with pre-made scenes to aid your project.
Inspired by autumn aesthetics, this beautiful-looking watercolor pumpkin autumn clipart pack includes vibrant pumpkin and floral designs. The 160 illustrations are chic and can be used in luxury designs.
The art style used for this vector set is a great option for a project needing vintage illustrations with its warm and rustic feeling of Autumn. The pack comprises 68 high-quality elements available in Illustrator Ai, Vector EPS, and transparent PNG formats.
This vector clip art collection focuses on the gardening aspect of Autumn and has a unique set of elements. From hats to rakes, you'll find the most common gardening equipment in this bundle.
Here's a unique clipart collection of flowers and leaves. Hand-drawn using solid brush strokes, the bundle offers over 51 illustrations suitable for greeting cards, mood boards, t-shirts, and much more.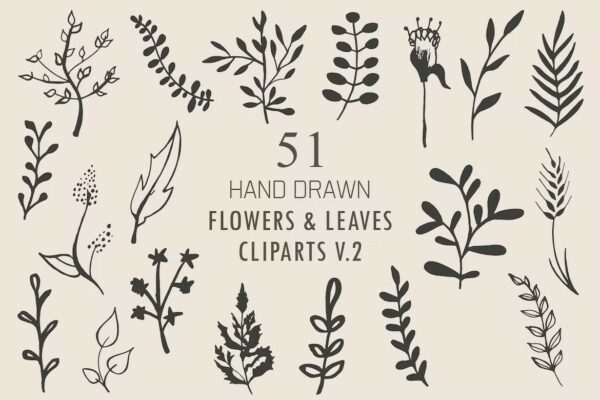 This is a great clip art bundle for anyone wanting to promote autumn vibes with a touch of Octoberfest. From a wooden keg to an accordion, you'll find the most common Octoberfest items in the pack.
With 25 unique elements, the "Thanksgiving Floral Clipart" collection covers a wide range of fall leaves and autumn foliage designs. It's quite a handy bundle to have in your designer tool kit. 
Doodles have always been a creative art form that captures attention. So, why not promote fall vibes in your projects using the "Autumn Doodle Clipart" collection? The bundle consists of 20 doodles to pick from.
This autumn clip art collection adds a charming seasonal touch to your projects. The pack contains a variety of floral decorative wreaths, borders, frames, and seasonal objects. All these add up to over 50 elements you can use to customize projects.
A collection with the most common symbols of fall. All objects in the bundle are simple yet beautifully executed to promote seasonal ambiance.
The watercolor objects included in this collection have a unique art style. The lines used in the illustrations are made to look similar to the seam of a fabric. Thus, this bundle is perfect for anyone bored with simple outlines.
"Hello Autumn" is a collection of cute animals, mushrooms, leaves, and other fall-related objects. They are simple in design yet beautifully drawn to capture the season's charm.
Created with vibrant colors, the elements in this clip art collection will capture the eye. They are a great addition to party/birthday invitations, flyers, posters, and stickers.
With a cartoon turkey as a mascot, this bundle of autumn clipart is lively and beautiful. The rustic colors blend to form gorgeous representations of fall-related objects.
This vector art collection includes an array of bright autumn leaves belonging to plants in forests, meadows, and fields. Maple, Birch, Oak, and Rowan are just a few of them.
Just as the name suggests, this is a collection of clipart related to the Maple plant. The art style employs rustic colors to promote autumn aesthetics. The elements themselves are available in white background vector format.
Free Fall Clip Art
Here's an Autumn clipart collection of four cute designs. The artwork is charming and the elements compose of a hoody, pumpkin, teapot, and leaves.
This is a set of autumn stickers that can be freely used in your projects. With a simple yet endearing art style, the collection comprises four unique designs.
Autumn has long been the season of harvest. Thus, this clip art pack captures the fall season's essence through lovely hayride depictions. Get ready for those pumpkin patch hayrides.
A simple watercolor clipart of a flower wreath to give your projects a seasonal touch. The vector image is of high quality and can be used freely in many designs.
Acorns and maple leaves have always been used to portray fall. Thus, with its rustic colors and simple artwork, this clipart bundle will help depict autumn in your designs as well.
The "Autumn & Fall Isolated Clip-art" pack includes illustrations such as pumpkins, apples, pears, and autumn leaves. The elements are available in EPS and JPG formats.
From books to cookies, the objects in this bundle are not your everyday fall-related items. However, they still convey the feeling of Autumn surprisingly well. 
Here are a few beautiful illustrations of autumn leaves. Created using rustic colors and subtle brushwork, these clipart images are perfect for simple projects.
This is a collection of fall-related food items that are bound to get your viewer's attention. From pumpkin pies to hot frappes, the pack includes some famous treats that remind our taste buds that autumn's here.
Finally, on our list is a free-to-use bundle of autumn-themed flowers, leaves, and mushrooms. They are a brilliant choice if you are looking for a more realistic blend of colors.
Frequently Asked Questions
What is a good watercolor clip art bundle?
The "Chai Watercolor Collection" is one of the best watercolor clip art bundles out there. The realistic brushwork and the stunning blend of colors make it a great choice.
Which is the best cute fall clip art collection?
There are many cute fall clip art packs. However, the "Cute Pumpkin Fall Clipart" stands out from the rest for its artwork and range of elements available.
Which clipart pack offers the most variety?
The following are a few clipart collections that offer variety:
Best Fall Clip Art: Top Autumn Images for Designers Summary
A fall clip art bundle is a great addition to your designer tool kit. Especially if you are working on an autumn-themed project. We've listed some of the best premium and free autumn clip art bundles out there. Hopefully, you've found a few collections that can take your project to the next level.