Home » WordPress Themes »
Line25 is reader supported. At no cost to you a commission from sponsors may be earned when a purchase is made via links on the site. Learn more
There are many different things to be decided upon, managed, and kept track of when putting together a portfolio website. As an example, the text in a portfolio page has to attract attention without drawing visitor look away from the images being showcased.
There's no real shortage of themes which have the features and tools you need to create a "good enough" portfolio website. It can in fact be very time consuming to settle on a theme that will best suit your needs. It will take even more time and effort to find a theme that has those features you need to build a portfolio site that's well beyond "good enough" in its appeal.
You want a WordPress theme that allows you to easily organize your workflow while providing you with the flexibility required to build a portfolio site you'll be more than proud to put on the internet.
With any of the following 8 WordPress themes, you can make that happen.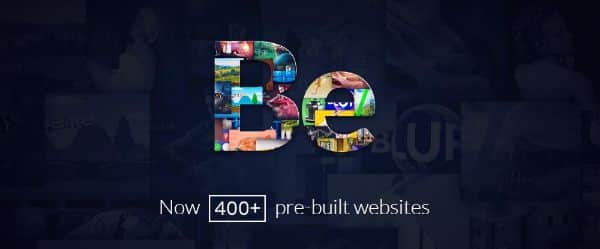 Be Theme has everything you'll need to create a top-quality, attention-getting portfolio website, or a portfolio website having blog and eCommerce capabilities as well. In fact, with Be's library of 450+ professionally-designed pre-built websites at your fingertips, you can build any type or style of website for any purpose that comes to mind.
A popular page-builder/editor, a selection of 200+ shortcodes, the new Header Builder, and the fact that any pre-built website you select will be customizable make it possible to create a portfolio website in 4 hours without having to write a line of code.
Since Be Theme's pre-built website collection covers 30 industry sectors and all the popular website types, you'll have little trouble finding one that will serve as a perfect foundation for your portfolio website project.
Be's BeAgency pre-built website is particularly popular with businesses, artists, and creative agencies and is definitely worth considering; but you'll still want to browse Be's library to see what will work best for you. Be Theme is flexible, responsive, SEO friendly, and will provide you with first-class support.
Kalium is innovative, intuitive, powerful, and versatile. You could also throw elegant into the mix to describe this extensible and developer-friendly theme. Even though Kalium typically serves as a multipurpose theme, it should not be overlooked by anyone seeking to build an attention-getting portfolio website.
Included in its many website-building tools and features are 30+ different portfolio styles in 4 main types and a ton of options and sub-options for you to work with.
Since Kalium is so easy to use, you should have no problem creating a stunning portfolio on your first attempt. You won't have to worry about coding either. It's simply not necessary.
Simply clone and customize the content you need from any of this highest-rated WordPress themes demos, after which you can pick and choose among the large selection of layout designs, premium fonts, plugins, and design elements to create your award-winning portfolio site.
Uncode is in all aspects a top-rated creative multipurpose theme. It's racked up 50,000+ sales to date, making it one of ThemeForest's all time best sellers. It's best claim to fame however might be the ways in which it enables its users to create stunning, pixel-perfect, high-quality website portfolios – one after another.
You can incorporate blogs and eCommerce features in your portfolio as well since Uncode is fully integrated with WooCommerce. As far as creating a portfolio layout is concerned, if you can envision it you can build it using Uncode's selection of layout modes, its adaptive grid system, and its unique cascade options system.
A visit to Uncode's showcase of user-created websites will show you what this amazing product could do for you. Expect to be more than impressed.
This best-selling ThemeForest creative theme is perfect for beginners and pros alike. Bridge's tools and features, including 376+ demos, make it a good choice for any website building project.
The demos in combination with a host of design modules and other design aid ensure you'll be able to create a stunning portfolio website with only a modest amount of effort.
Portfolio website builders have it easy when they have TheGem at their fingertips. This premium WordPress theme was designed with portfolios in mind.  Portfolio website-building features include 20+ flexible layouts featuring flexible grids, columns widths, and gaps, and hover and animation effects and options.
This popular theme has been called the ultimate WordPress toolbox, a fitting description for a theme that has everything you need to brilliantly showcase your work to the world.
The Hello theme is an excellent starter theme; and it's become extremely popular with Elementor users. In fact, much of Elementor upgrade testing is done on Hello. Hello is open source, fast and light, ideal for portfolio website design, and it's free.
Since it's compatible with all the popular WordPress plugins, they won't slow you down. And, since it there's no cost to you, try creating your own portfolio website with Hello. You won't be disappointed.
Pofo is a premium creative multipurpose theme that has placed a predominant emphasis on portfolio website building support. This flexible, SEO optimized and super-fast theme's features include a large selection of demo pages, more than 25 home pages, and 150+ pre-built design elements. Building a stunning portfolio website in a reasonably short period of time should be no problem for a Pofo user.
Perhaps the best way to describe MOVEDO is that it simply rocks! There are so many interesting features to work with, including moldable fonts and ultra-dynamic parallax, users almost feel sorry when they see their portfolio website-building project nearing completion
If creating a portfolio website is your next project, there's no rule that says you can't have fun doing so.
Conclusion
When you are plowing through a couple of hundred WordPress themes in hopes of finding one that has just what you need to build a good portfolio website, you might wonder if your time could be better spend doing something else.
It's a different story when there are just a few themes to choose from; in this particular case eight. There's still somewhat of a challenge since any one of the above 8 themes might be better in certain circumstances than the others. In reality, you have nothing to lose. Choose one that seems great to you and you will do fine!