Home » Fonts »
Line25 is reader supported. At no cost to you a commission from sponsors may be earned when a purchase is made via links on the site. Learn more
In need of some beautiful floral fonts? If you're working on an elegant design project such as wedding invitations, and anniversaries then we have some great options for you here. The various flower-themed typefaces in our list come with variable widths, natural elements, ornamental vectors, and much more.
Gone are the days when you would have to use a standard script style or a calligraphy font to support your floral designs.

Today, the internet is full of unique floral fonts and we've shortlisted the 30 best options for you here. Get ready to see some of the most beautiful designs.
UNLIMITED DOWNLOADS: 10+ Million Top Quality Fonts & Design Assets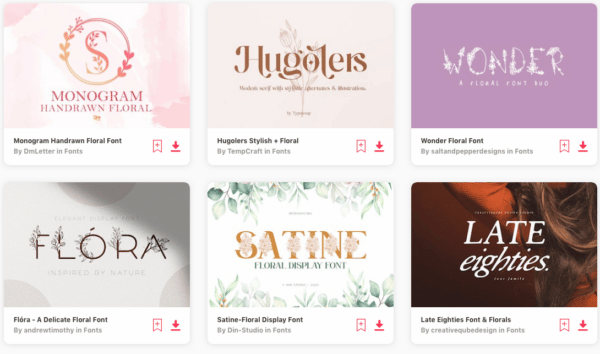 Searching through low-quality floral fonts on the web can quickly become annoying. Thankfully the massive digital library from Envato Elements provides designers and artists quick access to royalty-free (for commercial and personal use) images, fonts, videos, audio, and millions of other design assets. They even have high-quality themes, templates, plugins, and more.
Want more good news? You can start downloading as many assets as you want – for less than $0.55 cents a day ($16.50/mo). If needed, you can cancel any time for free and still keep your downloaded items.
---
Editors Note: While you are looking for that special flower-themed font, you may also want to consider some special glyphs with floral arrangements to boost your design such as this Spring Floral Dingbat collection.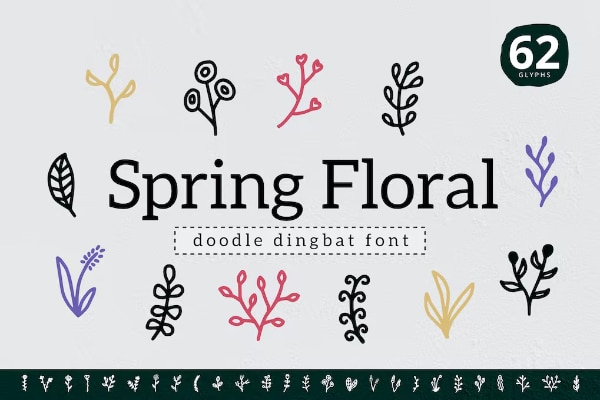 ---
30 Best Floral Fonts for Beautiful Designs
A garden-themed font, the Floral Font has a lot of garden elements embedded in the font as silhouettes. Butterflies, leaves, flowers, and other elements are set up within each letter. The broad letter sizing makes the fonts easily readable even from a distance and allows space for such creativity.
As the name suggests, The Floral Alphabet typeface has all its alphabets made from beautiful arrangements of soft pink, white and grey flowers. The font supports uppercase letters and numbers. You can use this amazing font for invitations related to birthdays, baby showers, weddings, and so on.
Are you looking for a classy monogram font? Look no further, as we have the Jasmine Monogram font on our list. Each letter is handcrafted with floral elements. You can use this font to make your design elegant and classy, especially if you're working on a feminine birthday or anniversary event.
The Twigs Font is a hand-drawn font with each letter made out of small twigs. The minute detailing is worth appreciating, but the same would cause legibility issues when used in very small applications. The font allows you to give your design a handcrafted feel and use it for invitations, banners, posters, packaging, and branding.
The elegance of the Monogram Handrawn Floral Font is displayed perfectly. Each alphabet is given a circular border with flower petals, hearts, and leaves. The letter itself is also given the extra creative touch of floral elements. This beautiful typeface is ideal for branding, wedding designs, and digital and print designs.
Not all fonts being used in floral themes need to have flowers and leaves embedded in them. This Florals Bright Serif font is a good example, as garden elements inspire its design. The width of the letters is big, and they have been given extra swirls to give the floral appeal. This display font can be used for social media posts, outdoor branding, websites, and other digital marketing usages.
A modern-style serif font, the Hugolers Stylish + Floral font comes with stylistic alternates that give the typeface a creative appeal. In addition, 25 amazing floral illustrations (Eps/Ai) are also included with the font. You can make your design projects look elegant and classy with this font, be it for projects related to branding, print, or even websites.
The Everbloom – Floral Typeface is worth adding to your collection. Floral elements are added to each of the letters in negative space. The font comes in two variations – decorative patterned letters and a clean hand-drawn style. Both styles can be used to design beautiful branding elements, book covers, posters, and invitations and bring to life your farmhouse and country designs.
A beautiful decorative font, the Bintari Floral Display font features simple and classy bouquet arrangements with each alphabet. While some letters have twigs in their bars, most have a floral bouquet set in their center. This font will give a creative feel to your projects related to invitations, branding, posters, and social media.
Are you looking for a font that can give your wedding invitation designs a dreamy feel? Then you should check out the Wonder Floral font style. The letters are thin and hand-drawn to include floral elements of leaves, twigs, and flowers. The file formats included are OTF, TTF, EOT, SVG, WOFF & WOFF2.
Another floral display font we have added to the list is the Santine-Floral Display Font. The font features elegant flower arrangements in each of its letters and therefore makes them very suitable to use in projects related to weddings, branding, merchandise development, and more. It also comes with a variety of split ornament wherein the letters have a space making them more creative.
Inspired by nature, Flora is a delicate font that incorporates various floral arrangements within its letters. This font is perfect for projects such as weddings, invitations, greetings, social media posts, and even packaging. However, it is best suited to use in large-size projects, given the intricate detailing in the letters.
An all-caps floral typeface, Bahor is very suitable for invitations and greeting cards. The flower design is varied in uppercase and lowercase letters adding diversity to the font. You can easily deploy this font for projects related to wedding logos, merchandise, outdoor branding, invitations, and postcards.
The Ciera collection is a super deal by Envato as you get an elegant collection of 4 font styles, 23 floral illustrations, and six premade logo designs. The font comes with an SVG version with the watercolor effect. The other version is a solid style that has floral arrangements in it. This collection can make your life easy if you work on wedding branding, greetings, postcards, or other lovely projects.
The Garden Floral Romantic Font is a blend of romance and garden elements. The font validates that with its handwritten style, which can add a romantic feel to your creatives. Each alphabet is designed manually to include leaves, flowers, and other floral elements. You can use this font to create lovely monograms and typography, postcards, invitations, and merchandise branding.
Mixing winter and floral themes are fantastic, as it can brighten your holiday designs. The Snowy – Winter Floral Color Font has winter elements like snowflakes mixed with elements like leaves, flowers, branches, and more. This magical font is perfect for large headings, posters, invitations, and holiday postcards.
Designing a floral-themed font takes a lot of work, but the result is always gratifying. This Don't Worry Hand Drawn Font is a classic example. The letters are completely hand drawn and include designs with summer flourish monoline leaves and flowers. You can use this font for wedding cards, invites, logos, and social media posts.
If you are looking for a lively font with floral doodles, you should try the Spring Garden Font. This handwritten font has a thick stem and helps enhance the text's readability. In addition, the font supports both cases, numerals, punctuations, and symbols, and you can use it for various decorative designs.
Here is a Flower Hand Drawn Display Font that's worth having in your collection. It can be handy when working on special projects related to weddings, invitations, or greeting cards. This style consists of larger-width alphabets with floral elements like branches, leaves, and flowers.
The Flor Layered Font is enchanting and has a good visual presence due to its thick body and delicate floral elements. There are 28 garden-based illustrations, 47 Glyphs, and 26 ligatures included. Interestingly, each letter is provided with three alternates providing more creative bandwidth.
The Sweetgrass font is a delicately hand-painted typeface that can be used for designs with a floral theme and includes a bonus of 100 painted floral elements and 20 Photoshop watercolor patterns included. This font will look great on greeting cards, wedding invitations, logos, shop branding, and more.
Not all floral typefaces need to have botanical elements or fancy ornamental designs. The Floreal – Elegant Serif Font is exquisite and can be used in various designs such as invitations, business cards, logos, packaging, and other branding projects. The font supports both cases and comes with a regular and italic version.
The Le Jardin is a handy botanical font to add to your collection. This beautiful handwritten type comes in two variations – regular and floral. The uppercase letters would look lovely when used to create monograms and typographies, wedding invitations, or other design projects.
When you give a floral font some modern twist, you can get a typeface like AFS Flora. This flowery Japanese font is a display font that mixes rounded gothic font with a script style, making them unique. You can use this lovely font for headers, posters, magazine and book covers, and other advertisement designs. Includes the .TTF file format.
You can easily guess by the name that it is a floral-themed font. The Rose Petals font comes in two variations – one with a lot of flower decoration and an italic version. With this selection, you also get nine logo templates and ten watercolor design elements.
The autumn season has its charm, and when it is converted into a font, you know you should add that to your collection. The Autumn Embrace floral typeface is a handwritten font with delicate flower elements embedded in the letters. The font comes in three different styles along with 52 hand-drawn elements, which you can use for creating wedding designs, menus, greeting cards, and more.
Creating alphabets from flowers could be a challenging design assignment. But we have a good hack for you – Bouquet Flower & Watercolor SVG Font. This amazing font creates each letter using unique flower bouquet arrangements. The typeface comes in two variations – the real flower version and the flower color water effect version. Both are very creative styles for weddings, events, postcards, outdoor branding, and covers.
If you want to mix up flowery and quirky font styles for your project, you should check out Designcut's Spring Dreams Typeface. The handwritten font supports both upper and lower cases, numerals, and punctuations, and comes with 49 design elements that you can deploy while working on projects related to logos, children's designs, cards, events, and illustrations.
A delicate and romantic calligraphy font, the Floral Boutique font is a safe bet when designing invites, signages, packaging, or even social media posts. The letters are provided with extra swashes and alternate characters, increasing the font's versatility. Floral Boutique offers good variation in both cases, numerals and punctuations, and also comes with multilingual support.
Finally, take a look at this amazing creation from the folks at DesignCuts, called the Sylvan Floral Logos and Fonts set, which is loaded with elegance and beauty. With your purchase, you'll get 52 logo templates and 6 premium fonts in file formats AI, EPS, OTF, PNG, and PSD.
Frequently Asked Questions
What is a floral font?
Floral fonts are designed with floral or garden elements in them and go well when used with flower-based themes. They are generally script or display style and are handcrafted to embed floral arrangements within the font. Hundreds of such fonts are available, and the above list contains the best 30.
Where should I use floral fonts?
Because of their beautiful details, they should be used in designs that demand delicacy and elegance. The majority of such fonts are script or even calligraphy-based, accentuating the design. The most common applications of such fonts are designs related to weddings or events, invitations, greeting cards, outdoor branding, packaging, and labeling.
What are the best floral fonts?
Putting the finger on just the right fit is hard, but our best picks would be Florals Bright Serif, Bintari, Floreal, Autumn Embrace, and Ciera Watercolor font.
Which fonts would look best for wedding invitations?
Wedding invitations demand fonts that are smooth and classy. Therefore, it would be best if you always went for script-style, handwritten, or calligraphy fonts. There are many styles in the above list, and our picks would be: Floral Boutique, Sweetgrass, Hugolers, and Le Jardin.
What are the best flower calligraphy fonts?
Calligraphy and floral designs go really well together, and now there are typefaces combining both. Flower calligraphy fonts are good for wedding invitations, greeting cards, branding, and print designs like magazine covers or posters. Some of the best flower calligraphy fonts included in the above list are Le Jardin, Floreal, Sweetgrass, and Floral Boutique.
Best Floral Fonts Conclusion
As you can see, the floral fonts we've selected have a sense of beauty to them like that of a finely arranged bouquet of flowers.
If you showcase some of the earth's finest floral designs via the fonts in our list, you'll see your designs come to life.
Please be sure to let us know what your favorites are in the comments section below. We would love to hear from you!