Best Thanksgiving Graphics: Includes Vectors, Icons & Clipart
Home » Graphic Design »
Line25 is reader supported. At no cost to you a commission from sponsors may be earned when a purchase is made via links on the site. Learn more
Are you a designer or individual in need of quality Thanksgiving graphics? Then this featured post is for you. Get your designs ready with our hand-picked graphics for the big day when family and friends gather to give thanks.
You can choose from various packs, bundles, and sets to add some fun and festive flair to your designs.

Whether you are working on greeting cards or website graphics you can choose from a wide variety of premium and free Thanksgiving graphics from our list below. You'll be able to choose vectors, illustrations, banners, icons, and clip art that will lift your holiday-themed designs!
BEST THANKSGIVING GRAPHICS – UNLIMITED DOWNLOADS: 11+ Million Design Assets
Envato Elements, a provider of the best quality design assets that you can download instantly, has the best Thanksgiving graphics images, icons, clip art, videos, audio, and millions of other design assets. There is no other place that offers such high-quality products at such a small cost.
Start downloading as many items as you want – for less than $0.55 cents a day! You can cancel anytime and still keep your downloaded items. A lifetime commercial license is included too.
---
The Best Thanksgiving Graphics for Designers & Individuals
Here's a Thanksgiving Graphic Pack that portrays the spirit of Thanksgiving in its pure glory. You'll receive vector illustrations of pumpkins, turkeys, apples, pies, and more. This pack is perfect for menus, stickers, prints, flyers, blogs, posters, and various promotions.
Have a traditional and classic touch to your greeting cards with this vintage-looking graphic. This handmade Thanksgiving Vintage Brown Card is not editable, but it's ready to go for a classic old-world look that may be just what you need for a banner, poster, or print.
Welcome the crisp season of Fall and the treat it brings with Thanksgiving. This Thanksgiving Clipart Illustrations set comes in Illustrator AI file format as well as Photoshop PSD and provides a nice variety of options for you.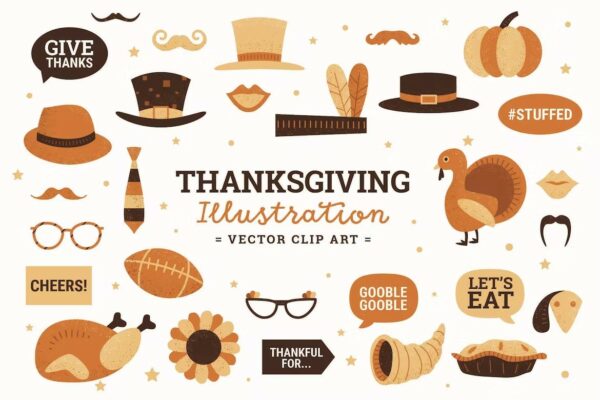 Give your Thanksgiving banners an extra flair and let your designs enhance your excitement for a holiday with this premium Thanksgiving Day Banners Set. Choose from various styles and enhance your designs with this set.
When the happy holiday season comes around the corner, the premium design of this vintage Thanksgiving Landscape is a sure pick. The style is woodcut and the text on the image is handmade (not editable). Celebrate the holiday with a bit of vintage seasoning from this Editable vector EPS and high-resolution JPG (7500×5000 pixels).
Calligraphy is always an attraction. And pair it with your favorite holiday is a creative success. So get started with this Happy Thanksgiving Vector Pack and add some holiday text to your designs. You'll receive 18 autumn flourishes, 39 calligraphic vector lettering quotes, and 26 floral elements. These can be used for both printables and cutting files.
Show off your Autumn designs with this premium Greeting Card for Thanksgiving Day decorated with orange and yellow maple leaves. You get a Zip file containing an editable EPS10 vector file and RGB high-resolution JPG image.
Thanksgiving Day Icons allow you to add flourish to your creative designs while staying true to the theme, Use these to enhance your creativity and publish cute fun for Thanksgiving. This icon set comes with 22 PNG files and an EPS10 file.
Thanksgiving is incomplete without the turkey. With this Thanksgiving Illustration, you will spread the epitome of Thanksgiving Day made more delicious with turkey graphics!
Make the most of your holiday (and your clients) with these Thanksgiving Vector Illustrations and Graphics Pack. These are ideal for Thanksgiving celebrations and autumn-fall festivities due to their soft, warm, and rustic look.
Give texture and depth to your design with this Fall Plaid Pumpkins Clipart for Thanksgiving, which includes pumpkins of various kinds, such as plaid, leopard, and dotted pumpkins.
Add colors of your choice or use the outline of this premium Thanksgiving Graphics vector image and dip your hat in the holiday spirit! All the elements included are designed perfectly to work together. This bundle comes with EPS, Ai, and PNG files.
Have the originality of your design with this Thanksgiving Watercolor Fall Clipart Collection that you can use for greeting cards, wallpapers, blogs, scrapbooks, and so much more. This amazing fall clip art collection was painted on paper and then scanned at high resolution. Enjoy!
Unleash your creativity with this premium Thanksgiving Dinner Watercolor Set that shows your design's rustic and artsy style. This watercolor clip art comes in high-resolution JPGs and transparent PNG backgrounds.
Boost your inspiration with these Thanksgiving Cartoon Doodle Seamless Patterns and dive into the soul of the Thanksgiving holiday season! Use it as backdrops or gift wraps. It's all up to you!
Hand-painted designs have a wholesome vibe that is unbeatable. So use this Autumn Harvest: Vibrant Autumn Watercolor Collection to create your vibe of Thanksgiving Day!
Add aesthetic to your Thanksgiving cards, posters, or banners with this premium Rich Harvest – Luxury Fall Collection vector image. Use the elegance of maple leaves and flowers to set the mood for a grateful holiday season!
Use this lovely autumn-themed Thanksgiving graphics set and stationery template to display your creativity featuring an earthy, warm color scheme with olive branches, orange and white pumpkins, and flowers.
Let your autumn spirit freely roam between these 12 Autumn Seamless Patterns collections. Use the rustic art to enhance your Thanksgiving Day holiday season!
Share the traditional Thanksgiving Day dishes illustrated in this premium Harvest – Vectors & Designs. Showcase your holiday essence with the seasoning of the hand-drawn aesthetic image.
Start kindling your fires for the Thanksgiving season is here. Enjoy the coming Fall with the Thanksgiving Collection. Share it with your friends and other designers and spread the festivity!
The retro ambiance of Thanksgiving is a charm that never fades. So wow your loved viewers with this Happy Thanksgiving Retro Card in Brown and show them your classy imagination.
Try something new this year and grab everyone's attention with the Thanksgiving Day Fall Clipart. Use it in your design or morph it to create an innovative image that wows everyone!
Thanksgiving means various dishes for you and your loved ones. Entice them with this Watercolor Thanksgiving Dishes Clipart image so they know the treatment of the holiday season is here.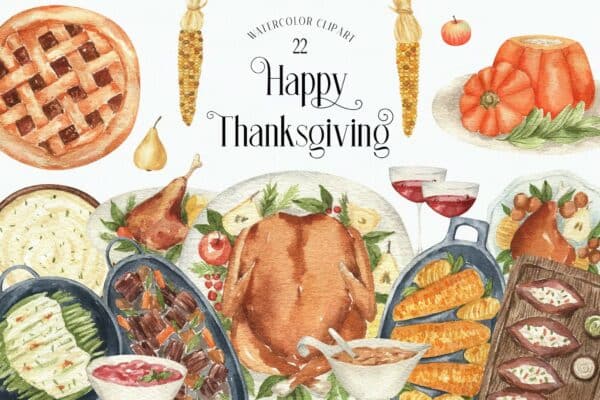 This Thanksgiving Vector Clip Art Collection brings all the fun of the Thanksgiving season. Celebrate with your design this Thanksgiving and get the chance to feel the essence of the season!
Use the Thanksgiving Vector Pack to boost your Thanksgiving designs. You can use this creative graphics pack for invitations, greeting cards, and more!
Turkey meat, candles, red cherries, and pies; if you want to capture the true essence of Thanksgiving without crowding too much in your design, then this vector image is the one to use.
Use the simplicity of this Thanksgiving Autumn Logo Design Background graphics featuring an orange maple leaf that you can use for greeting cards and more.
Whether you want to get it printed on a shirt, mug, pillow, banner, or card, this illustrative image of Thanksgiving Day calligraphy will get the job done.
The texture of chalk drawings will amp up your design for the celebration of Thanksgiving. So liven up the holiday season with this retro-style vector template.
The neat maple leaves of red, yellow, and orange on a white background enhances the aesthetic and boost the holiday spirit. Use this template to show off your design skills.
Free Thanksgiving Graphics for Designers & Individuals
Use the vector Free Happy Thanksgiving Day Leaves Banner and showcase your festive spirit to celebrate the Thanksgiving holiday season!
This free Thanksgiving Day Lettering Set gives you a set of various calligraphy for the Thanksgiving Holiday. Use them all at once or for multiple designs. Now that is something to be grateful for!
Become diverse in your design as you stay true to the festivity of Thanksgiving. Use this Thanksgiving Card Background & Social Media Template set to diversify your cards and distribute them.
The foliage on a design template indicates the holiday it represents. These templates stay true to the theme of Thanksgiving, so give them a try to help you design for the holiday season!
Use the Free Thanksgiving Vectors art to boost creativity and enhance your designs with the happy turkey, pie, and leaves. Cheers to you!
Themed icons for Thanksgiving will ensure that your designs are rustic and genuine to the holiday spirit. This Thanksgiving Icon Collection will add a fun cartoon-like element to your design.
This set of autumnal cards with multiple designs, such as pumpkin, corn, leaves, and twigs paired with rustic colors, is a definite pick for a Thanksgiving Day card. So send warm wishes, and relish in the season.
You can use these card backgrounds and social media templates to print Thanksgiving bookmarks or use them as social media posts or posters. You will surely wow everyone!
Make unique designs with these unusual color-coded icons for Thanksgiving. Stand out and enjoy with the Thanksgiving Day Outline Harvest Icon Set!
Use the beautiful Free Thanksgiving Background Vector and utilize the holiday season to show off your artistic sense as you send greetings to your loved ones!
Frequently Asked Questions
What's the best Thanksgiving graphic in your selection?
There are some really great-looking options here, but those we believe are the best are those created with watercolor such as 13. Thanksgiving Watercolor Fall Clipart Collection.
Are these vector graphics customizable?
Yes. For us to better understand your requirements, it would be helpful if you could provide an
example. To assist you in creating what you need, our design team will contact you.
It is quite a straightforward process. Click the one you want, scroll the page for the 'Purchase'
option and you will be guided. With Envato Elements you get the most options for the lowest price.
Best Thanksgiving Graphics for Designers & Individuals Summary
Utilize the extensive selection of Thanksgiving Graphics to celebrate the holiday! You may pick from
various icons, graphics, and vector clip art that will add fun and style to your Thanksgiving creations. Remember that the free options do not come with a commercial license. Most of the time they are for personal use only unless you purchase a commercial license, so it's important to check first before downloading.
Let us know your favorite ones in the comments section below, we would love to hear from you. Happy Thanksgiving!