30+ Best Instagram Fonts for Stunning Posts
Home » Fonts »
Line25 is reader supported. At no cost to you a commission from sponsors may be earned when a purchase is made via links on the site. Learn more
Want your Instagram posts to be current, but look amazing? Then this article is perfect for choosing some great-looking Instagram fonts with modern designs. You'll see some of the best premium options available today along with some free options.
With the amount of content being uploaded on Instagram, making your content stand out with a cool font is a smart way to get more reach and engagement with your content.

BEST INSTAGRAM FONTS – UNLIMITED DOWNLOADS: Millions of Fonts & Design Assets!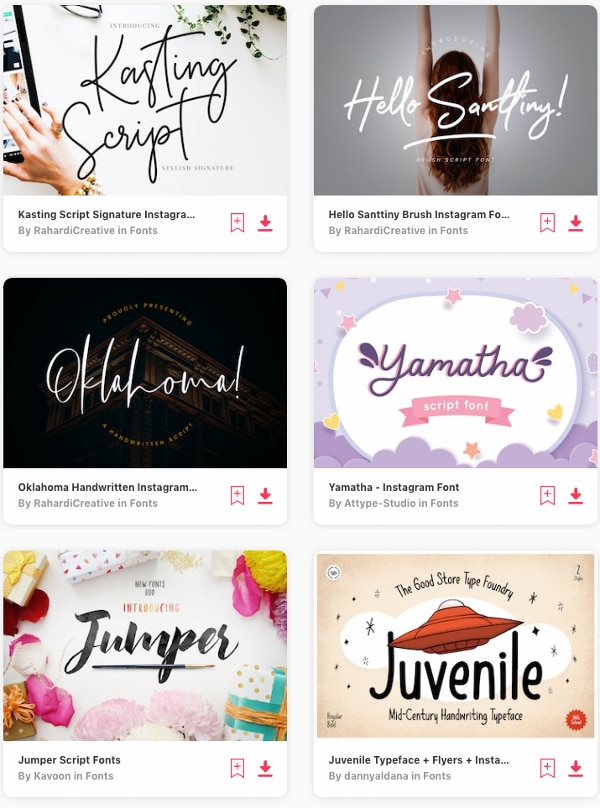 If you're an influencer or designer in need of some high-quality cool Instagram fonts, images, videos, audio, and graphics you may want to consider looking into the Envato Elements subscription.
For less than 0.55 cents a day ($16.50/mo) you'll be getting unlimited downloads from Millions of creative design assets consisting of royalty-free (lifetime) high-quality design assets.
---
The best Instagram fonts below have been collated out of hundreds of fonts with keeping in mind present typography trends. Starting from calligraphic font to script style and even modern minimal fonts, all of them have been covered in our exhaustive list. For your convenience, we even include 6 free Instagram fonts.
The Best Instagram Fonts for Stunning Posts
Whether you're looking for Instagram bio fonts or to use them with your unique Instagram stories, you should have no problem finding a great match here. Now it's time to dive into our selection of the best cool fonts for Instagram!
Modern calligraphy fonts are used the most on Instagram, as they can make any design look creative. This Priscilla font is no different. A beautiful and refined script font can be used for stories and posts to convey your message.
Oklahoma can make your Instagram content look classy with a stylish handwritten font. Apart from Instagram posts, this selection is also good for designs like branding, packaging, labeling, invitations, and more.
Salting is a delicate script font that can be very handy for social media posts. It is stylish and still simple, which ensures that it is easily readable. Combining this font with another script or calligraphy-based font for your designs is another good option.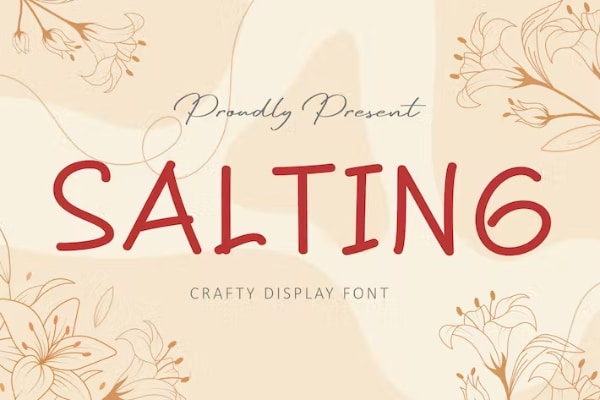 Fresh and creative, the Kastling Script is a signature font worth adding to your collection. The stroke width is kept thin, adding character to the font and a handwritten feel. Apart from social media posts, you will benefit by using them for invitations, labels, watermarks, and other types of projects.
The Powlina Theater is a good mix of calligraphy font and modern-style handwritten fonts. The letters have a cursive nature but are easy to comprehend. This font would work well with pastel colors for floral and other elegant themes.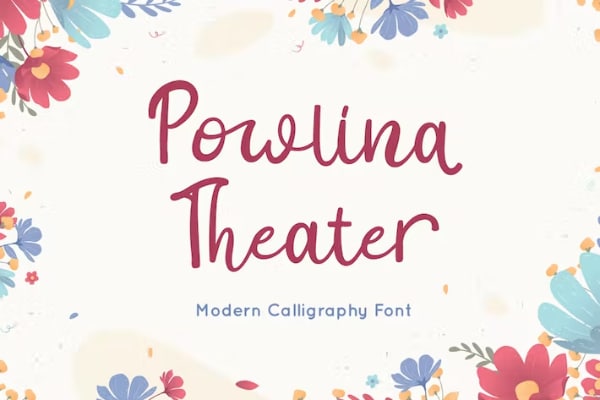 A modern handwriting script font with a dramatic movement in terms of strokes, the Entreaty Handlettering font can be a hit on Instagram. The font comes with over 500 glyphs, stamps, and swashes that will make your content more creative and evoke emotions from your followers.
This font with a quirky name matches its design with a very playful nature. The fonts are handwritten script based, but the additional width on the letters makes them stand out. Along with social media posts, you'll also benefit from using this font on website headers, magazine covers, and so much more.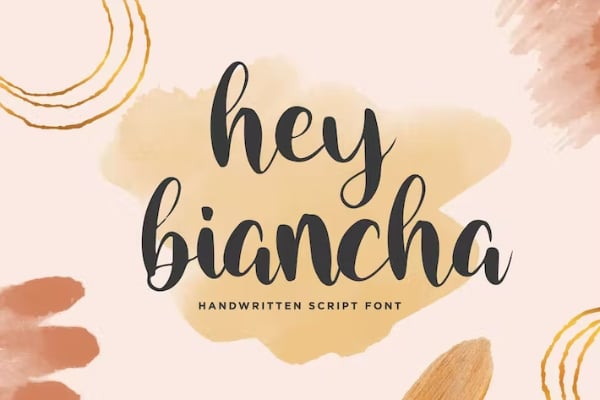 If you are looking for a classy handwritten font with good readability levels, you should definitely check out Castonvilla. The letters are bold, but the kerning ensures good space between them, leading to a good text composition.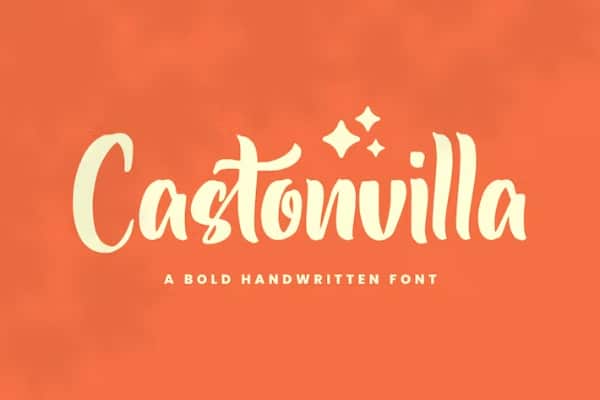 Bellindo typeface is the font you would want to have in your collection, as it has the power to make your Instagram posts look elegant and classy. Created through a uniform brush, the script-style font can also be a good choice for websites, logos, book covers, and more.
Looking for a really tall typeface that can make your content stand out? Try this High Above typeface. The letters are hand drawn and super condensed. When you download the font, you also get a flyer and Instagram post templates, and 20 logo templates making this package highly resourceful.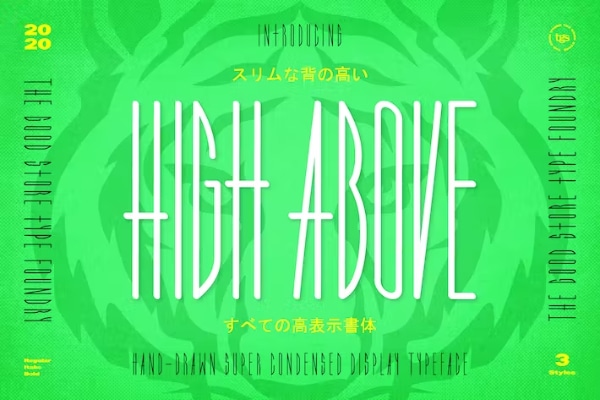 A superb modern font best suited for social media, GASTON comes with variations of regular, soft, light, and light soft. The width changes according to the variation, making this a good font family in the collection. The fonts are well-designed with thin but classy letters.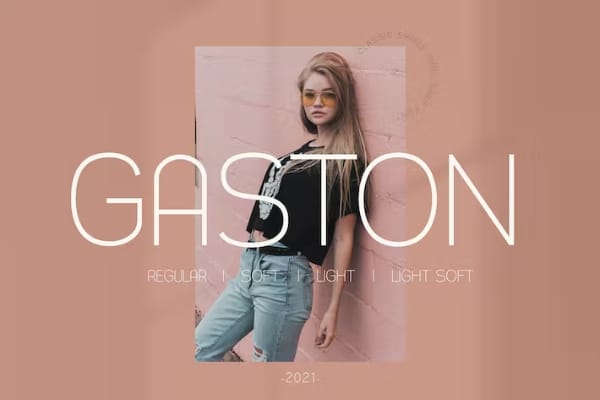 As the name suggests, this simple notes font is very simple in design but can make your overall content look classy. This handwritten font has all the letters in delicate writing, but they are still readable. Apart from Instagram posts, this font is perfect for invitations, stationary, and postcards.
A stylish wedding font, Yamatha can easily make your Instagram content pop out. The base of the font is a script font with a light shadow. On download, you will get swashes for the start and the end, which are a good addition.
Another modern calligraphy font that is well-suited for social media posts is Warmtone. The well-refined font with elegant edges and thick width ensures that your text will stand out in the design. Enjoy using this font for social media posts, websites, and other branding projects.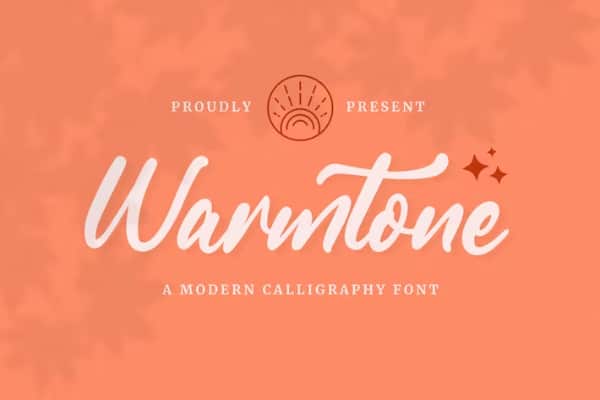 Rough brush script fonts give a raw feel to the text and make the design artistic. Hello, Santtiny is one such font with loads of glyphs helping you expand your creative bandwidth. Also, get the most out of this font by using it for photography, invitations, label design, and social media posts.
Retro fonts will always be a trend, especially on social media. If you want to ride the trend, Renual is a good contemporary strong font for your content. It is loud and clean, and can effectively be used for headlines, post titles, and other digital marketing uses.
Creating content related to kids or just wanting to look quirky? Then go for this Juvenile typeface, a handwritten font with a playful character. When you download the package, you will get two font variations, 4 vintage illustrations, 1 flyer, an Instagram post template, and 22 logo templates making this asset very resourceful.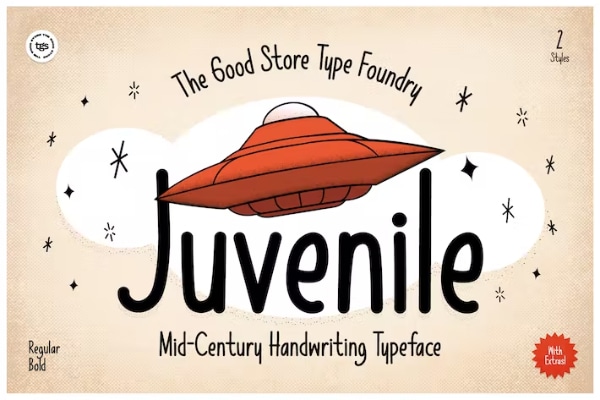 A dry brush script, Banshee has a pronounced scratchy feel to it. An amalgamation of a script and a signature style font is perfect for creating small typographies. The font comes with over 300 glyphs. Apart from Instagram content, put this font to good use with product designs, packaging, and branding.
Please do not get offended by the name, but we included this font in our list because the fonts are fun and cute. This display-style font is perfect for posting children-related content on social media. They support both cases along with numerals, punctuations, and symbols.
The Kallina hand brush font is a highly versatile typeface that can be used for social media posts, logo designs, packaging, magazines, and many print-based projects. The font's base is a script style, which supports all cases and special characters and provides multilingual support.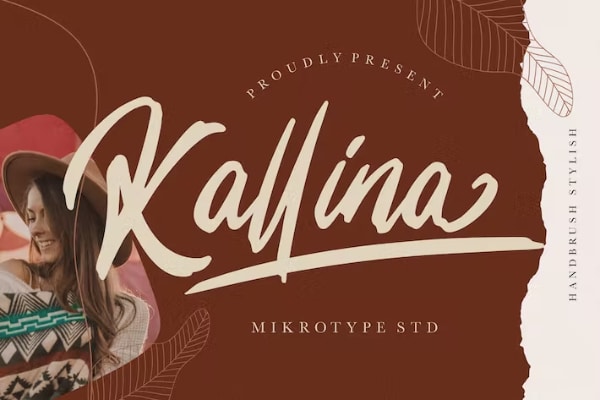 A classic luxury font, Amolina Boutique font comes with a combination of two fonts – script regular and a sans style font. The regular ones are thin and smart, while the script-style font has artistic curves giving it a handwritten feel. Start using this font duo for your digital media posts today.
Renowned hand-letterer Ian Barnard has created this amazing brush font Sun Kissed. The rough use of brush and the added splatter make the font visually appealing. Along with the font, you also get a large pack of brushes. Start applying this special font for your travel, fashion, and even food-related posts on Instagram.
A pack of 4 different types of fonts, Coral Lovers comes with a regular outline and a signature version which offers you a lot of variety to choose from. While the regular fonts are bold and strong with creative extenders, the signature style is full of life thanks to swirly swashes.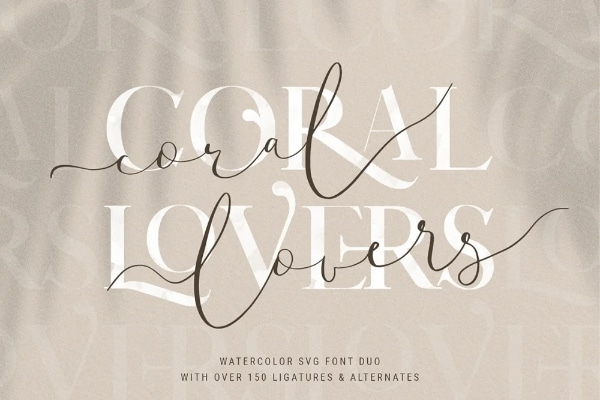 A font that embodies the summer feeling, the Summer Festival typeface is perfect to use for social media posts. It is a clean script font, but the cursive writing and thick letters make it look creative and stylish.
Want to show off some elegance on Instagram? Then use this Bogart Deco typeface for your posts. The lettering is unique and reflects the Art Deco form; at the same time, the text is nicely legible. With the font, you will also get over 270 ligatures and alternates.
Instagram is full of posts with calligraphic fonts; hence, if you also plan to use such a font, then make sure it is the best calligraphy font. For this reason, we have included the Bonami font in our list as it outclasses other fonts with its slender thickness and elegant curves.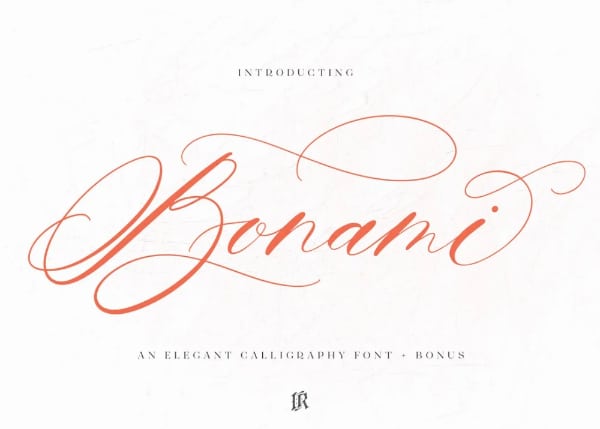 Use this Swipe font if you want to infuse the seventies retro design feeling into your content. The font is bold and quirky and will easily stand out. Swipe font has 105 alternates and comes with four stylistic sets. Apart from social media posts, you can use this font for branding, packaging, posters, and website headers.
Last Paradise is a fun hand-painted font with additional swashes on download. The brush thickness and roughness ensure the letters are wide and loud. The font supports both cases along with numerals, punctuations, and special symbols.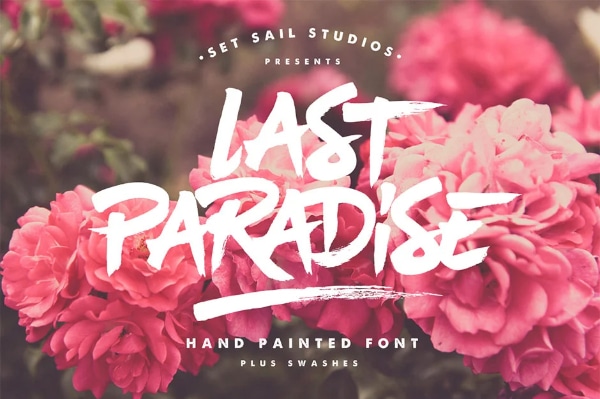 A beautiful watercolor font, the Lovers typeface is a serif style elegant-looking font that can make your Instagram posts look classy. When you download the font, you also get over 200 hand-drawn graphics, lines, and 29 Instagram story backgrounds for free, making this asset highly resourceful.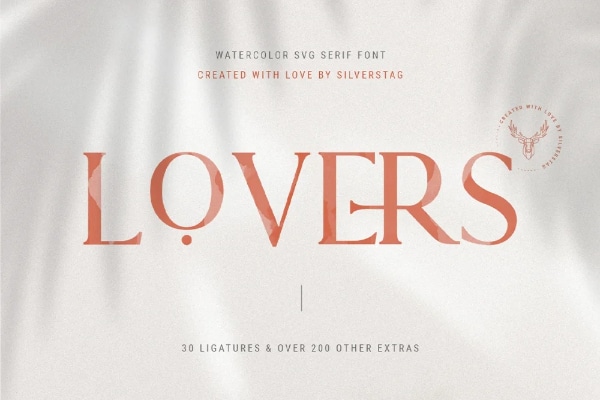 Mixing the vintage style fonts with a modern, minimal design approach, the Vintage Stylist fonts are indeed stylish. The base structure of the font is kept simple, but the extenders and letter composition are refreshingly new. Use it for posts where you want the text to stand out for travel, food, or fashion.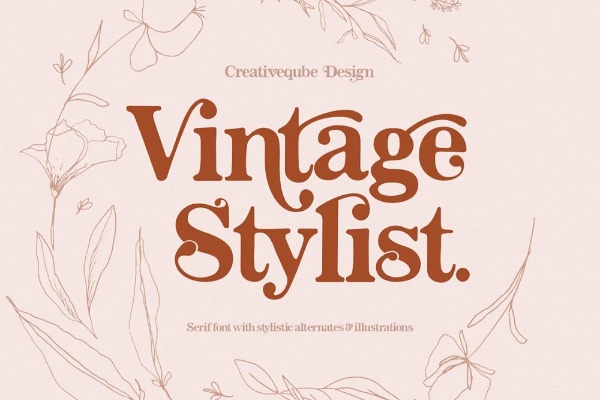 Free Instagram Fonts
Keep in mind, that free fonts usually do not include a commercial license. Be sure to verify first before downloading and using free fonts for Instagram.
Stencil-style fonts are always useful in bringing out the text, especially when the text is placed above the image. However, the Goodies Demo font gives a nice twist as each letter is tastefully designed and balanced. Apart from Instagram, you can always use these fonts for logos, magazines, covers, and advertising creatives.
The Hello font is perfectly suited to use when creating text monograms. A big extension is provided at the text's start and end, which is the core of the font's creative appeal. The modern calligraphy font supports both cases, and even though it is hardcore cursive, the text is easy to read.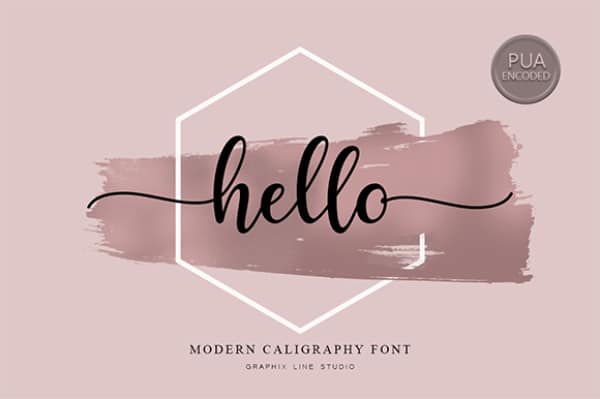 Moving away from cursive fonts, we have a very strong and bold font – DEICHO. The font family consists of 18 weight variations, all of which are strong fonts. In addition, small lines are embedded in the letters making the font visually good. This font family is a good option for creating masculine posts related to fitness, gyms, or even industrial and architecture-related content.
Secesja PL is the type of font you may want to add to your Instagram font collection because it is a self-sustaining font that can help you create monograms/typography without much effort. Extra swirls are provided within the thick bold letters. It fits with an Instagram account that has a classic old-world style.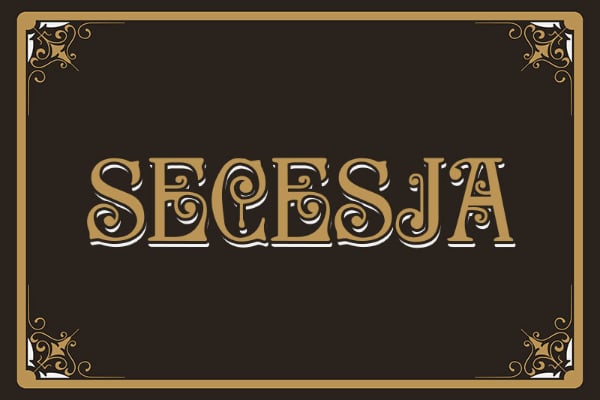 We could not help but end the list with a classy calligraphy font, as these are the types of fonts widely used for Instagram posts today. Even though its base is calligraphy, the designer has added a modern touch to it by keeping the letter simple and long. This one is absolutely free, and you can use it for various other purposes apart from creating Instagram posts.
Frequently Asked Questions
What are Instagram fonts?
Instagram fonts generally mean the fonts which would look good and works well on Instagram posts and within a bio. It can be confused with fonts provided by Instagram. The social media platform sees millions of posts every day, and if you want to stand out, then your designs must be really creative. This is why exclusive fonts available on the internet help you design stunning content for Instagram.
Does Instagram allow you to use fonts from outside?
Instagram offers a set of web fonts for its users when they are creating content within Instagram, like stories and reels. But it has no issues with fonts used in readymade designs. Instagram will treat the content like a photo or a graphic, allowing any font to be used.
What type of fonts should I use for Instagram posts?
The type of font you use for your Instagram post should depend on the post type. For example, if the content is for travel or food, then use a slender brush script font and if the content is for fashion or luxury products, then use slender calligraphy fonts. Generally, it is recommended to use refreshing and strong fonts that are easily readable.
What are the most used fonts for Instagram stories?
While standard fonts like Roboto, Lato, Nexa, and others continue to be used as safe for digital media content, many exclusive fonts are widely used for all types of Instagram content. These fonts include:
Castonvilla
High Above
Yamatha
Summer Festival
Symphonigraphy.
All of these are covered in the list above.
What is an Instagram font generator?
An Instagram fonts generator is a program that allows the user to input any text and the generator will display Unicode characters which are technically not fonts. It's a simplistic method for creating Unicode glyphs compatible with Instagram. It's best to experiment first with a so-called font generator to make sure you're getting what you want. For a more professional option, it's best to stay with true font designs such as those on our list that can be altered using your favorite graphic design program.
30+ Best Instagram Fonts That Follow Current Typography Trends Summary!
Ensuring that your posts on Instagram get a good reach is important, given the massive content competition on the platform. Using the right fonts will help your design stand out. When choosing fonts for Instagram, keep in mind the post type and ensure that the text is readable. It is always advisable to use less text on the post and follow a visual hierarchy created through a font combination.
We hope the above list will help you find the right font for your Instagram posts. Let us know in the comments section below which one or two are your favorites. We love hearing from our readers!