Home » Fonts »
Line25 is reader supported. At no cost to you a commission from sponsors may be earned when a purchase is made via links on the site. Learn more
Rustic fonts are at the forefront of the many aesthetics that instantly conjure up images of breezy days in the country. While the general perception of rustic elements is one of calm simplicity and sentimentalism, these fonts are excellent for those rugged designs that you're working on.
Today, we'll be looking at the top 30+ best rustic fonts that are suitable for making rugged, farmhouse, barn, and country-side designs. Use them in posters, magazines, websites, quotes, and even logos. But before we move forward, let's briefly go through a quick list of the entire 35 rustic fonts we'll be mentioning in more detail.

UNLIMITED DOWNLOADS: Over 10 Million Design Assets Available For Download Now!
Envato Elements provides the best quality design assets, including rustic fonts, that you can download instantly. Designers have quick access to images, fonts, videos, audio, and millions of other design assets. They even have high-quality themes, templates, and plugins too.
Envato's simple yet powerful program allows designers, marketing firms, and solopreneurs to have instant access to royalty-free (for commercial use) millions of design assets. That's right, you get a lifetime commercial license with all the assets you download.
Oh, yea, there's more good news: You can start downloading as many assets as you want – for less than $0.55 cents a day ($16.50/mo). If needed, you can cancel any time for free and still keep your downloaded items. It really is the best thing going right now for designers!
---
The Best Rustic Fonts
A sans serif font with retro themes is called Rustic Printed font. The font includes two style typefaces which are the regular and stamp style. This font has alternate glyphs in various widths. Therefore, Rustic Printed can be used in a variety of designs, including logotypes, posters, labels, badges, packaging, branding, and more.
This contemporary signature known as the Rustic Brush is ideal for social media, branding, product packaging, wedding invitations, headlines, signage, labels, quotes, book covers, and more.
This handwritten script font is based on the expression of actual handwriting. The Rustyne font is ideal for fashion, e-commerce brands, trend blogs, wedding boutiques, and other businesses that want to project an air of sophistication and style. It would work well for a wooded and wilderness design as well.
Befalow is a smooth script font that can be used for many different projects, including quotes, logos, headings, and titles. If you want to add just a little rustic look to a handmade design project, this one is a great option.
The Rustic Farmhouse is a pair of rustic fonts that can be used for a variety of design tasks, including logos, branding, posters, quotes, gorgeous wedding invitations, lovely stationery, captivating social media posts, adorable greeting cards, and other projects.
Black Ground is a distinctive brush typeface that feels strong and bold. This font is ideal for use in logos as well as other formal documents like invitations, labels, magazines, books, wedding and thank-you cards, packaging, fashion, make-up, stationery, novels, and labels, as well as for any type of advertising.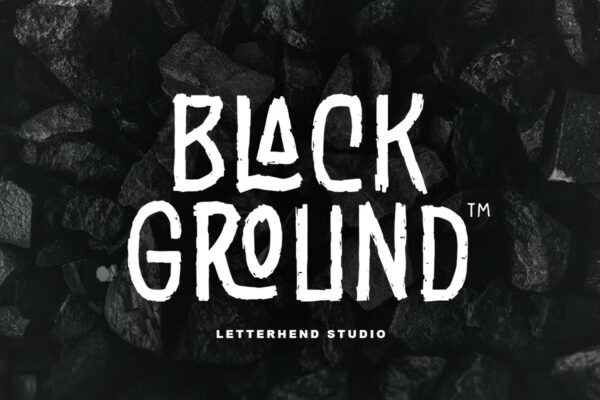 Roadford Rought is a fun font with a theme that is great for posters, apparel, badges, labels, and branding. It was inspired by modern vintage posters and has a grunge to it.
With the textured style of the Serif Barnyard font and Rustic Script font—both hand-lettered for an added vintage effect—this typeface collection is ideal for adding a vintage twist to your next project.
The Brioche font comes in regular, bold, italic, and outline weights. However, this collection of hand-lettered fonts is available in regular, bold, italic, and outline styles which makes it suitable for designing posters and logos.
Arber is a single-weight, handwritten brush font with a vintage style. The previous free Arber has an expanded version, which is this. Therefore, this typeface was inspired by old vintage posters, where each letter was hand-drawn, giving them a distinctive style. 
Backwoods Cabin is a rustic all-caps font that captures the roughness of nature. The natural, handmade letters have an old trail sign or pioneer cabin feel to them. 
Airpena Rustic is inspired by hand-drawn lettering on vintage motorcycles that are both rusted and distressed. This option is a good example of its retro-rural aesthetic. Therefore, this font provides you with an exciting experience when using it for writing or titling because it has full alphabet alternates.
This rustic typeface is ideal for adding a vintage flair to your upcoming project by incorporating sentimental florals or a hint of French country style. This Country Road font is ideal for stationary, mood boards, social media, country logos, and scrapbooking designs. It will be gorgeous on t-shirts, bags, and other merchandise!
The Tooth & Nail is a hand-painted dry brush font that can be used in both lowercase and all caps. A bonus vector pack with 24 elements is also included to help you enhance your text and emphasize its handmade appearance.
This Rustic Wedding Invitation Set has a distinctive design. When you look at the design, it feels as though you are at a nighttime garden party. With the garden party theme, it is ideal for those who are planning in getting married.
This Smouchy Font Duo typeface is more enjoyable and expressive to use because it has hand-brushed letters with rough and expressive stroke characters. You can make it more alluring by combining the brush style with sans serif, both of which have rugged designs.
The aged and textured replacement for the Burford Pro Family is Burford Rustic. With some style variations and new layering options, it functions similarly to Burford as a layer-based font family. There are 20 font files in total, the first of which features four texture variations in black, bold, light, and ultralight.
The 60+ outdoor-themed elements in Hand-Drawn Rustic Nature Elements are ideal for websites, wedding invitations, and a variety of other uses. Since every element is a vector, editing and resizing them is simple.
You want a ton of rustic goodness at a great price, right? This new bundle Rustica Super Pack comes with the Birch Brush Typeface, 8 typographic logos, over 330 unique vectors (almost twice that with mirrored vectors), the Rustica Mini Pack (with over 40 additional illustrations), and 1 bonus texture and 1 bonus brush. That is a sweet deal, indeed!
Introducing you to Rustic Jack, a vintage font duo that comes in both a clean and rustic version, making it ideal for titles and logos. The font is ideal for all kinds of vintage logo & branding projects because it has a slightly rough & rustic vibe. The font formats for Rustic Jack include Opentype, TrueTYPE, and Webfont.
Handler is a retro sans serif font with textured, rough, and clean versions that are ideal for your next creative project. It can be used for art, contemporary envelope lettering, book design, craft design, any branding project, and pop-vintage style designs.
Bold, distinctive, and has a vintage and rustic appearance. Roquen is ideal for use in headlines, logos, apparel, invitations, branding, packaging, advertisements, etc. However, this font supports multiple languages and has upper- and lowercase letters, punctuation, symbols, numerals, alternate stylistic sets, and ligatures.
This Forefarmers Rustic Casual Vintage Font was created as a tribute to stylish handwriting and signatures. It is ideal for a variety of projects, including logos and branding, photography, invitations, stationery, wedding designs, social media posts, labels, and watermarks.
The Farmhouse is a display serif font and is perfectly suitable for farm and barn wedding themes, logos, branding, flea markets, farmers' markets, handcrafted items, poster quotes, feminine items, cosmetic branding, etc.
Rustic Towns is a font that was created as a tribute to stylish handwriting and signatures. It is ideal for a variety of projects, including logos and branding, photography, invitations, stationery, wedding designs, social media posts, labels, and watermarks.
Free Rustic Fonts
A free all-caps rustic typeface that is handpainted and known as Pinewood. It's a rugged font and ideal for designing logos, magazines, packaging, wedding invitations, flyers, posters, and more.
This is a new free font from Hustle Supply Co. known as the Rustico. It is an italicized typeface that is bold, all-caps and has an authentic brush texture. Among many other applications, using this font to make a statement in your branding, marketing, and website design is a great idea.
The Rustic from Nirmana Visual is a hand-made, with love, vintage-style font with unique character style alternates! The early 20th-century packaging and advertising served as inspiration for this font. Therefore, this font is suitable for branding initiatives, logo creations, product packaging, and more. 
Jadugar Design Studio's Handy is a free font with a rustic aesthetic. It has a fantastic serif style and real texture. This bold font looks great in a wide range of projects and is excellent for branding, logos, headlines, posters, and other promotional materials.
Here is Silverwood, the multipurpose brush font in all caps. This font is bold and strong with a friendly charm and uneven letters and a rough texture. Uppercase letters, numerals, a wide variety of punctuation, and multilingual support are all included with Silverwood. 
When used to design pictures for a magazine, various types and tones of logos, and other things, the Sherloks Font gives the impression of an old American vintage design.
Introducing a brand-new vintage handcrafted free display font that you must add to your library! Forestion font is similar to the one on a wooden box of pricey alcohol, but here you get to come up with something original.
The Endoell is a handwritten brush typeface and is ideal for designs featuring exploration, travel, or anything aged and rustic. Therefore, it has a few very distinctive characters and is perfect for clothing, posters, marketing, advertising, and much more.
Frequently Asked Questions
Is grunge the same as rustic?
Grunge fonts and rustic font styles have similar designs and would be difficult to identify a difference. The common design style is that they have a distressed look applied to them.
Which font looks the most rustic?
The Rustica Super Pack is without a doubt the best font for a rustic appearance. This pack is very well designed and resembles wilderness, lumberjack, and country designs exceptionally well.
Name a font that is best for a country music band?
A great font for a country music band album cover, website, logo, and merch would be the Tooth & Nail Dry Brush Font.
Final Thoughts
As you can see, both free and paid rustic and rugged fonts are of excellent quality for designing your logo, wedding posters, and many other designs. Therefore, there is only one thing left to do at this point, which is to pick your project's favorites.
However, if the mentioned rusted fonts aren't quite your style, you might be drawn to our post on the best grunge fonts and our post on the best floral fonts.