Home » Inspiration »
Line25 is reader supported. At no cost to you a commission from sponsors may be earned when a purchase is made via links on the site. Learn more
Good agriculture background images are always challenging, mainly because this is a less glamorous sector than other industries. But, on the contrary, images related to farming, agriculture, food, and more are closely associated with nature, and therefore they have their beauty, which can be pictured with stunning photographs and illustrations.
With the increasing importance of having the proper agriculture processes, infusion of technology, innovations, and a competitive market, the agriculture industry is revisiting its branding strategy.
They also want to portray themselves as intelligent, effective, and, more importantly, in sync with nature. This need has given rise to a huge demand for agriculture-based design assets.
We are filling this need by compiling 30+ best agriculture background images for you to use in your web and graphic design projects.
What are Images of Agriculture?
An agricultural image is one that consists of anything related to farming, planting, and harvesting, and may also contain images of people working, farm animals, food, equipment used in farming, and research related to all of these mentioned.
These types of images can be used for backgrounds in both web and graphic design and may not just be photographs, but may also be illustrations which are drawings.
---
Best Selling Themes for WordPress!
Download Now
---
The Best Agriculture Images – Premium
Now it's time to start viewing a collection of the best agricultural images available online. Please comment below on what option is your favorite.
A fine combination of modern and conventional farming, this image captures a harvesting machine in action on a ripe wheat field. The photograph is taken from a height giving it an excellent perspective and covering a wider farm area.
Rice terraces, especially in the South East Asian regions, form beautiful landscapes. The slopes of the mountains are smartly used to cultivate rice. This image presents an ariel view of one such form along with other trees.
This photograph can be a good resource if you are looking for an image to use in agriculture research design. The image is a composition of a beautiful green field with the sun setting at a distance. A hand-holding magnifying glass is set in this image.
This kind of image will come to your mind when you try to visualize a lush green farm with a scenic sunset. The photograph captures the tranquil nature of the farm. Hazy clouds and a blue and yellow sky are a good addition.
Patterns are always interesting, and this photograph captures the patterns of sowing on the farm from a good height. It is interesting to see how even these patterns and the variety of vegetation provide a refreshing color variation to the photograph.
This image capturing lettuce from a low angle can benefit businesses related to framing or even natural products. In addition, you can use this image as a website banner for social media posts or any other digital marketing purpose.
Getting kids to be interested in farming is a hard ask. This beautiful image captures a father and son duo working on a wheat field and hence can be used as a good representation of this message. The blue sky against the light brown field looks enchanting and makes this farming picture a great choice!
The concept of greenhouse farming is rising, with the need for good farming pictures. This photograph showcases an ideal greenhouse setup with a variety of plants; hence, you can use it for any design related to this sector.
Are you looking for a website banner for your agriculture-based brand? Look no further, as we have the perfect image for you. A beautiful field set against a setting sun with a person in it makes this image perfect. There is also good dead space where you can include your messaging.
This photograph showcases a happy boy working on the farm. The lush green plantation in his hand sets the overall color tone of the image. Of course, clever designers will always be able to extend the image on the side if there is a need to add content or branding.
One of the good things about farming is that it cultivates a community spirit. Such a spirit is well captured in this photo which shows two people happily working inside a greenhouse plant. The wooden crate and wheelbarrow add good interest value to the photograph.
A lot of technology is being infused into farming, and if you are working on such a project, this image is a must-have. It shows a man on a wheat farm with a digital device in hand. There is ample dead space on the side, making this photograph highly suitable for a website hero image.
If you are using the above image, we suggest you bag it as well, as it is of the same theme with the same person in the same field. This way, you can use the set of photographs and maintain consistency in your design, be it a website or brochure.
Continuing with the technology theme, we have a drone photograph in action next on the list. Drones are being widely used for spraying fertilizers, insecticides, and even saplings. This image captures one such drone in action on a green farm with mountains in the background.
While the list has consisted of wide photos, it is time for us to get one close shot of the list. This superb photo showcases tomatoes in various stages of ripening. One branch of tomatoes is focused on, while others can be seen in the background.
This image shows the manual labor that goes behind planting one seed in the soil one by one. Finally, a crate with soil fills in, and seeds are shown in a person's hand—a good image for product-based agriculture websites.
If the brand you are working with is related to agricultural research, you should add this image to your collection. It shows a researcher analyzing the plants. The angle of the photo is nice as it focuses on the man and has a lot of plants in the foreground.
Use this image if you want to represent anything related to soil. For example, this could be about soil research analysis, quality control, or even just an inspirational message about the impotence of soil. There is good dead space on two sides which you can use to expand the image if needed.
The row of plants can be seen in this image, and the row structure is symmetric. There is a good variation among the greens, which lends an artistic feel to the image. You can easily use this image for website background or print designs such as brochures, flyers, etc.
A perfect image for brands related to agricultural science as it showcases an engineer wearing a suit, mask, and hair cap and examining lettuce. Such images can be used for websites, social media posts, or print branding material.
A wide shot of a wheat farm with a harvester at work can never go wrong for any design use. Herein, the blue sky with sparse clouds adds a flavor and color contrast. As you will get a high-resolution image on download, you can zoom in as per need.
As the name of the image suggests, this photograph is smartly captured as it shows a hand of a kid forming a heart shape with wheat inside. This image is perfect for use in children's projects or non-profits and causes related to farming.
One of the most vibrant images in the list, this farmland photo, shows four people working on the farm, which is a mixed color combination of green and yellow. The background is set in a contrasting color, which makes the image visually appealing.
While the farms are interesting, the farm produce is always more interesting, especially when you have a variety like this image. There are dozens of fresh, green, and organic vegetables on a farmer's wooden table. A good flat lay image, you can use this for various designs.
Black and white images have their own charm. This photograph captures three Mongolian farmers working on their land. The overall composition and the fine editing make this image strikingly beautiful.
If you want to use an image showing heavy agriculture equipment, this photo is a good bet. It captures a tractor spraying in a soybean field. The green farm, yellow tractor, and light blue sky all form a good composition.
A fine combination of a farm image and vector design, this ready-to-deploy design asset can be very handy if you want extra elements in your farm photo. The photo captures green wheat field products in a close shot and has elements like technology, temperature, internet, and more.
This simple but beautiful photo captures a fresh bunch of harvest coming off from the field. It includes tomatoes, carrots, peas, and also agricultural tools. You can use this as background for websites and print designs related to organic farming.
One of the most used images related to afforestation, this image shows the hands of a kid planting a sapling and caring for it. The message it conveys is the need to care for the environment. Such an image is always good in the collection, given how finished it is and the dead space it offers.
Another beneficial design asset related to agricultural technology, this product shows a tractor working on a lush green farm. The important part of the design is the set of details provided, which you can use to create fantastic information dashboards or UI kits.
Taking a break from conventional background images, we added a fine watercolor collection of farm objects to the list. The set includes 21 animals, 47 farm animals, ten pre-mate animal compositions, and six ready seamless patterns.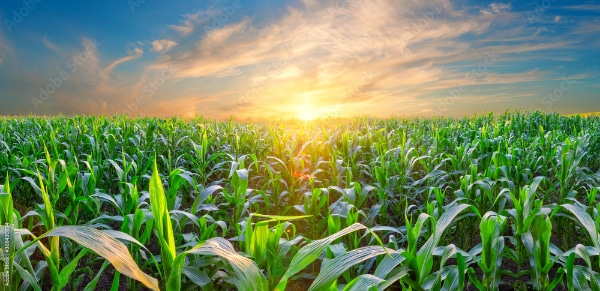 When we said that agriculture photos could also be beautiful, we were not joking. If you look at this image, you will be in love with it. The fresh green farm is captured against a setting sun covered with clouds. The designer has edited the photo superbly to accentuate the colors.
In a hurry to set a hero image for your agriculture-based website? Grab this design asset, as it will allow you to deploy the design in just minutes. All you need to do is replace the logo and then flow your text, and you will have a banner image ready in no time.
A good asset related to smart farms, this design asset has a good outreach of fields. For example, the photograph has very creative and smart vectors. You can customize these graphs and use them for designing dashboards or user interface kits.
Ending the list with a bit of color, we have included a beautiful set of farm animal clipart. Created using watercolors, the set comes with 32 watercolor elements and compositions, 60 seamless patterns, and seven ready-to-use templates. Such a wide variety can make life easy for you if you are working on an artistic project related to farming.
Frequently Asked Questions
What is the meaning of an agriculture background image?
An agriculture background image contains farming and related elements that are apt for use as a background. Generally, such images showcase beautiful farm compositions with people or equipment. They also have good dead space, which allows the addition of branding or requisite text.
While you can always Google for good agriculture-related images, high-resolution images take time to find. So instead, you should use the vast collection of agriculture-related and farming pictures from Envato, Adobe Stock, and DesignCuts. All the images they offers are high-resolution.
How to use agriculture background images in design?
Most good agriculture background images come in ready-to-deploy form – meaning you can use them as it is. However, based on the project you are working on, you can always apply minor tweaks like cropping, color balance, and other edits to the image. For example, you can add your branding or text on the dead space or useful vectors to make the overall picture more interesting.
30+ Best Agriculture Images For Backgrounds Summary
Given the rising demand for high-resolution agriculture-based backgrounds, it would be wise to add many such images to your collection. The list above contains a wide variety of such images, from basic farming pictures to vectors imposed on it and watercolor clipart. You can shortlist the ones best suited for you and download them. Most of these assets are ready to use, while for some, you can always apply a few edits to customize them per your project needs.