Home » WordPress Themes »
Line25 is reader supported. At no cost to you a commission from sponsors may be earned when a purchase is made via links on the site. Learn more
Are you looking for a website theme for your environmentally-friendly company or NGO? Here are the 25 best nature WordPress themes for building awesome, fully functional websites for any type of business or foundation with activities in the green nature, eco-friendly, environmental, and conservation niches. 
Choose your favorite WordPress theme from this list, because setting them up is easy and customization is a breeze with the help of the integrated page builders for WordPress.
No doubt that having a thorough list of WordPress themes for nature, outdoors, earth, and the environment can be a web designer and web developer's best friend. You may also enjoy our post on the best premium and free Agriculture Images.
---
Best Selling WordPress Themes!
Preview WordPress Themes
---
The Best Nature WordPress Themes
Without any further delays, we are proud to present this excellent selection of top WordPress themes for nature-inspired websites.
Indeed, Eco Nature is a great-looking WordPress theme that is the perfect solution for building websites for environmental-friendly companies, nonprofit causes, events, gathering donations, and more.
Another nature-friendly WordPress theme is Eco Nature and it's a perfect option for organizations that are working towards environmental preservation.
It comes with unlimited design solutions, so you can easily customize it as you please, and a bunch of shortcodes for increased functionality.
Whenever you are ready to choose, consider the Eco Recycling theme. It is a multipurpose nature WordPress theme you can use for building environment-friendly websites. Use it for businesses in the ecology and recycling industry. It comes with all the needed tools to make your website stand out.
The Green Nature website theme was designed to be responsive, mobile-friendly, and modern-looking. It will work well for organizations and non-profit foundations concerned about nature, the environment, and wildlife.
Additionally, this theme can be used for accepting donations, making your events known to the public, and more! It uses the GoodLayers page builder which is powered by drag-and-drop modules.
Are you looking to build a solar-related website or an eco-friendly site? Undoubtedly you'll notice that this theme offers so much and it can help bring awareness to environmental preservation and the use of natural resources.
Eco Press is a great solution for building nature-related websites. Also, the theme would be a great fit for non-profit organizations, animal-saving fundraisers, green world movements, and more. Certainly, it comes with a fully functional donation system for raising funds for your cause.
Indeed, the Eco World WordPress theme is designed to target environment protection companies, nature-related websites, and non-profit organizations. Also, it comes with a donations functionality with easy-to-integrate payment options.
Greenlife is a modern WordPress theme for environmental, eco-friendly websites. It can be also used for other related purposes, such as charity events and even corporate sites. It is built on the Bootstrap and Powerful Redux frameworks and has increased customization options, using the drag-and-drop Visual Composer plugin.
When considering all options, this Eco-Friendly WordPress theme is as the name suggests, an environmental-friendly theme with a neat and clean design. It comes with a flexible admin panel and all the tools needed to launch a website today.
Dolomia is a fully responsive WordPress theme for nature lovers. Therefore, you can use it to design a clean, minimalist website about hiking, outdoor activities, travel, photography, and more. Has plenty of pre-made templates to choose from.
Surely you will notice that the Maikop theme is a great choice and it can be used to promote your environmental projects or your eco-friendly business successfully. It looks perfect on all modern mobile devices and it's very easy to customize to fit your branding.
Greenture theme is another environmental-friendly theme targeted to NGOs. This well-designed theme comes with a blogging feature and a feature to set up events as well as a donation system.
Enviro is a nature-centered WordPress theme that is fully responsive and looks perfect on any device. Use it to make your eco-friendly business known to the world.
GoGreen is an eco-recycling WordPress theme for eco-friendly company websites. This website meets all the standards of a nature WordPress theme, it is informative, organized, and contains all the tools needed.
This is a modern environmental theme for non-profits and recycling companies. It is highly customizable, has an extensive admin interface and it's easy to install, with just one click. Also has demo content you can use and no coding knowledge is required.
This is an environment & ecology WordPress theme integrated with the popular Visual Composer plugin and Slider Revolution. it was built on the Redux framework theme.
Green Soul is an environment & non-profit WordPress theme that can be used by environment protection companies or any other ecology-related project. Use it to launch eco fundraisers or blog about recycling, alternative energy, organic agriculture, and more!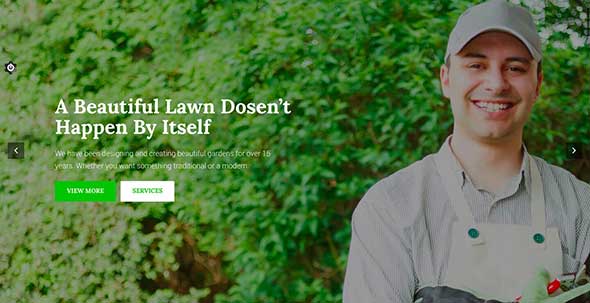 Gardening is a professional nature WordPress theme for gardeners, landscaping designers, or agriculture-related companies. It is responsive, comes with both full-width and boxed layout options, and was built with Bootstrap 3.
When considering the great outdoors, here's a great example of a travel theme with a focus on nature. Use it to blog about any type of outdoor activities or even set up a booking system for different locations.
Use this cool theme for building a website for a non-profit environmental organization. Its features and template designs are also a good fit for recycling businesses and alternative energy source distribution companies.
Envit is an environment WordPress theme you can use to get donations for your environmental cause. As with all of these high-quality templates and themes, this one is also 100% responsive and was tested on all the major hand-held devices. Another great option for your project.
Choose Only The Best Nature WordPress Themes Today
In summary, you just reviewed over 20 of the best nature-inspired WordPress themes and now it's time to decide. It's always best to look at the preview and demo versions for each of these nature-based and eco-friendly WordPress themes before deciding. This way you get a feel for the live version before settling on one. Happy building!