25 Premium WordPress Themes for Professional Websites
Home » WordPress Themes »

December 13, 2017

Line25 is reader supported. At no cost to you an affiliate commission may be earned when a purchase is made through various links on our site. Learn more

Everybody knows that if you want your website to stand out, you need a premium WP theme to help you get started with the designing part and make things easier for you. It's important to make your personal or business website as impressive as you can, regardless of the field you're in. This way, you'll have a professional way of showcasing your work and services and a bigger chance to attract better clients.

The internet is full of awesome WordPress themes, but we gathered the best examples we could find that will give you everything you will ever need for creating and managing a professional website. This article contains 25 premium WordPress themes that are user-friendly, fully-responsive and easy to customize, while also having a very modern and clean style. Have a look around because we're sure you'll find something that will catch your eye and fit your needs.

Do you want to learn more about WordPress? Check out these WordPress tutorials!
Pin
Composer is one of the highest rated Wordpress themes that lets you create stunning websites using various header styles, shortcodes, blocks, page layouts and much more! This theme also comes with 3 plugins included: Visual Composer, Revolution slider and Ultimate Add-on. Composer comes with more than 72 pre-built demos that you can choose from in order to easily start creating your own website. This theme comes with great customer support and tons of features.
Pin
Movedo is a premium Wordpress theme that comes with awesome layouts and lots of features. This theme also gives you the unique option to create eye-catching moving columns and go beyond linear structuring. Movedo has future-proof responsiveness that makes it work perfectly on all devices and screen sizes. It comes with a wide range of supported plugins in order to help you create a personalized website that will stand out from the crowd.
Pin
Fortun is a very versatile WordPress theme that's fully responsive and has many premium features. It comes with 18 modern demos & the premium Visual Composer plugin included in order to help you build any kind of website you may want. Fortun comes with 6-month support and the Drag & Drop Page Builder so your experience of creating a website will be easier and unique, with outstanding results. We recommend this theme for its modern and clean look that works well for different purposes.
Pin
WoodMart is a premium WordPress theme created especially for WooCommerce websites. This theme has a modern design that will make your online store stand out from the crowd. WoodMart is highly customizable and it was made with the best user experience practice in mind. You can start creating your website by choosing from more than 30 available demos that you can twist to fit a wide range of purposes including clothing, furniture, handmade, electronics, tools, food, digital products and many more!
Pin
STEAM is a fully responsive, awesome looking WordPress theme that was created with restaurants and cafes in mind. It was crafted in order to help you create a website in minutes by using One Click Setup! It has an integrated Instagram gallery, custom design Menu Books and it's perfect for websites that also need a blog. We recommend this theme especially if you're looking for an item that lets you use a responsive reservation system for your business.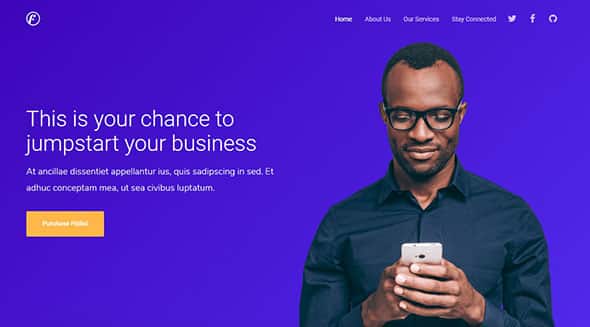 Pin
Fildisi is a fully responsive premium Wordpress theme that can be used for various purposes. It lets you choose between lots of different page layouts and sections, portfolio and blog layouts and many more! This theme is also WooCommerce ready which makes it easier to include a shop in your website design and expand your business. Fildisi comes with Visual Composer and Revolution Slider included!
Pin
Dentalia is a professional WordPress theme with premium features suitable for dentists, healthcare professionals and companies that offer medical services. Dentalia is fully responsive and it has a modern design in order to make your business stand out. It lets you choose between unlimited color options and more than 50 dental icons. This theme uses Visual Page Builder so you can create your website without any coding and it also comes with Revolution Slider included in the package.
Pin
RT-Theme 20 is a fully responsive WordPress theme that comes with powerful CMS tools. We recommend this theme to anyone that wants to create a corporate, product catalog or e-commerce website. This theme is perfectly suitable for the medical and health industry, veterinary, laboratory, clinics or hospitals. RT-Theme 20 comes with 3 demos and pre-made skins and the WooCommerce plug-in is perfect if you want to create an online shop for your business.
Pin
Rigel is a multi-purpose Wordpress theme that's perfect for business portfolios. It comes with more than 20 pre-built demo websites that you can choose from in order to start creating your unique website. The best part of this theme is that it can be used even by newbies who don't have any coding knowledge. Rigel also comes with some premium plug-ins such as Visual Composer, Revolution Slider, VC Copy Paste Addons etc.
Pin
Newsmax is a high-performance, multi-purpose WordPress theme, designed for different kinds of newspapers, magazines or blogs. It comes with more than 10 already designed concepts that you can import and start customizing. Newsmax offers you the possibility to choose between more than 500 options that can be used with absolutely no coding knowledge. It's SEO optimized and it comes with lots of blog layouts that let you create a complete, professional website.
Pin
Pheromone is a modern multi-concept WordPress theme that has a modern, minimalistic style. It's very easy to use and it lets you choose between different layouts such as multipage and one-page designs in order to create a stunning website for business or personal purposes. This theme was created with developers, designers, bloggers and creatives in mind. One of its best features is that it comes with more than 70 already designed demos that you can choose from or you can just combine features from different demos in order to create the perfect one for your purpose.
Pin
Setwood is a clean WordPress blog and shop theme with lots of various layout options and features. Setwood has a modern and minimal look but it comes with many customizable options so you can achieve the website design that fits your projects perfectly. It also gives you the option to choose between custom widgets that can make your website quicker and more user-friendly. We recommend this theme for fashion or lifestyle blogs, food blogs, craft, tech, creative, photography and many more! Setwood's clean look makes it perfect for various purposes!
Pin
Norway is a premium, fully-responsive WordPress theme that's perfect for magazines and blogs! This theme is focused on readability and excellent user experience. It comes with nice and clean font options and lots of options that you can customize in order to transform this theme into a gorgeous website. Norway lets you integrate your Instagram and Twitter account by using the special widgets and you can also create an online shop using the WooCommerce plug-in.
Pin
Vanda is a creative Wordpress theme created with premium blog websites and magazines in mind. This theme has a very elegant and modern look and is fully customizable. Vanda is based on the Bootstrap 3.0 grid, it's fully responsive and it works great on all screen sizes and devices. We strongly recommend this theme for food blogs because it lets you use your posts to share your favorite recipes and cooking tips and tricks. Vanda includes timing options for recipes, cuisine type, steps list and ingredient checklist.
Pin
HOTEL XENIA is a WordPress theme with clean and elegant design, created especially for the upscale global hotel and hospitality industry. It's very versatile and fully responsive so it can be used to create a premium and high-end website for various purposes like hotels, motels, youth hostels, resorts, bed and breakfast, rooms for rent and accommodation sites. HOTEL XENIA comes with great options for reservation forms and is translation ready in order to fulfill all your needs.
Pin
The Affair is a clean, premium and fully-responsive WordPress theme that works very well for personal blogs and different kinds of magazines. This theme has a clean, minimalist look with great typography choices and various post format options that let you share your ideas and stories in the easiest way possible. It also gives you the option to showcase a YouTube Video on your homepage.
Pin
Adamas is a responsive, premium Retina-ready WordPress theme that offers fast performance and quick customization. It's a great option if you want to start an online shop for your business by using the WooCommerge plug-in. We highly recommend this theme for corporate or business websites that require a professional look and great performance. Adamas comes with 9 demo layouts and more than 70 unique pages that you can pick from.
Pin
Sequoia is a great Wordpress theme that's perfectly fit for e-commerce websites who want premium features on their sites. It comes with one default parent theme and 3 child themes (with demo import for each one) that will make your life easier. This theme lets you choose from 6 types of headers and side menu layout builder. Sequoia comes with lots of shortcodes that you can use to customize your website and create your own unique version that's perfect for your business.
Pin
Flexblog is an incredibly flexible WordPress theme that's perfectly fit for all kinds of blogs and contains many premium features. It has a clean and modern design and can also be used by newbies because it doesn't require any coding knowledge. Flexblog is fully responsive and it works great on all devices and screen sizes. You can easily customize this theme using WordPress Live Theme Customizer. This theme comes with unlimited lifetime updates and 24/7 support.
Pin
Paperback is a gorgeous, magazine-style premium WP theme that gives you the option to create stunning content with images, galleries, video and audio files in a very fast and easy way. This theme lets you pick from lots of homepage templates, slick content discovery features and many more! One of the great features of Paperback is that it builds smart color schemes that you can tweak based on the colors you choose for your website.
Pin
Travelog is a fully responsive WordPress theme, created to help travelers present their travel adventures to their readers by using a blog. This theme is focused both on visual and text and it comes with awesome typography choices in order to create the best experience for your visitors. Travelog comes with more than 800 Google markers that make it possible for you to customize your website and make it your own. The one-click demo important makes it faster for you to start designing a professional website.
Pin
Fusion is a multi-purpose WordPress Theme that has a very modern look. Fusion lets you use over 100 templates and over 60 different widgets. This theme comes with 15 already made demos that you can start customizing to create your website. You can pick the perfect header and navigation options and you can create stunning portfolios that showcase your work with style.
Pin
If you're looking to create a wedding website, then Lily is the perfect option for you. This theme has a beautiful, fully responsive design and it comes with lots of native WordPress features that make it very easy to customize everything in just a couple of minutes. Lily lets you integrate your Instagram feed in order to add a dash of uniqueness to your wedding website.
Pin
Unero is a clean and modern AJAX WooCommerce WordPress Theme that was created especially for online stores. This theme has a strong focus on showcasing products in a very professional and attractive way. Unero is perfect for lots of e-commerce websites like fashion stores, furniture stores, decoration stores and many more! It also lets you choose between lots of features such as widgets, cart options, unlimited colors, sliders, menu styles and more, so you can create the ideal website for your online store.
Pin
Engage is a fully-responsive Wordpress theme that makes it easier for anyone to create stunning, professional websites! It comes with lots of premium plug-ins, extensions and tons of ready-to-use demos. This is a really flexible and powerful theme that can be used for various purposes.