Home » Website Templates »
Line25 is reader supported. At no cost to you a commission from sponsors may be earned when a purchase is made via links on the site. Learn more
We all know that a professional website designed from scratch needs a lot of work but nowadays you can achieve almost the same effect using premium HTML5 website templates that can provide all the features you need. 
Finding the perfect template for you and your company, project or idea is difficult, especially with so many options out there. In order to help you out, we've put together a list with 25 of our favorite HTML5 website templates that will help you achieve a professional and modern look with full usability and efficiency!
Take a look and tell us which one is your favorite!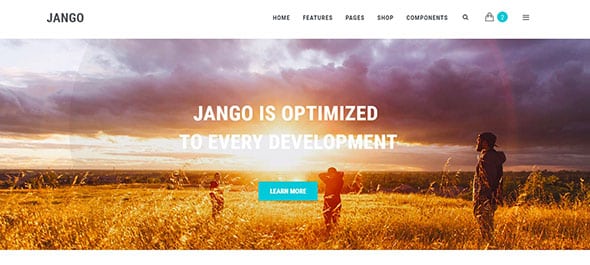 JANGO is an awesome option if you're looking for a multi-purpose HTML5 template. This theme is super versatile and it was created by also using SASS and Bootstrap. We recommend it for lots of different purposes such as blogs, landing pages, portfolios, business websites and more! This template comes packed with more than 300 components that you can choose from and customize in order to create the perfect website for you and your business or project! It's also fully responsive, Retina-ready and it comes with lots of demos that you can choose from.
Cloudhub is a fully responsive HTML5 template created especially for startups and tech companies, but you can also tweak it to work for tons of other purposes and projects. This theme comes with many demos and lots of customizing options which will only make your life easier! Cloudhub also gives you the option to change the color scheme and it also comes with a style sheet template included so you can rest assured that you'll always make the right choices!
WrapKit is a very powerful Web UI Kit that will help you achieve professional and fast results. By using WrapKit, you will be able to create all kinds of websites including coming soon and landing pages and lots of different homepages. We recommend looking through all the demos they provide and choosing the perfect one for you. WrapKit was created on the powerful Bootstrap 4 framework and this makes this template super responsive. This theme also comes with cool icons and animation!
PROMETEO is another good option for an HTML5 website template that comes with a clean and modern look. We think this template is perfect for all kinds of businesses including finance and consulting, but the possibilities are endless. This theme comes with some responsive contact forms and 6 homepage styles that you can choose from. It's super easy to use and customize and we recommend it for professional looking websites.  suitable for Finance Business and Consulting Industry. It comes with a complete set of working contact forms to hook potential customers. You'll get all the elements necessary to create a nice, professional and complete web presence.
Porto is a premium admin template that's very easy to use and understand. It comes with a modern, fully responsive layout that works perfectly on any device and browser. It was built on the Bootstrap 3 framework and it comes packed with more than 60 page templates and tons of very useful plugins that you can choose from!
This is another great option if you're searching for a tool that will help you build fully responsive pages in a very fast and professional manner. Pillar comes with everything you will ever need to create custom pages with your own font and color choices. It's perfect for both one-page and multi-page websites and it lets you choose between 20 special homepage designs. It also comes with Google Maps API!
VueJS is a very modern and clean admin template that keeps track of all the latest web design trends. This tool was with Vuejs2, Laravel 5.4 and Bootstrap 4. No jQuery used! VueJS is fully responsive and it looks and works great on a wide range of devices, screen sizes and browsers. You can also choose from the 7 layout options in order to make your efficiency faster.
CityTours is an HTML5 website template created with companies that provide touristy services in mind. It's an awesome choice for websites that have something to do with city attractions, tickets, tours, transfers and hotels! This item comes packed with more than 120 HTML pages so you will definitely be able to find something perfect for you. You can also choose from 7 header styles and 7 footer styles.
Kallyas is a gigantic toolbox that we're sure will satisfy all your needs and ideas. It's a perfect pick for creating professional-looking websites, online shops, portfolios or blogs. This item has a modern one-page layout which makes it very versatile and suitable for countless purposes if you know how to adapt it to your goals. It also comes with tons of different slider options and some of them are also premium licensed. It's a perfect template for a blog because it lets you insert your content into all kinds of blog layouts.
Bezel is a fully responsive HTML template that can be used for endless purposes, you just need to have a perfect idea. It comes with more than 60 HTML files and more than 15 concepts including architecture, fitness, portfolio, business etc. This template is also Retina-ready and fully responsive, so it looks gorgeous on all kinds of displays and devices. Last but not least, this template comes packed with smooth Parallax animations and gradients!
Metronic is one of the best admin themes out there. It's a great choice if you're looking to create an Admin UI in a very fast and clever way. It comes will calendar integration, error pages, gradient buttons, custom data table and more! This template is super easy to use and customize and it comes with some of the best tools integrated!
Webster is another cool HTML website template that can be used for countless purposes and projects. It's a good choice if you're not in the mood for creating a website from scratch. Webster comes with tons of useful elements and items that you can mix and match in order to achieve a gorgeous, modern website. Some of its features are: 45+ homepage layouts, 300+ template options, 50+ easy to use shortcodes and even 380+ reusable UI components. Use this template if you want to save lots of time!
Stack is a very modern HTML template that may be exactly the thing you're looking for. It's a very nice combination of looks and usability, which makes the perfect combo. We strongly recommend you choosing from the 140 already-prepared demo layouts because it's the simplest and most efficient way of starting a professional-looking website. One of the best features of this item is that it offers you 30 different themed homepages. All elements are carefully crafted in order to make your life easier.
Porto is a powerful template that comes with different versions created especially for WordPress, Magento, Joomla, Drupal, Shopify and more! The HTML version is one of the best and it comes with more than 350 file templates and a super easy to change source code! You'll get free updates periodically. We recommend choosing your favorite demo and start making changes to it in order to achieve the best results for you! Porto also gives you the unique option to choose from unlimited headers!
Here's another good example of a very versatile HTML template that's also fully responsive on any screen and device. BeTheme is one of the biggest and most easy to understand templates and it can be used for countless purposes, from personal websites to business ones. One awesome thing about BeTheme is that it gives you the possibility to choose from 300 pre-made layouts so your website creation journey will be fail-proof. This is a perfect choice for business websites, from beauty to technical or medical websites. We also recommend it for blogs!
Foundry is a perfect choice if you want the liberty to create one-page or multi-page websites. This item comes packed with the most useful tool and features. Foundry comes with 100+ HTML template files, 20+ home pages with a unique, special design and 95+ Blocks in Variant Page Builder. This template is super easy to install and use and the whole customization process is very accessible. You can also insert your own logo and you can choose from the free fonts included and over 1.000 icons.
Polo is another great example of an HTML5 template that can be used in a lot of different projects and businesses. You can use this for any kind of business you may have, from creative agency to restaurants, shops and blogs. Its clean and modern look and highly customizable elements make this template very versatile and easy to use. It also looks and works amazing on all devices and screen sizes
Straight is another choice for a business consulting HTML template. We recommend it for all types of consulting agencies or businesses but also to other ideas and purposes because it can be easily customized and changed. This template has a modern, cool design that will make your website look professional and will increase your online presence. Straight is also fully responsive and fully customizable and it looks great on all devices. It also comes with the option of inserting a fully working PHP contact form to your website!
Here we have another example of a well-designed HTML5 template. Sartre is very flexible and easy to customize which will help you get your website up and running in no time. This template gives you the option to use pre-made blocks and only the best elements and tools. We recommend it for creating fully responsive websites in a fast and easy way. Sartre comes with lots of header, footer and widget options!
Bauhaus one of the most special HTML templates and it was created with architects and designers in mind. It has a very minimalist and modern design that's both eye-catching and effective. Bauhaus comes with 3 homepage designs, 16 different page styles and PSD files included!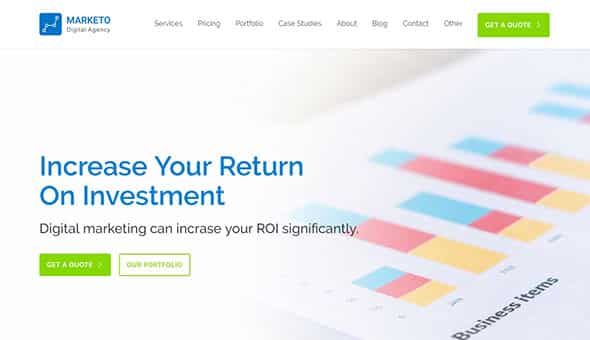 Cynic is an HTML template that will work best for startups or creative agencies. It's a great option if you want to showcase your work to the world and to gain more exposure and clients. This template comes with Slider Revolution and Linear Icons included. It also comes with tons of fully responsive pages that you can customize as you wish.
Findeo is a powerful example created with brokers, estate agencies and directory websites in mind. You can use if you're a real estate agent or a company too. It's a great choice because the clean, modern design is very easy to understand for your users and this will only attract more clients! It was created using HTML5 and CSS3 and it was powered by Bootstrap 3. It comes with fully working Google Maps integration and pricing tables!
Sofbox is another powerful HTML theme that will help you create landing pages in a fast and cool way. This template has lots of modern and minimalist UI/UX elements which will help you create a professional website that will also look top-notch. You can choose the layout that's more suited for you and your purposes! Last but not least, this landing page template looks and works perfectly on any tablet, screen size and phone!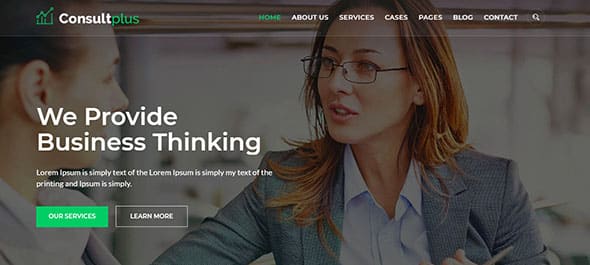 Consultplus is a premium HTML template that was created with all kinds of consulting businesses in mind. This item provides all the features and items you may need for creating a professional and successful website for anyone interested in this field. It's a perfect choice for startups too! Some of the niches we recommend it for are insurance companies, investment firms, corporate business and, of course, consulting companies! Consultplus was tested on almost all major devices and it looked and worked great every time!
Listeo is one of the most powerful templates out there, created especially for directories and listing websites. It has a very useful user dashboard and a fully responsive design that's also Retina-ready and very easy to understand! Of course, this template comes with Google Maps API integration which is an essential tool for any listing website.