Home » Articles »
Line25 is reader supported. At no cost to you a commission from sponsors may be earned when a purchase is made via links on the site. Learn more
In today's article, we are going to round up the best free Shopify themes available in the Shopify theme store. Shopify allows you to quickly and easily create an eCommerce website or online store. Both premium and free Shopify themes come built in with all the features you need, such as credit card processing and a very powerful back-end. While there are many free Shopify themes, Shopify itself is a premium platform due to the plethora of powerful features it offers, as such it requires a low monthly subscription cost. This ensures that there is a development team constantly developing the software on which your online store runs, and because the fees are more than reasonable, Shopify is an online sales platform that is widely recommended. This article has been completely updated this year with latest Shopify themes.
Narrative – Warm Shopify Template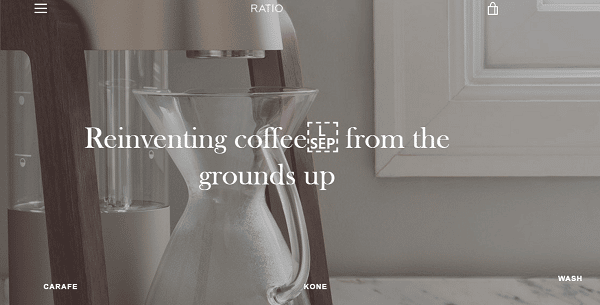 Narrative is one of the latest free themes created for the Shopify eCommerce platform. This freshness is quite evident from all the themes in the Narrative collection, starting with Narrative – Warm. The creators claim that this template was created in order to tell a story of your products or your brand. This theme features a hero video which your online store visitors will see as soon as they land on your home page, a vertical slideshow that's quite unusual for eCommerce websites and a lot more. One other notable feature is the template's menu – when opened, it hides the rest of the page so that your eCommerce visitors focus only on your menu items and nothing else. This ensures that they find the menu item they are looking for without too many distractions. Narrative theme also uses the parallax effect when you scroll down the screen. One feature that is lacking in this free Shopify template is the zoom feature – users are unable to simply point their mouse to zoom on the products. However, you are able to upload larger version of your product images so that your store shoppers can take a closer look at each product before committing to purchasing. Narrative has an excellent "add to cart" functionality, where the items are added to shopping cart but the user is kept on the page they were on. They are then able to view their shopping cart without leaving the page – the shopping cart simply extends from the side of the screen. This type of design maximizes multiple purchases, so it's something that we were pleased to see in this theme.
Start with Narrative Warm theme
Narrative – Light Shopify Theme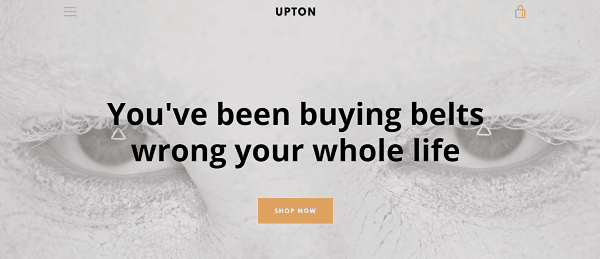 Narrative – Light is part of the same Narrative collection as its sister Warm theme, so it shares most of the features with it. If you are a fan of light, minimal design then Narrative – Light will be an excellent free theme for you to use for your eCommerce website. The demo website features a really cool background video with an up-close shot of someone's eyes – this sure makes a great first impression on the visitors. The demo website also features a store that sells apparel – designer belts to be more precise. This free Shopify theme, however, can be used for many types of stores. Like Narrative – Warm, the Light theme is also missing the mouse-over zoom feature, however it may not be necessary for all types of products. The checkout page has a user-friendly and intuitive design, starting with the customer's email and then asking shipping information. This type of design makes your shopper invest their time into typing information before they are asked for payment information, which in theory should increase conversions and sales for your online store. The demo here features a light background with black fonts design, along with some orange page elements. Some of the products also have a "sale" sticker when you are viewing the product gallery, which is visible enough to draw attention to the products you are trying to sell the most.
Start with Narrative Light theme
Narrative – Cold Shopify Template
Most people do not like the cold, however we can't say the same for the Narrative Cold free Shopify theme. This eCommerce template features a really nice dark but yet minimal design. The sample store is used to sell bicycles and their accessories, but just like other free Shopify themes, this one can be used for virtually any type of online store. This template uses a fixed navigation style, which means that the website menu and your store's logo stay at the top of the page when the user scrolls. However, it should be noted that this only happens when the user scrolls up – for some reason, the menu does not show at all when the user is scrolling down. The theme creators probably made it work this way so that your store visitors concentrate on the content as they are looking for products when they scroll down, though we personally prefer a fixed menu that is visible at all times. Narrative – Cold template has quite a lot of flexibility when it comes to showcasing your products and their photos. To start with, you are able to insert a gallery for each product individually. The gallery opens in a new window, however it keeps your store visitors on the previous page as soon as they close the gallery.
Start with Narrative Cold theme
Fashe Shopify Theme
Fashe is one of the latest free Shopify Themes. It is a really excellent theme if you want to start a crowdfunding campaign (among other types of websites). If you want to tell about your online store's product through video, this theme design may be a great fit for your business. This design has been quite popular with many eCommerce websites. Fashe also features a product gallery slideshow with large images that take up almost full width of the screen. . Fashe is not only free, but also a responsive Shopify theme, so its design adjusts in desktop and mobile browsing.
Brooklyn – Playful Shopify Template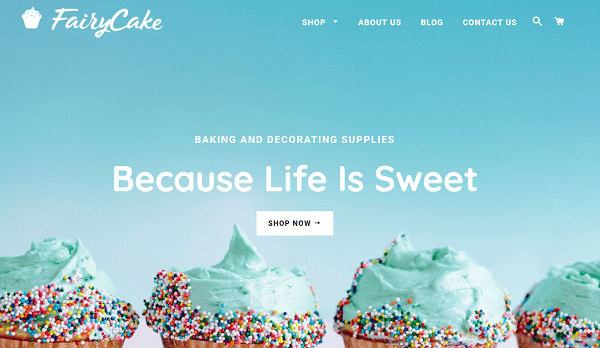 If you are looking for a fun and free Shopify template, Brooklyn's newest addition to its template collection will be a great fit for you. This theme is created specifically for stores who want to sell various products and accessories and do it in style. Brooklyn template features a large hero image along with a beautiful large typography for the main call to action in the header section of your eCommerce store. A prominent "Shop Now" button takes your potential customers directly into your online catalog where they are able to browse your store's items by categories. The individual product pages feature a rather unusual vertical gallery which is visible directly on the product page without any further clicking, which means that your visitors will need to scroll down below any description to see all product images. We found this particular feature to be a bit odd, but surely playful and unusual. In responsive mobile view, however, the photos in this eCommerce template turn into a gallery which you can swipe left and right – a nice feature to save valuable space on the smaller mobile screens. There are no zoom features at all for product photos. This free Shopify theme has a slide-out shopping cart, which is a great feature for stores that sell many products and want their shoppers to add multiple things to cart at once before checking out. The cart itself is designed beautifully and almost makes you want to click that "Check Out" button – something that is sure to help your eCommerce conversion rates.
Start with Brooklyn Playful theme
Brooklyn – Classic Shopify Theme
Brooklyn's Classic design is a free Shopify theme that is geared towards apparel stores – stores that sell clothes. What we like about this theme is the nice (and quite convincing) full-screen background photo at the top of the page that showcases your apparel products. We also liked this theme's clean design and a prominent call to action. This template also features a slideshow in the header, a cart that will slide out from the side of the screen when your shopper adds an item to their cart, and a video which you can put on the home page of your eCommerce website. Not only the home page, but the category pages also feature a hero image at the top of the screen, so you can personalize each section with great and convincing photography that will help you sell your products. The design itself is very minimal, with white backgrounds used almost everywhere, except where the featured images are.
Start with Brooklyn Classic theme
Debut – Light Template for Shopify
Perfect for an online store that sells furniture or related products, Debut – Light is another free Shopify theme with a light and clean design. There are some really nice touches in this theme's design, such as a "free shopping" bar at the very top of the page that will be really hard to miss. The top part of your online store will contain a large image that you can use to showcase some of your products. There is also a "trending" section in this template which allows you to promote specific, hand-picked products from your home page. One of our favorite features in this theme is the zoom functionality. Debut – Light Shopify template includes the mouse-over zoom feature where a user simply needs to point their mouse over the product photo to see a much larger, zoomed in photo that they can move around. This feature is a must-have for any online store that wants show great detail for their products. The individual product page has a straightforward design that is both eye-pleasing and converting. The "add to cart" button is red with an orange tint, so if you believe the psychology of color, it is supposed to make your eCommerce visitors click on the button more often. The shopping cart itself isn't slide-out, however when you are selling big ticket items such as furniture, you probably want to make sure your visitor buys the product right away instead of looking at many other products after adding one to cart.
Debut – Default Theme for Shopify
Debut's Default theme was designed to beautifully showcase your brand and products by giving customers a closer look and extra product details when they hover over an image and also by sticking your menu in the header during browsing experiences.  This free Shopify Template has a very user-friendly interface, allowing customers to browse products by type and sort them by multiple types of filters. The demo store features an eCommerce website that sells products that are essential for every day life. A nice touch in this Shopify template is the fact that the sale price that's on the individual product pages has the full, retail price crossed out right next to it, making your store visitors more convinced that they are getting a deal at the sale price.
Start with Debut Default theme
Venture – Boxing Shopify Theme
Venture – Boxing is a is a modern, free Shopify theme that is made for stores that sell high volumes of products. The demo website features a store selling boxing gear, however this Shopify template can be equally good for any other type of online store. Some of Venture – Boxing features include a fully responsive theme design, homepage slider, promotional bar (great for showing special offers and coupons, such as free shipping), easy to read typography and more.
Start with Venture Boxing theme
Venture – Snowboards Shopify Template
Featuring the same type of design as its cousin, Venture – Boxing, Snowboards is a free Shopify theme that is similarly ideal for high volume eCommerce stores. It features a plethora of color and font combinations, a clean, modern design and a beautiful full screen featured background image.
Start with Venture Snowboards theme
Venture – Outdoors Template for Shopify
This free Shopify theme is ideal for stores with a large number of products. It has an advanced navigation menu, with product details and images in a large multi-column drop-down layout and a very user-friendly product filtering feature. It also comes with a great slideshow on the homepage and spaces for promotional banners, for sales, offers and more.
Start with Venture Outdoors theme
Boundless – Black & White Theme for Shopify
Boundless is a free Shopify template that is perfect for an online website that sells products that feature high-resolution photography.  The possibilities with this template are boundless (pun intended). This theme can be used for clothing, jewelry or any other type of product where you have high-quality images available. This Shopify theme is very minimal and clean with light backgrounds and heavy concentration on featured images and photography.
Start with Boundless Black & White theme
Boundless – Vibrant Shopify Template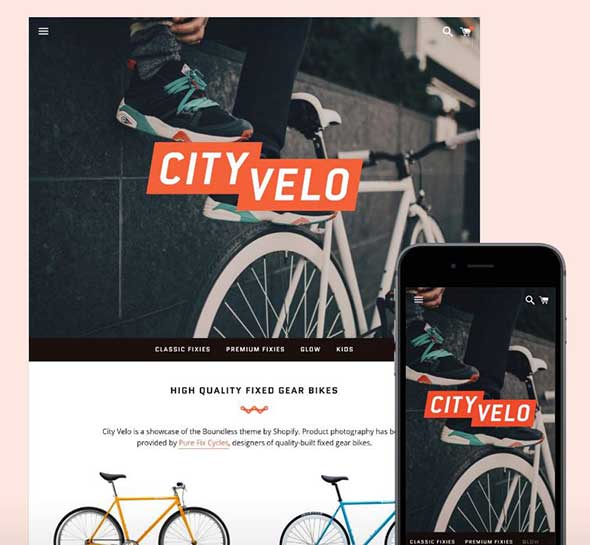 This is a minimalist theme that showcases products using high-resolution photography, features multiple products in a simple slideshow on your home page and keeps the menu fixed to the top of your page as the user scrolls down.
Start with Boundless Vibrant theme
Minimal – Music Shopify Theme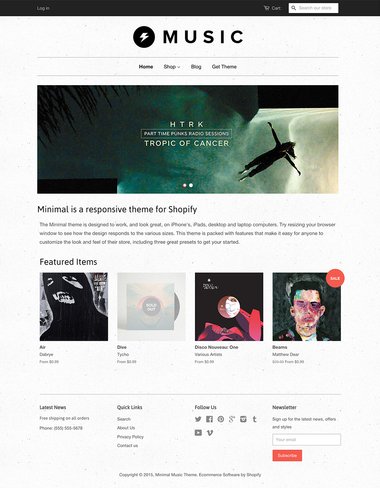 If you're about to start selling online music or digital items, then Minimal – Music is an excellent free Shopify theme for your store. The theme's individual product pages include the option to open a larger preview of the digital item you are selling. Overall, this Shopify template doesn't have all the bells and whistles of some other Shopify themes, but this may be a good thing.
Start with Minimal Music theme
Minimal – Fashion Shopify Template
Are you wondering how to start an online Fashion store using a pre-made template? Minimal – Fashion may just be your solution here. The template is clean, fully responsive (which makes sure it renders perfectly on desktop and mobile devices), and includes multiple, enlargeable product previews. It also allows you to add a "Sale" icon to any individual listings, which is a nice touch.
Start with Minimal Fashion theme
Minimal – Vintage Shopify Theme
If rendering beautifully across all mobile devices is your online store priority, then Minimal – Vintage is an excellent choice. This Shopify theme is free, and it looks much like its cousin, the Minimal Fashion theme. This theme has a clean, white background without any featured video or image and a featured image slider on the home page.
Start with Minimal Vintage theme
Apparelix Free Shopify Theme
Apparelix is a free shopify theme which has bright colour options in its design, It allows to display the products on website in an efficient way. Apparelix is a responsive theme and works on all the platforms. It provides users free support and help 24/7. It is also SEO friendly and helps website to be in top results of search engine. This theme is suitable for clothing store and designer website.
Start with Apparelix Shopify Theme
Bootstrapify
Bootstrapify is a great free eCommerce Shopify theme. It is aesthetically appealing and visually pleasing. It comes with many choices for typography and styles to choose from. This enables the user to customize their store as per their preference.
Simple – Light Free Shopify Theme
Check out this clean and minimal theme, perfect for showcasing your products. It comes with an accordion-style menu, ideal for larger shops, and great image animations, with sleek, transition effects. It also gives your customers some extra product details when they hover over an image. This theme for Shopify is another simple, yet effective template that can be used for your online store. Sharing design elements from Simple – Beauty, this theme includes a zoomable product preview option and a simple website layout.
Simple – Beauty Free Shopify Template
This Shopify theme is free to use and can be a good choice for a fragrance eCommerce store. What we really liked about this theme is an option to zoom in on the product previews – a feature that was missing from most other free Shopify themes that we've reviewed. Another nice touch was that the sale pricing that was presented in a clear way. Overall, Beauty is indeed a very simple Shopify theme.
Start with Simple Beauty theme
Supply – Light Shopify Template
Use this theme for larger fashion-related online stores with multiple products. It comes with useful features to display multiple featured collections on your home page, showcase multiple brand images in the slider and filtering products in a very user-friendly manner.
Supply – Blue Shopify Theme
Supply – Blue is theme #2 out 2 total themes included for free with your installation of the Supply theme package. Supply – Blue focuses on a photography eCommerce store as it showcases and online store selling various cameras and accessories. Supply – Blue features slider with promo banners, a thumbnail-based list of categories and several featured item lists that can be easily placed on the home page. Overall, the design is very pleasing to the eyes and carries the same benefits as we've seen in other Supply themes – such as a well placed call to action button. What Supply theme collection lacks, however, is a better way to showcase the actual product images, as there is no zoom options on product images on the individual listing pages. Despite this drawback, Supply is an excellent choice of a free Shopify theme if you are looking to create a Photography eCommerce store – or any other store for that matter.
Easily showcase and filter large online shops with multiple products, with this sleek, modern, responsive Shopify template, ideal for tech and electronics businesses. It comes with a smart collection filtering feature in the sidebar, which allows customers to filter collection pages by brand, price, and other options.
This completes our roundup of the best free Shopify themes for your eCommerce store. Choosing the right platform (such as Shopify) and the right theme for your store is extremely important. Please check out demos of all the free themes listed in this article and make sure to choose the one you like best. Take action and start your online store today with one of the eCommerce templates above.