20 Unique Portfolio Layouts and Presentations
Home » Inspiration »
Line25 is reader supported. At no cost to you a commission from sponsors may be earned when a purchase is made via links on the site. Learn more
Many freelancers designers rely on their portfolio to land them new client work, so it's of high importance to make sure you're providing enough information about yourself and capturing the interest of your potential customers.
If you want to stand out in this competitive design market, it's important to make your portfolio as impressive as you can. A touch of creativity and innovative thinking will get you a long way in your career, plus having both online and offline portfolios will also increase your visibility.
If you do a bit of research, you will definitely find thousands of inspiring and creative resumes and design portfolios that can help and inspire you to design your own portfolio. There are also numerous portfolio WordPress Themes available on the web that you can use as-is or customize to your needs. Design portfolios come many shapes and sizes. If you're looking to work on your personal branding, these unique portfolio layouts and presentations will surely help you a lot!
But what do you have to include in your portfolio in order to make it more appealing to future clients? First of all, think about what do you offer. There's a massive range of skills that spread across the web design industry. Are you a front-end designer, a coder, a programmer? It's hard enough for designers and developers to decide what job description fits each skill, so we can only imagine how confusing it can be for clients.
Talk about who you are. The Internet is becoming more and more social, but it's surprising how many people still don't show their faces on their portfolio websites. A simple photograph can immediately give a personal connection between you and your clients and helps generate trust and authenticity of your services. You can even add a touch of humor with a silly message which further establishes an insight into your personality.
Who have you worked for? If you're a veteran designer who has a number of high profile clients under your best, flaunt these on your portfolio. Having the logos of companies you've worked for (even if not household names) will give you extra cred that will help persuade any potential client to hire you.
How did you produce your work? The typical approach to most portfolios is to simply attach a single image, but there's so much more you can do to really present your work and give an insight into your design process. You can also write a short paragraph explaining the nature of the project and back up the final design with the initial sketches and detail shots to show just how much work went into the piece.
Check out these inspiring examples of design portfolios, brochures, resumes and presentations and don't forget to let us know which one is your favorite! Also, make sure you read the tips on how to create the best portfolios!
This is a beautiful abstract print-ready portfolio. Get inspired by its cover design which can also be used as a brochure or company presentation.
Pin
This portfolio is subdivided into four sections: corporate, project, illustration and photography. The packing contains a graphic CV, a business card, and a CD.
Pin
Chad Miller is a graphic designer who created design, direction, and development for brand identity systems and digital campaigns for United Way, TimeWarner, Ray-Ban, and Honda.
Pin
Cereal is a bi-annual magazine about travel and style but also features exclusive stories, film articles, playlists and online travel guides. You can get inspired by its design and use some of the details in its layout for your new portfolio.
Pin
The Bergenfield Supply is a seasonal publication about travel and lifestyle.  The art-direction and the design of the magazine are created by Sorbet Design and Nicole Millerwong.
Pin
This is an example of visual clues versus natural eye movement created by Daniel Barba. Check out the layout and the way photography and typography were used in this design.
Pin
This brochure is perfect to advertise your business in an original way. It has a horizontal design, available in A4 and letter paper formats. It contains 32 pages, which you can duplicate or reduce. Its classic design makes it easy to customize and edit.
Pin
This CV template, created by Fabio Moderno, has a contemporary and clean design. It will surely stand out and get you hired!
Pin
These templates look sleek and professional. They are print-ready and very easy to customize using Adobe Photoshop or Adobe Indesign.  It is an ideal way to showcase your work as a professional photographer, digital artist or web designer.
Pin
This is the portfolio of Molly Culbertson from 2008 to 2012, an online brochure which includes many spectacular designs.
Pin
This brochure is a perfect way to showcase your work. It was design for real estate companies but it can be successfully used as a portfolio template. It has a horizontal design, available in A4 and letter paper formats. It contains 32 pages, which you can duplicate or reduce, and its minimal and modern design makes it easy to customize.
Pin
This process manual is an optimal combination of written and visual elements. The manual includes grid paper for sketching. It is available in a 2.0.version and it is a great inspiration for designers as well.
Pin
This project consists of the audio visualizations of the sonic environment of the different unique places in Singapore. It also includes photographs taken during audio recording.
Pin
This template pack is professionally designed and easy to customize. It contains a 2-page resume and matching cover letter, plus references page. Colors and fonts can be changed for a unique personal touch.
Pin
This professional resume template was created by Fernando Baez and includes free fonts and icons. It's simple and effective!
Pin
This beautiful one-page portfolio for UI designer Roland Lösslein includes amazing transitions throughout the page. You can get inspired by this website design and incorporate some of its elements in a print-friendly portfolio!
Pin
This is a lovely portfolio/brochure layout inspired by God creating the world which included quotes from the Scripture.
Pin
This is a creative DIY bookbinding tutorial featured in 8 images. Use this to create an amazing portfolio!
Pin
This is a simple portfolio brochure with a black and white, clean and minimalist design, which will emphasize the work you showcase in it.

This is an interior design brochure which can serve as inspiration for any other type of brochures or portfolios.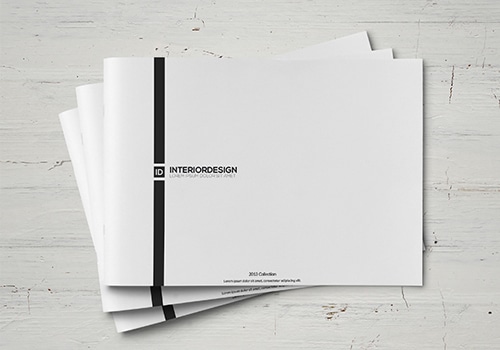 Pin
What about online portfolios? Well, when designing for online, besides the tips we mentioned in the intro you should also ask yourself the following questions.
Are you blogging yet? We always cite how a blog is one of the most crucial features of any designer portfolio website. A basic portfolio will end up gathering dust in the corner of the Internet, but a consistently updated blog will help you fly up the search engines and boost your exposure. On your blog, you can also give behind the scenes insight into the making of his brand and website.
Are you asking the right questions? It's too easy just to ask for a potential client's name and email address, then struggle to generate an estimate or quote for their project. Make sure you're collecting the vital details such as their budget and timeframe along with the finer details of their project to help you put together a concise quotation.
Are you available? A simple addition to your portfolio website that can really help manage your daily emails is an availability status notice. If you find yourself having to constantly turn down clients due to being fully booked a notice stating your availability will help weed out those clients wanting a quick fix. Any clients who continue to get in touch will be comfortable with the expected delay.
Where else can clients find you? We've already mentioned how social the web now is. If you're an active user of networks such as Dribbble, Twitter, Facebook and LinkedIn you should direct your viewers to connect. Not only will this help boost your friend and follower count, but it will also give potential clients further opportunities to check out your work, hobbies, and interests. You can add links to your social profiles with icons at the bottom of his portfolio, with an invite to be friends.