Home » Fonts »
Line25 is reader supported. At no cost to you a commission from sponsors may be earned when a purchase is made via links on the site. Learn more
If you are a cosmic nerd or love working with space-themed designs, then you're probably in need of some cool-looking space fonts to match.
Having a unique factor that makes your font futuristic and ahead of the common bold font styles, is challenging and our list can help overcome this challenge. These assets consist of both premium and Free Space Fonts.
What is a Space Font?
A space font is designed with elements that are scientific looking and futuristic, capturing the styles and designs seen in popular space programs, games, and movies. The styles and designs used with these fonts tend to connect images most of us have seen of the heavens, constellations, stars, planets, rockets, and more. The common typography used for these fonts is sans-serif and decorative.
Featured here are unique space and futuristic fonts that will come in handy in your space designs. We created this resource to help you quickly grab a font that will help you launch your design project.
Top 5 Best Space Fonts – Editors' Choice
Because we believe there's more than one great-looking cosmic style font to choose from, we've chosen 5 that stand out from all the others on our list. All five are provided by Envato Elements, a provider of the best quality design assets such as Space Fonts:
20+ Best Space Fonts For Cosmic Designs
Without a doubt, these 20+ creative fonts designed for space themes are strikingly gorgeous and will bring to life all your space-themed projects. It may be helpful to bookmark this page for future reference.
Editors Note: I believe most designers love to work with space-related design assets. There's just something about the beauty and wonder of the constellations. Enjoy!
There is so much to explore in Space. Starting with the MBF Space typeface, this futuristic, sci-fi-inspired font features uppercase letters and numerals. With thin, rounded lines this sans-serif provides a legible font perfect for wordmarks, headlines, posters, and titles.
Here is a sans-serif style with little shapes and icons as a part of the font design. You can see stars, spaceships, and planets in the font shapes trying to acquire the ideal place where they can get the maximum attention.
Indeed this font is an intelligent design, and the doodles make it more fun and beautiful. So it would be best if you tried considering it for your youthful, casual, or any creative space designs.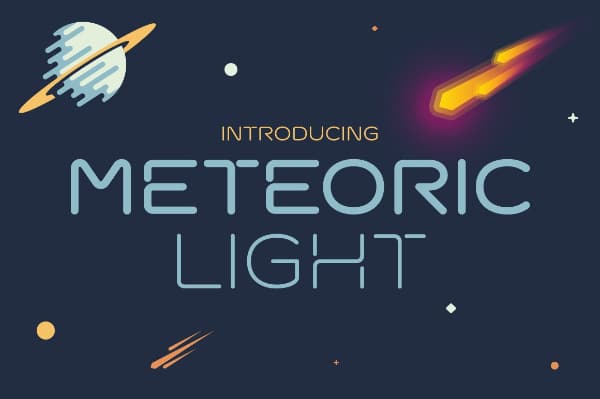 Indeed as seen in the image above, there is a stencil style that makes it very easy on the eyes, and the softly rounded sans-serif quality gives you a clean look.
Meteoric is a modern typeface that gives you unique and trendy fonts to make your space design well-structured with stylish headings and content. Meteoric Light can be a simple but smart choice for your logo or poster designs.
Get your control panels ready. Spaced is a modern sans-serif font that features uppercase, unique lowercase letters, ligatures, glyphs, and captivating special alternates. Therefore, the mixture of cases creates an easy-to-read, futuristic style that is optimal for logotypes and posters.
The Ultra typeface is one of many free fonts that are ready to use for any smart design. You get condensed sans serif fonts in a unique design that looks amazing with different colors.
Because the core inspiration of this font style was neon lights, you can have a striking glow that looks beautiful in different colors. It's one of a kind font style that is specially created for futuristic, sci-fi, and technological designs. You can surely trust Ultra with your Outer space designs to get solid and attractive headings.
In the future galactic communications might just be written in Cosmogen. This futuristic, stylized font with uppercase and lowercase letters, numerals, special symbols, punctuations, and multilingual accents.
Perfect for a space theme or galactic application, Cosmogen is an ideal font for movie posters, games, headlines, and titles. Unless you give it a try, you'll never know how it will look with your design.
Here's a truly cool-looking space font that you can download for free and it features bold and sharp letters with prominent symmetry to give a trendy touch. You can see rings around the letters that resemble the planets and outer space environment, which is totally perfect for space designs.
With this option, you can enhance the space and cosmic content of your design due to its relevancy and connectivity. While it is free, it is best to verify if a commercial license is included or not.
Like looking up into the night sky, Space by Second Syndicate is a minimalist sans-serif font. Included are uppercase and lowercase letters, numerals, and common punctuation. The clean and balanced lines of Space are powerful when used in logos, headlines, stationery, titles, and labels.
Osiris is a retro-futuristic typeface with alternate letters. You get classic vintage polish in these smooth fonts that can bring some unique charm to your creative space projects.
Consequently, Osiris has a straightforward approach, and the alternate letters are in semi-stencil format, which gives you plenty of opportunities to create the best heading for the cosmic theme design. Overall this typeface can be a very bold choice to use for a modern space design.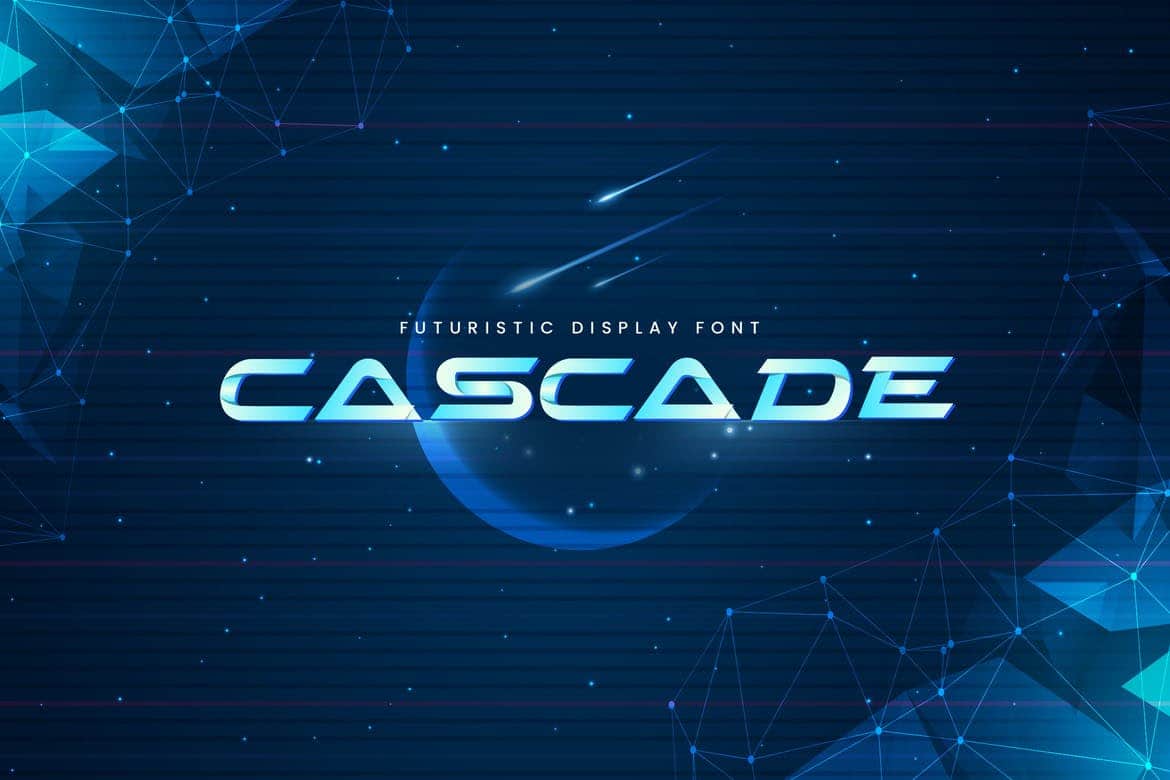 Certainly, when looking at this font it appears to come straight out of the sky, confirming that Cascade is a beautiful futuristic display typeface. It features uppercase letters, numerals, and punctuations with a bold and solid design suitable for games, titles, technology, packaging, and branding.
Canis Minor is considerably very creative and stylish font style. You can see the tiny lights at the end of the edges representing stars and the relation of these fonts with outer space.
Overall the Canis Minor can be a modern typeface for your sci-fi and intellectual posters, covers, and other designs.
This is a classic bold and dynamic font style that is highly suitable to illustrate the enormous space through texts. Space Mission has sharp italic fonts with unique creativity to help various heroic posters, images, banners, and more space-related designs.
If you are looking for a loud and impactful typeface for your dear design, then Space Mission can be an excellent choice.
This is a typeface that gives you a creative and unique futuristic space design. It is packed with geometrical creativity that stands for unusual lines and curves to draw out every letter. The spacer font style has sleek, light, and complex letters, which can add value to your space concepts. If you want something unique, intelligent, and futuristic, then this Spacer typeface can be the best option.
A multipurpose futuristic font style that has a sense of sincerity and discipline is what Alegra portrays. It can adorn many professional, tech-friendly, and futuristic design concepts, and it can surely justify space designs as well.
With this selection, you get straightforward and bold letters with some creative curves and turns, helping you to add minimalism to your cosmic design projects. Be it a logo, poster, presentation, or any space design, Alegra typeface can seamlessly take care of appealing and impactful headings.
Derelict is a futuristic industrial font style that can go with many different categories. It is simple but also grungy, and that's what makes it perfect for industrial space designs. Derelict is immaculate and well-balanced and at the same time not overwhelming and does not force any particular aspect.
Overall, if you want to add some realism and volume, you can choose this Derelict font style which can be really helpful to add an impactful heading and other content.
It is the most creative font style for refreshing space designs. Lost in space has a basic font structure with so many other creative elements. There are planets, UFOs, spaceships, satellites, and stars in the fonts as small icons to make it a complete space typeface.
You get so many hand-drawn space elements to come up with your creative fonts, which is the best part of this typeface. It is fully editable and has a very interesting font style.
Futurism reveals a trendy and futuristic font style that is meant to enhance various kinds of designs. The core flavor of this typeface is professionalism and minimalism.
The partial asymmetry of letters is making it more interesting, and that is why if you want your texts to convey the unexplored space perspective in a minimalistic way, you should definitely choose this futurism typeface for your creative designs.
Perfectly designed for technological, space, and industrial designs, Solaris is an advanced font style. With your download, you'll receive alternate letters, numerals, and punctuation.
We can see Solaris has a solid and bold design with clever creativity, making it a fantastic option for sci-fi and space-related posters, logos, and banners. In this case, you can have a great-looking heading with minimal style if you are using this typeface.
UFO Nest is a highly creative typeface that is designed around space elements. You can see a profound idea in this font style which is making it very charming. The whole concept is a circle, and every letter is built around a single geometry shape complimented with unusual intersections.
However, it may not be a good choice for small print areas. Visually it can be hard to read, but it may be a good fit for posters, and titles.
Space Neon has a simplistic style with a brilliant design. The minimal thin and bold lines portray the letters, giving a bit of a realistic look. This kind of font style can level up your design and give you a better outcome.
Fonts with fine lines can work well with your minimalistic design, but here they are bold and clean, which can make your dramatic sci-fi designs beautiful.
Marz is a basic font style with a creative turn. It has a geometric shape influence in the letters with sharp and soft edges. This typeface is appropriate for good professional or intellectual design concepts. You get three weights and six styles to explore the creativity of your designs.
Altogether it is a particular typeface that can create a unique and robust look on intelligent space projects.
It is a futuristic typeface that is fused with elegance and innovation. Polygon has thin lines in a disciplined mesh design to form each letter, and that's what makes it very unique and modern. It is an ideal font style for high technological, AI-based, and universe-related designs. It is a futuristic typeface that can make your sci-fi and space design innovative and attractive. So, detailed mesh design work in these fonts can support many intelligent and creative concepts.
If you want a youthful and futuristic font style for your space and Astro designs, then skywalker is a great option. It has a fresh, fun, and modern look with a creative but straightforward shape. This design provides a unique charm to any design and comes in three variants- regular, italic, and outline. For engaging space designs, it can make a really impactful heading and supportive content.
Celestica can be downloaded for free. However, it is for your personal use. This typeface has clean and crisp fonts with a modern design. The combination of fine and bold lines is making exciting shadows in the fonts. This is why you can consider this a beautiful font style for space and technological designs. Overall it's a beautiful typeface with minimalist and futuristic fonts to add more creativity to your space designs.
In a word, Nebula is captivating with its retro-modern font style and bold, rounded letters. This typeface is impactful and modern, which can help a number of exciting and creative design concepts. Also, the dripping ends of each letter make the font unique, giving the illusion of a liquid or fast design.
This typeface can surely serve powerful and intimidating space designs by helping bold headings and informative content.
Avalon is a unique glitch-type font style. It is definitely futuristic and creative, which can adorn many different smart designs. You get some glitch textures as well to edit this and create something more creative for your design. Designers who are working in Space, Sci-fi, Artificial Intelligence, and technology-based designs will truly benefit from this font.
Farewell Pro's space edition is an elegant and creative font style. It has that unique aspect that you may want in your compelling space design. It has clean and straightforward fonts formed in some line strokes, which gives you a classic and effortless look.
This typeface is contemporary and innovative. Each letter has different strokes, and they all are creating a lovely futuristic style.
This font style is inspired by sci-fi movies, and it has amazing futuristic fonts that help you create a solid and effective heading for your posters, banners, cover pages, and more. You get 300+ glyphs and two different styles- regular fonts and inline fonts.
In addition, this typeface has steady letters with unexpected breaks to make it more creative. The fusion of sans serifs and serif is also something to make modern and innovative fonts for space and astronomy designs.
20+ Best Space Fonts For Cosmic Design Projects – Summary
In summary, it is safe to say our list of the best space fonts will make your cosmic designs beautiful and attractive. The primary concerns when choosing would be the typeface, relevancy, and readability.
With space-related fonts, you need to work hard on your creativity to come up with the best pairing structure. Basically, try to make your font match really well with other fonts in your project.
What did you think? Please let us know your favorite fonts in the comments section below!