25 Best Elegant Fonts for Classy & Stylish Designs
Home » Fonts »
Line25 is reader supported. At no cost to you a commission from sponsors may be earned when a purchase is made via links on the site. Learn more
Using elegant fonts in design is one way of ensuring that your creatives turn out to be classy. Generally, these types of fonts have excellent finishing, do not overuse design elements, and, most importantly, can make your text look beautiful. Elegant fonts are a blessing, especially when you are working on projects related to branding.
Because of the high demand for elegant fonts, many perfect designs are being created. This has resulted in a variety of options that you can choose from. For this article, we have scouted some of the best font resources and collated a list of the 25 best elegant fonts for designers.
Also, see our articles on the best free dramatic fonts and the best brush script fonts.
---
BEST ELEGANT FONTS – UNLIMITED DOWNLOADS: Millions of Fonts & Design Assets at Envato Elements
---
The Best Elegant Fonts – Premium
Okay, let's get started on this detailed list of Elegant fonts. All the premium options come with a commercial license, whereas the free fonts are only for personal use. Check before downloading.
Want some premium elegant fonts for Free? Envato Elements provides the best quality design assets that you can instantly download such as fonts, images, graphics, illustrations, video templates, themes, and millions of other design assets. If you want the premium fonts from Envato Elements for FREE, then take advantage of their 7-day free trial. You can download as much as you want and still get a license for commercial use. It's a no-brainer!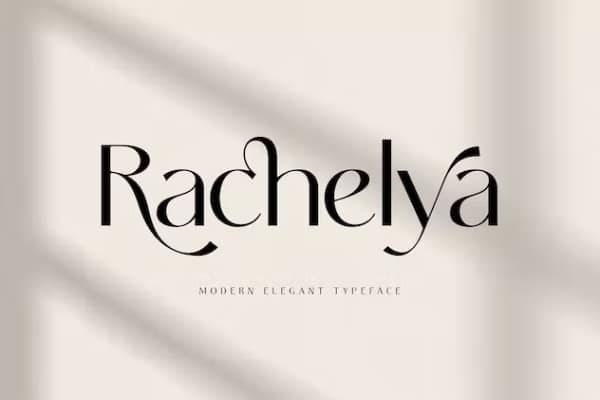 As the name suggests, the font is a good combination of modern, clean fonts and elegance. Each of the letters in this font is handcrafted, and the results can be seen in how the letters play with themselves to form beautiful typography. As a result, you can safely use this font for premium luxury brands, fashion, jewelry, and other projects.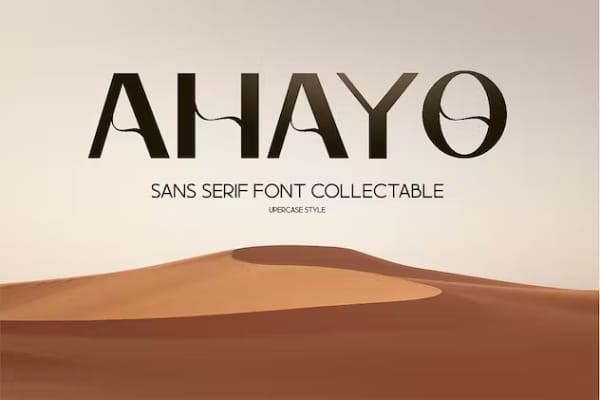 There are smart ways of adding elegance to fonts, and this Ahayo font is a good example. The base design of the font is kept simple and modern with the heavy width of letters. However, small curves and connectors are provided, making the font look classy. You can use this type of font whenever you want to overlay text on images.
Talking about the fusion of font styles, next on the list we have Drakors which takes this fusion concept to another level. The first letter starts with a calligraphy design; a few letters display a hint of serif styling, while the rest are clean display fonts. The all-caps Drakors font is a worthy addition to your collection as it can make the text look artistic.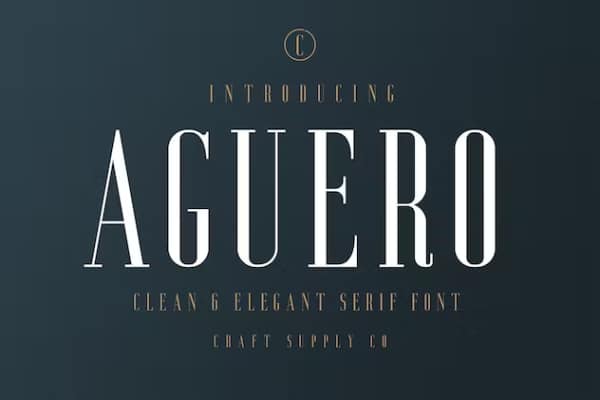 It is not the curves that make the font elegant; rather, it is the right composition of the letters. That is why we have added Aguero Serif to our list. As you can see, the fonts are really tall, making them unique. You can deploy this font for logo design, branding, website headers and other large-scale applications.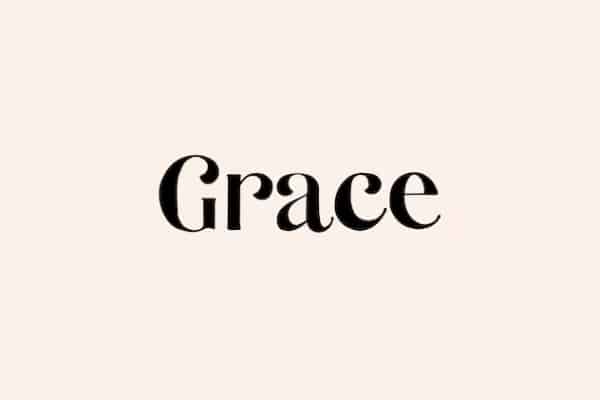 When the font's name is grace, you can be sure that it will be elegant. The base of this font is kept as a script font, but given the heavy width of the characters, the typeface comes out as a display font. You can deploy this font for logo design, branding, packaging, print media, and even digital media projects.
Calligraphy fonts are, by default, elegant; hence, we have limited the number of calligraphy fonts in this list. However, the Brignola font is worth collecting as it showcases the calligraphy style but still keeps the text legible and beautiful. Extenders and swashes are not over-used, and the font provides over 1000 glyphs. You can easily use this font for wedding cards, invitations and other projects.
The Lovalina typeface is an ideal elegant font, given its script-style foundation and ornamental elements. The letter design is done exquisitely, and a few letters are gifted with subtle design elements to make them look all the more charming. You can use this font for delicate or feminine designs like invitations, postcards, greetings, and branding.
A few may debate with us our choice of inclusion of this font in the list, but if you observe, you will see that with the tiny details, the Moon Crowd typeface can charm all viewers. Built on the Serif lettering style, the designer has added special curves and extenders to this font. In addition, over 90 ligature and alternate letter combinations are available in this font.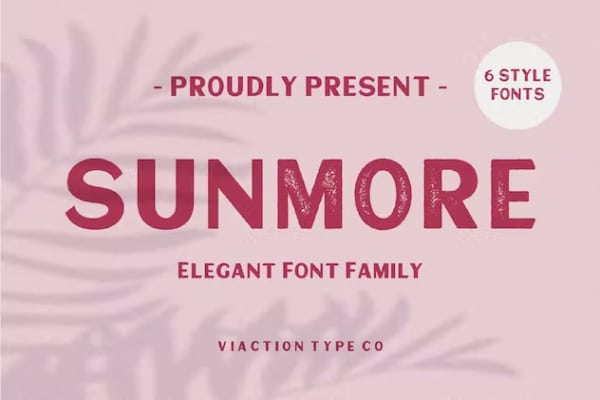 If you want an elegant font family that offers various font styles, then Sunmore is worth checking out. The font family comes in six styles: grunge, stamp, slant, and regular. In terms of design, the font has many widths and can easily grab viewers' attention. This is why you should use this font for headers, websites, and print applications.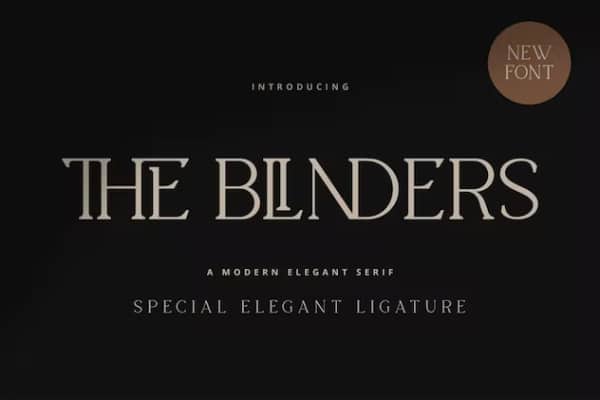 The Blinders is a unique font as it mixes the old vintage serif style with a modern, minimal look. The letters are interconnected, which renders the font's artistic effect. The width of the letters is sufficient enough to make the text look bold and strong. You can deploy this font in projects related to branding, invitations, book covers, and other print applications.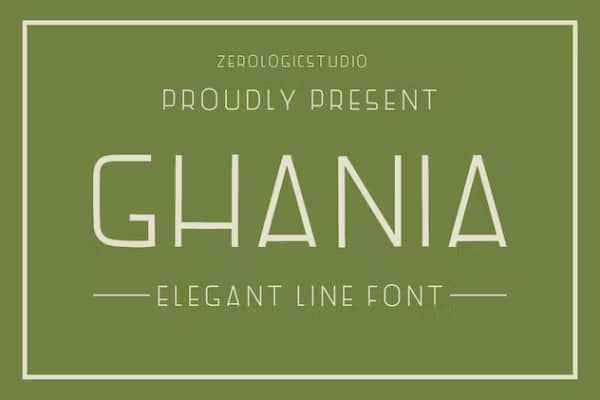 A slight deviation from the standard display style of elegant fonts, Ghania is more about using thin lines to create a classy typography effect. Each character is made of simple lines with a hint of hand-drawn appeal to them, making this font special. You can use this font for log designing, websites, social media, and other digital applications.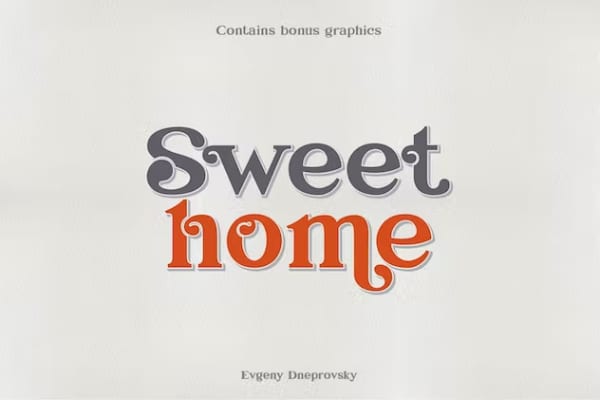 If you want an elegant font with a playful feel, check out this Sweet Home typeface. Vintage serif fonts are used for the base design, but the designer adds one unique element to the letters by making them overlap. This will give your text a 3D feel. There are four font variations, and you also get 8 PSD frame mockups with the font.
The Metrolic fonts are one of the neatest looking simple fonts you would come across. The letter design is consistent and clean, making your text look elegant. You can use this font for projects related to logo design, branding, and digital marketing applications like social media posts, websites, and more.
Thin and small can also look elegant, which is what this Luximia font validates. The font is made through thick and sharp lines. The letters are also given a light slant; if you observe, some of the letters are given a short extender, making the design look neat. Remember that this font is designed for close view and should preferably be used for digital applications.
The Calista typeface is one of the ideal elegantly styled fonts out there. The letter stroke is not very heavy, the extenders are placed in the right place and the right size, and there is also a hint of Serif styling. You can use this font when you want to make your text look decorative for wedding stationery, invitations, postcards, and more.
As the name suggests, this typeface is indeed elegant. The unique part about the letter design is how the designer has smartly fused a few letters together and the varying width provided to the letters. This Elegant Sans Serif font is bound to attract viewers' attention; hence, you can use it for packaging, labeling, and even branding.
With a fine combination of vintage curves and modern boldness, Cavas font is worth adding to your collection as they are versatile. Curves are placed in the right places, while other letters have a strong letter base, making your text stand out. You can use this font for fashion, luxury brands, packaging, and labeling projects.
Is thee a stencil font in the list? Yes, you read it right, but when you have a font like Davoa you can't help but admire its beauty. The letters have been created through a stencil, but the breaks make it look classy. Use this font in applications where you want the text to stand out but still not have a flashy feel.
Salma Alianda is a superb script font that can make any design look elegant and classy. The base design is of a script-based font; hence, there is a good use of extenders, and the letter stroke is thin and delicate. You can use this font for logos, invitations, product packaging, social media posts, and digital marketing.
If you are looking for an old-school serif font that can add a lot of class to your design, then we recommend this Montvolca font. The letter design is kept simple and neat, with heavy inspiration from vintage serif fonts. The characters are bold and strong. Montvolca is one of the safest font options that you can have in your elegant and classy collection.
The Best Free Elegant Fonts
Free fonts are not always allowed for commercial use. Check the licensing options before downloading.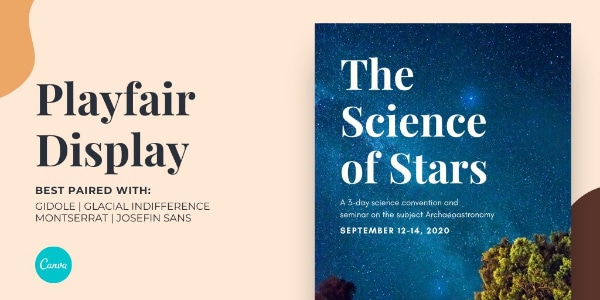 One of the most widely used free fonts, Playfair Display, is always a safe bet when working on elegant designs. The good part of the font is that it only plays around a little. Rather it sticks to its Serif style design. The Playfair Display font family consists of 12 font variations, giving you a good bandwidth for font combinations.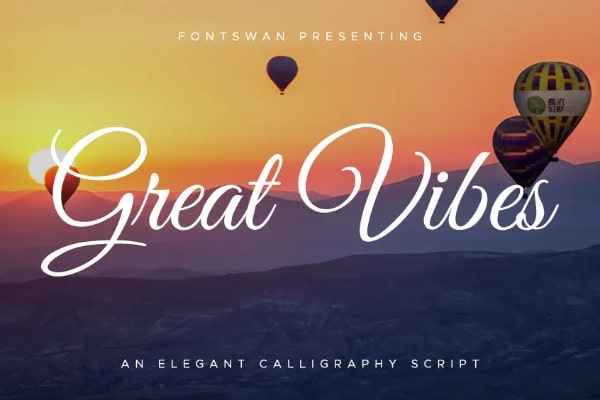 We highly recommend you add this Great Vibes font to your collection. First, it is free to use. Second, it is a strong script-based font that keeps the text legible and strong. Third is that it can be used in combination with many other fonts. Finally, the font's small swashes and handwritten appeal will help your text stand out.
Thin fonts, by default, get an elegant look to them. One such thin font is Merlina. The base design is kept modern and minimal, but then, for some letters, there are swashes and design elements added, which give the typeface a refreshing look. Such a delicate font is good for projects related to luxury and fashion brands, food, wellness, and wedding or event branding.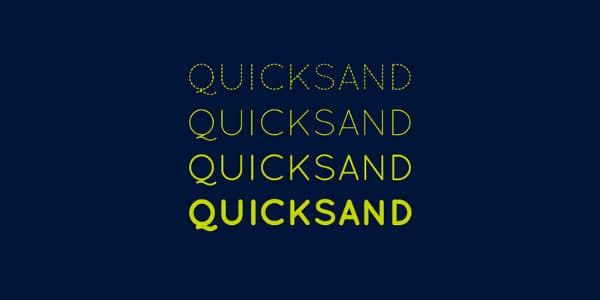 Another free font that makes it to our list, Quicksand is a good addition, given how versatile it is. The entire font family consists of seven font variations, including outline, dash, and oblique. This will make it easy for you to set up a font combination. Use this font for projects related to branding and digital marketing.
Modern fonts generally use round and simple designs, as seen in this Antipasto Pro typeface. But this does not stop it from looking elegant and accentuating the overall design. The good part is that the font family comes with eight variations, from very thin to really strong fonts. You can use this font family for modern-day designs, magazines, and book covers and, more prominently, for digital marketing.
Frequently Asked Questions
What is the classiest font?
The classiest fonts are the ones that can make the design look highly elegant and rich. It will be hard to pick only one font, so we have collated a list of the 25 classiest fonts. Our major picks from that list are: 
Lovalina 
Ahayo
Merlina
Davoa 
What is the most pleasing font to the eye?
An elegant font is generally pleasing to the eye as they have a very accomplishing finish and can make the design look classy. In the list above, we have got together some of the best fonts that have a pleasing effect and can be used for projects which demand elegance.
What font do most luxury brands use?
Luxury brands need to reflect the class they represent, and using elegant fonts provides them with that premium style. Some of the prominent fonts that luxury brands use are: 
Grace 
Rachelya
Calista
Lumixia
25 Best Elegant Fonts For a Classy & Stylish Design Summary
Using top-quality elegant fonts can bring a complete turnaround to the design you are working on. Now that you've run through our list, you probably noticed that we covered a nice variety for you to choose from that included script fonts, serif, modern, and even stencil-based fonts. Some of the fonts also come with additional free resources.
Remember, if you are interested in getting the premium Elegant Fonts for Free from Envato Elements, then now is the time to download all their premium options when you take advantage of their 7-day free trial. You can keep all the fonts and still get a lifetime commercial license included – even if you stop the subscription. Again, it's a no-brainer!
Was this helpful? Please let us know in the comments below what your favorite elegant fonts are – Enjoy!