Home » Fonts »
Line25 is reader supported. At no cost to you a commission from sponsors may be earned when a purchase is made via links on the site. Learn more
Looking for the best fonts for your 1920s art deco and vintage design projects? If so, check out this collection of the best premium options along with a few of the best free 1920s fonts.
Creatively designed to mimic the style of the early to mid-20th century, these fonts will provide just the right art deco, vintage, and retro feel to your designs.
Before reviewing the list, let's clarify what a 1920s font actually is.
What are 1920s fonts?
A 1920s font is generally a stylish and elegant typeface, designed around the classic art deco style of the 1920s and 1930s. The patterns used during this era tend to be sleek-looking with geometric patterns which you'll notice in the fonts below.
However, there are variations that take on elements of calligraphy, script, and cursive typography.
For more classic old-school fonts, you should see our posts on the best free retro fonts, the best art deco fonts, and the best movie fonts.
20 Best 1920s Fonts – Quick List
While the detailed main list below is good to review, if you are in a hurry, here's a quick list of the best 1920's era fonts:
BEST 1920s FONTS – GET UNLIMITED DOWNLOADS: Millions of Amazing Fonts & Design Assets Such As These:
Envato Elements provides the best quality design assets, like 1920s fonts, that you can instantly download. Access millions of images, icons, illustrations, videos, audio, WordPress themes, plugins, and other design assets. There is no other place that offers outstanding high-quality products for designers and developers for such a low cost.
You can start downloading as many items as you want for less than $0.55 cents a day. Also, a lifetime commercial license is included. Get started today!
The Best PREMIUM 1920s Style Fonts
Firstly, this premium set includes some of the best quality 1920s font options for designers, and they come with a royalty-free commercial license.
Here is the Delauney font which mimics the iconic font used in old-school movies and tv shows. This one screams 1920s cinema and would look magnificent in banners and posters. Moreover, the font itself is in all caps and the firm strokes give it a clear and minimalistic look. Further, Delauney comes in three beautiful styles, namely Regular, Shadow, and Catchwords.
Paris, the city of love, has been an iconic destination throughout history. The Paris 1920 font captures the essence of the city's past and puts it into beautifully crafted characters. Inspired by classic handwriting, the font features both script and sans-serif in the family. It also boasts complete accented glyphs for many languages and is available in OTF, TTF, and WOFF formats.
The bold strokes and a touch of futurism make Serendior a unique set of characters. It portrays the 1920s art déco movement with a modern touch to keep it relevant to current times. The font comes in two styles (Block and Stroke) and contains over 400 glyphs with multi-language support. It is a great addition to a designer's toolkit, as the array of assets will help them be creative with any 1920s-themed project.
Inspired by the font used for "The Great Gatsby" novel, the Greatsby font is a beautifully designed Vintage Serif Display typeface. A glance at the font is all it takes to remind you of the amazing tales published in the bygone era. The package features multiple formats such as TTF (TrueType font), OTF (OpenType Font), and Webfont (EOT, WOFF, WOOFF2).
Grasond is a vintage art déco san-serif display font. It's got an elegant look to it and captures the sophisticated vibes of the 1920s. Just looking at it makes one envision high-end cocktail parties with slow jazz music. Thanks to this stylish look, the font is a perfect fit for vintage-themed luxury branding projects, labels, packaging, and signage.
Decora is a geometric art deco font and is one of the most stylish 1920s-themed fonts around. Inspired by the early 1900s art déco movement, the font is perfect for designs that require a luxurious and elegant look. Deluxe packages, adverts, invitations, and brand logos can all use a touch of "Decora" to improve aesthetics. The font comes in three formats – TTF (TrueType font), OTF (OpenType Font), and WOFF (Web Open Format Font).
The Bandoeng is a great sans-serif typeface for anyone looking to customize their vintage designs. The package offers uppercase and lowercase letters along with numerals, punctuation, and many variations on each character, including OpenType alternates. Mixing and matching these assets will help you create a beautiful design for your art deco, vintage or retro project.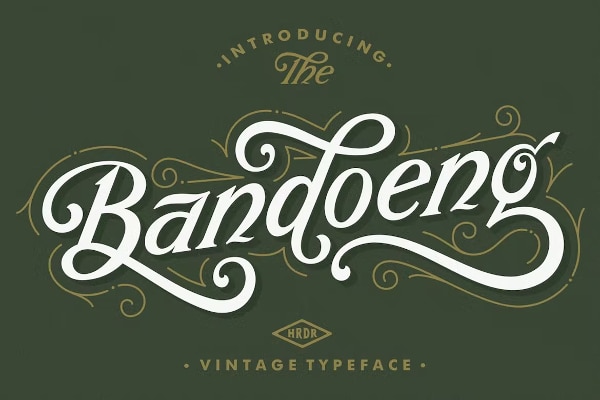 Staying true to its name, Modeco is a mix of modern and art déco styles of calligraphy. Thus, it can pass as a font from the 1920s and the 2000s. This trait allows the font to be used in a variety of projects. Besides the glamorous geometrical Sans-serif design, the font boasts 9 styles and contains over 400 glyphs.
Perfect for banners, invitations, and headlines, Bridge Line is a solid art déco display font with a posh look. It's got a high-class vintage vibe to it that is best suited for fancy occasions. So, if your retro design requires a touch of elegance, give this font a chance. The font contains numbers and punctuation and is available in various formats such as TTF, OTF, and WOFF.
With over 50 ligatures, Genesis is a simple yet stylish 1920s-themed font. It is easy on the eye and does not possess flamboyant features. Thus, the font works great for clean and straightforward retro designs. Old school-themed banners, posters, magazine covers, music covers, and adverts are a few projects that can benefit from a font like "Genesis".
Marcheile is an all-caps font designed to capture the vibes of the Gatsbyesque era. Although not too lavish, it has an elegant vintage look that can be used in many retro designs. The neat and solid design of the characters makes them stand out to convey any message you might have clearly. The font package includes some ligatures, many alternates, and 18 accents.
The Magnate typeface includes uppercase multilingual letters, numbers, and punctuation. This art déco-influenced display font is a magnificent take on the bygone era. Its elegant characters make sure that no word written in this font is overlooked. This option is good for headlines and can be used in projects such as adverts, packages, invitations, and cards that require an old-school touch.
With its long lines and subtle curves, the Ironclad font is a real eye-catcher with no fancy lines or gimmicks. It preserves its simplicity while emanating an aura of luxury and class. If you are looking for a rich 1920s font that's unembellished, this is the font for you. The typeface comes in 3 weights and includes multilingual uppercase letters, numbers, and punctuation.
Crafted with beautiful clean shapes, the Bellocherro font is an opulent take on vintage typography. It is inspired by the movement in the decorative arts and architecture of the 1920s and successfully captures the luxurious and sophisticated essence of the era. Being a true masterpiece, the font can be used in many retro-themed projects, such as posters, banners, billboards, logos, and branding designs.
Nevoclara is a lavish font perfect for headlines and branding projects. The package includes uppercase and lowercase letters, along with numerals and punctuation. It also offers special alternative glyphs and accented characters to help you get creative with your designs. However, the stylistic alternates will require professional design software (Adobe Illustrator, Photoshop, Inkscape, Etc.). The font is available in OTF, TTF, and WOFF formats.
5 Best Free 1920s Style Fonts
Before downloading these free font options, it's important to confirm licensing and attribution requirements. Most of the time you can only use free fonts for personal use.
The Josephine Slab font stays true to the geometric style of typography used in the early/mid-1900s. It has its own modern twist, making it applicable in both retro and new-age designs. As the name shows, the font is based on the Josephin Sans typeface. The font is free to download and can be used in a variety of vintage-themed projects.
Park Lane is an improved version of an old Mecanoma font. The characters of the font are clear and more consistent than its predecessor. However, similar to the original, "Park Lane" possesses a vintage look and is suitable for retro designs that require a strong attention-grabbing font. The font is free to download and is available in TTF and OTF formats.
If you prefer elegant fonts with subtle curves, the Cruell typeface would not disappoint you. Crafted to mimic the luxurious and clean typography of the 1920s, the typeface package offers 5 fonts. Each font comes with ligature glyphs, alternates, and multi-language support. The package also contains 12 compositions, 27 elements in 3 pre-made colors, and 4 pattern tiles.
Manthan combines alternating thin lines to create a beautiful vintage font. The characters have a handwritten touch to them, which makes the font unique. The font consists of 63 glyphs and is in TT (TrueType) format. Although this font is free for personal use, a license is required for commercial use.
Colonia Deco, an elegant vintage-themed font is suitable for retro designs. It is based on the Sans Serif typeface and has a modern spin to it. The free version of the font offers 72 characters, which is more than enough to tackle many projects. Thanks to its rounded edges, the font has a welcoming vibe best fitting posters, banners, and invitations.
Frequently Asked Questions
Which are the best 1920s-style fonts for luxury designs?
Overall, there are many fonts designed today that mimic the original 1920s fonts that can pass as luxury scripts for rich retro designs and there are a few that stand out from the rest. The few that stand out have the grandeur others lack and demand attention from viewers. The following are some of the top fonts for luxury designs:
DECORA
Ironclad Typeface
WT Bellochero
Which fonts are best for simple retro designs?
Although there are plenty of 1920s fonts around, they sometimes lack the vintage touch or are too rich for simple projects. Below are a few fonts beautifully created to emanate old-school vibes and that is not heavy on the eyes:
Genesis
Grasond
Modeco
Delauney
Are fonts protected by copyright laws?
Yes. In the USA all fonts can be protected by copyright law, but typefaces, are not allowed to be copyrighted. When choosing a font it's always best to use those that include a license for both commercial and personal use.
What file format is the best?
Fonts come in different file formats and knowing which format to select for your projects is crucial. Here's a quick rundown of common font formats:
TrueType (.ttf): This is an old font format. These fonts work well with Microsoft Office. They require different files for each instance of the font (ie; italic, bold, etc.).
OpenType (.otf): This is a newer font format and supports more advanced typesetting features. Everything is contained in one file. 
Web Open Font (.woff): This is a font format mostly used in webpages. It is compressed to make web pages load faster. 
Conclusion
This list of fonts that embrace the 1920s era in style and design, covers some of the best options on the market. Each typeface is uniquely designed to capture the essence of the past. Using them will provide a touch of beautiful art deco to your vintage and retro projects.