Home » Graphic Design »
Line25 is reader supported. At no cost to you a commission from sponsors may be earned when a purchase is made via links on the site. Learn more
Using the best geometric patterns can boost a design project significantly and it's one of the rising design trends is patterns that help establish symmetry wherever needed. Plus, there's nothing boring about them and they add a little fun to a designer's day.
Geometrical patterns are built from circles, squares, triangles, lines, and even abstract shapes. The idea is to create a cohesive pattern that can add value to the design.

There was a long era when geometrical designs were widely used, especially in European designs. As a result, they have given contributed significantly to design styles such as Art Deco, Mid-Century, Bauhaus design, and Contemporary. The list below comprises some of the most creative geometric patterns available for designers to use as backgrounds, along with print and digital projects.
30+ Best Geometric Patterns – Quick List
If you are short on time, here is a quick list of the best patterns with geometric styles and designs:
GEOMETRIC PATTERNS – UNLIMITED DOWNLOADS: Million Design Assets Available For Download Now!
Envato Elements provides the best quality design assets, including geometric pattern designs, that you can download instantly. Designers have quick access to images, fonts, videos, audio, and millions of other design assets. They even have high-quality themes, templates, and plugins too.
Oh, yea, there's more good news: You can start downloading as many assets as you want – for less than $0.55 cents a day ($16.50/mo). It really is the best thing going right now for designers!
---
30+ Best Geometric Patterns for Designers
Creating a vector with geometric abstract designs or patterns can be hard to create but look stunning when applied to projects. This design resource provides you with a high-resolution JPEG and a PNG with transparent background. In addition, all patterns are vector based and can be easily resized as needed.
Design bundles are always a good investment, and this bundle comes with 100 Seamless Geometric Background Patterns. These are made from various shapes, including stripes, lines, waves, grids, cubes, circles, and more. You will get JPEG and PNG versions and editable files when you download them.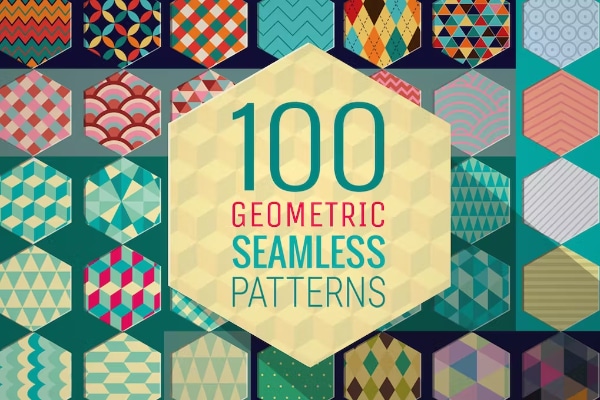 This design pack consists of 3 high-resolution, seamless patterns based on geometric shapes, which you can use in projects related to invitations, postcards, packaging, and other print-related designs. This one has a playful design to it. You'll have access to both the AI and EPS formats of the designs.
If you want to add a vintage, colorful vibe to your design, go for these patterns inspired by the Portuguese design style. The download pack includes 32 unique patterns in 3 different color variations. You can also play around with the colors and combinations to suit your design project as you get editable files.
Geometric shapes, when set smartly, can result in exquisite patterns like the ones in this design pack. Upon download, you will get 30 patterns in various formats such as PSD, PNG, and even PAT. You can use these elegant patterns as backgrounds in magazine covers, books, social media posts, and other digital marketing applications.
If you are looking for a treasure chest in design resources, this design resource is worth investing in. We tell you this because it comes with the following assets: 20 pattern swatches, 20 JPG Pattern Tiles, 20 JPG Digital Papers, 10 Posters, and 20 Individual Vectors, which can be edited to fulfill all your pattern needs.
Retro designs make good use of patterns that are geometric, and this design pack is one good example. Filled with color combinations and thoughtful compositions, this asset offers ten retro seamless patterns you can modify for design projects like posters, flyers, advertisements, and other marketing needs.
A geometric pattern can look stunning even when used in black-and-white mode. This design asset provides 240 PNG Files in 11000×11000 resolution. Even though they are not editable, they are of high resolution and the wide variety of designs will ensure that you can find suitable options for your designs.
Our patterns list would be incomplete without adding a Mosiac seamless pattern. The cherry on the top is the Neo design style based. Simple flat shapes such as circles and triangles are set in fantastic composition and loud color combinations, resulting in 10 abstract seamless patterns you're sure to love.
This pattern background consists of almost every geometric shape that we can think of but is set in a seamless combination to create a visually stunning abstract pattern. You get the editable download file, making changes per design needs. This one is perfect for a project centered around children.
If you are looking for visually stunning symmetrical backgrounds, you should check out this pack, as it consists of 15 abstract geometric reflections that form amazing symmetric patterns. You can use them for futuristic-style backgrounds for posters or digital posts. You can let your imagination go with this design asset.
Mixing geometric designs with pop style is always a good idea, resulting in loud and visually appealing designs. This pattern pack comes in the form of AI and EPS files. Hence, you can modify the base design and use it for applications like packaging, decorations, wallpaper, and much, much more.
If you plan to create your own handcrafted geometric pattern, you will need base shapes and compositions that you can use repeatedly. This Abstract geometric pattern set can be very resourceful as it consists of over 100 such shapes set in different color combinations.
Simple zig-zag patterns, basic shapes, and a dash of vibrant colors can combine to create amazing artwork. This Retro pack is no different. If you want to add a sense of nostalgia to your designs, this asset is perfect, as you will get ten such editable seamless patterns.
Loaded with 40 seamless hexagon patterns, this design asset is worth adding to your collection. All the tileable patterns are unique and editable. You can easily use them as backgrounds for websites and social media posts or create visually appealing posters and print ads.
Long before the Adobe era, patterns with geometric designs were created by hand and were an important part of many ancient tribes. This design pack uses simple shapes and compositions to recreate that ethnic feel. In addition, the pack includes three minimal but attractive seamless patterns.
Designers who are just getting into the habit of using assets from Envato should check out this asset as it comes loaded with 20 seamless pattern swatches, 20 pattern tiles, 20 JPG digital papers, and a step-by-step guide on how to use them. In terms of design, it uses simple squares and circles with muted colors to create beautiful patterns.
A complete opposite of the previous design set, this pack of seamless patterns is full of shapes and vibrant colors. The pack comprises 5 designs that use circles, shapes, dots, and lines in bold contrasting color combinations.
Breaking away from well-set patterns, the next one on the list is quite abstract and loosely inspired by the Scandinavian design style. The base shapes are unpredictable, and the colors are kept cold and muted. Again, you will get editable files; hence, you can change them as needed.
Get a huge volume of 650 geometric vector patterns with this design asset from DesignCuts. You will get AI files for all design sets, and the amount of variety that comes in terms of shapes and colors will add a lot of value to your collection library.
20 awesome geometry-based patterns to add to your collection. The AI file comes with the option of loading patterns through the swatch panel. A step-by-step guide is also included to help you exploit the most out of these patterns.
With this design asset, you get 100 versatile patterns, 2 A4 size poster designs, and a free Brada font family. Note that the patterns are black and white, but you can always edit to add your color palette and use it for various design projects.
Creating a gradient flow using geometric designs can accentuate your design to another level. This background set does exactly that by offering 61 vector backgrounds. Through the editable files, you can revisit the color combinations and match them as per the project you are working on.
Continuing the geometric gradient patterns style, we have a resourceful set of 20 colorful backgrounds next on the list. They use a variety of polygons as the base shape and bright color combinations. Again, you will get only high-resolution JPG files that are ready to deploy in any design.
Our list would be incomplete without including an Art Deco design style. This pattern pack comprises 11 tileable patterns in AI, JPG, and PNG file formats. Inspired by classic architectural design, these Art Deco patterns can be used as backgrounds for branding projects and print designs.
You do not really need to use fancy shapes to create visually rich patterns. Simple lines can also do that job, and that is what this design asset proves. The set includes 40 patterns AI & EPS files and their high-resolution JPG and PNG versions, which you can quickly use in packaging, fashion, branding, and website designing projects.
This resource pack is a fine example of how even circles can build amazing patterns that are geometric in design, with the right creative mindset. Based on the Pointillism design style, the pack offers 144 seamless patterns in black and white, which can be used for wallpapers, packaging, product printing, and many branding projects.
Including one more classic design style in the list, we have added this Bauhaus geometric pattern set which takes a refreshing look at standard geometric styles. The set includes 5 Artboards, 10 seamless square patterns AI files, and 30 editable blocks.
Marquetry is a special art form that uses wood veneer pieces to structures to beautify them. The designer has applied this art to create stunning geometric designs in a digital form. You will get 10 seamless patterns in a PAT file format and 10 high-resolution JPGs, and a guide on how to use them.
Geometric-style designing can be fun when you are allowed to get creative with the shapes and colors. This design asset does take the liberty and offers 8 fascinating patterns of geometric design with bright and vibrant color combinations, which you can use for branding, package designing, or backgrounds.
Adding a bonus item to the list, we have included an awesome pack of optical illusion patterns that can play around with the head of the viewer. The set includes 20 seamless experimental patterns in AI file format. You can use them for backgrounds to make your design stand out and be memorable.
Looking for a pattern to fill up your summer-based design project? Then this asset can be beneficial. Unlike others in the list, it contains just one pattern, but we have included it cause it is unique and refreshing. You can use it as a background or edit it to suit your color and design style.
We have a collection of bold and colorful geometric-styled patterns ending the list in style. You will be impressed by the loud color combinations and shapes composition. The set comes with 30 pattern swatches, 30 JPG pattern tiles, 30 Digital Papers, and 30 vector illustrations, which you can edit as needed.
Frequently Asked Questions
What are geometric patterns?
Patterns that use a variety of geometric shapes in a set combination to form a visually appealing image. The shapes used in such patterns may vary from basic lines, circles, and squares to abstract polygons. By varying colors of the shapes, the overall pattern is given an artistic appeal and then used in various applications.
What's the best way to use a geometric pattern?
The usage of these patterns dates back decades. Designers have been using them for applications ranging from architecture, paintings, and murals to now websites, digital art, packaging, and branding. You can use such patterns for backgrounds, packaging and labeling, outdoor branding, print media, and even social media posts.
What are seamless patterns?
As the name suggests, seamless patterns are ones without seams, meaning they can be repeated by setting up one pattern after another without breaking the pattern style. You can scale up or down the pattern as per your design needs. Seamless patterns are always in demand as they offer more creative bandwidth to designers.
Where can we get good geometric designed patterns?
While the internet is full of design assets offering good patterns, it is still hard to get a design that is editable and easy to use. To help you in this challenge, we have compiled this list of graphic designers. These files are sourced from leading premier design asset providers like Envato and DesignCuts.
30+ Best Geometric Patterns for Designers Summary
As you can see from our selections, these are fun designs to work with. There is nothing boring about working with geometric patterns in graphic design and we hope you found a great choice among our selections. Please let us know in the comments below which options are your favorites and how you will use them!