Home » Fonts »
Line25 is reader supported. At no cost to you a commission from sponsors may be earned when a purchase is made via links on the site. Learn more
Art Deco fonts, which are a classic 1920s style are back in fashion, and for all the right reasons. In the past few decades, we experienced a paradigm shift in designs, be it architecture, product design, or art.
Decades ago we saw creative and artistic craftsmanship in typography. Because of the digital age, today we see a more minimalistic design that is void of true artistic details designed by hand.

Thankfully, a significant number of designers have recognized this aspect of overwhelming minimalism and vintage artistic font designs are making a comeback.
One of the first vintage designs to make a comeback are Art Deco Fonts. This design style strikes a perfect balance between geometry and artistic detailing which give a rich, historic, and nostalgic appeal.
32 Art Deco Fonts For Graphic Design – Quick List
In this article, we will explore the best Art Deco font styles, including ten free options to help you deliver charismatic vintage designs. Here's a quick list:
The Best Art Deco Font Selections:
Free Art Deco Font Selections:
---
UNLIMITED FONT DOWNLOADS: 10+ Million Fonts & Design Assets Ready For Download Now!
Envato Elements provides the best quality design assets that you can download instantly, including art deco fonts. Designers have quick access to images, fonts, videos, audio, and millions of other design assets. They even have high-quality themes, templates, and plugins too.
Oh, yea, there's more good news!
You can start downloading as many assets as you want – for less than $0.55 cents a day ($16.50/mo). If needed, you can cancel any time for free and still keep your downloaded items. It really is the best thing going right now for designers!
---
Best Art Deco Font Selections
A true tribute to 19th-century American calligrapher Louis Madarasz, Burges is the best font for vintage appeal since it has a compelling upper case and a tidy lowercase unified by the right geometric symmetry.
You'll find the Burges is a great choice for posh restaurants and hotels, antique stores, period cinema, and niche blogs that discuss ideas and objects set in the '20s.
Ready for this one? The DECONICO font is both unparalleled and unmatched when it comes to displaying elegance. Here we see the combination of a clean, smooth, and easy-to-blend typeface.
Because of its elegance, you can use Deconico for designer items such as perfume bottles, retro-classic niche markets, historic events, and even modern art.
Decohead is arguably one of the most unique fonts portraying an art deco style since it appears to be simple at first sight. However, the more you observe them, the more sophisticated they get.
You can use this selection for both retro-themed designs as well as modern designs with applications such as marketing materials, invitations, branding, and presentations.
The Delauney font screams luxury with extravagance. To make sure this typeface compliments your other fonts used with your project, be sure to apply font pairing rules.
This font is suitable for invitations, logo typefaces, marketing materials, and even for movies with old-school themes.
AVENIDA typeface combines simplicity with overlapping as a form of detailing, making it a fine contender for plush designs. Some fonts stand out with their art deco flair, and AVENIDA is definitely one of those.
If you're in need of a classic for something like a classic-style restaurant (especially those found in old hotels) you're on the right selection. It's also a great choice for social media accounts.
Think that Deconico is a bit too flamboyant, but Delauney is too subtle? DECOERA has your back as it brings the best of both worlds in a way that complements each other.
DECOERA-based fonts are a solid match for gift articles, luxury watch branding kits, and new-age media companies.
For those in need of a font that pairs well with modern styles, and minimalism, but still has a touch of deco, the Houstone is a perfect selection. You can use this font on packaging for gadgets, social media creatives, and editorial notes.
Let's take a look at a font with the blending of art deco and modernism called, Genesis.
The Genesis typeface is flexible. This provides you with the ability to use it for both modern and vintage designs.
Some applications that would be perfect for this font would be branding, logo design, website design, marketing, and many other projects that are needing to express attention to detail.
Zelda is a high-impact font that adds character to any design, whether print or digital. While it may appear to be most suitable for coffee joints and bars, Zelda has the potential to be a fine logo typeface for many brands.
Rocketeers is a versatile font that will resonate with almost everything art deco and reminds us about the true role of minimalism in the designs.
Some of the projects that are a perfect match for this font would be creating luxury stationery, packaging for perfume products, and nameplates on vintage buildings and houses.
If you are thinking about experimenting with how far you can go in a quest to develop a unique logo design/creative, Rectory can be your ideal pick.
The complementary curves and sleep designs make it a deal for modern cades, restaurants, online blogs, and logo typography.
Plasma has six different orientations, including grunge/regular, bold/bold grunge, inline, and inline grunge.
Some projects you'll find the Plasma font is going to be perfect for are, classic film projects, old movie theatres, historical building designs, packaging, and much more.
Check out Prizefighter, a display font that has subtle detailing on even the smallest of typefaces.
This quality font can be used with luxury items such as leather handbags, beverages, gift packaging, antiques, and vintage eCommerce applications.
Sugar Boats has a strong resemblance to both the Victorian and art deco eras. It can be a perfect match if used for theatrical plays and movies set in the past.
We can see this font used for handmade candles, specialty soaps, and imitation jewelry.
With eight alternate glyphs and three styling options, Billionaire Club is suitable for corporate presentations and luxury items.
The Billionaire Club has a distinctive presence and can be used in invitations, gift boxes, and social media creatives of finance-related pages.
The Decorative Alathena is definitely one of the most graceful yet curvy typefaces.
This memorable font is adored by industry experts and millions of art nouveau and art deco-era fans. It's ideal for retro-themed modern products, fine chocolates and ice cream packaging, vintage hotels along with bed and breakfast establishments.
Here is Saveur Sans, which displays a calming and comforting effect on viewers and is used by a wide variety of brands with sizable product portfolios.
It is an amazing choice for text-based logos, text-only branding material, presentations, and restaurants serving French cuisine.
If you are looking forward to getting a bit more adventurous with your designs in terms of readability and clarity, Serendior is the right choice.
Serendior can be used for packaging, older equipment, nameplate restorations, and memoirs.
Originating in France, Bogart Deco comes with 270 letters & ligatures with out-of-the-box geometric comprehensiveness.
Right from visiting cards to brochures and flyers, this font face is suitable for branding purposes in combination with other typefaces.
The Marcopolo display typeface is a classic deco ara font. It can be used in many design projects and support multiple languages. Regarding the style, the font has contrasting design styles with a thick edge on one side, and a smaller thin line on the opposite side.
You can use this set for online editorials, niche-selling websites, pawn shops, and events marketing.
If you are looking for a typeface for luxury brands, Akros can be a perfect fit as it has the right geometric proportions (weight = 6, ligature glyphs = 51, frames = 6) and multiple Photoshop styles.
As we look closely at Akros, we can see it delivering exceptional aesthetics for all types of marketing and branding materials. This would include flyers, magazine covers, and a wide range of business types.
Clementia is arguably one of the most versatile fonts with art deco design on this list, as it can be paired with any type of picture, design language, or color palette to generate high-end visuals.
Retro-themed wedding invites, thrift store creatives, designer accessories, online magazines- this typography design can become a design highlight in any setting.
Free Art Deco Font Selections
The Armoire font perfectly fills the sweet spot between retro and modern typography. It has a perfect blend of the elegance of Art Deco and the wonderful style of Art Nouveau.
It is best suited for custom products brands dealing in tailored clothing, private fashion labels, designer bakeries, perfumes, and accessories.
Originally designed by Måns Grebäck, Artisual Deco can give an instant vintage appeal to any branding material.
It can be used for classic movie posters, flyers, advertisements, product labels, and even NFTs depicting artistic branding illustrations set in the 1920s. Free for personal use. Commercial license available.
If you lean towards minimalism but still want to include a few characteristics of detailed typography, the Decomart Font by Sergiy Tkachenko will give you what you need.
This font has a perfect blend of modern aesthetics and old-school micro detailing, being the perfect choice for handmade (craftsmanship)
Mariano Diez, the designer of the Rousseau Deco font, combined both simplicity and sophistication in a well-balanced package.
While this font set can be used in any sort of branding material, they are best suited for logo typography and tag lines as its focused application delivers much better visual association.
Irina Chukina's Adreco is a fine combination of sleek, weighted, and curvy geometries that fuse together to create an appealing, posh font face.
Ardeco Font is a perfect pick for marketing assets of glamorous and high-end fashion brands, right from magazines to apparel.
If you found Akros font appealing but desire a little more exotic design in your typography, Rebeque Deco will tick all the boxes for you.
It combines roman serifs with art deco to resonate with the lavish outlook of luxury brands and it can instantly elevate any color scheme in branding assets. A commercial license is available.
Haarlem Deco is best suited when you don't prefer fully condensed typefaces but still, go for all-caps to create retro designs that resonate across both shores of the Atlantic ocean.
They are a good fit for vintage merchandise, replicas, service groups, senior associations, and retro Euro-American-themed food joints. A commercial license can be purchased.
Marmalede is another all-time favorite for all-caps typography in a sans-serif setting. It can project exuberance and authority in various project types such as documentaries, memoirs, fan art, and classic products' branding toolkits.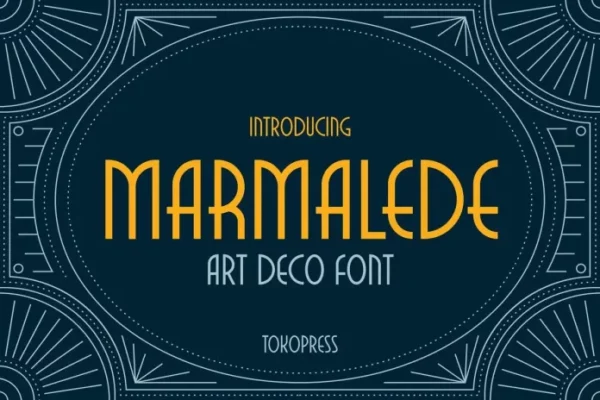 Cleveland has a unique aesthetic appeal that screams retro but is fairly easy to read despite the all-caps format.
It is best utilized in flyers, logo typography, and text-based social media creatives, as it maintains visual appeal in digital mediums as well. This font is free for personal use and a commercial license is available for purchase.
Inspired by Oklahoma's oil fortunes, Boomtown Deco is a tall, condensed font face that projects authority.
The Boomtown Deco font by Chris Skillern is best suited for architecture firms, food outlets, and thrift store creatives.
Frequently Asked Questions
Can I use Art Deco Fonts for my business?
You can only use the premium selections for commercial purposes. Most free fonts are for personal use only but may provide an option to purchase a commercial license. Please check before downloading.
What's the best art deco font to use for theatre?
If your theatrical theme is vintage, and retro in style, and it takes place during the art deco era, your best options would be Deconico, Plasma, and Rocketeers.
Which art deco font is the most elegant?
The best elegant art deco font would be between Billionaire Club and Deconico.
When were Art Deco Fonts used in mainstream designs?
Art Deco typography was conceived in the 1900s and went on to reign till the early 1940s.
30+ Art Deco Fonts For Graphic Designers Summary
Art Deco typography is an absolute game changer when combined with the right color palettes. But when it comes to choosing the right font faces for your next project, it is advisable to follow the standard typography principles like using tall and sleek fonts to display elegance while using weight to display
authority.
We hope that this Art Deco Font collection inspires the best out of you for your upcoming vintage-themed project.