22 Best Fonts for Logo Design
Home » Fonts »
Line25 is reader supported. At no cost to you a commission from sponsors may be earned when a purchase is made via links on the site. Learn more
Everything that you choose for your logo is an integral part of your logo. Every element has equal importance because, in the end, they all share the same responsibility for your impactful logo. So when it comes to selecting fonts, you better not neglect the value and effect they may create.
You want your fonts to be suitable and complementing your whole design of the logo. It is a task where a designer needs to showcase his or her  depth of creativity and wit. Since there is a limited number of ways and resources to procure amazing fonts, it becomes more challenging to get unique and adaptive fonts for logos.
If you have mistakenly selected any wrong or inappropriate font style for your logo, then it can ruin the whole design and purpose on a serious level. To help you with your font selection process, we have curated this list while keeping all the essential factors in mind. Now let us explain our 22 best fonts for logo design, which can help designers to create excellent logos with minimum effort.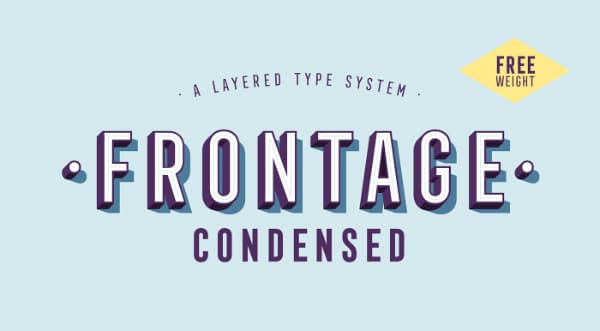 Pin
This three-dimensional font style has amazing retro vibes. The first instinct you get from these font's appearance is about old classic movies and poster titles. It is a layered type system with stiff and perfectly aligned letters. Overall, it is a lovely font to make a logo for various unique categories like entertainment, classical, and traditional venues or products.
Pin
Bodoni is one of the favorite fonts of designers from so many decades. And therefore it has a classical touch which you can see in so many old and well-known brands. This font style is immaculate and subtle, which can go for any kind of industry and any kind of logo. There are flat and unbracketed serifs with two types of strokes in the fonts- bold and thin, which makes it very elegant and adaptive.
Pin
Cassannet plus is a unique san serif font style that looks professional and friendly at the same time. You can use this straightforward and exciting font style to make your logo eye catchy and engaging. Typically, they work well in the subtext, but the bold and unique appearance makes them a very fierce choice in logo design as well. If your logo has a tagline or only single letter theme, this typeface can go pretty well in both the case.
Pin
Southern scrip is a handwritten font style which is not missing any chance of creating a gentle and connecting look. Because it is a handwritten font style and looks like beautiful human handwriting, this style can make a fantastic logo of any brand that tries to give out emotional, connecting, valuable and delicate vibes. It also represents dignity and elegance along with creative and fun characteristics to make any logo charismatic and eye-catchy.
Pin
Lora is a well-balanced modern typeface that is widely famous for body text. But this font style has a very essential and grounded appearance that can adapt to any kind of industry and design. Brushed curves in contrast with driving serif make this font style decent and straightforward. For an overwhelming and extraordinary concept, this font style can look less saturated. Still, other than that, when you want to go for any safe choice regardless of any industry, you can consider Lora without a doubt.
Pin
This typeface is from one of the famous categories called stencils. The partial lines, circular terminals, and sharp serifs make this style aesthetically beautiful and exciting. In many well-known brand logos, you must have noticed the use of bold, straightforward, and basic fonts because this type of fonts makes the logo timeless and secure from many kinds of uncertain trends and challenges. Zefani typeface can give a luxurious look and substantial attraction to any brand's logo.
Pin
This beautiful sans serif font style is very fresh and youthful. If you want to use a light, friendly but sophisticated typeface for your logo, then bench nine is a great option. Thin strokes and slightly rounded shapes make this font style elegant, looking, and flexible for various types of categories. You can use this for your start-up logo or to change any well-established logo as well.
Pin
Kiona is an impressive and robust font style. It is very well defined with crisp edges and has a balanced modern touch to fit many beautiful designs. The sophistication and dominance are the key traits of this typeface. Therefore, you can easily use this to create a strong brand logo related to luxurious products, sports, and glamorous products. This typeface allows you to use it creatively for your experimental design with ease because of its highly adaptive nature.
Pin
You can see unique and creative characters in Nixmat font style. Minimal and bold fonts with incredible linear details make this typeface more eye-catchy and exciting. It is perfect for logos and brand identity designs. You can give a smart, strong, confident, creative, attractive, and contemporary touch to your logo design with this font style. It is available on the Envato elements to purchase this font style for your personal or professional use.
Pin
The intro is one of the best classic theme fonts that have a little hint of serif fused with sans. You can notice creative curves and straight ends in this style which make them attractive and traditional at the same time. You can use thin, italic, bold, or any other category to create a perfect placement in your logo design. A brand can reflect faith, bond, and dominance in its logo through these font designs.
Pin
This beautiful lowercase typeface is available on the Behance website for free download. You can use these creative fonts in your personal or professional logo design to make the design stylish and refreshing. A highly curved theme without any stringent edges makes this font style fun to use fonts for creative, young, and light logo design. You can select this for apparel, food, and beverage, or lifestyle-related brand as well to design a brilliant logo.
Pin
Strong, bold fonts with italic features make La Macchina font style perfect to highlight luxury and confidence through designs. This script typeface has roots in calligraphy, and therefore it feels more personalized and traditional. When you want your logo to be futuristic and timeless, then you must choose fonts like La Macchina. According to your creativity and requirement, you can make various options of excellent logo designs that include this typeface or related styles.
Pin
Stag has a very prevalent personality with all caps and sans serif typeface. It is designed for all kinds of primary content and design ideas related to brand identity. Stag comes with bold, regular, and italic versions, and they all provide an end number of creative spaces for almost any kind of logo design. The disciplined and well-structured characters make this font style perfectly attractive and impactful to create a solid logo design that can deliver the message in a classic yet straightforward manner.
Pin
As its name suggests, this font style is a very smartly designed sans type with a creative approach. The fonts are curvy, but they are disciplined and rigorous as well. They have thin and bold strokes without any planned format. So you get mixed personality here, which is very beneficial for a designer who wants to create a contemporary and outstanding logo to reflect a multidimensional brand image. Any digital media and entertainment industry can opt for Genius sans fonts to deliver unique and prominent logos.
Pin
Among the wildflower is monoline typography that comes with more than just fonts. It is a very clean, decorative, delicate, and natural typeface. This handwritten script font style has many other elements that you may require in your logo design. With this, the clean, free-from, curved, and beautifully designed fonts can enhance your logo related to any feminine, kids, content, media, or personal branding category.
Pin
Nature spirit is a beautiful vintage-style typeface that comes in two versions- regular and rough. If you want your letters to look natural and balanced or more designer and creative, you can have both because it offers two excellent alternatives of character style. This typeface is a condensed, vintage, healthy, and creative option that can help designers create a vintage look with a unique and modern appearance.
Pin
Freeline fonts is an innovative monogram font style with a prominent and robust appearance. It has bold capital letters designed with creative linear details. Unique linear details with a hollow theme make this font style more fascinating. You can play around with the fonts with colors, effects, and another font style to make an impressive logo design that can deliver the brand image and message in a creative yet assertive manner.
Pin
Revista font family is quite famous for logo designs. And Revista inline black is the most unique style out of the whole family. This style has well-designed and disciplined stencil serif fonts. Fashionable, classic, and minimal are the essence of this typeface. You can see bold letters with black inline or contrary white inline in any other color fonts—ideal font style to use in a magazine, fashion, restaurant, or personal blog-related logo design.
Pin
Odibee sans has a very interesting story behind its origin of the design. The type of urgency and difficulty is present in its story is definitely not present in the font style design. This typeface is about beautiful minimal sans fonts that have moderate curves and sharp edges, and all these fonts are bold and condensed in nature. You can experiment with colors and different font styles to use Odibee sans in your logo design more interestingly.
Pin
Lot is a very different font style from the normal sans and block fonts. It is like a beautiful illustration of letters where you can only see the letters' geometry and not complete letters. The fonts are bold, very much pointed, and edgy, taking a lot of space and attention. This typeface has a hint of old-fashioned magazine font style that is why with these fonts, you can create a vintage logo and modern logo as well with some great creativity.
Pin
This beautiful font style is a brush series sans from Envato elements. If you are a passionate designer, then you must be keeping outstanding designing elements in your collection. And Mandhy is a fantastic brush-style typeface that you should take into consideration. It is a unique font style that can make the end number of designs attractive. So if you are looking for a font style for your interactive and fresh logo, then mandy is definitely your search's final destination.
Pin
Circle cline fonts are from the slab serif category. It can surely grab attention without much effort because of its smart design and well-structured implementation. Each font has a consistency of one shape, which is lines. This minimal and advanced typeface can be a perfect choice to make a futuristic logo design of any technology-related brand.
To always stay aligned with the concept, design, message, and colors is not that easy for designers. Personal choice, personal thought process, or other's opinions can affect a lot when you are working on a design. And in that case, you might take the wrong decision on the underrated element like typecases and fonts. You can get distracted and also confused if you do hectic searching and checking on the internet pages. So hopefully, the list mentioned above can fulfill your need and end your search for the best fonts for your logo design. We have tried to include different types of fonts with different kinds of purposes to help the maximum seekers.