Home » Articles »
Line25 is reader supported. At no cost to you a commission from sponsors may be earned when a purchase is made via links on the site. Learn more
Finding the best logo design tool and creating an excellent logo isn't ever an easy task. As a designer, having the right tools in your tool belt can be extremely helpful. Our list is a resource that you can bookmark anytime you need to mix up your options. Especially if you're not getting the results from the logo design program you're currently using.
You need to have a thorough clarity about the brand's vision, mission, and identity, and the message to be conveyed. Once you have clarity about these, you need to have the skills to translate these guidelines and ideologies into a recognizable visual logo. With our list of the best logo design tools, you can create a captivating logo with very little design skills or experience.
You can use these websites to create the entire logo or a basic framework that can later be worked upon for a  finished design. All of them have a free-to-use feature if you're all right to download a low-res version of the logo you created. However, if you need the flexibility of using a scalable vector, then you might have to pay for those services, but the prices are still reasonable.
Authors Note: Even though it's not yet listed here, we found the WiX free logo maker to be a great option as well which is listed as #3 in another post we recently completed on this topic.
We're confident you'll find the Best Logo Design Tool from the list of free and premium options below and in no time you'll be creating professional Logos:
Hatchful is a tool from Shopify which provides one of the easiest logo making design tools available today. You need to input certain basic facts about the business you need a logo for. Then you need to decide on the style of the logo and decide how you want to use it. After putting in all these details, it provides you with a list of logos generated with the guidelines you inputted. You can browse through these plethoras of options, and select the one you like. Once you've selected the logo, you can manipulate and adjust the color palette, fonts, icons, and layout until you're satisfied with the final result. After this, you can download your logo in any format you need.
If you're looking for a platform where you can create all your branding designs, including cool-looking logos, Placeit is a great tool! As part of the Envato family of design products, Placeit offers more than 50K templates and a growing library of designs made by professionals each day. You can create eye-catching logos, graphics, and images to use for many design projects. Make everything from logos and videos to your social campaign with branded images in minutes. You can start for free, but they offer a more advanced (unlimited resources) option starting at only $7.47/mo per user.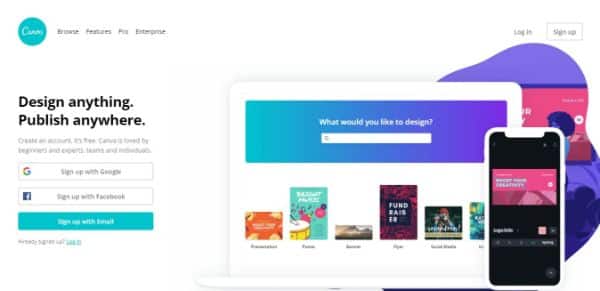 Canva is popular software that covers more than just logos by providing many solutions. However, if the logo is your top priority, it has a pretty efficient and free logo creation tool. It follows the same principle of asking you certain basic details about you and your company and then provides you with many templates to choose a look from which you like. Then you can customize the design as per your requirement using its intuitive tools. There are a lot of free tools that you can experiment with; however, if you want to unlock deeper customization tools, you need to pay for the premium elements. Once you're done, you can download the finished logo as PNG or PDF for free.
Designhill's logo creation tool provides easy and quick solutions for making fantastic logos for any company from any niche.  You need to provide basic information like the company name, nature of the business, preferred symbols, and color schemes. After using all this information fed by the user, the software generates a collection of professional-looking logos that can be customized as per need. The process until here is completely free. However, you need to pay for downloading the logo, even for a basic low-res file. They are also known for their responsive support team help.
Tailor Brands Logo design program takes a different approach to providing logo solutions than most of the other logo makers available in the market. Instead of providing the user with an endless scrolling list of templates, for finding the perfect logo, it asks for the name of your business and a basic description of what it does. Then it asks you to choose between text and an initial-based logo and then for getting a handle on the design style you want; it uses the 'This or That' tool. After all the inputs and processing it presents you with a logo that you can customize if you want and download the low-res file for free as well. For scalable vectors, you need to pay.
DesignEvo gives you the flexibility of creating a logo from scratch or taking advantage of the pre-designed template library it has to offer. There are over 6000 templates to choose from, which enables you to find a great starting point for your logo. If you are determined to make the entire logo yourself, you can start by putting on a blank layout and building a logo using shapes, fonts, and symbols. You can download the low-res logo for free and for scalable vector versions you need to pay with prices starting at around $24.99.
MarkMaker uses a simple and clever approach to creating the right logo. All you need to do is type in a company's name, and it starts giving you suggestions. One great feature this software has is that when you click on a logo that you like, it understands the elements that you liked in that logo, and thereby starts giving you more options and variables that follow the same design principle. You can add more information as to what your company does, for more specific and accurate results. Then you can scroll through the options till you find the logo that you like, and then you can edit and fine-tune it with many customization tools like sliders.  You can download your logo for no cost in PNG and SVG formats. They have an option for a donation that is voluntary on the user's part.
UCraft gives you the right amount of tools to create a logo from scratch in short order. Its vector editor provides a big selection of icons to experiment with and complement it with texts, shapes, and colors until you get the logo that you want. You can download the finished logo in PNG format for free however for a scalable SVG format you have to pay around $12.
LogoMakr is sophisticated software for Logo Making. It offers all the basic features that UCraft does, but it has a friendlier front end and more options to experiment with. It also lets you find a suitable icon and bring all the text and shape elements you need for building and designing your logo. There is a video tutorial as to how to use the software that pops up as soon as the site loads, which is useful to familiarize yourself with the software and ease the process even further. The  PNG version can be downloaded for free however for $19; you can avail it in SVG and PDF formats as well.
Laughing Bird Logo creator doesn't require the user to have advanced designing skills and much investment. It has built-in templates and a reasonable one-time fee. There are over 170 logo templates and over 200 elements that you can add to your logo. It also allows the users to insert their graphics to customize their logo even further. Apart from this, the software has special effects and text options to apply to the templates. A general trend of the logo and templates tend to be loud and bold. The logo works better for an informal company rather than very professional companies in most cases. It is easy to use, helps create logos quickly, and has a less traditional look.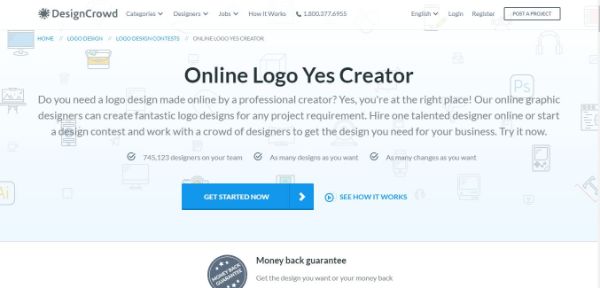 It is one of the simplest platforms when we talk about the features it has to offer. There are preset graphic icons and fonts, which enable the user to create a basic logo in no time. It is a very straightforward tool with a drag and drops canvas. You can add text and make small graphics tweaks like resizing, rotating, flipping or even repositioning elements. You are allowed to use one graphic per logo. There is a bare minimum charge of $0.99 to download the logo design, which is uniform across all resolutions of the logo.
Looka is a platform that combines your design preferences with its AI to create custom-made logos. The program uses AI to determine your likes and preferences based on color, style, and icon preferences. Looka also is capable of providing marketing asset design and website building solutions. It generates a wide section of custom logos based on your preferences and allows you to tweak basic details of the logo you select like the color and size of the shapes. It charged $20 for a low res file and $65 for multiple high res files with color variants.
Squarespace offers website building software and also effective logo-creating tools. It is one of the simplest tools which makes it a great choice for those people who have limited design skills or time to invest. The software allows you to arrange text and icons in a drag-and-drop editor. The icons and texts can be customized by changing colors, styles, and shapes. The Low Res files are watermarked but available for free whereas the High Res files can be obtained for $10.
Logoshi provides a custom logo for affordable prices with a unique approach to it. Apart from taking traditional inputs like color preferences and business names, it also generates logos from your sketched logos. It creates logos from a wide variety of inputs like your business name, initials, color preferences, and a custom sketch. All the suggested logos look professional with unique fonts and icons, especially when they are designed to match the custom sketch. The logo price ranges from $5 to $30. Buying the more premium version allows you to choose from a wider selection and download them with different colors and background options.
The major benefit of this software is its speed and convenience rather than design capabilities. You can enter your company name and the type of industry, which helps Logastar create multiple logo options as close to your field. There are a variety of logos based on different fonts, colors, and icons. Each suggested logo is highly customizable, with many layout and color options. The logos are free to download in low res, and the high res files cost from $10 to $25. This software allows you to create a professional logo with minim design skills and the minimum time that doesn't need much reworking, however, if you polish it further with your inputs, you'll get a better-finished logo.
What's the best free logo design tool?
This may come down to preference because so many of them are really good. You may need to test drive a couple of them first to find the right fit.
However, there are 3 that we consider being the best free logo design tools, also known as logo makers, as they seem to shine above all others with options and ability to create great looking logos. We recommend first trying them out to see why we consider them the best. Again, they are free to use, so it's a no-brainer:
The importance of great logo design
Logos are great for leaving a long-lasting impression on the public. This is why you must create a good logo for leaving a great impression on your audience. It communicates your business identity to a great extent.
If you are a new business whose product and services haven't reached your targeted audience yet, you would primarily depend on visual elements like a logo design for creating an impression about your brand and also for the marketing campaigns.
Logos give identity to a brand that it uses throughout its range of activities and products. Logos, thereby, can be considered to be the face of a company. One of the primary purposes of creating a logo is to create a perception and image of the brand that it's different from the existing alternatives available in the market, in the right way.
Authors Note: This is why keeping up with the design trends is an essential element of logo design to ensure your logo doesn't get obsolete and is well perceived by the public.
To create a detailed logo, you need to do much research, continuously keep working on the design, and use the right tools like Adobe Illustrator CC. However, licensing such software can be an expensive affair, and using it also needs a certain level of expertise and invest a lot of time and effort behind it. So if you're in a rush, or need convenient solutions which are still useful, many online tools can get the work done.
Conclusion
The best logo design tool can be found in the list you've just reviewed and now it's time to get started. Make sure you know your company vision, or your client's vision and mission for the brand. What the brands identity is must be depicted and translated in the design of the logo in order to represent the company or organization in the best possible way.
What's Next? After you choose a program or two to try out, please let us know you thoughts on our selection and please share with other designers on your social media accounts. Thank you!