Home » Website Builders »
Line25 is reader supported. At no cost to you a commission from sponsors may be earned when a purchase is made via links on the site. Learn more
This WiX review will get into very specific details, that will explain why this website builder is extremely popular and considered the top website building platform.
Website builders have gained whopping popularity in recent years as they provide tools that are simple to use in order to set up a basic or highly functional website without any knowledge of website coding languages such as HTML, Javascript, PHP, and CSS. But, when we speak about simple-to-use, one name that is sure to pop into our minds is the cloud-based Wix website builder.
Wix has become like a household name and for all those who want to create their websites with minimal effort, but retain the highest quality, we've discovered that there are many things Wix does better than other page builders.

Overview of This Wix Review
---
Unlike other website builders, Wix is an all-inclusive web development provider for individuals, small business owners, freelancers, professionals, bloggers, educators, and more. What this means is you can build a professional-looking website that comes with everything needed to manage the site and promote it. Furthermore, Wix offers stunning design features packed with many high-tech advancements to build your custom website very quickly.
Wix is a leading cloud-based web development platform powered by Google, and therefore, you need not worry about other things such as hosting, applications, plugins, and templates that are foundational elements for running a professional and reliable digital domain. You can literally log in from anywhere in the world and build or update your site. It really is all-inclusive and easy to get started with Wix.
What Are The Pros & Cons of Using Wix?
---
Pros
Totally free to use and no credit card is required to start
Very user-friendly drag-and-drop interface for beginners
Advanced options for professionals with the Open Dev Platform and Editor X
Excellent options to build an e-commerce online store
Up-to-date and modern state-of-the-art technology
Over 500 professionally designed and customizable website templates
Accept credit cards, bookings, subscribers, and more with integrated apps
Top design features such as animation, video backgrounds, and scroll effects
SEO pages that are designed to help with search engine optimization
A suite of marketing, SEO, and development tools
Massive library of plugins made specifically for WiX
Cons
Limited changes are available to the design of your site once it's published on the free account
A bit overwhelming for beginners when getting started due to so many features
Automatic site backups are only completed every 7 days, but there is a manual backup feature
Wix Facts & Statistics
---
Founded in 2006
Over 200 Million Registered Users Worldwide
Built On The Google Cloud Platform For Speed & Security
No Need For Multiple Plugins & Extra Applications
They Offer Free & Premium Subscriptions
Wix Is A NASDAQ Public Traded Company
As Of 2021, 1.3 Billion In Revenue
Wix has grown in leaps and bounds over the past few years. Currently, Wix provides a world-class, state-of-the-art platform to over 200 million users worldwide, empowering anyone to express themselves and build their online presence.
With this kind of influence and responsibility, Wix has proven to be a leader in the web development industry. This can provide peace of mind knowing they will have your site's best interest in mind. Wix must be doing things right if over 200 million users have entrusted them to host their digital domain.

According to Similarweb.com, Wix is listed in the top 7 of all websites searched for in the categories of computers, technology, multimedia, and design. Not just once, but twice.
Wix is one of the most reputable and established website builders, a preferred choice of many web designers. So, without further delay, let us drill down a detailed review of the Wix website builder and the seven important things you should know while considering Wix.
Top 7 Things To Know About Wix
---
Before you decide how to build your next website or your first one, take a look at this review on the benefits that Wix can provide you with. We have outlined some key factors to consider that will benefit you greatly once you have a little more understanding of this powerful website-building application.

1. Easy to Use and Beginner Friendly
Wix is super easy to use, which is one of the reasons for its vast popularity. In addition, Wix can help you build a professional-looking, high-quality site for both beginners with zero coding experience and professional web developers. Everything is done by just clicking, dragging, and dropping. You can even make a free site and give a reality check by testing its features.
Wix is a leader and innovator in the web development industry and they specialize in providing intuitive and powerful drag-and-drop features. Newbies can easily customize their website templates with this drag-and-drop feature. With this feature, you can add features of your choice, allowing you to move things. In addition, Wix offers extensive resources for beginners, including tutorials, videos, articles, and much more information to help you master the Wix Editor.
Moreover, Wix operates on a what-you-see-is-what-you-get (WYSIWYG) paradigm, so everything you see is what will appear once the site goes live. As a result, even web developers and experienced coders can recreate and customize a professional website through Wix code. Wix has an extended list of tools that enables you to make changes and add or remove text boxes, lightboxes, buttons, videos, and more within a few clicks.
Even if you don't feel like dragging and dropping site elements, answer a few questions, and Wix's Artificial Design Intelligence (ADI) will technically do the rest. We'll mention more about ADI in a moment.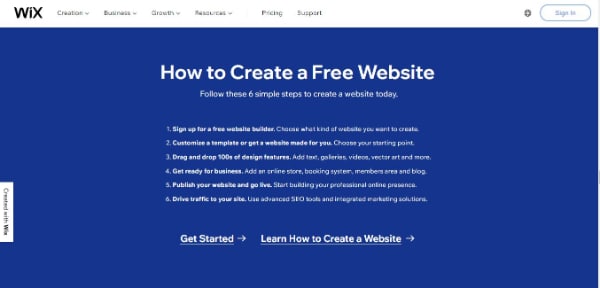 Most of the subscriptions of Wix include a free domain voucher which is valid for one year. Moreover, you can effortlessly register with Wix for free the same way using your Facebook or Google account. To get started with Wix, visit their site and sign up with just your email account. Then, through the editor or with the help of an ADI tool, you can start building your website instantly. The nice part is you get to test drive it first and keep what you've designed or the more advanced options.

2. Wide Range of Website Templates
Wix has a wide range of 500+ designer-made templates for selection. They have one of the largest template libraries of any website builder. These templates are created using thorough market research and trends to ensure every component, from the style to the pages, best fits the industry. They cover various industries, from a recipe blog to a wedding event site, from an auto mechanic business to a consultancy firm, and many more.
All Wix templates are organized into categories for easy browsing. For example, you can choose from businesses and services, stores, creative, community, and blogs. Once you are on the Wix website under the templates category, hover over each one to discover subcategories.
Check out these amazing-looking website templates from Wix:
Advertising Agency Website Template
Art Store Website Template
Professional Coaching Website Template
Web & Graphic Designer Website Template
Asian Restaurant Website Template
The best part is that most template categories are free, while some specific templates require upgraded packages. You can change the templates as much as you want as they are highly customizable. You can open the template using the Wix Editor and change the design and layout as much as you want. Then, you can make the changes such as the site's name, edit content, replace images, delete sections, and more. You can always add your own stock images.

Each template is designed to intuitive and mobile-friendly. When in the design mode you can preview the template to see how your site will look on a mobile device screen. When you're done editing, just press 'Publish' to share your creation with the world.
3. Professional Features For Your Wix Website
Wix has all your professional web features covered so that you can manage your website all in one place. It gives a multipurpose approach to your website building. Most of their plans offer a free custom domain name along with a choice to connect your existing one. Moreover, you can get free website hosting, a professional mailbox, and email to match your brand and domain name.
All Wix Features Are Organized Within Five Categories
The Wix Drag & Drop Editor
Wix ADI (artificial design intelligence)
Velo by Wix
Manage Your Business
Promote Your Business
Each category encompasses multiple additional features that are significant site-building elements. As you can see by the list of categories, they have everything you need to effectively build a professional, SEO-optimized, interactive, engaging mobile-friendly website in a short period of time. If you know how to click buttons, that's all you'll need.
Further, You'll Greatly Benefit From Features Such As:
Analytics: 

Keeps track of your web performance, including in-depth stats to help you make data-driven decisions.

Contact Management:

 Manage contacts and subscribers from a single dashboard.

Member Login:

 Creates password-protected pages that only your members can access.

Wix Chat: 

Have a live chat session with your visitors.

Social Tools:

 Connect all your social accounts in one place with customizable icons.

SSL Certificate:

 Secures your website and boosts your SEO with an SSL Certified site.

Point Of Sale: You can easily collect payments on your website.
SEO: Wix has made significant improvements in SEO capabilities in the past few years. As a result, the Wix platform allows you to perform critical SEO tasks.
Now let's go over the five main categories of features:

Category Feature #1 – Drag & Drop Editor
The Wix editor is packed with many useful power-packed features that allow you to create any website from scratch. In addition, you can choose from over 500 designer-made templates for every business. You can design your site precisely the way you want with innovative drag and drop. Further, it allows you to add scroll effects to add dimension to your site with parallax. Moreover, you can create your gallery layout by displaying your images, videos, and text.
With over 100 fonts, you can express your own words. Thus, you can be assured of your site standing apart with these features. It also comes with a strong App market to manage your website and grow your business with powerful web apps. Wix also offers advanced SEO tools and mobile optimization. Additionally, you can work from your phone remotely with the use of the Wix Mobile app.
Category Feature #2 – Wix ADI
Wix ADI offers simplicity for your site-building. Wix ADI is worth a try to create a website with minimal effort. You can start by answering a few basic questions about the site's purpose, features, locations, and title. Then, you can optionally add social accounts such as Facebook, Instagram, and Twitter. The AI will extract business information from the added information and create the first draft of your website. After this, you pick a style, have ADI create a color palette based on your logo, and click Create My Site.
It tells you what to do when through the process, like adding menus and optimizing your mobile site. After ADI builds the initial site, you customize it using advanced editing options to choose your primary color, palette, and theme. Further, you can get a simplified version of your site on mobile with all the essentials.
Category Feature #3 – Velo by Wix
Velo is an open development helpful platform for building advanced web applications and is more beneficial for experienced web developers. You can get serverless computing, hassle-free coding, and total design freedom to create, manage and deploy your web project. It offers rapid visual front-end design to accelerate your front-end development. You can modify 100s of UI elements while retaining the flexibility of your code.
Further, you get the advantage of maintaining and presenting content anywhere on your application using integrated databases or your external data sources. Velo by Wix uses an open platform that allows you to connect to an external data source and third-party data sources. Lastly, it provides excellent business and marketing tools. You can customize your user experience with Velo APIs and use industry-leading marketing tools to monitor visitor actions.

Category Feature #4 – Manage Your Online Business
It really doesn't matter if you planning on running a blog, selling your products and services, displaying your portfolio, sharing your food menu, booking appointments with clients, and need to accept payments through your website, Wix has you covered.
You'll be able to manage every aspect of your business presence online through the secure user website or the Wix mobile app. The possibilities are endless and include:
Book appointments with clients
Upload and showcase your photos and videos
Offer monthly subscriptions
Take online orders and reservations
Sell any widget, gadget or digital asset
Create a playlist of your top songs and sell them
Provide a downloadable item to customers
Send automatic email reminders
and on and on the list goes!
Category Feature #5 – Promote Your New Business
All tools you'll ever need to promote your new website and get users to engage with it are provided by Wix. In other words, they have you covered in this area of web design and development also.
You'll have access to advanced SEO tools, analytics, and even a personalized SEO plan.
Newly Added Feature: Editor X
Wix has recently launched a new and powerful tool, Editor X, as a website-building option. It is an advanced creation platform for designers and web professionals. 
The templates on Editor X are cleaner, more design-centric, and more responsive than their primary editor counterparts. Typography and color swatches are another specialty of Editor X, and hence, you can save your choices to design libraries. You can change the color of a page, or perhaps the header text, without losing your previous design choices. Editor X is also built for multi-user collaboration, with design libraries letting a group test different ideas without throwing anything away.
The platform combines cutting-edge responsive design with smooth drag and drop. Overall, it's far faster to move elements around on your site using Editor X, even compared to Wix's already-smooth website builder. 
You can add custom code and use a powerful CMS to build data-driven sites and complex web applications. In addition, editor X offers an unparalleled range of integrated business solutions from a leading eCommerce infrastructure to professional marketing and SEO tools. All Editor X sites are hosted on their reliable global cloud servers and are compliant with the highest international security standards.

4. Wix eCommerce Plan – Business Elite: $159/mo
Wix specializes in business and eCommerce plans as it goes out of the way to handle them. So if you choose Wix to create your online store, you are definitely in good hands.
The Wix eCommerce platform provides businesses with all the professional tools and services they need to sell online and in-store. So, you can go ahead and build your eCommerce business and sell on multiple sales channels, including web and mobile storefronts, social media channels, online marketplaces, and physical retail locations. Wix lets you create an online store at a basic level or an advanced top-level store.
In general, Wix offers all the eCommerce features that most straightforward stores will need. Some exciting features are listed as follows:
Access to real-time tax calculations

Built-in payment gateways for credit and debit cards

Display of prices in international currencies

Quick creation of subscriptions and discount coupons

Integrated with all social channels

Abandoned cart recovery

Automated email marketing

Customized shipping and tax rules

Inventory management

Ticket and event management

Online bookings and reservations

Sell on multiple marketplaces
Unlimited video
Unlimited dropshipping
And so much more!

5. Wix Pricing Plans
Wix allows anyone to sign up with a free plan. In addition, you get access to the Wix Website Builder that includes everything already mentioned such as the Wix Editor, Wix App Market,  Free Templates, Top Support, and 500MB of storage with primary limitations. However, paid plans are available in two categories:
Business Plan for $32/mo: You can have all the essential features with this plan, including 100 GB of storage space, unlimited bandwidth, priority customer care, a free SSL certificate, allows for 10 collaborators, no Wix ads, a professional logo, payment acceptance, and a marketing suite.
Core Plan for $27/mo: This plan is trendy amongst Wix users. 50GB of storage space, unlimited bandwidth, and one video hour are included in this plan. Additionally, you get a free domain for one year, removal of Wix ads, a free SSL certificate, basic e-commerce capability, payment acceptance, allows for 5 collaborators, and complete customer support.
Light Plan for $16/mo: It is a perfect alternative to the connected domain to create a simple website. This plan includes a free domain or connects with a custom domain. Additionally, you get 2GB storage space, 24/7 customer care, collaboration for 2, and 30 minutes of video.

6. Robust Customer Support
You can get all your answers most simply from Wix's help center, which contains an extensive library of articles in English, Spanish, Portuguese, French, German, Italian, Russian, Japanese, and Korean. 
Wix has superior customer service support to help you with all your queries and issues related to your site. You can contact the customer service department of Wix via email, phone, and live chat. You can even go through their interactive FAQ page. In addition, the technical team of Wix handles all maintenance and security, and you need not create backups, update apps, or fix security glitches. Wix takes support seriously with priority phone support for VIP members. The non-VIP members can settle for a much slower ticketing system. In any case, the support Help Center is active and helpful.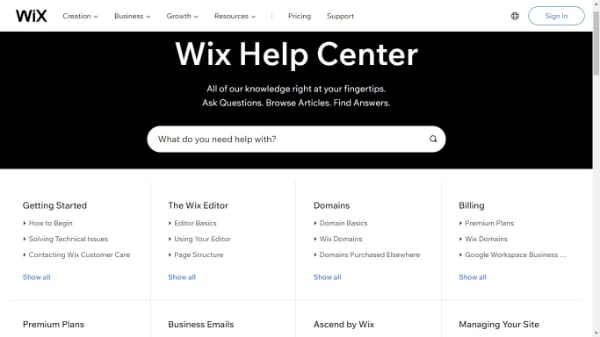 Apart from the above ten highlights, there are some additional unique features of Wix:
Wix App market

Logo maker

Integrated payment options

Blogging features

Tasks and reminders

Facebook Ads

Email marketing

Social media post creations

Multi-channel sales

7. Wix Training Resources
Learning how to use every aspect of Wix's website builder features and understanding all the benefits you'll receive will take a little training, but don't fear, it's pretty easy to get the hang of it.
There are numerous resources, videos, tutorials, and support forums to gain the knowledge you need to be up and running in no time at all. Speaking of tutorials, check out this resource we put together recently entitled "Wix Website Builder Tutorial In 10 Easy Steps".
The

Wix Website Builder Review

Summary
---
We can describe Wix as an "All-in-one solution" for all your website building needs without enormous funding. Therefore, we recommend using Wix whether you are an entrepreneur, designer, developer, musician, photographer, freelancer, blogger, professional, small business owner, or restaurant owner. You will find specialized features to create a professional website and manage your business smoothly with Wix.
Understanding that Wix is a major web development platform for both beginners and professional web developers, is to realize the creative power you can have instant access to at such an affordable price. In other words, the playing field is now level for everyone, no matter how experienced you are in web design.