Wix Website Builder Tutorial In 10 Easy Steps
Home » Tutorials »
Line25 is reader supported. At no cost to you a commission from sponsors may be earned when a purchase is made via links on the site. Learn more
Wix is a powerful cloud-based web development company that can help you create a strong internet presence that will allow you to build your brand identity. In addition, it makes you universally accessible with unlimited opportunities. You may be ready to get started with Wix so we've put together for you this tutorial consisting of 10 easy steps.
But creating a website could become a laborious and expensive job. Understanding this, many small and mid-level organizations, professionals, and individuals turn towards online website builders that get your job done quite easily, but with high quality and sophisticated technology.
Online website builders are tools to develop websites online and primarily without having to learn web development code. There are dozens of efficient website builder programs available online, but Wix stands out among them for many reasons which we will cover below.
What Is Wix.com?
As mentioned, Wix.com is a cloud-based web development company with a high-tech and powerful website builder that allows you to create stunning websites for free. Its drag & drop and edit interface and hundreds of pre-built templates empower a person with zero coding skills to create a website within minutes. You can access Wix from anywhere in the world since it is Cloud Based. 
Wix is one of only several web page builders that utilizes the Google Cloud Platform which provides powerful qualities such as speed and security. The Wix company has over 200 million registered users throughout the world, only using secure state-of-the-art technology to run millions of websites.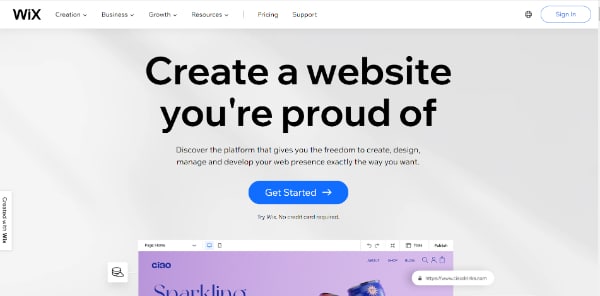 Pin
Why Is Wix the Most Suitable Website Maker?
Its free version offers over 800 templates, 500 MB storage space, and 500 MB bandwidth. It is suitable for websites with small traffic. Those who wish to build a full-fledged website can go for its premium version, which offers advanced features. 
It is a website builder with an advanced and intuitive dashboard with drag and drop functionality and advanced editing tools. In addition, the paid versions come with various other features that can be very handy to the developers. We shall learn about them in the latter part of this blog post.
Eight Reasons to Use Wix.com to Develop Your Website:
Wix website builder is a What You See Is What You Get website builder, which means whatever design you create appears on your computer screen. It makes your design process quicker and easier. 

Beginners can make their website from its ADI mode, an AI-enabled editor that assembles and analyzes your data and auto-generates a website.  

It is one of the best cheap, but powerful website builders available online. 

Wix provides SEO services for better reach and listings on search engines. 

It offers diversified marketing tools to reach audiences on various platforms through calculated strategies.

It helps in building online stores for your e-commerce business.  

It provides analytics and support to navigate your business in the right direction.  

Wix provides a free SSL certificate for having a secure HTTPS site.
Wix really does things right and there are so many more reasons why you should consider Wix to build your next site. They have an advantage over other website builders that makes them the leader in website creation and development.
Create A Stunning Website With Wix In 10 Easy Steps
To begin with, you will have to set up your account on Wix. You can set up your account in three simple steps:
First, head over to Wix.com to sign up.

Second, register your email address (no credit card required)

Finally, click on the 

Sign-Up 

button to activate your account 
The moment you sign in, it will ask you a few questions regarding the type of website you wish to create. Then, as you select from many options, it will ask more specific questions regarding your choice of website.  
Next, it will ask you to choose info boxes for your website. Then, users can select as many infoboxes (features) as they want for their website. Please note that users can skip these questions and directly go to the next window.   
2. Choose Between Wix ADI & Wix Editor
Before you initiate, the Wix website builder gives you the option to choose between Wix Editor mode or Wix ADI mode.   
Pin
What are these two modes?
Wix ADI automatically generates a website for its users by asking a series of questions. For this, your only task is to feed information regarding your preferences and give content that will go on your website, and your website will be ready in only four steps. Making a website through Wix ADI is hassle-free, but it offers a lesser scope of customization than Wix Editor. 
Pin
But If you don't want to depend on artificial intelligence to generate a website and wish to make your website, then Wix website builder is for you. Wix Editor mode is a fully-featured website-building tool that enables users to make their website from scratch.
Pin
3. Select A Template
Selecting a template is easy on Wix. It offers a wide range of gorgeous templates listed in various categories. If you're needing a website template designed around a specific industry or sector, they will have it. Here's a list of only a handful of website themes or templates offered by Wix:
Or even a Web Design Studio Template like this one:
Pin
Wix provides a wide range of sub-categories to choose a specific theme for your website. With plenty of attractive options, the process of choosing a template could become overwhelming. But it is pivotal to select a template that suits your brand the best.
Pin 
4. Design Your Homepage
After selecting an appropriate template, you will land on the admin dashboard. Wix website builder has an intuitive interface that makes it easy for the users to drag & drop elements and edit them as per their choice. You can choose the design elements as per your need or you can also add your own stock images.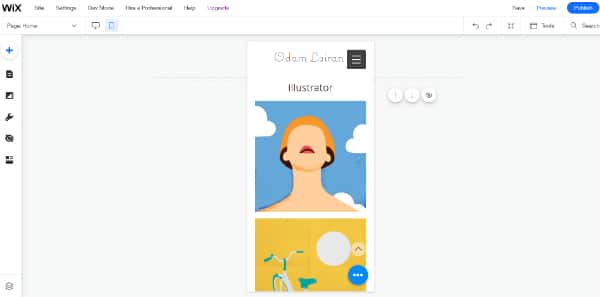 Pin
The homepage contains blocks to fill and edit. You can edit strips, change the background, header and footer and add content to your webpage through this dashboard. 
Editing Text:
You can add relevant content in the text boxes on the dashboard. In addition, the Wix website builder gives you options to customize your text. 
Pin
Here are simple steps to edit your text on the homepage: 
A panel will appear as you click on the text box. 

Click on the change text icon to replace your text in the box. 

Change the alignment of your text through the layout button. 

You can customize your button design by clicking on the icon next to the layout button. 

You can also add animation to your text. 

Next to the animation button comes the option to link your text with an external link. You can add your email address, anchor, top/ bottom of a page document, or your phone number to it. You can also decide if you want the link to open on your current window or a new window.
Realigning the sections:
Wix website builder allows you to realign sections on your homepage. To customize your sections, you need to click on the slide. Then, a panel will appear from where you can manage slides. You can change the slide background, slideshow settings, and layout from this panel. The design button on the panel enables a user to re-do colors, opacity, borders, and corners.   
Pin
Here's a small tip, you can experiment with your background by uploading a video background header or a slider to introduce your entity to your viewer. If we talk about header and footer, most websites carry an extensive range of pages like about, portfolio, contact, and services to make your website more professional.   
5. Create Other Pages
You can add more pages to your website by selecting the 'Site Pages' option from the sidebar situated on the left side of your page.  You will get a category for the type of pages you want to add to your website. Then, you can add details to your pages and enhance these pages by adding effects and animation. 
Pin
6. Add A Blog Or Online Store
Blogs are a great way of bringing traffic to your website. You can upload blogs relating to your field from the left-hand-side panel on your dashboard. Additionally, if you're planning an e-commerce website, then Wix's Online store feature can come in handy. This feature allows you to customize your product gallery, payment method, and ways to manage your inventory and orders. But to get this feature, you will have to buy its business and e-commerce plan. Also, it enables you to connect with your customers by creating newsletters.  
Pin
7. Optimize For Mobile
In the Web 2.0 era, smartphones are the immediate devices to access the internet. Now, search engines, social media platforms, and mobile applications enable users to search for the nearest place to avail themselves of a particular product or service. 
Hence, it is pivotal to customize your website for mobile users. Wix website builder allows you to create a mobile version of your website in a few easy steps.
You can create a mobile version of your website in the following steps: 
Pin
Pin
Click on the mobile icon on the top-left side of the dashboard.

A whole new dashboard will appear on the screen. You will see that the panel on the left side of your dashboard is quite different from its desktop version. This panel gives you options to add new elements to the mobile version of your website. 

 It also allows removing certain elements that are not fit for mobile view.  

'Mobile tool' icon facilitates you to customize your mobile site with a quick action bar, back to top button, a welcome screen, and browser theme color.  

The mobile layout option will help you optimize your mobile view. 

The rest of the features are similar to its desktop version. You can modify your site as per your choice. 
8. Add Apps
Adding apps to your website adds additional functionality to your website. To help you achieve it, the Wix website builder provides a separate App market that has hundreds of apps. 
Pin
The Wix App Market has hundreds of apps in different categories. You can browse apps from the search button and click on 'Add to Site' to add the app. The app will be added when you click on the 'Allow and Add' button.  
9. Optimize SEOs
SEO (search engine optimization) entails several important elements, but one major optimizing task would be choosing search-engine-friendly keywords that, if chosen effectively, can put you on the top of the search list. Wix provides tools to make your website content SEO-friendly. You can explore your Wix dashboard to check for SEO tools. 
Pin
Wix SEO features allow you customization of your site pages as per search engines and social networks. 
10. Pick A Pricing Plan And Get Your Domain
You are probably ready to publish your website if you have finished all the above steps. 
First, you will have to click on the 'Publish' button on the toolbar. Then, Wix will ask you whether you want to publish through the Free version of Wix or if you would like to upgrade to the premium one?   
Pin
What's The difference?
If you go for the free version, then you will have some limitations:
You will have to bear with ads, which means that every page of your website will have a Wix ad.  

It will prevent you from connecting a domain name to your website.  

You won't be able to add your online store.  

You won't get the benefits of Google Analytics. 
If you are ready to let go of these features, you can publish your website. But if you intend to build a professional website, you should buy its premium versions. 
Pin
You have to click on the 'upgrade now' button to take you to its pricing page. 
Wix.com's Pricing Plans:
With such comprehensive features to build a full-fledged website, Wix premium packs are comparatively cheap.  
Wix offers three eCommerce plans: 
Business Basic:

$23 per month 

Business Unlimited:

$27 per month 

Business VIP: 

$49 per month 
Key features and differences: 
You will be able to remove Ads, connect to your domain and get unlimited bandwidth in each of them. At the same time, each plan avails different video hours and storage space. 
What Do We Recommend?
We recommend the Business Basic plan to those who have just started their website. It comes with 20 GB of storage space and ad vouchers worth $300 to advertise your site on Google and Bing. Additionally, it gives a Site Booster App that helps you promote your online store on Google. And a free Visitor Analytics App will provide insights about your website and audience. 
Those with a growing business and an eCommerce website can go for the Wix Business Unlimited plan covering all Business Basic Pack features plus 35 GB storage with ten video hours. In addition, you get additional features such as Wix logo Maker to make a professional logo for your website with social media logo files to customize your logo in 40 different sizes. 
Wix Business VIP $49/month is for those who have a thriving business. It has everything from the Wix Business Unlimited plan. In addition, it offers 50 GB storage, unlimited video hours, priority response, and VIP support. Hence, you get every feature that Wix has to offer. 
Other than this, those who have big businesses can also go for its custom-priced Enterprise Plan for end-to-end business solutions. It starts at $ 500 per month. To get a custom quote on your requirements, you can contact the team. Your website will be ready once you choose the right pricing plan.  
Congratulations! Your website is ready. 
Key Takeaways
Wix is the best cheap website builder for those finding their feet as enterprises.

Its intuitive interface will help you to use it to the optimum. 

Apart from designing a website, it empowers users to take benefit of Wix SEO technical advancements.

Wix provides power-packed marketing tools to help you build proper marketing strategies for promotions. 

You can get insights regarding your website traffic by connecting your account with Google Analytics which no other website builder offers. 
With over 200 million users, Wix has become the leader in web development and a true "All-In-One" website creation tool.