Home » Reviews »
Line25 is reader supported. At no cost to you a commission from sponsors may be earned when a purchase is made via links on the site. Learn more
Building a website from scratch can seem like a huge undertaking, especially if you're not well-versed in web design or fluent in programming languages. 
While hiring a professional developer can be too pricey for many, using a top-notch website builder is an excellent alternative to launching a stunning website for your brand or business.
While there are many website builders out there, Zyro stands out as a user-friendly platform for web projects in any industry or niche.
And the best news of all, Zyro is running a huge Black Friday sale – you can get up to 85% off your preferred builder plan. 
Starting on November 16th and featuring a 30 day money-back guarantee, you could build a website for just $1.79 a month. We can assure you that no other builder offers prices as low as these.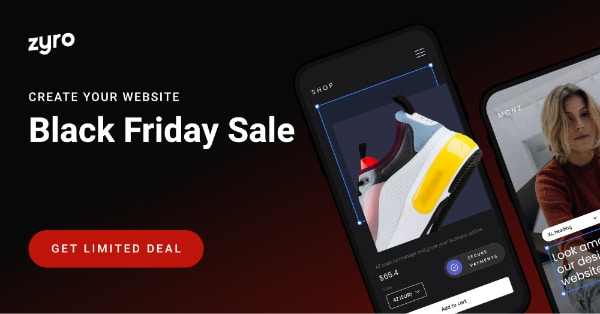 Designer-made templates
To get your business up on its feet, Zyro offers an ever-growing library of professionally designed website templates.  There's something for everyone, from eCommerce stores to portfolio and resume websites, and more. 
It's easy to toggle between the different categories on the templates page. By hovering over each template, you can start building your website directly or preview how it will look when it's live.
Zyro's templates stay on top of the current web design trends, so your website will look the part, no matter what. 
And the best bit? All of the templates are fully customizable, which means that you will have the freedom to add and subtract pages, change the layout of the website elements, and add new ones too.
Intuitive interface and website editor
Once you start customizing your template, Zyro proves just how easy to use it is. As a beginner, you definitely don't want to spend hours upon hours watching tutorials on how to use a new piece of software.  
The Zyro editor is stylish and intuitive. Thanks to the smart grid, you can just drag and drop any website element and snap it right into place – anywhere on the page. 
This way, you'll be in charge of the exact placement of text, buttons, widgets and pictures on your website. If you don't like a color or font, you can change that with a click of a button.
Also, thanks to Zyro's partnership with Unsplash, you can choose from over 1 million free-to-use images, too. No need to spend lots of money on a photographer or buy licensed images – just search the free photo library for photos. 
Powerful AI tools to speed things up
Zyro's all about getting you online fast. 
With a little help from their ever-growing arsenal of AI tools, you can fast-track your content writing, come up with a catchy business name, or a title for your newest blog post. 
You can even design a unique logo for your business, all under one roof. 
The AI Writer, in particular, is impressive. 
You can use it within the website builder too, so don't let your (lack of) writing skills stop you. 
If you're stuck for words or in a rush, you can feed it some keywords and topics and voila – your About page will be finished in less than a minute.  
eCommerce functionality
If you're looking for a platform to help you grow your online store, Zyro can help you with that too.
Not only can you choose from beautiful templates, but the business management tools are impressive as well. 
With a great onboarding experience, even a novice can easily set up new product listings, update shipping and tax details and create discount coupon codes. 
The product management, in particular, allows you to set up different variations of one product and manage everything in one place. 
You can also integrate and manage many marketing campaigns from the store back-end. 
Rather than using multiple different websites to manage the day-to-day of your eCommerce business, you can just do it with Zyro instead. 
Build a website without breaking the bank
Who wants to pay a fortune for a website? Literally no one, especially if it's not making any money (yet). 
Luckily, Zyro has some of the most affordable subscription plans on the market. 
You can create a basic personal website for $1.30 per month, and even the most kitted-out eCommerce+ plan costs a mere $13.99 per month. 
That's less than your average monthly spend on takeaway coffee. 
There are no hidden extra fees, either. If you have an online store, you don't need to worry about additional commissions per each sale. 
Since every Zyro website has things like web hosting and SSL certificates included, you'll have one less thing to worry about. 
Get noticed with in-built SEO tools
There's nothing worse than creating a website that has that 'wow' factor but no traffic. 
All websites built with Zyro are optimized for search engines. You'll have a mobile-responsive website that loads at top speed, and with some attention to on-page SEO, your new website will start to show up in the search results. 
You can manage your web page metas easily in the Dashboard and tweak the image alternatives by a click of a mouse. 
Don't worry about editing your website's source code or managing a complicated media library. 
Why choose Zyro
There are many more reasons why Zyro should be your go-to website builder, depending on the type of website you want to create.

The main pros of using Zyro include:
An intuitive and easy-to-use website editor and user interface

Designer-made templates, that are SEO-friendly, mobile-optimized, and load fast

AI tools like the AI Writer and the Business Name Generator to help you get your business online fast 

Most affordable prices on the market 

24/7 customer support and 99.9% uptime guarantee
While Zyro is a well-rounded platform for website novices, because it's the new kid on the block, it still has some features that are being developed. 
With the recent launch of the blogging tools, however, it's clear that the Zyro team isn't kidding when they say that they are continuously working on new features. 
Create a website today
Overall, Zyro is a very affordable and easy-to-use website builder for anyone without prior web design experience. You won't get lost in the user interface, since everything within the editor is clearly signposted. 
The fully customizable templates work great together with the grid, and even if an element gets misplaced, the overall design will still look good. 
It's fool-proof. 
And if something doesn't work as it should, the customer support chat is there to help around the clock (24/7 live chat).
Zyro should be the go-to website builder for anyone looking for a fast and no-nonsense experience. 
After all, you should be focusing on more important things than figuring out the ins and outs of source code, right? 
And don't wait, because their Black Friday sale is running right now. Get up to 85% off any Zyro plan and get your business online for just $1.79/month.