Home » Photoshop »
Line25 is reader supported. At no cost to you a commission from sponsors may be earned when a purchase is made via links on the site. Learn more
Collecting image overlays to use in Photoshop can be cost-effective when they are bundled together. Overlays are basically images that are placed on top of the base image to add value to its creative design. As a graphic designer or photographer, you probably come across image overlay tasks frequently. If you are more into basic image editing, then adding image overlays from scratch can become a little frustrating if you're not familiar with the process. Having the right tools and resources can make an impressive difference.
Here we have compiled a list of 20 amazing overlays for Photoshop bundles that designers and photographers can collect and use when needing to enhance images and give them the WOW Factor! They range from natural overlays to shadows, dreamy, and even wedding overlays. Using overlays is one of those valuable and impressive photoshop tips and tricks.
There are many reasons to use overlays, but the most common benefits are:
To add text effects for branding or marketing purposes

To improve the aesthetics of an image

To add graphic elements for effect

To protect copyrights or trademarks

To take a basic image and make it look like a professionally designed asset
Sponsored Ad
In the earlier days, graphic designers had to sit and create overlays for each image. This is a time-consuming and laborious task. But today, there are thousands of image overlays available on the internet, but not all are available at very reasonable rates. These overlays are packaged together in a big bundle with some having over 1000 options providing designers a great way of getting more value or the biggest bang for the buck.
When you download one of these bundles, you can access the overlays through Adobe Photoshop, Lightroom, and other image editing software. In no time, you will be able to transform your image into something very creative and beautiful like a pro.
Background & Overlay Bundles Provided by Artixty
One of the major sources of such overlay bundles is Artixty which is home to various graphic design resources, including photoshop brushes, actions, fonts, templates, and more. Here's Artixty's promise to you:
Our Promise – Artixty helps to connect all the best creative professionals on the internet with one another. All the products featured on our store are thoroughly tested by our team for performance and quality. All products also come with a commercial license allowing you to use them for multiple personal and commercial projects.
Compatibility, Formats, Resources & Licensing Included:
These design assets are compatible with all major design software brands and here are just a few:
Photoshop
Photoshop Elements
Photoshop Lightroom
Affinity Photo
GIMP
Luminar
Corel PaintShop Pro
And more!
Here are some additional specifications and details including licensing:
File formats: transparent PNG Overlays, JPG backgrounds, .PNG, .PSD
4K, 5K, and 6K+ resolutions are available
Print-ready assets included with some bundles
Includes a commercial license
Lifetime bundle access for download
Right now, there are several websites that claim to provide you with quality graphic design resources but end up scamming you or disappointing you. That is why we recommend Atrixity, which provides you with some of the most creative elements at highly discounted rates. We are pretty confident you'll find an overlay bundle here that's just what you need.
To start with let's take a look at this massive collection of over 8,000+ overlays and backgrounds bundle. If your photos are ready for a makeover, here's a great place to start. This bundle is broken down into 170 categories with everything from pixie dust to flares to red rose petals. Imaginations can run wild with this collection and it's been drastically reduced from $250 down to $39. Once you download the gigantic bundle you can use them forever under a commercial license.
Bundle Price: Was 

$250

 ( Now Only $39 )
Attention all photographers and graphic designers! Take advantage of one of the finest high-quality bundles consisting of over 3,000+ overlays, templates, and digital frames online and at a significantly discounted rate. With this massive collection, you can quickly edit your photos and add a brilliant look using Lightroom (1,000+ presets), Photoshop (1,000+ actions), and 500+ actions available to use in Photoshop Elements.
In no time at all, you can add incredible effects to your photos that will put your creative work above the competition. With more than 3,330 graphic resources you'll be sure to find just the right effect that will make you stand out from the crowd, becoming the envy of some with such stunning photos.
This is truly a one-of-a-kind bundle that comes with a commercial use license which allows you to have unlimited personal and commercial use with all your projects. No attribution is required and no additional fees are necessary.
Bundle Price: Was 

$499

 ( Now Only $59 )
This beautiful photo overlays bundle is a must-have for designers working on portrait photos. It comes with 1900+ well-curated overlays spread across 40 different styles. The styles include skies, leaves, fire and spark effects, bokeh, and more. When you download this bundle you'll have instant access to transform any image in just a few clicks. This $199 bundle is now available at just $25 – and that's a deal. 
Bundle Price: Was 

$199

 ( Now Only $25 )
There is a reason why this bundle is named Supreme, and that is because it covers some unbelievable overlays that can magically uplift your images. The bundle contains more than 13,000 overlays and around 50 types of backgrounds. The good part about this bundle is that it delivers 4K+ resolution overlays, allowing you to work on high-resolution images without any hassles. In addition, Atrixity is offering a special discount on this bundle at a significantly lower price than normal.
Bundle Price: Was 

$250

 ( Now Only $39 )
Shadows can add a lot of creative value to the images. But during photoshoots, creating and capturing shadows can be a challenging task. This brilliant real shadows overlays bundle can help you overcome this issue. It comes with 180 overlays categorized in 3 different styles that can be used per need by adjusting the blend mode with the original image. In addition, the overlays are compatible with all major designing software and come at the cost of just $29.
Bundle Price: Was 

$99

 ( Now Only $29 )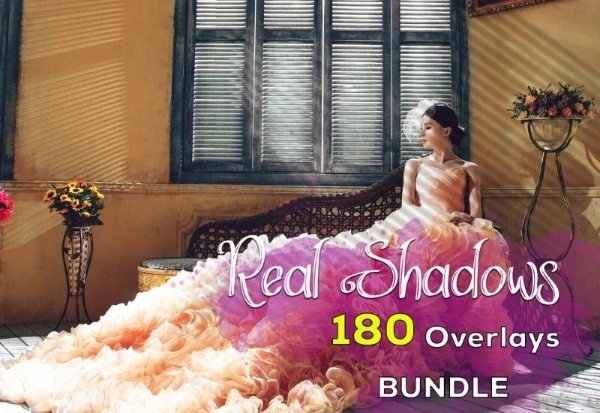 Profile photos have become very important in our lives. Starting from Facebook to all the other social media platforms, we need to ensure that we put up the best profile photo. But if you do not have some fantastic photos to show off, you can take this bundle's help and transform your ordinary photos into really cool ones. The bundle contains over 3200 overlays, including night skies, bokeh, galaxy, rain, and other such elements.
Bundle Price: Was 

$99

 ( Now Only $35 )
When you are getting a $450 bundle at just $39, you know that you are getting a good deal. This is the case of this fantastic overlays mega bundle which has a collection of over 18,700 overlays that have effects like Halloween, light leaks, fire, cinematic dust, and a lot more. The overlays come with 4K resolution at 300 DPI and can be deployed with just a single click. Getting so many good overlays at such a low cost is something you should not miss.
Bundle Price: Was 

$450

 ( Now Only $39 )
Halloween always brings a lot of work for the designers as they have to come with various creatives for the festival. This graphic design resource for Halloween is scarce, and hence this $29 bundle offering 1900+ overlays is a good grab. Starting from fire, lightning, fog, night sky, there are many options that can be used to add a spooky feeling to your image. The advantage of the bundle is that the overlays come ready to print at 300 dpi.
Bundle Price: Was 

$89

 ( Now Only $29 )
There are a lot of photographers that work exclusively for kids and family photoshoots. They are always searching for overlays that can help make their final images cute and lovable. That is where this cute photo overlays bundle ($39) can come in very handy. It has over 2800 special effects, including fog, soap, bubble, smoke, glitter, etc. The good news is that they are 4K ready, and hence you can use them even with high-resolution images.
Bundle Price: Was 

$249

 ( Now Only $39 )
If the above bundle was to help you make your photos cute, then this fabulous photo overlays bundle is to make your images really gorgeous. In just a few clicks, you will be able to transform your images into highly professional-looking photographs. The bundle costs only $29 and contains 2500+ overlays covering over 50 different styles. It also includes overlay actions that will help you use them quickly and effortlessly.
Bundle Price: Was 

$149

 ( Now Only $29 )
All professional photographers use ready-made overlays to ease their image editing effort. This bundle compiles almost all possible needed overlay styles to cater to them. It covers over 2500 overlays that provide effects for abstract waves, color smoke, grunge, cosmic bokeh, vintage paper, and more. The bundle is 4K ready which means that all the images you can create from this overlay will be of high quality. Also, the cost of this bundle is only $25 making it a good buy.
Bundle Price: Was 

$32

 ( Now Only $25 )
Overlays that come along with set design elements can be of extra help during editing as they can help you redecorate the empty spaces. This mega photo overlays bundle comprises over 2000 overlays divided into 37 various categories. The categories include Christmas lights, Scrambled letters, wedding art, snowflakes, and more. The best part about the bundle is that all overlays are 5k resolution, and they cost just $29. 
Bundle Price: Was 

$99

 ( Now Only $39 )
One of the biggest challenges that designers face when using additional overlays is how to make them look real. If not done correctly, everyone will be able to make out the image that has been imposed upon another image. This realistic photo overlays bundle helps in this challenge. Costing $35, it comes with more than 1000 realistic overlays classified in 21 different styles. Without putting in much effort, you will be able to use them on any image.
Bundle Price: Was 

$99

 ( Now Only $35 )
A $199 bundle at just $29 is always a good deal. This reminiscent photo overlays bundle lives up to its name as it provides quality options for image editing. It comes with 12,500+ overlays, including grunge and light leaks effects. When used correctly, these overlays can transform your image into amazing photographs, which can then be used for other marketing designs like posters, covers, and even social media posts.
Bundle Price: Was 

$199

 ( Now Only $29 )
Wedding photographers have been high on demand as all couples want to make their wedding memorable. If you are a designer who works on editing wedding photos, then you will always be under pressure to come up with something creative and different. This wedding photo overlays mega bundle can help you in that endeavor. Costing just $19, it comes with 2000 highly realistic 4K photo overlays. You can transform wedding photos into magical images in just a few clicks.
Bundle Price: Was 

$179

 ( Now Only $19 )
Satisfying every photographer's need, this $29 bundle is a must-have. Rightly termed the photographers' creative overlays bundle, it comes with 900+ overlays, including dust scratches, sunrays, moon, bokeh, fog, and many more effects. The overlays work seamlessly for all design software and come with the proper commercial license, just like all the other bundles in this list. The good part about this bundle is that it keeps in mind the photographers' needs and this is why all its overlays are creative and unique.
Bundle Price: Was 

$149

 ( Now Only $29 )
Adding a nature overlay can enhance the creative aspect of your images. This mystical nature overlay and brushes bundle comprises 360 weather-themed overlays. This includes rain, lightning, fog, clouds, sky, and more. You can choose the correct overlay to augment its visual appeal based on where the image is shot. The good part is that along with overlays, you also get Photoshop brushes which is a huge bonus, especially when the cost is just $15.
Bundle Price: Was 

$79

 ( Now Only $15 )
Bokeh is one of the most used overlay elements in image editing. They help you add the needed jazzy look to the image and make it aesthetically appealing. This bundle consists of over 100 bokeh overlays of different light settings, colors, and structures. They are compatible with all major designing software and come in high resolution. Costing only $9, they are indeed a good design resource to add to your collection.
Bundle Price: Was 

$49

 ( Now Only $9 )
Light leaks can completely change the visual effect of your image. However, creating the right light leak effect is not easy and time-consuming. This is why you should get this professional light leaks photo overlays bundle. It consists of over 10,000 overlays, including categories like vintage, vignette, rain light, sunlight, bokeh, lens light, and more. Costing just $25, all overlays come with 4K+ resolutions.
Bundle Price: Was 

$72

 ( Now Only $25 )
You should feel lucky to get a $459 resource at just $35. This dreamy nature overlays bundle can add natural elements to your images and save you hours of editing time. There are around 9500 overlays, including roses, tulips, wings, and more. So if you are looking for something elegant and classy, this is a good option. Also, all overlays are 6K+ resolution so that you can use them for high-resolution images.
Bundle Price: Was 

$459

 ( Now Only $35 )
This overlays bundle is named miraculous mega overlays bundle because the way they transform your photographs is nothing short of a miracle. The bundle comes with more than 3700 high-quality overlays that are spread across categories like cyberspace, flame sparkles, sunset sky, vivid bokeh, and more. You can work on these overlays on image editing software like Photoshop or Lightroom. The $149 bundle is for sale at a discounted rate of $29. 
Bundle Price: Was 

$149

 ( Now Only $29 )
Looking to add sparkles to your photographs, this overlay is a good choice. It comes at the cost of $33 but offers over 750 overlays. Glitter dust, cinematic dust, snow, red heart, sunlight, gold confetti, and many other 13 categories are included in the bundle. The best part is that it is available at 5K+ resolution, which allows you to deliver high-quality output images. 
Bundle Price: Was 

$65

 ( Now Only $33 )
Conclusion
Using overlays is an obvious and most intelligent method for graphic designers if you are looking to enhance your image with little effort. Overlaying has become a fascinating task because any graphic designer and photographer can stand out from others as a professional even if just getting started. The only challenge here is finding the right resource that can offer you the high-quality overlays you need at a significantly reduced price. We have you covered with the list above and thanks to Artixty for their excellent work and for making these available to our readers.
Sponsored Ad