Home » Articles »
Line25 is reader supported. At no cost to you a commission from sponsors may be earned when a purchase is made via links on the site. Learn more
With such a wide array of free Photoshop brushes out there, there are no limits on what you can create and which effects you can add to your artwork. By simply using a brush, you can turn a dull image into a fantastic scene that's out of this world!
We have selected 50 free Photoshop brushes, high quality and hi-resolution, that will hopefully inspire you to create something new, or help you finish an older or current project. The brush sets below are compatible with different Photoshop versions, so you can be sure you'll find something that works for you.
The Fairy Dust Brush adds a light shimmer and it's ideal for giving skin a soft, dewy look. For example, when you're painting characters, you can use it to texture mouths.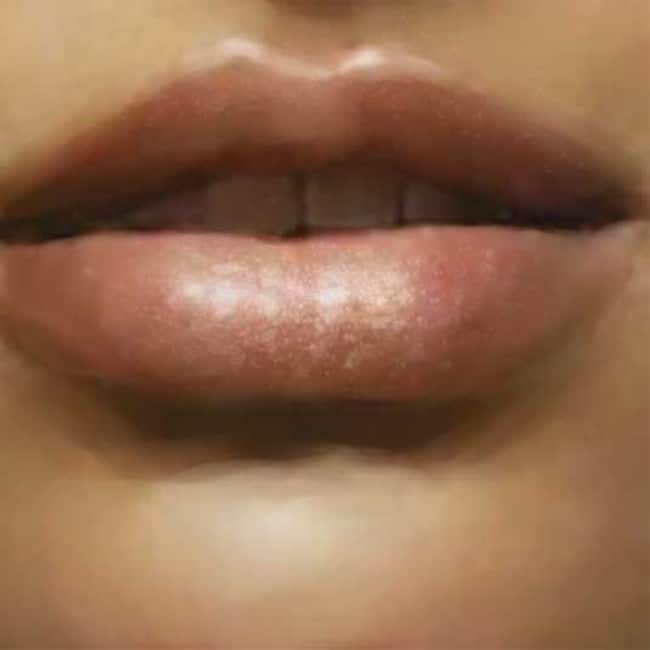 This pack contains 13 high-quality Photoshop fire brushes that you can use in your design projects to create awesome effects.
Here are some leaves and vines brushes for enchanting projects. We recommend using them for your graphic design projects or even photo manipulations.
Pack of 30 Splashes of Paint brushes, vectored and modified in high resolution. They can be used as ink, paint, and even water spots. Feel free to use this for your personal or commercial projects.
This pack of Photoshop brushes features 12 bristly dry brush strokes with wispy lines and detailed edges. Ideal for distressing edges and adding a rough texture to your artwork. You can download this freebie and keep it in your design inventory.
These photorealistic explosion brushes make adding fire to your photo manipulations easier than ever before. This pack includes 16 brushes that come preset with Photoshop gradient and JPG alternatives. We recommend using this freebie in your design projects or photo manipulations for incredible results.
Pack of 9 hi-res brushes ideal for quickly creating fantasy backgrounds. Some other great ideas to use them can be to create textures like rocks, cave and catacomb walls, alien metals etc.
Technical brushes made from old technical drawings. You are free to use these brushes in your projects with no attribution needed.
Pack of 19 nature silhouettes, trees, and grass brushes. You can download the .zip file and keep it in your freebies inventory.
Contains 24 hi-res pain lines brushes that are compatible with PS 7 and up. You can use these to create great, realistic effects for paint and they could work great for posters.
These Coffee Stain brushes were all created using coffee straight from the pot and salt to adjust some textures and add some color variation. These were created in Photoshop CS2 and should be compatible from CS2 and up. If you use them, you are kindly asked to give credit to the author somehow.
Set of 6 hi-res star brushes for splendid night sky designs. You can use this freebie to create magical, mesmerizing effects.
Bokeh brushes are inspired by the effect created by the blur of out-of-focus areas in a photograph. It emphasizes certain points of light by blurring areas outside of the focal point. A simple suggestion on how to use these is to enhance the background of your photos.
Matt Heath's Photoshop brush set was created using an 8B Steadtler pencil and custom settings that add a natural quality and contribute to a variety of textures. The pack comes with more than 110 brusher to use as you please.
This Photoshop brush set includes 30 doodles. Great for postcards, web page headers, and greeting cards. You can download this amazing freebie and keep it for later.
TC Magic Spells features 21 brushes made with PS 7. Use them in your illustration projects to create wonderful, realistic effects.
Speckle Brushes offers a set of 5 Photoshop brushes made from real slice of toast. They're 100% free to use in any personal or commercial project.
Set of 5 hi-res grimy brushes to add some grunge to your artwork. All of them are 1700 x 1700 px.
Set of 8 med/hi-res grunge, sponge, and painted mark brushes. Each of them has 400-2500 pixels and they come in an .abr* file.
Set of 13 Photoshop brushes in a variety of colorful gradient shapes. These are awesome for your artworks and design projects.
Set of 18 watercolor heart-shaped brushes to add touch of love to your designs. We recommend using these for your graphic design projects such as postcards, posters etc.
This vintage wooden brush blends easily with any Photoshop color that you decide to use. The brush size is 616 x 1028 px and you can use them however you want.
Set of 16 3D Halftone brushes (aprox. 2400 x 2400 px) for PS 7 and up. Use them to achieve great effects for your projects.
Set of 117 brushes created with watercolor. These brushes can be used to create both blood and paint splatters. This set of brushes in completely free to use.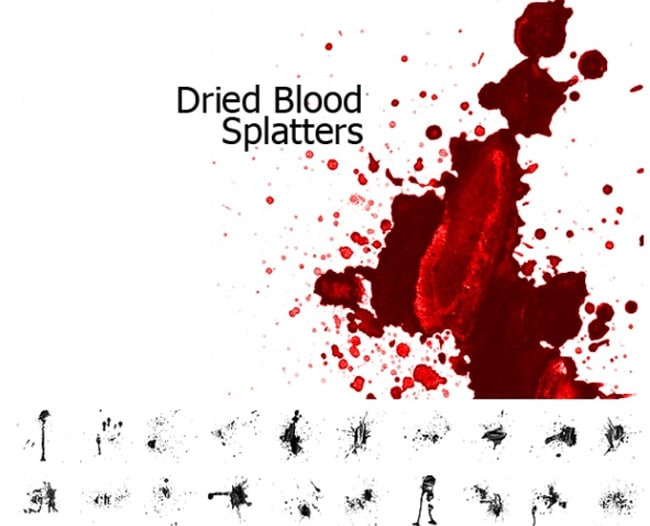 The Funky Paisley brushes are hi-res and can be resized as needed. They are available in both PNGS and ABR files. These could work great for postcards or other graphic design projects.
Dynamic Light Special FX brushes are great for adding or enhancing movement in your artwork. They are also excellent for creating waves of light surrounding certain elements and they work great with overlay and vivid light blend modes. By downloading and using these brushes you can achieve cool photo manipulations.
This set features 12 textured brushes for creating scars, marks, or any other kind of imperfection. They can be used for a variety of other projects as well. These brushes are very simple but the results can be incredible.
This realistic hair brush set is great for adding texture, length, and volume to hair. It can only be used with Photoshop CS. They are free to use if you give proper credit to the author.
This set features shadowy tree branches perfect for forest scenes. These brushes can be used under Creative Commons Attribution-Noncommercial 3.0 License.
This set of 21 colored smoke brushes is one of the most popular ones on QBrushes. You can use them to achieve fantastic effects.
This freebie set contains 10 hi-res cloud brushes (4288 px – 2848 px). The large format makes them perfect for both print and web projects. We also recommend using them for creating simple but effective backgrounds.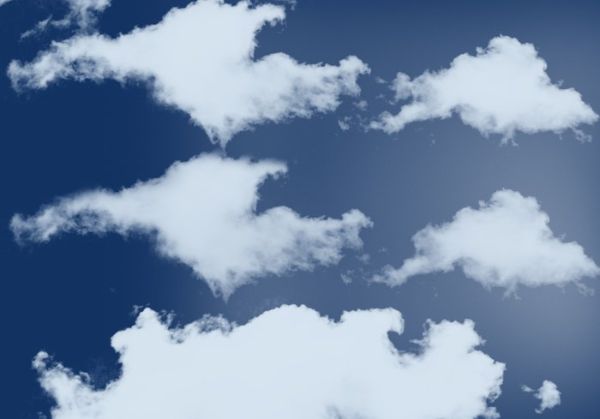 These Dust Particle brushes come in a set of 15 and are available in ABR, PSD, PNG, and JPG formats. Use these to create mesmerizing effects or to add dust or dirt to your designs.
This pack features 10 burn effects, some of which allow you to add images underneath for a more dramatic effect. Available in ABR and PSD formats. Download this freebie and keep it in your design inventory for further use.
This grass and plant set comes with 10 brushes, size 2500-500 px, and it's compatible with PS 7. These brushes have a very realistic look.
This brush set is compatible with Photoshop CS3 and comes in two sizes: 2500 px and 500 px. Use them as you please in your personal or commercial projects.
This set includes 13 large brushes representing space dust, stars, moon scenes, and everything else related to the night sky. Large size makes these brushes ideal for print and web projects. Compatible with Photoshop CS3 and above. We suggest using them for creating unique, magical backgrounds for your artworks.
Freeware brush pack that can be used for commercial or non-commercial projects. These brushes can be used with different colors in order to create geometric designs.
This pack is great for Going Green projects, posters, flyers, and brochures. They have a nice cartoon look that could enhance your design projects.
This set contains 12 brushes, 1280 px and larger, featuring a variety of water splashes, ripples, and drops. Compatible with Photoshop CS3 and above. These awesome brushes have a realistic effect and are free to use in your design ideas.
This is a collection of 5 subtle hi-res fabric brushes, 2500 x 2500 px. These were made from real photographs so they have a very nice texture.
Set of 20 hi-res floral swirls brushes for PS 7 and up. They work like a charm when customized with colorful gradients.
The Starfield brush set contains 4 brushes, each 2500 px, and it's compatible with Photoshop CS and up. Download the file and use it to create personalized backgrounds for your drawings and artworks.
This 7 pack Gritty and Grunge brush set is a favorite, having been downloaded over 10,000 times! Great for adding texture and roughening illustrations and typography. These brushes don't have rough edges which makes them much easier to blend into your artwork. Don't worry if you don't have any ideas now, just keep them for later use.
The Grunge and Smooth Floral Brushes offer a large variety of crisp and clean, rastered vector brushes, ranging in size between 800-100 px. Compatible with Photoshop 7 and up and Photoshop Elements. They work great used for graphic design projects such as posters, flyers, postcards etc.
The Grunge2012 brush pack offers 25 HQ brushes compatible with Photoshop CS5. You can use this brush set in your personal or commercial projects as you please.
This Moon Brushes set offers 10 impressive brushes featuring different phases of the moon. Use them to give a magical touch to your designs or artworks.
The Fractal Brushes set includes 12 different shapes of fractal brushes. They can be used for different purposes from Twitter backgrounds and wallpapers to website designs.
This Texture Brush set contains 9 actual scans of high-quality fabric textures, scanned at 1200 dpi. The brushes have 2500 x 2500px and can be repeated to create larger designs.
This collection features 12 delicately illustrated brushes of different types of birds and feathers. Use them for free in your graphic design projects or even web design.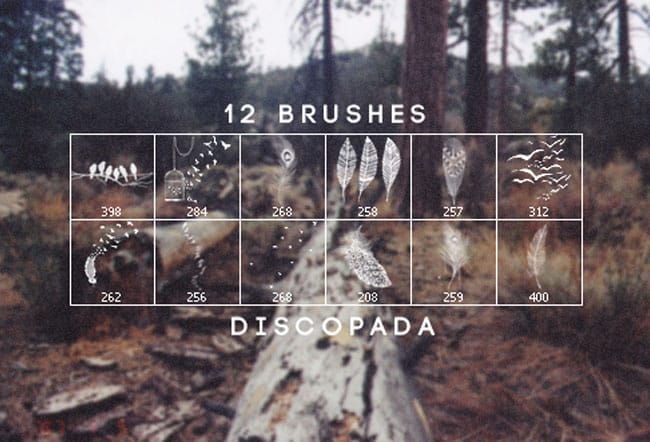 These Spray Splatter brushes come in a set of 12 and they're great for adding grunge effects to any art project.