Home » Articles »
Line25 is reader supported. At no cost to you a commission from sponsors may be earned when a purchase is made via links on the site. Learn more
Photoshop brushes are a very useful and creative design asset to have. You get several standard brushes pre-installed in your software however, designers always like to get some extra for different reasons. Apart from the common brushes, there are a number of creative and versatile brushes available in the market to give you an edge over the competition.
You can add your desired effect and look to your design with more controlled and easy steps. That's why we have curated this beautiful collection of 21 most useful photoshop brushes for the year. With this list, you get a bunch of brushes with different strokes and effects to enhance your skills for better and graceful illustrations, designs, and artworks. We have explained every tool in detail so that you can decide which brush is perfect for your requirement. So let's get to the list and see what these brushes have to offer.
It is a beautiful pack of thick smock brushes. This set offers you a massive bundle of creative strokes that you can utilize in multiple ways. You get 100 variations of smoke designs which are in a combination of sharp, smooth, and seamless. Smokes brushes can be very helpful in creative, dramatic, intense, fanciful, and artistic projects. And with this pack, you get very subtle and natural brushes that can give real essence to your designs.
With this collection of doodle brushes, any artist can get a realistic doodle look in designs. It is a very helpful brush set, especially for artists and illustrators. You can easily download and install it if you have an upgraded version of CS5. Moreover, this professionally designed brush pack has 11 zigzag, 11 simple, 23 scribbled, 11 straight, 13 wiggy, and five e shaped doodle brushes. With some smart, creative techniques, these brushes can effortlessly improve your vibrant and playful designs —so overall, a great brush set.
Halftone designs and risograph effects are some of the most loved and tried trends of this year. And that's why this halftone brush set will give you aid for those projects. You get a beautiful, smart brush pack with 122 unique and seamless halftone strokes. Your innovative designs, vintage illustrations, and eccentric themes can use this brush set efficiently. In addition, you get a various grid, dot, wave, line, and misc patterns from these brushes to experiment with your creativity and build something attractive and stylish.
Some good-quality watercolor brushes are one of the essential assets for digital artists. However, you need a powerful brush pack like a master of watercolor brushes to give a realistic and best quality output. This Photoshop brush set has ten high-resolution handcrafted watercolor strokes with png images and one paper texture. It is an intense, raw, and adaptive brush set to help you with digital watercolor paintings, illustrations, and professional designs. Therefore it's one of the most recommended brushes set in the watercolor brush category.
To add magical effect and elevate some fancy designs, you need solid sparks brushes in Photoshop. This Sparks brush set has ten beautiful spark designs to provide a soft and intense glow to your designs. In addition, you get to utilize these brush strokes to complete your fantasy-based and alluring designs. With these incredibly versatile brushes, your designs can have unique effects, elements, and looks if you are creating some cool and innovative combinations. So overall, it's a beautiful high-quality brush set for sparks and lights.
One of the realistic strokes is markers. Getting a nice quality marker brush for Photoshop can be challenging, but not with this set of brushes. It offers a large number of brushes with different categories like permanent markers, micron liners, art markers, solid markers, texture brushes, and line-art brushes. You can make your designs look natural and professional with these brushes. And that's why it's an excellent marker brush set to collect.
Grunge brushes and grain effects give a very strong vintage look to the designs. And nowadays, retro designs, old print themes, and antique looks are becoming popular trends. That's why this grunge Photoshop brush kit is here. You get five unique and handmade textures in a single file. It allows you to modify your digital artworks and give them a right dusty and vintage look. So get this additional small brush pack for more perfection and a personalized effect.
This one is a unique and very interesting brush set. It has more definite use and purpose with its professionally crafted seven high-resolution vintage floral patterns. You get seven assorted brushes related to plants and flowers for free from this download. So many whimsical and artistic concepts may require such beautiful patterns, and with this set of brushes, you can include them without any hassle or groundwork. Any creative professional can use this brush set for multiple vintages as well as modern designs.
Designer Matt Heath has designed this extensive range of photoshop brushes that include a large variety of strokes and patterns. It gives you natural-looking brushes of pencil, charcoal, watercolor, ink, and paint strokes with additional textures, splatters, comic ink, and halftones. In addition, this brush set is a comprehensive pack of Photoshop brushes that can help you in almost any design. So overall a wonderful collection to save and elevate your designs effortlessly.
Light leaks and patterns are a fantastic way to create an illuminating effect in the designs without any complicated method. This firey light leak kit has ten solid brushes and fifty overlays to allow you to paint your own customized light beams for various creative designs. This pack of light brushes and overlay can work with Photoshop 2018 or above version, so that's the one thing you need to check. Overall it's a great quality light brush kit for unique designs.
This is an excellent set of ink brushes that you can install in Photoshop and give a delicate realistic touch to your designs. Ink brushes are very helpful for digital paintings, animated posters, and illustrations to make them surreal and attractive. This pack has twelve ink washes brushes, fifteen sketching ink brushes, and nine ink stains stamp brushes from a unique handmade technique to help all the artists with their creative work.
This highly adaptive and dynamic set of light streaks is perfect for saving to include abstract and digital look in the designs. You get one ABR file and ten transparent PNG files from this download to use in various futuristic, stylish, and technology-based designs. It's a professional and helpful brush set for amazing, sincere, and attractive designs for a unique artistic touch and modern essence.
This beautiful collection of brushes gives you remarkable strokes for the night and sky theme. You can download this for free and use it in Photoshop version CS3 and above. It has thirteen large brushes portraying night, sky, moon, stars, and dust for any of your creative design ideas. Many beautiful landscapes, space and astronomy designs, futuristic concepts, and fictional projects may require a solid brush set like this to add a realistic and convincing element.
This unique brush pack has a different personality and charm that gives you multiple benefits for a large number of designs. It offers professionally designed brushes of carbon atoms, water molecules, magnetic fields, light beams, and a variety of shapes and textures in a single set. With 1500px of high resolution, all 18 brushes help you to add different shapes and textures to your digital artwork. Any creative professional can deliver the best quality design through this set with minimum effort.
For dedicated and passionate artists, this set of brushes can be a tremendous asset. It provides 135 Photoshop stamp brushes of acrylic and gouache textures. These brushes are handcrafted and carefully digitized to give you a nice natural look. Moreover, you get ten pressure-sensitive brushes from this collection as a bonus gift for excellent execution. So overall, it's an efficient and helpful set of brushes to make your ideas real on the screen and create something extraordinary.
It is a clean, seamless, and sophisticated pattern brush set of waves. This Photoshop brush set has fifteen unique and functional wave designs that give a modern and sleek finish for your abstract and fantasy-based projects. So many artists working on digital illustration, professional designs, and business-oriented elements can use this brush set for free. So overall, great brushes of wavy strokes to collect and use.
This abstract geometrical confusion pattern looks futuristic and exciting to use for technology and industrial designs. It offers ten high-resolution Photoshop brushes with a unique polygon network and abstract web patterns. You can use this brush set for any random design to make a solid sci-fi and modern impression. These brushes' structure, shape, and look are highly attractive and flexible to apply in any artistic design concept.
This brush set is very helpful and highly recommended for creative artists. It is professionally designed by the Disney character designer, and it has easy and realistic ink strokes. All eight brushes have different weights and sharpness so that your drawings and sketches can have more natural depth. You can install these brushes for Photoshop CS5 and above version and get perfectly crafted designs.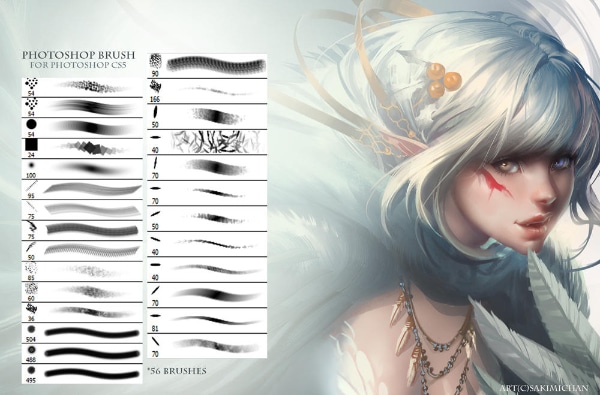 It is a gorgeous and versatile brush set for highly skilled artists looking for extraordinary and realistic strokes for their advanced-level paintings. This set includes 56 varieties of brushes with valuable pressure control. You just need a CS3 version or above of Photoshop software to install and utilize this fantastic set of brushes. You get bold, thin, ink, faded, textured, and some other valuable strokes from this pack.
This fantastic Photoshop brush set has an extensive range of brushes, and it's available for free download. You get a large number of different patterns and designs from this set to work creatively for any of your designs. The brushes are divided into five segments: basic, texture, foliage, animal, and special. Undoubtedly it's a wonderful collection of brushes to save and benefit your work.
If you want your pencil strokes and scratches to look as natural as possible for your digital canvas, then this brush set is perfect. It has professionally crafted brushes for an authentic graphite look and ideal control. You get 25 Photoshop brushes ideal for drawings and sketches but can be used for any artistic use. It has all the hard and soft pencil strokes to offer you a perfect drawing experience.
A good photoshop brush can make your job advanced, realistic, and convenient. The kind of look and feel you want in your design might not be possible with basic tools, and that's why the designers' community has contributed so many helpful and globally loved tools to support fellow artists for better results. Therefore without worrying or wasting time, it's better to get high-quality photoshop brushes in your collection to get the optimum results with minimum effort.
With the above-listed brushes, you can do a lot more than just paint and draw. You can redefine your work and give an entirely new direction with your creativity. Objects, backgrounds, frames, texts, and so many other details can be upgraded with this collection of the latest and valuable brushes. So work smartly and get the right pieces of equipment to explore the creative spectrum of photoshop with some great brushes and make your design look exquisite and effortless.