10 Best Photoshop Alternatives for Windows in 2022
Home » Graphic Design »

November 02, 2022

Line25 is reader supported. At no cost to you an affiliate commission may be earned when a purchase is made through various links on our site. Learn more

Has it been a challenge for you to find a Photoshop alternative for your Windows operating system? To help make your search easier, we have compiled a list of the best Photoshop alternatives for Windows that offer creative interfaces with powerful Photoshop-like features.

We all know Adobe Photoshop even if we've never used it. It's considered a classic graphic design photo editor commonly used by amateurs, professional photographers, and designers. However, the software also involves a significant learning curve. A big part of the tools included is actually not being used by both newbies and pros.

Luckily, there are lots of photo editors like Photoshop that will let you create equally professional-looking designs. If you're a professional photographer, graphic designer, or just getting started in design, you can find programs that are much easier to use than Photoshop and require lower system requirements.
First, you'll discover multipurpose photo editors, and then software for specific tasks like portrait retouching, image organization, background removal, and photo restoration. So let's see which option would suit you best. 
Best Photoshop Alternatives For Windows
1. Best Overall: PhotoWorks
In case you need very simple yet Photoshop-like software then go for PhotoWorks. You'll never regret trying the lightweight program since it's a user-friendly photo editor with a huge set of tools like AI-based retouching, background replacement, automatic and manual color correction, batch photo editing, cropping with traditional grids like the Rule of Thirds plus much more.
Additionally, PhotoWorks recognizes all the popular formats including 450+ RAW types. Oh yea, this application can help you create amazing effects that are similar to overlays for Photoshop, without having to make additional purchases.
The rich toolkit together with an intuitive interface makes PhotoWorks a good Photoshop alternative. But it doesn't support layer editing. If it is not a big deal for you, then you can experiment with the features of the non-destructive photo editor for PC during the free trial and buy the license for $19.25.
2. Best Online Based App: Photopea
Photopea is a web-based photo editor compatible with Chrome, Firefox, Opera, and Edge. It recognizes Photoshop's PSD files as well as other popular formats like JPG, PNG, SVG, RAW, GIF, and PDF. The interface, the toolkit, and the shortcuts make Photopea quite similar to Photoshop. The online program supports layer editing. For example, you can use the spot healing tool, text layers, vector shapes, filters, and so on. The adjustment brushes can be modified in size, amount, and shape.
Even though Photopea lacks content-aware tools and lens correction, it still offers most of the essential image editing features. If you have a Chromebook, your edited files can be saved directly into your Google Drive account. Besides, this alternative to Adobe Photoshop is free to use, but the free version comes with lots of distracting ads.
3. Best For Photographers: Luminar
Another substitute for Photoshop to check out is Luminar. This automatic photo editor works as both a separate program and as a plugin for Lightroom and Photoshop CC. It offers a couple of interesting features like sky replacement and portrait enhancement. Like Lightroom, Luminar allows you to add gradients, brushed, and radial masks.
You can also handle basic editing tasks such as fixing colors and light, applying vignettes, and more. Nevertheless, the software requires 10 GB of free space. To use Luminar, you need to buy the program for $79.
4. Best For Pros: DxO PhotoLab
DxO PhotoLab is a powerful photo editor and can be used as a Photoshop replacement in case you want to try something new. It offers a wide range of tools from the most basic to advanced – batch exporting in multiple formats, red-eye reduction, watermarking, automatic image repair, distortion removal, etc. Just like in Photoshop, you can customize the workplace the way you like. Besides, there's an easy-to-use file management system. DxO PhotoLab offers a 30-day free trial after which you can purchase the program for $219.
5. Best Filter Choices: Corel Paintshop Pro
If you're looking for a Photoshop equivalent for Windows, then take a look at Corel Paintshop Pro. The photo editing software is rich in tools – it lets you resize pictures, add a watermark, fix colors, contrast, saturation, etc. As a professional user, you can enjoy working with multiple, non-destructive layers, typography tools, and even AI-powered tools like AI DeNoise, AI Background Replacement, Auto Selection, and more.
This program will suit those who have a little experience in photo editing, otherwise, it might seem quite intimidating. Nevertheless, the developers provide users with learning materials to help them figure out the tools quickly. If you like this Photoshop replacement, you can buy it for $79.99 after the 30-day free trial.
6. Best For Pros Familiar With Photoshop: Affinity Photo
Affinity Photo is a layer-supporting photo editor for Windows and Mac. In this software, you can adjust Color Balance, remove blemishes, try Tone Mapping, add a picture to another picture, and so on. However, it lacks file management capabilities and doesn't let you reorganize the digital assets. There are also additional purchases available, e.g., templates and textures. You can download either a desktop version for $50 or an iPad app for $20.
7. Best For Simple Projects: InPixio
Another simple photo editor to try is inPixio. It's an alternative to Photoshop for Windows that is also available for Mac and even smartphones. With inPixio, you can sharpen, enlarge an image, delete unwanted objects from a photo, and even cut out part of a picture. There are different preview layouts such as vertical split view, single view, side-by-side vertical view, horizontal side-by-side view, and horizontal split view. It would be useful for you when comparing the before and after.
To buy the yearly subscription to the software, decide on the pricing plan first. You can buy Photo Studio for $49.99, Photo Studio Pro for $79.99, or Photo Studio Ultimate for $319.99.
8. Best For Photo Restoration: PhotoGlory
Photoshop is also frequently used for restoring vintage photos. If you're into this field and you're searching for a restoring program like Photoshop, then you might like PhotoGlory. It's a feature-rich photo editor that allows you to automatically colorize a black-and-white photo, conceal stains, and remove tears and scratches.
With PhotoGlory, you can quickly enhance your old pictures no matter how heavily they are damaged using AI features and 100+ built-in effects. You can experiment with its toolkit for free and keep restoring your photos for $19.25.
9. Best For Removing Objects: Inpaint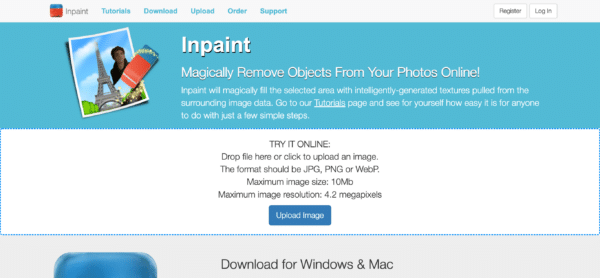 Inpaint can also be used as a Photoshop alternative for PC. It's compatible with both Windows and Mac. Here are the features Inpaint offers: object removal, deleting watermarks, face retouching, and even restoring old photos.
The list of tools is rather limited, but if you don't need advanced tools or mind-blowing results and only need to make slight changes, then Inpaint might be enough. In that case, download the $19.99 photo editor and tweak your images.
10. Best For Editing Portraits: PhotoDiva
In case you need a photo editor specifically for portrait retouching, check out PhotoDiva. The portrait editor is available for Windows 11, 10, 8, and 7. PhotoDiva is powerful software that lets you remove blemishes, digitally apply natural-looking make-up, conceal acne or any other skin imperfections, and even whiten the model's teeth.
What's more, there are over 100 effects and a handful of automatic content-aware tools that will save you a great deal of time. This Photoshop alternative for Windows costs $19.25, but you can also try the portrait editor for free.
Conclusion
Now you know about 10 of the best paid and free Photoshop alternatives for Windows. Photoshop sure is a powerful photo editor, but you might not need all the sophisticated tools it offers, let alone the long learning process. Instead, find a program that will give you the features you actually need right now. To choose a suitable photo editor, check out their capabilities to make sure they will satisfy all your needs. Now it's time to give them a try.
You may also find it helpful to read our post on the best places to showcase your graphic design work online as well as our post on where to find free images for commercial use.