Home » WordPress Themes »
Line25 is reader supported. At no cost to you a commission from sponsors may be earned when a purchase is made via links on the site. Learn more
Are you looking for a list of the top WooCommerce themes to choose from in order to create your online store? We recommend you select one that provides every WooCommerce-oriented feature necessary to build it quickly and get it done right. A premium WooCommerce theme can help you get ready to stock your shelves (product pages) and start accepting orders in no time at all.
Finding the right WooCommerce theme that will fit your needs isn't always easy. Not every WordPress theme with WooCommerce compatibility will provide a retail-oriented solution that will have every key feature you'll need to run your store effectively and efficiently.
This list of the top 10 WooCommerce themes on the market will help you get your project off to a great start. Simply pick the WordPress theme with WooCommerce capabilities that will best fit your business goals.
Hint: There's more than one that can do precisely that!
The Top 10 WooCommerce Themes in 2022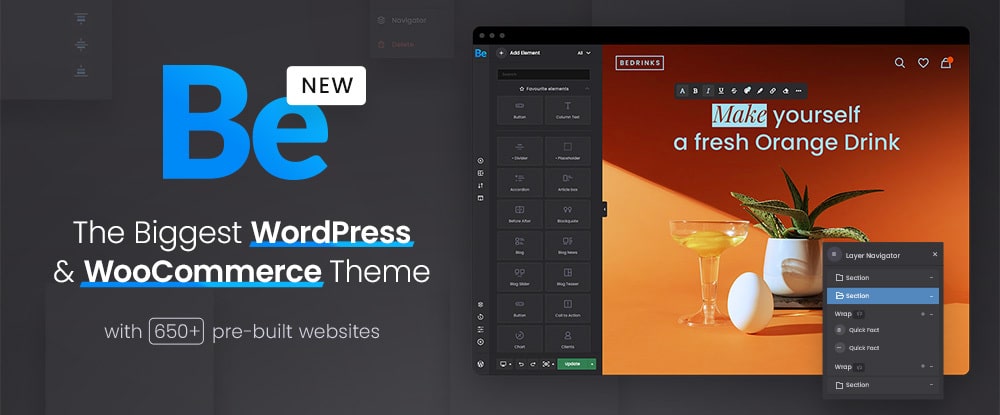 BeTheme has every feature you need to build your perfect online store. This big, beautiful, and fast WooCommerce theme is known for its 40+ powerful core features including 650+ customizable pre-built websites that give you a head start in creating any website you can think of.
Let's focus on building an online shop using:
BeBuilder and BeBuilder Blocks let you drag, drop, customize, and position elements to create an eCommerce website fit for any device.
BeBuilder Woo helps you create your own store layout, create custom attribute swatches, and provide drop-down login, wish list, and quick preview features along with an eye-catching cart. You can also select among predefined layouts.
Be's Header and Footer builders offer plenty of flexibility when designing your store's pages.
Then, it's simply a matter of stocking the shelves (product pages) and you're set.
Click on the banner and check out all 40+ core features and you'll see why 250,000+ have made it their WooCommerce WordPress theme of choice.
What has made WoodMart ThemeForest's highest-rated eCommerce theme?  Customer satisfaction and a host of cool online shop-building features not found in most eCommerce-oriented themes are at least partially responsible for this high rating.
WoodMart's customization options provide a ton of design flexibility, and the shop and product page builders, Elementor and WooCommerce, keep workflow times to a minimum.
WoodMart's carefully crafted selections of pre-made websites, special pages, and templates together with a multitude of product page display options help turn your online store vision into a reality; quickly and efficiently.
WoodMart's full AJAX shop pagination, filter, product swatches, and search capabilities can make it twice as easy for customers to complete an order, effectively doubling your conversion rate. Products don't have to be opened on a new tab to complete a purchase.
Click on the banner to learn more about this premium theme.
With Rey you will experience WooCommerce theme design, performance, and innovation as never before; particularly in the way filtering, search, templating, and navigation, the four pillars of eCommerce have been addressed.
This different experience is the result of Rey's integrations into Elementor, WooCommerce, and WordPress.
Integrations that:
put Elementor's powerful built-in features at your fingertips
enable you to easily create WooCommerce-customized headers and footers
fully utilize Ajax Search with its ability to browse products without reloading pages (Ajax Filtering)
provide ultimate product page design flexibility (and include a selection of pre-designed plug-and-play pages)
provide Ajax Navigation, including page navigation and infinite loading
feature a variety of cool checkout features
Rey is SEO Optimized, Responsive, and Developer Friendly. Click on the banner to see what this high-performance WooCommerce theme can do for you.
Total is an aptly named, easy-to-use WooCommerce-oriented WordPress theme that gives you all the tools you need to set up a successful online shop.
They include:
a host of WooCommerce styling options for product page layouts, colors, fonts, and social sharing
impressive selections of quick start demos, section templates, and site-building elements
a custom font manager
Total is compatible with popular plugins you may need to maximize your online store's capabilities.
Uncode is an Envato top seller with 100,000+ sales. This pixel-perfect multiuse WordPress theme is a perfect fit for online shop builders, freelancers, creatives, and agencies.
You'll love working with Uncode's WooCommerce Custom Builder.
Another popular feature is the Wireframes plugin with its 550+ section templates.
Uncode's powerful front-end editor is fast and super-efficient.
To fully appreciate Uncode's capabilities view its gallery of user-created websites.
Much of TheGem's popularity is due to the customizability and performance characteristics that make it a perfect choice for building any kind of online store.
TheGem enables you to:
build conversion-optimized online stores with unique creative designs
create versatile shop pages with multiple types of AJAX filters
create an engaging product, cart, & checkout layouts
The package features 400+ stunning pre-build websites and 500+ pre-built page sections.
A theme that is an all-time best seller on the market should be a natural choice, especially for anyone looking to build an online store. One reason? Avada's total WooCommerce compatibility.
There are other reasons why Avada is one of the best WordPress themes with WooCommerce, such as: 
Avada's 80+ one-click importable demos
immediate access to every popular WordPress plugin
$200 worth of website-building tools
a host of page and design options
Avada is a fast WooCommerce theme, 100% responsive, and can lay claim to 800,000+ happy users.
Hongo is a modern multipurpose WordPress theme that is an excellent choice for designing online stores and creating company websites in general.
This modern WooCommerce theme's wealth of features includes:
the premium WPBakery page builder and Revolution Slider plugins
Access to WPBakery custom shortcodes and WordPress Customizer is easy
12 store demos, 200 plus creative elements, and 250 templates plus a selection of out-of-the-box premium product-oriented features.
"Complete" is the quintessential description of this WooCommerce theme. XStore has long been noted for its selection of ready-to-customize shops – there are currently 120+ of them. In addition, XStore's features include:
$510 worth of premium plugins (at no charge to you)
Total WPBakery and Elementor compatibility
A Single Product Builder
A White Label Option, and
A cool selection of cart and checkout features.
Jupiter X2 is the most recent major update to the Jupiter X WordPress theme with a heavy focus on WooCommerce and Elementor Pro alternatives:
Features include:
a Layout Builder with superior full-site editing capabilities
sales funnels, upsells, down sells, and an order bump
an advanced Product Catalog Builder filled with industry-first capabilities
a Checkout Builder to build multi-step and single-step checkouts
Personalized Content to show to different audiences
Conclusion
Creating an exciting web design is not always a straightforward task. It can be time-consuming and costly if the right tools are not available.
There is an abundance of awesome WordPress WooCommerce themes to choose from. You still have to settle on a theme that best meets your needs and has the right set of eCommerce store-building tools.