Home » Articles »
Line25 is reader supported. At no cost to you a commission from sponsors may be earned when a purchase is made via links on the site. Learn more
It would take a great amount of time to review every WordPress theme on the market to find exactly what you want. To save you time, and assist you in finding the best possible solution to your website building needs, we've compiled a list.
Among these 14 you'll find multi-purpose themes, themes heavily oriented toward eCommerce applications, and just the right themes for one-page websites or portfolios. Any one of these premier themes will help you get your projects off to a great start in 2016.
We start with Enfold. A customer base of 78000 has made this premium Theme a ThemeForest best rated top seller. This WordPress theme has proven to be a delight to use for WordPress pros, and for those who have never touched a line of code. It is one of the premier themes on the market that is suited for users at all skill levels. Enfold is in fact about the user-friendliest WordPress theme you'll find anywhere
Demo files can be imported with a single click, and you can select different features from different demos to start building a page. Enfold's powerful drag and drop interface is incredibly easy to use, and this theme is filled with beautiful interactive slideshows, galleries, toggles, and tabs. You'll love the slider and gallery features if you intend to create a portfolio to showcase your work. You'll also find Enfold the perfect theme to create an eCommerce website that will draw customers in. Ease of use coupled with outstanding support is a hard to beat combination.
Be Theme is the biggest WordPress theme on the market. It boasts 160+ (and counting) pre-built websites designed to get your projects off to a lightning-fast start. With Muffin Builder 3 or Visual Composer as your page builders, you'll be able to keep up the momentum and complete projects faster than you ever thought possible. Most of the pre-built websites are multi-page adaptations that enhance your productivity even more.
If you prefer to start with a blank page, that's fine too. Select a grid, a layout configuration, and a header style, and you're off and running!
Bigger is not always better, but with Be Theme it is better. The 40 core features provide everything you need to achieve a high-quality end result in a remarkably short time. Hint: Browse their collection of pre-built websites and you'll see what we mean.
When a WordPress theme is a best seller, and the sales rate increases with each new version, you known the theme's authors are doing things right. That's the case with X Theme, ThemeForest's fastest selling product. The addition of more than a dozen free Themeco plugins in Version 3 boosted sales. Version 4 introduced Cornerstone, a modern, innovative, and exciting page building tool. This release witnessed a further boost in sales. X Theme has a host of surprises in store for 2016 as well, with new features that will be yours for free once you've made X your theme of choice.
If you're looking for a theme that is an excellent tool for creating a business website, yet is as versatile and flexible as any other premium theme, give X a closer look.
The Core features a demo for every need, from Corporate and Lawyer to Shop and Blog, and everything in between. 10 built-in themes are included, and more are on the way. Whether you're looking for a general-purpose theme, or one that addresses a specific topic, The Core is worth checking out. It is WooCommerce ready, and it features the advanced drag and drop Visual Builder together with a great selection of shortcodes, layouts, multiple types of portfolio showcases, and animations.
Uncode –Creative Multiuse WordPress Theme
If you haven't seen Uncode on many lists before, it's only because this multiuse WordPress theme has been recently release. Still, it rapidly became a ThemeForest top seller. It's WooCommerce and WPML ready, it features an enhanced version of the ever-popular Visual Composer page builder along with other useful and popular features like Revolution Slider and Layer Slider. Of special note is the adaptive screen sizing capability that creates scaled web page versions from 2880 x 1639px down to 516 x 294px. Adaptive Images detects your visitor's screens size and automatically creates and delivers appropriate re-scaled versions of your images, at the best performance, for the resolution required.
As its name implies, Shopkeeper is an excellent selection if you are planning on creating one or more online shopping stores. Shopkeeper is one of three Get Bowtied's themes that have been specifically created for use with the WooCommerce plugin. Special purpose themes such as this typically feature excellent support, and they tend to be highly reliable. Shopkeeper scores perfectly in each case. This theme is highly recommended if you are seeking the best way to showcase your products.
Once you've checked out all of the features this eCommerce-oriented theme offers, you will still be left with one nagging question. Why are you able to download the premium version of Despacho for free? Typically, when you get a theme for free it's a teaser, and to get the features you really need you have to pay for a premium version. That's not the case with Despacho. Among its other features, Despacho offers 6 unique home pages, 2 product layouts, 4 slider layouts, 2 blog layouts, and the ability to create many different custom pages. It's WooCommerce compatible and responsive as well.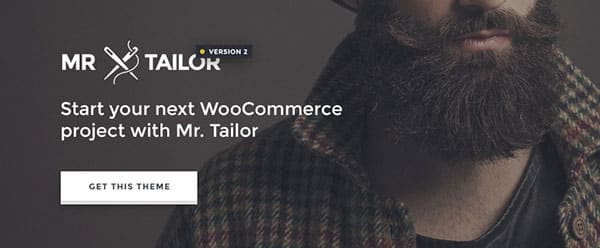 Mr. Tailor is a highly-rated multi-purpose eCommerce WordPress theme. It is a Get Bowtied product that has sold nearly 4,000 copies since its introduction. Its authors have spent nearly a year developing Version 2.0, the design of which has been heavily influenced by user and store owner feedback. Mr. Tailor is the theme of choice of many WordPress consultants as a framework for rapid website creation for their customers. You will like it too, and there is an abundance of theme documentation and video guides for experienced web designers and beginners alike.
Kallyas is by any measure a premier WordPress theme and deserving of a spot among our gang of 14 best WordPress themes. This ThemeForest eCommerce-oriented product is trusted by startups as well as by multi-million dollar corporations. It's a great choice for individual entrepreneurs as well. Users love its powerful frontend LIVE page builder, its slider and hero scenes, and a host of blog, portfolio, and home layouts. Version 4.0 is absolutely gorgeous. The user documentation with its hundreds of videos is as comprehensive as you will find anywhere, and the level of support is superb.
SEO WP – SEO, Online Marketing, Social Media Agency WordPress Theme  
The vast majority of WordPress themes claim to be SEO ready. SEO WP stands apart from the others in that it is not only SEO ready, but it was designed with digital marketing in mind. It was created for use by Digital Marketing Agencies, companies that rely heavily on SEO ready websites, and their clients. Features include ready-to-use SEO content designed to boost online sales. Even the premium images that come with the package are SEO images. Simply customize the content to fit your offerings and your shop is ready to go online.
Royal – Multi-Purpose WordPress Theme
Royal Theme is multipurpose with an emphasis on creating eCommerce solutions. More than 60 demos come with the package, and if you are building a website for a business, corporation, or agency you'll appreciated Royal's eCommerce, Corporate, One Page, and Landing Page variants. The latter set of variants are perfect for providing pre-release information or want to highlight upcoming services. Numerous   free add-ons include Essential Grid, Visual Composer, Sliders, and Live Chat. We suggest that you don't select an eCommerce theme without having looked into Royal Theme first.
Hipsta – Minimal Creative WP Theme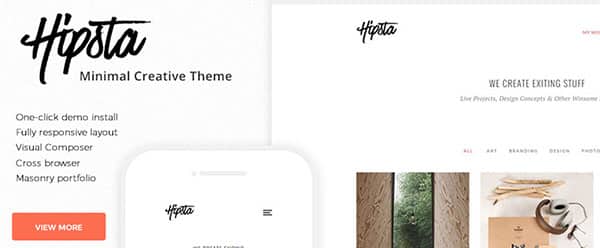 Hipsta is a minimal creative WordPress theme. That doesn't mean it's lacking in quality or features. It's simply just the right solution for anyone intending to put together a modern, eye-catching portfolio. That's what this theme is all about. It has an outstanding selection of responsive portfolio layouts with plenty of cool of features you need to customize them. Better yet, you don't have to sift through a large selection of extra features you have little use for. If you are looking for the perfect portfolio-building theme, look no further.
Professional web designers will appreciate what Kleo has to offer. If you are not yet a professional, this WordPress theme's unique BuddyPress design can quickly turn you into one. It's an ideal theme for anyone planning a business-related website. It has everything you need and more to build a community, publish a professional blog, build a truly awesome shop, or showcase your portfolio. Browse the selection of predefined home pages, and you will quickly discover what this WooCommerce-compatible theme can do for you. Worldwide Community enthusiasts have voted Kleo as the number 1 BuddyPress and WordPress theme.
Lecco One Page WordPress Theme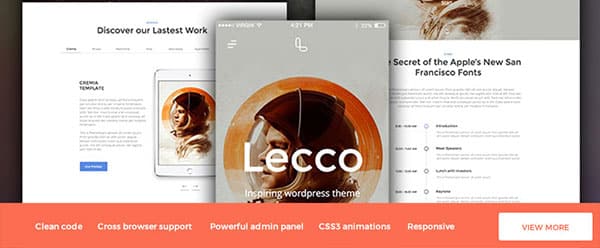 Closing out our listing of 14 best themes is Lecco, a WordPress theme that is dedicated to creating attention-grabbing one page websites to display your portfolio, publish your blogs, or showcase products. Lecco's 4 fully-customizable layouts give you unlimited ways in which you can showcase your talents. Since Lecco is fully responsive, the results of your efforts will be perfectly displayed on the PCs, tablets, or mobile devices. You can even use Lecco to create a picture book for your own use or to share with friends. Lecco lets you do what you want to do – with style.
Conclusion
We hope you will find the one that perfectly suits your needs; whether it is a multipurpose or an eCommerce theme, or provides the solution you've been looking for to create a one-page website or showcase your portfolio.
Let us know what you think, or if you feel there is something missing. In any event, visit the websites, try the demos, and make your selection. You'll be happy you did.