Personal Website Builders to Use in 2017
If you are right about to establish your online presence to reach your business or personal goals, having a website is not a whim, but a necessity. This is one of the most effective and eventually rewarding methods to get the most out of your project, irrespective of its specialization. To build a quality website, you can choose between the following options nowadays:
Using CMS. When building a website by means of using CMS, you will face lots of technical nuances you should be aware of to successfully cope with the task. The knowledge and understanding of the coding basics, plugin and module installation, system setup options etc. will be needed as well to get a full-featured and appealing website. Also don't forget about choosing the hosting service and uploading your website via FTP. If you lack this knowledge and plan to create one website only, then this is definitely not the best option for you. However, if you aim at bulk website creation to get the revenue, then it makes sense to explore the available CMS offers.
Ordering a ready-made site from the third party. Do you plan to order a website from a freelance web designer or a web studio? What you should know is that this variant requires the investment of time and effort as well. Yes, you won't be bothered with the very process of web creation, but you will still have to deal with further servicing of the website each time the problems emerge.
Using a website builder. The use of website builders proves to be the only reasonable choice both for people, who need individual websites as well as for those, who are involved into the development of bulky and long-lasting web building projects. As it's noted in website builder reviews, there are many services for different groups of users, who have diverse goals and web building skills. It's always possible to choose the most suitable variant that adheres to your individual needs and requirements.Website builders are out-of-the-box web building services that have everything you need to launch a full-featured website in less than no time. They are easy-to-use, intuitive, simple, reliable and affordable. There is no need to bother about the hosting, domain name, templates, mastering the dashboard and selecting the required tools. You have all of that in one package and this is what makes website builders the best web building solution nowadays.Speaking about the disadvantages, we should mention them as well. When using a website builder, it's almost impossible to transfer the readymade website to another hosting and expand the range of the stock features the system offers. The code editing options are also limited, but this is a merit for newbies. That's it. Although the disadvantages exist, they don't prevent you from creating a high quality website that will be the best value for your money.
Steps to Creating a Quality Personal Website
When building a personal website, you generally pursue the only goal – to promote your business. The must-have elements of the resource should correspondingly include:
Company logo. Your logo is the visiting card of your brand. A home page of your site is unthinkable without it. This is what makes your company stand out from the crowd and helps your clients make sure they have come to the right place, when looking for your website on the web.
About me section. The majority of users searching for your website know who you are and what you are ready to offer them. However, there are also those, who don't know that. The purpose of the "About Me" section or page is to provide the description of your business.
Product/services list. This is what you website is actually needed for. Provide your clients with more detailed info on the products and services you are ready to offer them. Fortunately, the website options allow for doing that pretty well.
Work samples/portfolio. Sometimes, the work samples or a personal portfolio can tell much more about your company and professionalism. Make sure to add you promo videos, images, photos and other elements to highlight your business proficiency.
For all those users, who are interested in your services, the Contact Us section is the best way to get in touch with you. The more contact details you provide, the higher your chances to be reached by your potential target audience will be.
TOP Personal Website Builders
Now that you have found out the benefits of using website builders, it's high time to explore the options available nowadays. Look through the descriptions provided below, analyze your web building needs and pick a code-free web creation service that will help you establish online presence today. Of course, these website builders are not so popular as Wix  – an universal platform that can be successfully used by the majority of users, irrespective of their web building skills and experience. But uKit, SITE123, Bookmark and Webydo are effective Wix alternatives, which does not compromise with functionality as well.
If your web building needs go down to creating a modern, functional, appealing and responsive website, then uKit is a great choice for this purpose. The system doesn't require the awareness of coding nuances or previous web building experience. With a bit of knowledge of the way it works, you will be able to build a functional website within one or several days only, which depends upon the amount of time you have and your web design requirements.
uKit makes it possible to choose between lots of high quality responsive templates. It comes with a user-friendly interface, intuitive dashboard and easy-to-use WYSIWYG editor. Whether you need a promo website, a landing page or a perfect portfolio site, you won't face problems creating them and the result will be worth your web building effort. It's also possible to create an online store with uKit. Due to a special integrated widget or an Ecwid plugin you can set up at the website, you can launch an appealing and functional online store and edit it with regard to your needs. Mind, however, that setting up a large eCommerce project will be close to impossible with uKit because of the lack of visual edition options.
Even though uKit has a simple interface, a range of responsive templates to come up to any web building needs and business requirements, convenient and simple editor, there is also one disadvantage we can't but mention in this review. The templates the system offers are structured in a similar way, while the customization options lack design diversity as well. This feature, however, is not that crucial for business owners, who tend to appreciate simple editors allowing for a great result.
As of today, uKit is one of the most rapidly developing website builders in Europe. It is updated on a regular basis, with new templates, SEO features and functions being implemented into the system. At the same time, the website builder is quite affordable and ensures reliable tech support, functionality and, what really matters, decent result.
The system is also meant for newbies willing to create business websites, but it works great for bloggers as well. It offers a chance to develop online stores and landing pages here, but this functionality will cater to the needs of undemanding users only.
The highlights of the service are an extensive selection of localizations and flexible regional pricing policy. The developers incorporate bonuses for each country individually.
SITE123 offers numerous benefits. It is very convenient. Responsive templates are appealing and can be deeply customized. The system is module-based and includes all the required settings for effective website promotion. There are also additional plugins, which can be installed for free to extend functionality. The disadvantages of the service include specific settings for eCommerce websites and landing pages, which are not that deep yet.
All in all, SITE123 is a perfect choice for small- and medium-sized businesses. It can be successfully used to easily create quality promo websites, portfolios and blogs.
Bookmark differs from the previous services by the dashboard structure and specialization. It is a nice choice to create landing pages and promo websites. As to the rest of features, Bookmark is also a convenient and simple WYSIWYG website builder.
Bookmark templates differ not by their designs/topics, but by their purpose as well. Some of them work better when creating single-page websites. Keep in mind, though, that, having chosen the design once, you won't be able to change it afterwards. Apart from that, you will be offered diverse dashboard management functionality features depending upon the type of a template chosen.
Bookmark also makes it possible to create online stores, but plan restrictions and editor specifications won't make it possible to effectively work with eCommerce projects.
The major benefits of the system are appealing interface and simplicity. The choice should be based upon your personal preferences. The main disadvantage is a limited choice of templates. In terms of functionality, it is neither better nor worse than the majority of popular WYSIWYG website builders.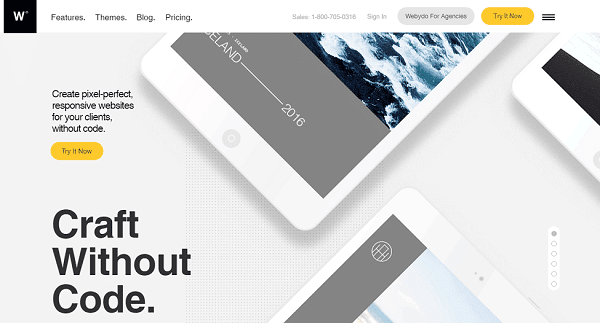 This website builder will appeal to creative users and professional web developers. It comes with a powerful editor you can use to completely  change almost each element. However, you have to explore the features of the editor to use it properly afterwards.
The system offers several pricing plans. The first one makes it possible to create up to 10 websites. It is a nice individual choice for those users, who wish to sell products through landing pages. You can create several powerful pages for a specified cost to gain profit. It's also possible to work on customer projects here. All in all, Webydo is an advanced website builder, which allows web designers to earn money. The system is recommended to create promo websites, landing pages, portfolio websites as well as small online stores.
The benefits of the system include an opportunity to create the templates from scratch and customize them to meet the web building needs of users. The disadvantages are obvious as well and include high cost and complexity of the system for newbies.
Webydo  is a good sample of a quality website builder, which was created with the needs of web designers in mind. If you are one of them, then you are welcome to test it.
Bottom Line
Designing a personal website is often a challenge. This is especially true when it comes to inexperienced users. This is what makes website builders the most effective, functional and suitable solution for them. By using these services, you won't be stressed because of the need to learn the coding options and manage your website. Instead, you will get the most out of the broad range of website customization options these services offer. To build a high quality, functional and decent website, you just need to select and customize a template, fill the website pages with relevant content and publish it. The whole process doesn't take it longer than a few days depending upon the complexity of the project and the platform, your web building experience and available time.
As opposed to out-of-the-box website builders, CMS are more complicated in terms of usage, management and setup options. They require additional knowledge and skills to be used to the advantage. Ordering custom made websites is also associated with a number of challenges, not to mention the cost of the projects, which is also quite high. Website builders, in their turn, prove to be a more reasonable investment of time, effort and money. They offer different pricing plans based on the needs and web building abilities of users.
Website builders reviewed in the post are worth your attention due to their versatility and applicability. Each of them has features that highlight the system and make it a nice choice for different categories of users. Take your time to explore the options and merits of each system reviewed in the article to make the choice that will meet your business needs and will be the best value for the money invested.