Home » Articles »
Line25 is reader supported. At no cost to you a commission from sponsors may be earned when a purchase is made via links on the site. Learn more
Looking for a way to create your own website without having to hire a specialist? Maybe you're at the beginning of your career and want a quick and easy portfolio site to feature your best work, or maybe you just launched a startup and your budget is extremely fragile, so now it's not the time to spend a lot of money on design? If the answer is Yes to any of those questions, then this list will offer you the solutions you need.
We decided to gather here 22 of the best website builders you can use to create your own website easily and without high costs. This doesn't mean it won't look professionally made! These website builders offer a bunch of great website templates you can use and customize with ease.
The designs are modern, fresh and you'll be ready to launch your site in just a couple of hours! The really good thing about using a website builder is that you don't need to know any coding whatsoever to create a beautiful website. Most of these website builders come with easy-to-use and very intuitive website building interfaces and do not require any coding.
>> Editors Note <<
It's important to note two things: This list is not comprehensive and there may be other options available today. However, we would like to point out that the most recognized and popular ones may provide you with better long-term options and stability since they have proven themselves over and over.
Here's a list of the most popular non-WordPress website builders as of 2022:
Here's a list of popular WordPress specific website builders as of 2022:
WooCommerce.com
The following website builder solutions are also perfect for those who are frustrated with the high cost and long wait times of hiring professional designers to maintain their websites. They offer a way where everyday people can create unique pages without knowing any code. Plus, you will also find below some great website builders targeted for specific niches, such as food & drink and fundraising, and more.
Keep in mind that these various site builders are all-in-one, meaning, they are on their own (or shared) hosting platform along with their own CMS (content management system). There are advantages and disadvantages to building your website with a company that keeps it all in-house. The best way to separate these systems is to use an individual platform like WordPress. The only kicker here is you have to get all the other elements and services such as hosting, email, themes, plugin applications, etc.
Not sure which website builder is best for you? Browse this list, read the description of each one of them and choose the one that would best fit your needs.
One of the main leaders, most successful and highly rated website builders, Wix will help you create a free website in just a few steps. Wix is a NASDAQ public traded company with over 200 million users worldwide. Customize your site with Wix's free website builder, no coding skills needed. Wix also offers premium plans at a low monthly fee that allow you to do more with your website than the free plan. Choose a design, begin customizing and be online today!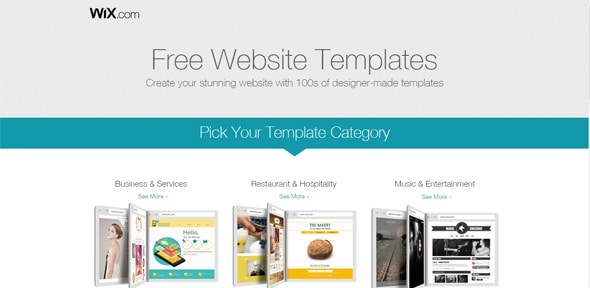 Squarespace is the all-in-one solution for anyone looking to create a beautiful website. If you're looking at how to design an e-commerce store, Squarespace can provide the solution. They also offer domains, hosting, analytics, and 24/7 support.
Weebly makes it surprisingly easy to create a high-quality website, blog4 or online store. Over 30 million people use Weebly to bring their unique ideas to life.

Site123 takes a different approach to building websites. Unlike many website builders that use a drag and drop interface, Site123 allows you to enter your content and choose from pre-existing site layouts. And that's as easy as 1, 2, 3.
Create an ultra-personalized website using an intuitive, drag-and-drop editor that significantly cuts down on your web development time.
Build your own free website with Websitebuilder.com. Choose from thousands of templates to create a stunning website in minutes and even get a free domain name included.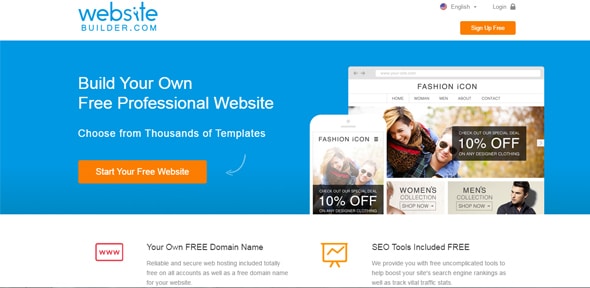 Easily create a free website with SiteBuilder. You can choose from 1000's of templates to make a fantastic website in no time. Building a website has never been so easy!
From small businesses to portfolios, bands and organizations, this website builder can be a good fit for all. Simply click to edit, and create your website in minutes. Also, you can easily add keywords so people can find you on the web and even create an e-shop to your website and start selling products.
This web-based website building platform allows you to easily create a beautiful website that supports all browsers and devices. Simbla's easy website builder uses an advanced Drag & Drop interface, so you can easily build an attractive website with just some clicks.
With Jimdo's easy-to-use website builder, you can easily create a professional website, online store or blog in minutes.
BoldGrid comes with a free domain for your website/business. Unlike other website builders, BoldGrid is based on WordPress, giving you access to thousands of WordPress-based templates and plug-ins. Designs include modern content for your industry and unlike some other "free" builders, you have 100% ownership of your site independent of any website building software (other than WordPress, which is transferable).
This website builder tool provides everything you need to build and maintain your own website. You can quickly edit and change, allowing you to keep your content fresh and original.
Make a free website or online shop with Moonfruit's free website builder. No website coding skills are needed and hosting included.
Building a free personal website at Webnode is free, fast, and fun. You can create your own website in just a few minutes! This website builder is primarily in Romanian, so if you're looking for English-based builders, you should consider others on our best website builders list.
Webs does a good job of making it easy to build a good-looking, customized site through a completely browser-based interface.
Make a free website with this free website builder. They offer free hosting and a free website address. Get your business on Google, Yahoo & Bing today.
Emyspot is an online website builder and content management system designed for everyone, from beginners to web professionals. You can use it to create a website, a blog, an online store, or something in-between.
Breezi is a web design application that allows users to create, design, and manage a website online, without any coding experience.
This is not exactly a website builder, but more of a tool that is specifically targeted to fundraising businesses worldwide. They offer a quick and easy solution for creating a fundraising page.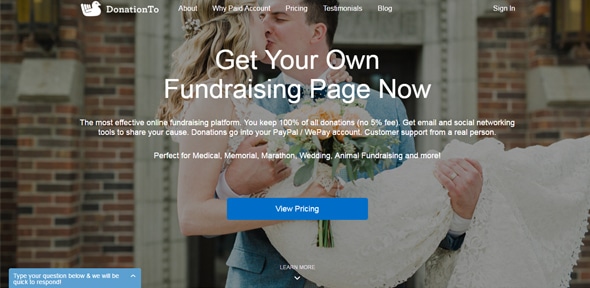 With Harmony, there are no more server setups, no CMS installs, no FTP, and no worries! Your new site will be up and running in seconds, so you can get to work.
This website builder offers everything you need to create a quality restaurant website. They offer an innovative restaurant website builder and they also take care of hosting and your restaurant's web design.
This website builder gives you a beautiful place to begin. Get started fast by mixing and matching section layouts to suit your content.
Conclusion
This completes our list of the best website builders to create your own website. Do you have any more web builders to add to the list? Which website creation software are you using, and are you satisfied with it? Let us know in the comment section below.