Home » eCommerce »
Line25 is reader supported. At no cost to you a commission from sponsors may be earned when a purchase is made via links on the site. Learn more
The eCommerce industry is booming, and there are a ton of great eCommerce platforms to choose from. So, which platform is the best for you to start your online store?
In this post, we will compare seven of the most popular platforms for building an eCommerce store and help you decide which one is right for your business.
We will look at factors such as price, features, scalability, and much more giving you a detailed comparison to make an informed decision. There is a lot to take in, so if you are in a hurry, we put together this list below to give you a quick overview:
7 Best Ecommerce Platforms (quick list)
Top 3 Picks
Take a moment to review our complete list of the 7 best eCommerce platforms, and compare them against each other. Let's get started!
The 7 Best eCommerce Platforms – Comparison
www.wix.com
WiX must know something about web development because after all, they serve over 200 million users. If you're looking for a comprehensive platform to help you sell online, Wix should be one of the first eCommerce website builders you look into.
With Wix, you can create a beautiful online store that's optimized for search engines and easy to use. Plus, there are no transaction fees, so you can keep more of your hard-earned money.
Wix also offers a variety of features to help you run your business smoothly. For example, you can use built-in accounting tools to manage your finances, track inventory, and process orders. You can also use marketing tools to reach out to potential customers and promote your products or services.
WiX Pros & Cons Infographic:
WiX is Recommended For:
Wix is an excellent choice for anyone who wants to quickly start selling online using one of the fantastic templates they provide. It's one of the most simple platforms to use and if you are a beginner, this option may be a perfect choice.
Top 5 Wix Features:
With over 500 professionally designed templates, there's sure to be one that perfectly fits your business. Wix also allows you to customize these templates to suit your branding and business needs. But most of the users have found the templates to be self-sufficient, and they hardly require any tweaks.
2. Easy Drag & Drop Editor:
The Wix editor is extremely user-friendly, so you can easily create a stunning online store without any coding knowledge. In no time you will be able to flow your content on the website.
3. Powerful eCommerce Features:
Wix provides everything you need to run a successful online business, including an integrated shopping cart, product catalog, and order management system.
4. Accept Payments From Anywhere:
You can accept payments from all over the world with Wix, using various payment methods, including credit cards, PayPal, and more.
5. Digital Marketing Features:
Along with a robust eCommerce website, Wix also provides an array of digital marketing features that can help you grow your business at a rapid speed.
For additional learning, you may want to see our posts featuring a tutorial on the Wix website builder and free Wix templates as well as how to use the free Wix logo maker.
www.shopify.com
Shopify is one of the most popular eCommerce website-building platforms available today. It offers users a simple yet powerful platform to create and manage their online stores. Millions of businesses are using this platform to power their online stores across the globe. Shopify claims a presence in over 175 countries with around $500 billion in sales. These numbers are good enough to convince people to opt for Shopify.
The features that Shopify provides are more important than the numbers which attract these numbers. It started out focussing entirely on eCommerce, which has helped it create its niche in this sector. Apart from the routine features, it has been able to identify the pain areas of online sellers and keeps addressing them through various features and tools.
If you are interested in dropshipping or print-on-demand, then both Shopify and BigCommerce would be the best choices.
Shopify Pros & Cons Infographic:
Shopify is Recommended For:
If you are planning for a long-term online shop and want to go for a platform that can provide you with all the features you need, then Shopify is a perfect choice as an eCommerce website-building platform. 
Top 5 Shopify Features:
1. Multiple Sales Channels:
Shopify does not limit your online selling just to its website. Instead, it helps you create multiple sales channels through the point of sale, online marketplaces or effective integrations with the eCommerce store.
2. Customizable Templates:
Shopify provides users with a fully customizable platform. This means that you can change the look and feel of your store to match your brand perfectly. Additionally, many apps and plugins are available for Shopify, allowing you to add even more functionality to your store.
Creating an eCommerce website is the first step to online selling. Then you have to put a lot of effort into marketing your shop. Shopify supports this task by providing special features for running campaigns on the targeted audience and ways to better customer relationships. 
4. Excellent Customer Support:
Shopify's customer support is excellent if you have any questions or need help with anything. They offer 24/7 support via phone, email, and live chat, so you will always be able to get the help you need. You can also hire a Shopify expert to take your online store to another level.
As your business grows, so does your need for a more robust platform. Shopify is built to scale with your business, so you will never have to worry about outgrowing the platform. Apart from that, it also places itself as a one-stop solution for all the selling needs of your business.
You may also want to take a look at our feature on the best Shopify tips for increasing traffic and sales.
www.volusion.com
Volusion is packed with features to help you build a successful online store. Like all the other builders, it also provides a lot of good themes that are responsive and easy to use. You can select the one best suited for your sector.
Volusion balances creativity with functionality, providing a good mix of features and an excellent visual user experience. As a result, you can develop a decent website on this platform even if you have no website or design knowledge. In terms of technical features, it may not be as strong as its competitors, but it makes up for that by providing reliable hosting services and agile troubleshooting.
Volusion Pros & Cons Infographic:
Recommended For:
If you are looking for a light website builder with all the requisite tools and is easy and quick to use, then Volusion is a good choice, especially for beginners who do not want to invest heavily.
Top 5 Volusion Features:
1. User-Friendly Interface:
Volusion has a user-friendly interface that makes it easy to use, even for beginners. The platform is designed to be intuitive and easy to navigate. You can find everything you need in the main menu, and all the features are clearly labeled.
2. Powerful Product Management Tools:
Volusion has powerful product management tools that make adding, editing and managing your products easy. You can add unlimited products and product images, and there are no restrictions on product options or variations.
3. Focussed on Order Fulfilment:
Volusion offers flexible shipping options to give you the ability to provide free shipping, flat-rate shipping, or real-time shipping quotes. You can also set up shipping rules based on product weight, price, or location. In addition, its focused approach to order fulfillment helps a better user experience.
4. Comprehensive Payment Options:
Volusion offers many payment options, including credit cards, PayPal, Apple Pay, Google Pay, and more. You can also use Volusion's built-in fraud protection tools to help prevent chargebacks.
5. Detailed Reporting Tools
Volusion's reporting tools give you detailed insights into your store's performance. For example, you can track your sales, traffic, and conversion data. You can also segment your data by product, category, or period. These tools empower the users with the right set of insights.
www.squarespace.com
With Squarespace as your platform, you won't need to worry about finding a reliable separate web host for your website like WordPress.org. Like other platforms listed here, Squarespace provides top-notch hosting, so you can be sure that your website will always be up and running.
Besides being a reliable web hosting provider, one other positive thing about this builder is that it deploys all the modern design trends, ensuring that your website looks stylish and visually pleasing. 
Squarespace offers several different pricing plans, so you can find one that fits your budget. Their plans are very reasonable, especially considering the features and benefits you get with Squarespace. Apart from the high uptime, it also offers users good speed and ensures a pleasant user experience.
Squarespace Pros & Cons Infographic:
Squarespace is Recommended For:
If you want really want pleasing aesthetics for your website and are willing to pay a bit extra for it, then Squarespace is a good eCommerce Platform you can go for.
Top 5 Squarespace Features:
Squarespace is known for being extremely user-friendly. Even if you're not a tech-savvy person, you should be able to create a beautiful and professional website with Squarespace. In no time, you will be able to master website designing through its intuitive tools.
Another great thing about Squarespace is the flexibility it offers in its templates. You can use it to create almost any type of website, from a simple blog to an elaborate online store. Squarespace always has a template suitable to your needs.
3. Excellent Customer Support:
If you ever have any questions or problems with Squarespace, you can rest assured that their customer support team will be there to help you. They're known for being very responsive and helpful. You can also opt for an expert if you are stuck somewhere.
One of the great things about Squarespace is that it can quickly scale your business. Whether you're just starting or already established, Squarespace can accommodate your needs through its enterprise solutions that are tailor-made for you.
Squarespace puts in a lot of effort to ensure that all major and minor users' requirements for their online shop are met by providing the right extensions. This platform provides extensions for all processes, be it payment integrations or inventory management.
You may also like our posts on the best Squarespace templates and gain some inspiration from our feature about inspiring Squarespace website designs.
www.weebly.com
The Weebly platform is effortless to use. Even those with no prior experience in website creation or online selling will be able to get up and running quickly and easily. The platform is intuitive and user-friendly, with all the necessary tools and features laid out. At the same time, it also provides all the elements you want for your online store.
Weebly is a platform that allows users to create and publish their websites. It is simple to use and offers a wide range of features, making it an excellent choice for those looking to start their own online business. One of the most popular features of Weebly is its eCommerce functionality, which allows companies to sell products and services online. Below, we look at six of Weeby's best features for ecommerce.
Weebly provides excellent customer support and if you have any questions or problems, you can contact the Weebly team through the platform's help center or email support system. The team is always happy to help and will usually get back to you within 24 hours.
Weebly Pros & Cons Infographic:
Weebly is Recommended For:
A simple and easy-to-use tool, Weebly is suitable for shop owners who want to focus on the volume of sales rather than the variety of products as it has a really robust backend system. 
Top 5 Weebly Features:
Mobility has become necessary now as online shop owners would like to edit their website from wherever they can. Weebly also offers a robust mobile version of the website editor so that the web admins can make quick edits on the go. 
2. Powerful Shipping Options
Weebly's platform provides users with powerful shipping options to ensure their products reach their customers quickly and safely. The platform integrates with several popular shipping carriers, so you can choose the one that best suits your needs. You can also set up automatic shipping rules to ensure that your orders are shipped out as soon as they are placed.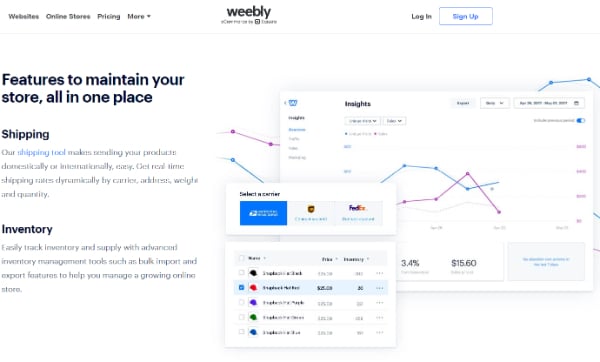 3. Robust Payment Options
Weebly's also offers a robust payment system to ensure that transactions are processed smoothly and securely. The platform supports many popular payment methods, including credit cards, PayPal, and Stripe. You can also offer customers the option to pay by check or money order if you prefer.
Weebly provides users with detailed analytics to track their sales and performance over time. The platform makes it easy to see which products are selling well and which need improvement. You can also use analytics to track your conversion rate and average order value.
While all significant eCommerce shops focus more on physical goods, Weebly ensures that digital goods are not left behind. Its remarkable features allow you to deliver online non-tangible products and services to your customer using the same eCommerce workflow. 
WooCommerce is a popular name in the eCommerce space for WordPress websites. This builder is widely used by people across the globe and estimated that WooCommerce powers almost 24% of all eCommerce websites. This means that a massive community of developers is using this platform, and so it has become a mature eCommerce provider.
Editors Note: In order to use WooCommerce you will need to build your site on the content management system (CMS) known as WordPress.org. Additionally, you will need a WordPress hosting company which you can learn more about here.
Apart from the standard eCommerce features, WooCommerce also offers many niche solutions like automatic tax calculations, product customization, and, more importantly, a good SEO framework, so your website ranks better. In addition, WooCommerce is mobile-friendly, so your customers can easily purchase products from their phones or tablets.
WooCommerce Pros & Cons Infographic:
Recommended For:
WooCommerce is the most preferred eCommerce option and can cater to all your needs. If you are already using WordPress, this can prove to be a good choice.
Top 5 WooCommerce Features:
1. User-friendly Interface:
The interface is user-friendly and easy to use, making it perfect for those who are not tech-savvy or have little experience with website building and development. Its overall look and feel are very similar to WordPress, making it more widespread.
One of the best things about WooCommerce is that it is highly customizable. You can change the appearance of your shop by installing different themes and plugins. You can also fine-tweak the customer journey through the buying process to make it more pleasant.
WooCommerce offers a secure payment gateway that helps to keep your customers' information safe and secure. As a result, you can track your business's cash flow and manage recurring expenses and revenue streams more effectively. 
4. Multiple Shipping Options:
You can offer your customers multiple shipping options such as free shipping, flat rate shipping, or shipping based on weight or location. WooCommerce also provides features like printing USPS and DHL labels to save on shipping.
The best thing about WooCoomerce is that you can get an extension for almost any task you want on the online store. Starting from emailers to bookkeeping or inventory management, there is always a reliable extension for you to use.
www.bigcommerce.com
The BigCommerce website-building platform offers all the features you would need to build and grow a successful online store. BigCommerce is designed to be easy to use, even for those who are not tech-savvy. With its user-friendly interface, you can get your store up and running in no time.
You can always rely on the platform's outstanding customer support team if you ever need help with using BigCommerce or managing your store. They are always ready to assist you and answer all your questions. In addition, with years of experience in this sector, BigCommerce has pioneered many new features and tools that make your online store more powerful.
BigCommerce Pros & Cons Infographic:
Recommended For:
BigCommerce is a very focused e-commerce platform. Users can quickly understand the features and options with a little practice. Overall they are highly recommended for professional developers. However, we've discovered recently that they will only host large businesses or enterprise-level companies.
Top 5 BigCommerce Features:
Given its exclusive focus on providing online commerce solutions, the BigCommerce team is highly efficient in developing innovative solutions. As a result, it offers a headless and flexible platform for you to create a highly modern online shop.
BigCommerce is a highly scalable platform that can grow your business. This is true not just regarding the website but also in terms of empowering your business with the right tools to help it quickly expand and attract more potential customers. 
3. Comprehensive Feature Set:
BigCommerce offers comprehensive features that will allow you to build a robust online store. BigCommerce has everything you need to run your business effectively, from product management and order processing to shipping and payments.
4. Multiple Sales Channels:
With BigCommerce, you can sell through multiple channels, including your own website, online marketplaces, and social media platforms. This gives you the flexibility to reach more customers and boost your sales.
5. Integration with Leading Tools:
BigCommerce integrates with leading tools and applications, such as accounting software, CRM systems, and shipping carriers. This makes it easy to manage your business and streamline your operations. Promoting API-driven commerce, BigCommerce is opening a lot of opportunities for its userbase.
The 7 Best eCommerce Platforms To Build Your Online Store
In this post, we've compared 7 of the best, most popular eCommerce platforms and hopefully, we have helped you narrow down the options to the one that is right for your business. All these platforms have their strengths and weaknesses, and you will have to figure out which one works best for you specifically and the sector in which your products will be categorized.
Always remember the volume of transactions, product variety, and payment mechanism while choosing a platform. With so many great options available, there's no reason to wait any longer to start selling your products online!